Abstract
Increasing concern regarding mining area environmental contamination with heavy metals has resulted in an emphasis of current research on phytoremediation. The aim of the present study was to assess the efficiency of symbiotic Cupriavidus necator strains on different leguminous plants in soil contaminated with heavy metals following the application of inorganic materials. The application of limestone and calcium silicate induced a significant increase in soil pH, with reductions in zinc and cadmium availability of 99 and 94 %, respectively. In addition, improved nodulation of Mimosa caesalpiniaefolia, Leucaena leucocephala and Mimosa pudica in soil with different levels of contamination was observed. Significant increases in the nitrogen content of the aerial parts of the plant were observed upon nodulation of the root system of Leucaena leucocephala and Mimosa pudica by strain UFLA01-659 (36 and 40 g kg−1) and by strain UFLA02-71 in Mimosa caesalpiniaefolia (39 g kg−1). The alleviating effect of calcium silicate resulted in higher production of dry matter from the aerial part of the plant, an increase in nodule number and an increase in the nitrogen fixation rate. The results of the present study demonstrate that the combination of rhizobia, leguminous plants and calcium silicate may represent a key factor in the remediation of areas contaminated by heavy metals.
Access options
Buy single article
Instant access to the full article PDF.
USD 39.95
Price includes VAT (USA)
Tax calculation will be finalised during checkout.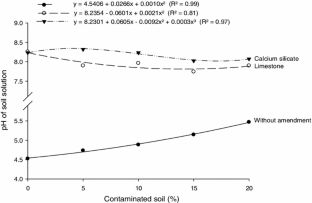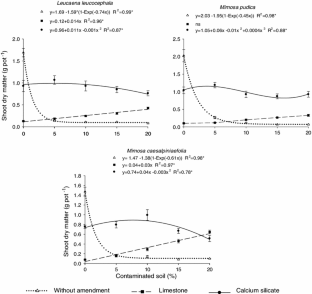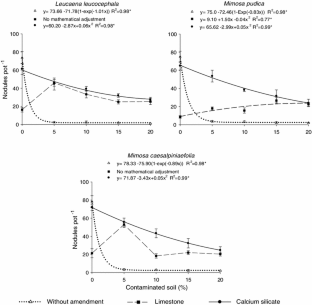 References
Accioly AMA, Siqueira JO, Curi N, Moreira FMS (2004) Lime amelioration of zinc and cadmium toxicities for Eucalyptus camaldulensis seedlings cultivated in contaminated soil. Rev Bras Cienc Solo 28:775–783

Accioly AMA, Soares CRFS, Siqueira JO (2009) Calcium silicate to reduce heavy metal toxicity in eucalyptus seedlings. Pesq Agropec Bras 44:180–188

Broos K, Uyttebroek M, Mertens J, Smolders E (2004) A survey of symbiotic nitrogen fixation by white clover grown on metal contaminated soils. Soil Biol Biochem 36:633–640

Broos K, Beyens H, Smolders E (2005) Survival of rhizobia in soils is sensitive to elevated zinc in the absence of the host plant. Soil Biol Biochem 37:573–579

Castaldi P, Santona L, Melis P (2005) Heavy metals immobilization by chemical amendments in a polluted soil and influence on white lupin growth. Chemosphere 60:365–371

Castaldi P, Melis P, Silvetti M, Deiana P, Garau G (2009) Influence of pea and wheat growth on Pb, Cd, and Zn mobility and soil biological status in a polluted amended soil. Geoderma 151:241–248

Chaudhary P, Dudeja SS, Kapoor KK (2004) Effectivity of host-Rhizobium leguminosarum symbiosis in soils receiving sewage water containing heavy metals. Microbiol Res 159:121–127

Chen WM, Wu CH, James EK, Chang JS (2008) Metal biosorption capability of Cupriavidus taiwanensis and its effects on heavy metal removal by nodulated Mimosa pudica. J Hazard Mater 151:364–371

Cunha KPV, Nascimento CWA, Pimentel RMM, Ferreira CP (2008) Cellular localization of cadmium and structural changes in maize plants grown on a Cd contaminated soil with and without liming. J Hazard Mater 160:228–234

Dietzel M (2000) Dissolution of silicates and the stability of polysilicic acid. Geochim Cosmochim Acta 64:3275–3281

Ferreira DF (2003) Programa de análises estatísticas (Statistical Analysis Software) e planejamento de experimentos. UFLA, Lavras

Ferreira PAA, Bomfeti CA, Júnior RS, Soares BL, Soares CRFS, Moreira FMS (2012) Symbiotic efficiency of Cupriavidus necator strains tolerant to zinc, cadmium, copper and lead. Pesq agropec bras 47:85–95

Florentino LA, Guimarães AP, Rufini M, Silva K, Moreira FMS (2009) Sesbania virgata stimulates the occurrence of its microsymbiont in soils but does not inhibit microsymbionts of other species. Sci Agric 66:667–676

Frérot H, Lefèbvre C, Gruber W, Collin C, Dos Santos A, Escarré J (2006) Specific interactions between local metallicous plants improve the phyto stabilisation of mine soils. Plant Soil 282:53–65

Giller KE, Witter E, McGrath SP (2009) Heavy metals and soil microbes. Soil Biol Biochem 41:2031–2037

Kabata-Pendias A (2011) Trace elements in soils and plants, 4th edn. CRC Press, Boca Raton, p 534

Li P, Wang XX, Zhang TL, Zhou D, He YQ (2008) Effects of several amendments on rice growth and uptake of copper and cadmium from a contaminated soil. J Environ Sci 20:449–455

Mahieu S, Frérot H, Vidal C, Galiana A, Heulin K, Maure L (2011) Anthyllis vulneraria/Mesorhizobium metallidurans, an efficient symbiotic nitrogen fixing association able to grow in mine tailings highly contaminated by Zn, Pb and Cd. Plant Soil 342:405–417

Maksimovic JD, Bogdanovic J, Maksimovic V, Nikolic M (2007) Silicon modulates the metabolism and utilization of phenolic compounds in cucumber (Cucumis sativus L.) grow at excess manganese. J Plant Nutr Soil Sci 170:739–744

Matsuda A, Moreira FMS, Siqueira JO (2002) Survival of Bradyrhizobium and Azorhizobium in heavy metal contaminated soil. R Bras Ci Solo 26:249–256

McGrath SP, Brookes PC, Giller KE (1988) Effect of potentially toxic metals in soil derived from post applications of sewage sludge on nitrogen fixation by Trifolium repens L. Soil Biol Biochem 20:415–425

Mergeay M, Monchy S, Vallaeys T, Auquier V, Benotmane A, Bertin P, Taghavi S, Dunn J, Van der Lelie D, Wattiez R (2003) Ralstonia metalllidurans, a bacterium specifically adapted to toxic metals: towards a catalogue of metal-responsive genes. FEMS Microbiol Rev 27:385–410

Neumann D, Zur Nieden U (2001) Silicon and heavy metal tolerance of higher plants. Phytochem 56:685–692

Obbard JP, Jones KC (2001) Measurements of symbiotic nitrogen-fixation in leguminous host-plants grown in heavy metal-contaminated soils amended with sewage sludge. Environ Pollut 111:311–320

Paim LA, Carvalho R, Abreu CMP, Guerreiro MC (2006) Study of effects of silicon and phosphorus in reducing the availability of heavy metals in mining area. Quim Nova 29:28–33

Ribeiro Filho MR, Siqueira JO, Vangronsveld J, Soares CRFS, Curi N (2011) Inorganic materials as ameliorants for soil remediation of metal toxicity to wild mustard (Sinapis arvensis L.). Int J Phytorem 13:498–512

Ribeiro-Filho MR, Siqueira JO, Curi N, Simão JBP (2001) Fractioning and bioavailability of heavy metal sin contaminated soil, incubated with organic and inorganic materials R. Bras Ci Solo 25:495–507

Sa TM, Israel DW (1991) Energy status and functioning of phosphorus-deficient soybean nodules. Plant Physiol 97:928–935

Shi X, Zhang C, Wang H, Zhang F (2005) Effect of Si on the distribution of Cd in rice seedlings. Plant Soil 272:53–60

Silva K, Florentino LA, Silva KB, Brandt E, Vandammme P, Moreira FMS (2012) Cupriavidus necator isolates are able to fix nitrogen in symbiosis with different legume species. Syst Appl Microbiol 35:175–182

Soares CRFS, Siqueira JO (2008) Mycorrhiza and phosphate protection of tropical grass species against heavy metal toxicity in multi-contaminated soil. Biol Fertil Soils 44:833–841

Tandy S, Healey JR, Nason MA, Williamson JC, Jones DL (2009) Remediation of metal polluted mine soil with compost: co-composting versus incorporation. Environ Pollut 157:690–697

Ter Braak CJF, Smilauer P (1998) CANOCO reference manual and user's guide to Canoco for Windows: Software for canonical community ordination. New York, p 352. (version 4.5) 91390422

Trannin ICB, Moreira FMS, Siqueira JO (2001) Growth and nodulation of Acacia mangium, Enterolobium contortisiliquum and Sesbania virgata in heavy metal contaminated soil. R Bras Ci Solo 25:743–753

Uzel A, Ozdemir G (2009) Metal biosorption capacity of the organic solvent tolerant Pseudomonas fluorescens TEM08. Bioresour Technol 100:542–548

Van der Heijden MGA, Bakker R, Verwaal J, Scheublin TR, Rutten M, van Logtestijn R, Staehelin C (2006) Symbiotic bacteria as a determinant of plant community structure and plant productivity in dune grassland. FEMS Microbiol Ecol 56:178–187

Van Steveninck RFM, Van Steveninck ME, Fernando DR (1992) Heavy-metal (Zn, Cd) tolerance in selected clones of duck weed (Lemna minor). Plant Soil 146:271–280

Vaneechoutte M, Kämpfer P, De Baere T, Falsen E, Verschraegen G (2004) Wautersia gen. Nov., a novel genus accommodating the phylogenetic lineage including Ralstonia eutropha and related species, and proposal of Ralstonia (Pseudomonas) syzygii (Roberts et al. 1990) comb. Nov Int J Syst Evol Microbiol 54:317–327

Vieira IG, Fernades GD (1997) Métodos de quebra de dormência de sementes. Piracicaba: Instituto de Pesquisas e Estudos Florestais. Disponível em: <http://www.ipef.br/tecsementes/dormencia.asp>. Acesso em 4 Jul 2010

Zhang C, Wang L, Nie Q, Zhang W, Zhang F (2008) Long-term effects of exogenous silicon on cadmium translocation and toxicity in rice (Oryza sativa L.). Environ Exp Bot 62:300–307
Acknowledgments
We thank Fapemig, CAPES and CNPq for student fellowships, Fapemig for a research fellowship, grant and for financial support, CNPq for research fellowships and grants. This publication presents part of the findings of the project Monitoring and Recovery Strategies for Areas Impacted by Mining Activities.
About this article
Cite this article
Avelar Ferreira, P.A., Lopes, G., Bomfeti, C.A. et al. Leguminous plants nodulated by selected strains of Cupriavidus necator grow in heavy metal contaminated soils amended with calcium silicate. World J Microbiol Biotechnol 29, 2055–2066 (2013). https://doi.org/10.1007/s11274-013-1369-2
Received:

Accepted:

Published:

Issue Date:
Keywords
Degraded areas

Biological nitrogen fixation

β-Proteobacteria

Zinc and cadmium