Abstract
In order to exploit novel anticaries agents, we investigated the effects of citrus lemon oil (CLO), a type of natural product, on growth and adherence of the primary oral cariogenic bacteria Streptococcus mutans (S. mutans). The growth inhibitory effect was explored with a micro-dilution assay. Adherence was analyzed by colony counts on the respective surfaces and the adherence inhibition rate (AIR). Real time–PCR was used to investigate the effects of CLO on transcription of glucosyltransferase (Gtf) encoding genes, gtfB, C and D. Neson-Somogyi method was used to measure the effects of CLO on Gtf activity. The minimum inhibitory concentration of CLO against S. mutans was 4.5 mg/ml. The CLO effectively reduced the adherence of S. mutans on glass surface (the AIR were from 98.3 to 100 %, P > 0.05) and saliva-coated enamel surface (the AIR were from 54.8 to 79.2 %, P < 0.05). CLO effectively reduced the activity of Gtf and the transcription of gtfs in a dose dependent manner (P < 0.05). In conclusion, CLO can effectively inhibit the growth and the adherence to glass and saliva-coated enamel surfaces of S. mutans. It can also inhibit the transcription of gtfs, as well as the Gtf enzyme activity.
This is a preview of subscription content,
to check access.
Access this article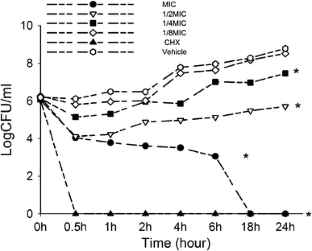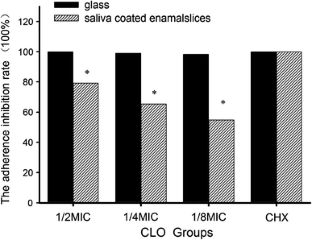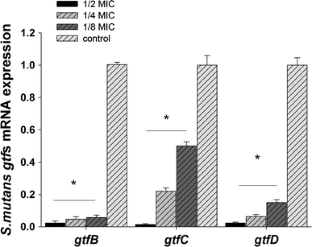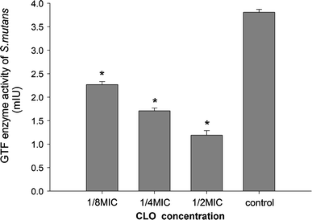 References
Abdelgaleil SA, Iwagawa T, Doe M, Nakatani M (2004) Antifungal limonoids from the fruits of Khaya senegalensis. Fitoterapia 75:566–572

Ajdic D, McShan WM, McLaughlin RE, Savic G, Chang J, Carson MB, Primeaux C, Tian R, Kenton S, Jia H, Lin S, Qian Y, Li S, Zhu H, Najar F, Lai H, White J, Roe BA, Ferretti JJ (2002) Genome sequence of Streptococcus mutans UA159, a cariogenic dental pathogen. Proc Natl Acad Sci USA 99:14434–14439

Bakri IM, Douglas CW (2005) Inhibitory effect of garlic extract on oral bacteria. Arch Oral Biol 50:645–651

Bowen WH, Koo H (2011) Biology of Streptococcus mutans-derived glucosyltransferases: role in extracellular matrix formation of cariogenic biofilms. Caries Res 45:69–86

Dennis DA, Gawronski TH, Sudo SZ, Harris RS, Folke LE (1975) Variations in microbial and biochemical components of four-day plaque during a four-week controlled diet period. J Dent Res 54:716–722

Duarte S, Koo H, Bowen WH, Hayacibara MF, Cury JA, Ikegaki M, Rosalen PL (2003) Effect of a novel type of propolis and its chemical fractions on glucosyltransferases and on growth and adherence of mutans streptococci. Biol Pharm Bull 26:527–531

Germano MP, D'Angelo V, Sanogo R, Catania S, Alma R, De Pasquale R, Bisignano G (2005) Hepatoprotective and antibacterial effects of extracts from Trichilia emetica Vahl. (Meliaceae). J Ethnopharmacol 96:227–232

Han H, Zhang X, Yang L (2012) Effect of lemon peel extracts on the growth of cariogenic bacteria. J Oral Sci Res 28:117–120

Hirasawa M, Takada K, Otake S (2006) Inhibition of acid production in dental plaque bacteria by green tea catechins. Caries Res 40:265–270

Ikeno K, Ikeno T, Miyazawa C (1991) Effects of propolis on dental caries in rats. Caries Res 25:347–351

Ismail AI, Hasson H (2008) Fluoride supplements, dental caries and fluorosis: a systematic review. J Am Dent Assoc 139:1457–1468

Jeon JG, Rosalen PL, Falsetta ML, Koo H (2011) Natural products in caries research: current (limited) knowledge, challenges and future perspective. Caries Res 45:243–263

Koo H, Duarte S, Murata RM, Scott-Anne K, Gregoire S, Watson GE, Singh AP, Vorsa N (2010) Influence of cranberry proanthocyanidins on formation of biofilms by Streptococcus mutans on saliva-coated apatitic surface and on dental caries development in vivo. Caries Res 44:116–126

Limsong J, Benjavongkulchai E, Kuvatanasuchati J (2004) Inhibitory effect of some herbal extracts on adherence of Streptococcus mutans. J Ethnopharmacol 92:281–289

Matsumoto M, Tsuji M, Okuda J, Sasaki H, Nakano K, Osawa K, Shimura S, Ooshima T (2004) Inhibitory effects of cacao bean husk extract on plaque formation in vitro and in vivo. Eur J Oral Sci 112:249–252

Mizrahi B, Shapira L, Domb AJ, Houri-Haddad Y (2006) Citrus oil and MgCl2 as antibacterial and anti-inflammatory agents. J Periodontol 77:963–968

Pai MR, Acharya LD, Udupa N (2004) Evaluation of antiplaque activity of Azadirachta indica leaf extract gel–a 6-week clinical study. J Ethnopharmacol 90:99–103

Patino Marin N, Loyola Rodriguez JP, Medina Solis CE, Pontigo Loyola AP, Reyes Macias JF, Ortega Rosado JC, Aradillas Garcia C (2008) Caries, periodontal disease and tooth loss in patients with diabetes mellitus types 1 and 2. Acta Odontol Latinoam 21:127–133

Poulose SM, Harris ED, Patil BS (2005) Citrus limonoids induce apoptosis in human neuroblastoma cells and have radical scavenging activity. J Nutr 135:870–877

Raphael TJ, Kuttan G (2003) Effect of naturally occurring triterpenoids glycyrrhizic acid, ursolic acid, oleanolic acid and nomilin on the immune system. Phytomedicine 10:483–489

Rosan B, Lamont RJ (2000) Dental plaque formation. Microbes Infect 2:1599–1607

Rozza AL, Moraes Tde M, Kushima H, Tanimoto A, Marques MO, Bauab TM, Hiruma-Lima CA, Pellizzon CH (2011) Gastroprotective mechanisms of Citrus lemon (Rutaceae) essential oil and its majority compounds limonene and beta-pinene: involvement of heat-shock protein-70, vasoactive intestinal peptide, glutathione, sulfhydryl compounds, nitric oxide and prostaglandin E(2). Chem Biol Interact 189:82–89

Sato S, Yoshinuma N, Ito K, Tokumoto T, Takiguchi T, Suzuki Y, Murai S (1998) The inhibitory effect of funoran and eucalyptus extract-containing chewing gum on plaque formation. J Oral Sci 40:115–117

Song JH, Yang TC, Chang KW, Han SK, Yi HK, Jeon JG (2007) In vitro effects of a fraction separated from Polygonum cuspidatum root on the viability, in suspension and biofilms, and biofilm formation of mutans streptococci. J Ethnopharmacol 112:419–425

Sunthitikawinsakul A, Kongkathip N, Kongkathip B, Phonnakhu S, Daly JW, Spande TF, Nimit Y, Napaswat C, Kasisit J, Yoosook C (2003) Anti-HIV-1 limonoid: first isolation from Clausena excavata. Phytother Res 17:1101–1103

Ul Islam SMB, Hossain MK, Gomes I, Gomes DJ, Rahman SR, Rahman MS, Rashid MA (2011) Antimicrobial, antioxidant, and cytotoxic activities of Bixa orellana Linn. Lat Am J Pharm 30:1126–1134

Xiao J, Zuo Y, Liu Y, Li J, Hao Y, Zhou X (2007) Effects of Nidus Vespae extract and chemical fractions on glucosyltransferases, adherence and biofilm formation of Streptococcus mutans. Arch Oral Biol 52:869–875

Xie Q, Li J, Zhou X (2008) Anticaries effect of compounds extracted from Galla chinensis in a multispecies biofilm model. Oral Microbiol Immunol 23:459–465

Xu J, Jiao F, Wang S (2007) Study on bacteriostatic and antiviral effects of lemon extract. Chin J Disinfect 24:13–15

Ylostalo PV, Jarvelin MR, Laitinen J, Knuuttila ML (2006) Gingivitis, dental caries and tooth loss: risk factors for cardiovascular diseases or indicators of elevated health risks. J Clin Periodontol 33:92–101

Yu J, Wang L, Walzem RL, Miller EG, Pike LM, Patil BS (2005) Antioxidant activity of citrus limonoids, flavonoids, and coumarins. J Agric Food Chem 53:2009–2014

Zou L, Zhang L, Li J, Hao Y, Cheng L, Li W, Zhou X (2008) Effect of Galla chinensis extract and chemical fractions on demineralization of bovine enamel in vitro. J Dent 36:999–1004
Acknowledgments
We are grateful to Professor Xize Niu of Electromechanical Engineering at the University of Southampton for the editing of the manuscript.
About this article
Cite this article
Liu, Y., Zhang, X., Wang, Y. et al. Effect of citrus lemon oil on growth and adherence of Streptococcus mutans . World J Microbiol Biotechnol 29, 1161–1167 (2013). https://doi.org/10.1007/s11274-013-1275-7
Received:

Accepted:

Published:

Issue Date:

DOI: https://doi.org/10.1007/s11274-013-1275-7
Keywords