Abstract
The coffee fermentation is characterized by the presence of different microorganisms belonging to the groups of bacteria, fungi and yeast. The objectives of this work were to select pectinolytic microorganisms isolated from coffee fermentations and evaluate their performance on coffee pulp culture medium. The yeasts and bacteria isolates were evaluated for their activity of polygalacturonase (PG), pectin lyase (PL) and pectin methylesterase (PME) and metabolites production. Among 127 yeasts isolates and 189 bacterial isolates, 15 were pre-selected based on their ability to produce PL and organic compounds. These isolates were strains identified as Bacillus cereus, Bacillus megaterium, Bacillus subtilis, Candida parapsilosis, Pichia caribbica, Pichia guilliermondii and Saccharomyces cerevisiae. When cultivated in Coffee peel and pulp media in single culture or two by two mixed inocula, different behavior concerning to PME, PL and PG were found. The two principal components PC1 and PC2 accounted for 45.27 and 32.02 % of the total variance. UFLA CN727 and UFLA CN731 strains were grouped in the positive part of PC1 being characterized by 1,2-propanediol, hexanoic acid, decanoic acid, nonanoic acid and ethyl acetate. The UFLA CN448 and UFLA CN724 strains were grouped in the negative part of PC1 and were mainly characterized by guaiacol, butyric acid and citronellol. S. cerevisiae UFLACN727, P. guilliermondii UFLACN731 and C. parapsilosis UFLACN448 isolates are promising candidates to be tested in future studies as coffee starter cultures.
Access options
Buy single article
Instant access to the full article PDF.
USD 39.95
Price includes VAT (USA)
Tax calculation will be finalised during checkout.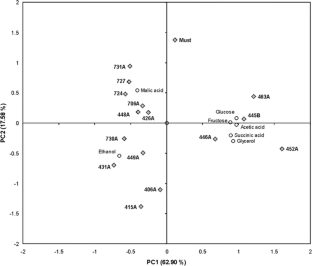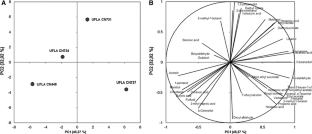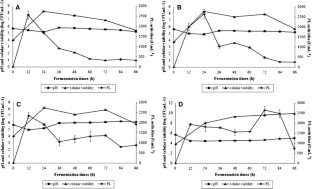 References
ABIC (2010) (www.abic.com.br). Accessed 2 Oct 2011

Agate AD, Bhat JV (1966) Role of pectinolytic yeasts in the degradation mucilage layer of coffea robusta cherries. Appl Environ Microbiol 14(2):256–260

Akiyama M, Murakami K, Ohtani N, Iwatsuki K, Sotoyama K, Wada A, Tokuno K, Iwabuchi H, Tanaka K (2003) Analysis of volatile compounds released during grinding of roasted coffee beans using solid-phase microextraction. J Agric Food Chem 51:1961–1969

AOAC (2000) Seventeenth ed. Official methods of analyses of the association of official analytical chemists, vol 2. Association of official analytical chemists, Gaithersburg, pp 915–922

Avallone S, Brillouet JM, Guyot B, Olguin E, Guiraud JP (2002) Involvement of pectinolytic microorganisms is coffee fermentation. Int J Food Sci Technol 37:191–198

Baracat MC, Valentin C, Muchovej JJ, Silva DO (1989) Selection of pectinolytic fungi for degumming of natural fibers. Biotechnol Lett 11:899–902

Bicchi CP, Panero OM, Pellegrino GM, Vanni AC (1997) Characterization of roasted coffee and coffee beverage by solid phase microextraction—gas chromatography and principal component analysis. J Agric Food Chem 45:4680–4686

Bitter V, Muir HM (1962) Modifical uronic acid carbazole reaction. Anal Biochem 4:330–334

Blanco P, Sieiro C, Villa TG (1999) Production of pectic enzymes in yeasts. FEMS Microbiol Lett 175:1–9

Bradford MM (1976) A rapid and sensitive method for quantitation of microgram quantities of protein utilize principle of protein bye-binding. Anal Biochem 72:248–251

Brereton RG (2000) Introduction to multivariate calibration in analytical chemistry. Anal Chem 125:2125–2154

Buffo RA, Cardelli-Freire C (2004) Coffee flavour: an overview. Flavour Fragr J 19:99–104

Ciani M, Beco L, Comitini F (2006) Fermentation behaviour and metabolic interactions of multistarter wine yeast fermentations. Int J Food Microbiol 108:239–245

Corredig M, Kerr W, Wicker L (2000) Separation of thermostable pectinmethylesterase from marsh grapefruit pulp. J Agric Food Chem 48:4918–4923

De Bruyne K, Schillinger U, Caroline L, Boehringe B, Cleenwerck I, Vancanneyt M, De Vuyst L, Franz CMAP, Vandamme P (2007) Leuconostoc holzapfelii sp. nov., isolated from Ethiopian coffee fermentation and assessment of sequence analysis of housekeeping genes for delineation of Leuconostoc species. Int J Syst Evol Microbiol 57:2952–2959

Duarte WF, Dias DR, Oliveira JM, Teixeira JA, Almeida e Silva JB, Schwan RF (2010) Characterization of different fruit wines made from cacao, cupuassu, gabiroba, jaboticaba and umbu. LWT-Food Sci Technol 43:1564–1572

Garna H, Mabon N, Wathelet B, Paquot M (2004) New Method for a two-step hydrolysis and chromatographic analysis of pectin neutral sugar chains. J Agric Food Chem 52(15):4652–4659

Gonzalez-Rios O, Suarez-Quiroz ML, Boulanger R, Barel M, Guyot B, Guiraud J-P, Schorr-Galindo S (2007) Impact of ''ecological'' post-harvest processing on the volatile fraction of coffee beans: I. Green coffee. J Food Compos Anal 2(3–4):289–296

Hanckin L, Lacy GH (1984) Pectinolytic microorganisms. In: Speck ML (ed) Compendium of methods for the microbiological examination of foods, 2nd edn. American Public Health Association, Washington, pp 176–183

Henick-Kling T, Edinger W, Daniel P, Monk P (1998) Selective effects of sulfur dioxide and yeast starter culture addition on indigenous yeast populations and sensory characteristics of wine. J App Microbiol 84:865–876

Holzapfel WH (2002) Appropriate starter culture technologies for small-scale fermentation in developing countries. Int J Food Microbiol 75:197–212

Jayani RS, Saxena S, Gupta R (2005) Microbial pectinolytic enzymes: a review. Process Biochem 40:2931–2944

Jham GM, Fernandes AS, Garcia CF, Silva AA (2002) Comparison of GC and HPLC for the Quantification of Organic Acids in Coffee. Phytochem Anal 13:99–104

Kashyap DR, Chandra S, Kaul A, Tewari R (2000) Production, purification and characterization of pectinase from a Bacillus sp. DT7. W J Microbiol Biotechnol 16:277–282

Kashyap DR, Vohra PK, Chopra S, Tewari R (2001) Applications of pectinases in the commercial sector: a review. Biores Technol 77:215–227

Kobayashi T, Higaki N, Yajima N, Suzumatsu A, Haghihara H, Kawai S (2001) Purification and properties of a galacturonic acid releasing exopolygalacturonase from a strain of Bacillus. Biosci Biotechnol Biochem 65:842–847

Lechner A, Mayr R, Francis KP, Prüb BM, Kaplan T, Wiebner-Gunkel E, Stewart GSAB, Scherer S (1998) Bacillus weihenstephanensis sp. nov. is a new psychrotolerant species of the Bacillus cereus group. Int J Syst Evol Microbiol 48:1373–1382

Lopez CI, Bautista E, Moreno E, Dentan E (1989) Factors related to the formation of. "overfermented coffee beans" during the wet processing method and storage of coffee. ASIC, 13 Colloque, Paipa

Mantle PG, Chow AM (2000) Ochratoxin formation in Aspergillus ochraceus with particular reference to spoilage of coffee. Int J Food Microbiol 56:105–109

Masoud W, Jespersen L (2006) Pectin degrading enzymes in yeasts involved in fermentation of Coffea arabica in East Africa. Int J Food Microbiol 110:291–296

Masoud W, Kaltoft HC (2006) The effects of yeasts involved in the fermentation of Coffea arabica in East Africa on growth and ochratoxin A (OTA) production by Aspergillus ochraceus. Int J Food Microbiol 106:229–234

Masoud W, Cesar LB, Jespersen L, Jakobsen M (2004) Yeast involved in fermentation of Coffea arabica in East Africa determined by genotyping and by direct denaturing gradient gel electrophoresis. Yeast 21:549–556

Mazzafera P, Robinson SP (2000) Characterization of polyphenoloxidase in coffee. Phytochemistry 55:285–296

Miller GL (1959) Use of dinitrosalicilic acid reagent for determination of reducing sugar. Anal Biochem 31:426–428

Miyazaki Y (1991) Purification and characterization of an endo-pectate lyase from Bacillus macerans. Agric Biol Chem 55:23–30

Pitt O (1988) Pectic lyase from Rhoma medicabinis var. pinodella. Methods Enzymol 161:350–365

Ramos DMB, Silva CF, Batista LR, Schwan RF (2010) Inibição in vitro de fungos toxigênicos por Pichia e Debaryomyces sp isoladas de frutos de café (Coffea arabica). Acta Sci Agron 32:397–402

Rodrigues CI, Marta R, Miranda M, Ribeirinho M, Máguas C (2007) Applicatin of solid-phase extraction to brewed coffee caffeine and organic acid determination by UV/HPLC. J Food Comp Anal 20(5):440–448

Sakiyama CCH, Paula EM, Pereira PC, Borges AC, Silva DO (2001) Characterization of pectin lyase produced by an endophytic strain isolated from coffee cherries. Lett Appl Microbiol 33:117–121

Schwan RF, Rose AH (1994) Polygalacturonase production by Kluyveromyces marxianus: effect of medium composition. J Appl Microbiol 76(1):62–67

Schwan RF, Wheals AE (2003) Mixed microbial fermentation of chocolate and coffee. In: Boekhout T, Robert V (eds) Yeasts in food. Behr's Verlag, Hamburg, pp 426–459

Schwan RF, Cooper R, Wheals AE (1997) Endo polyglacturonase secretion by Kluyveromyces marxianus. Enzym Microb Tech 4:247–256

Schwan RF, Silva CF, Batista LR (2012) Coffee fermentation. In: Hui YH (ed) Handbook of plant-based fermented food and beverage technology, CRC Press, Boca Raton, pp 677–690. ISBN 978-1-43964904-0

Serra F, Giullou CG, Reniero F, Ballarin L, Cantagallo MI, Wieser M, Iyer SS, Héberger K, Vanhaecke F (2005) Determination of geographical origin of green coffee by principal component analysis of carbon, nitrogen and boron stable isotope ratios. Rapid Commun Mass Spectrom 19:2111–2115

Silva CF (2012) Microbial activity during coffee fermentation. In: Schwan RF, Fleet GH (ed) Cocoa and coffee fermentation. CRC Press, Boca Raton (in press)

Silva CF, Batista LR, Abreu LM, Dias ES, Schwan RF (2000) Microbial diversity during maturation and natural processing of coffee cherries of Coffea arabica in Brazil. Int J Food Microbiol 60:251–260

Silva CF, Batista LR, Abreu LM, Dias ES, Schwan RF (2008) Succession of bacterial and fungal communities during natural coffee (Coffea arabica) fermentation. Food Microbiol 25:951–957

Singh SA, Ramakrishna M, Rao AGA (1999) Optimization of downstream processing parameters for the recovery of pectinase from the fermented broth of Aspergillus carbonarius. Process Biochem 35:411–417

Sivetz M (1963) Coffee processing technology, vol 2. AVIC, Westport, Connecticut

Takao M, Nakaniwa T, Yoshikawa K, Terashita T, Sakai T (2000) Purification and characterization of thermostable pectate lyase with protopectinase activity from thermophilic Bacillus sp. TS 47. Biosci Biotechnol Biochem 64:2360–2367

Uenojo M, Pastore GM (2007) Pectinases: aplicações industriais e perspestivas. Quim Nova 30:388–394

Vaast P, Bertrand B, Perriot J–J, Guyot B, Génard M (2006) Fruit thinning and shade improve bean characteristics and beverage quality of coffee (Coffea arabica L.) under optimal conditions. J Sci Food Agric 86:197–204

van Soest PJ, Wine RH (1968) Determination of lignin and cellulose in acid detergent fiber with permanganate. J AOAC Int 51:780–785

Vilela DM, de Pereira GVM, Silva CF, Batista LR, Schwan RF (2010) Molecular ecology and polyphasic characterization of the microbiota associated with semi-dry processed coffee (Coffea arabica L.). Food Microbiol 27:1128–1135
Acknowledgments
The authors thank the Brazilian agencies Conselho Nacional de Desenvolvimento Científico e Tecnológico of Brasil (CNPQ), Fundação de Amparo a Pesquisa do Estado de Minas Gerais (FAPEMIG) and CAPES for scholarships and financial support.
About this article
Cite this article
Silva, C.F., Vilela, D.M., de Souza Cordeiro, C. et al. Evaluation of a potential starter culture for enhance quality of coffee fermentation. World J Microbiol Biotechnol 29, 235–247 (2013). https://doi.org/10.1007/s11274-012-1175-2
Received:

Accepted:

Published:

Issue Date:
Keywords
Pectinolytic enzymes

Pichia guilliermondii
Saccharomyces cerevisiae

Organic acids

Principal component analysis