Abstract
The probiotic adjunct Lactobacillus plantarum K25 was inoculated into milk to produce probiotic cheese. The effect of Lb. plantarum K25 on cheese composition, microbiological growth and survival during the manufacturing and ripening period, primary and secondary proteolysis during cheese ripening, and the in vivo cholesterol-lowering ability of the probiotic cheese were investigated. The results showed that the use of adjunct Lb. plantarum K25 in Cheddar cheese did not affect the cheese components including moisture, protein, fat, salt content and the pH value of cheese. During the whole ripening period, the probiotic adjunct maintained its viability, suggesting the effectiveness of Cheddar cheese as a vehicle for delivery of probiotic bacteria. No significant differences were observed in water-soluble nitrogen, 70 % ethanol-soluble nitrogen, 5 % phosphotungstic acid-soluble nitrogen, free amino acids and urea-PAGE patterns between the control and probiotic cheeses. Assessment of the in vivo cholesterol-lowering property of cheese with Lb. plantarum K25 showed that the levels of serum total cholesterol, low-density lipoprotein cholesterol and triglycerides decreased significantly, and the level of serum high-density lipoprotein cholesterol increased in mice fed with the probiotic cheese. The results indicated the potential function as a dietary item of the probiotic cheese with Lb. plantarum K25 to reduce the risk of cardiovascular diseases.
Access options
Buy single article
Instant access to the full article PDF.
USD 39.95
Price includes VAT (USA)
Tax calculation will be finalised during checkout.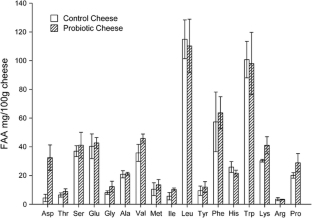 References
Andrews AT (1983) Proteinases in normal bovine milk and their action on caseins. J Dairy Res 50:45–55

AOAC (1990) Official methods of analysis, 15th edn. Arlington

Banks JM, Williams AG (2004) The role of the nonstarter lactic acid bacteria in Cheddar cheese ripening. Int J Dairy Technol 57:145–152

Bergamini CV, Hynes ER, Zalazar CA (2006) Influence of probiotic bacteria on the proteolysis profile of a semi-hard cheese. Int Dairy J 16:856–866

Bernardeau M, Vernoux JP, Henri-Dubernet S, Guéguen M (2008) Safety assessment of dairy microorganisms: the Lactobacillus genus. Int J Food Microbiol 126:278–285

Bujalance C, Jimenez-Valera M, Moreno E, Ruiz-Bravo A (2006) A selective differential medium for Lactobacillus plantarum. J Microbiol Meth 66:572–575

Chiu CH, Lu TY, Tseng YY, Pan TM (2006) The effects of Lactobacillus-fermented milk on lipid metabolism in hamsters fed on high-cholesterol diet. Appl Microbiol Biotechnol 71:238–245

De Vuyst L (2000) Technology aspects related to the application of functional starter cultures. Food Technol Biotechnol 38:105–112

Georgieva R, Iliev I, Haertlé T, Chobert JM, Ivanova I, Danova S (2009) Technological properties of candidate probiotic Lactobacillus plantarum strains. Int Dairy J 19:696–702

Hashimoto H, Yamazaki K, He F, Kawase M, Hosoda M, Hosono A (1999) Hypocholesterolemic effects of Lactobacillus casei subsp. casei TMC 0409 strain observed in rats fed cholesterol contained diets. Anim Sci J 72:90–97

Jeun J, Kim S, Cho SY, Jun HJ, Park HJ, Seo JG, Chung MJ, Lee SJ (2010) Hypocholesterolemic effects of Lactobacillus plantarum KCTC3928 by increased bile acid excretion in C57BL/6 mice. Nutrition 26:321–330

Kalit S, Havranek JL, Kaps M, Perko B, Curik VC (2005) Proteolysis and the optimal ripening time of Tounj cheese. Int Dairy J 15:619–624

Kosikowski FV, Mistry VV (1997) Cheddar cheese and related types. In Kosikowski FK, Mistry VV (eds) Cheese and fermented milk foods, 3rd edn. Westport, pp 204–225

Kuchroo CN, Fox PF (1982) Soluble nitrogen in Cheddar cheese: comparison of extraction procedures. Milchwissenschaft 37:331–335

Kumar R, Grover S, Batish VK (2011) Hypocholesterolaemic effect of dietary inclusion of two putative probiotic bile salt hydrolase-producing Lactobacillus plantarum strains in Sprague-Dawley rats. Brit J Nutr 105:561–573

Lane CN, Fox PF (1996) Contribution of starter and adjunct lactobacilli to proteolysis in Cheddar cheese during ripening. Int Dairy J 6:715–728

Law MR, Wald NJ, Wu T, Hackshaw A, Bailey A (1994) Systematic underestimation of association between serum cholesterol concentration and ischaemic heart disease in observational studies: data from the BUPA study. BMJ 308:363–366

Li C (2011) Probiotic properties of Lactobacillus Plantarum K25 and its application in cheese. Dissertation, Changchun University of Technology, Changchun

Lu B, Xia D, Huang W, Wu X, Zhang Y, Yao Y (2010) Hypolipidemic effect of bamboo shoot oil (P. pubescens) in Sprague-Dawley rats. J Food Sci 75:H205–H211

Madkor SA, Tong PS, El Soda M (2000) Ripening of cheddar cheese with added attenuated adjunct cultures of lactobacilli. J Dairy Sci 83:1684–1691

Maragkoudakis PA, Zoumpopoulou G, Miaris C, Kalantzopoulos G, Pot B, Tsakalidou E (2006) Probiotic potential of Lactobacillus strains isolated from dairy products. Int Dairy J 16:189–199

McSweeney PLH (2004) Biochemistry of cheese ripening. Int J Dairy Technol 57:127–144

Milesi MM, McSweeney PLH, Hynes ER (2008) Viability and contribution to proteolysis of an adjunct culture of Lactobacillus plantarum in two model cheese systems: cheddar cheese-type and soft-cheese type. J Appl Microbiol 105:884–892

Milesi MM, Vinderola G, Sabbag N, Alberto Meinardi C, Hynes E (2009) Influence on cheese proteolysis and sensory characteristics of non-starter lactobacilli strains with probiotic potential. Food Res Int 42:1186–1196

Millán J, Pintó X, Muñoz A, Zúñiga M, Rubiés-Prat J, Pallardo LF, Masana L, Mangas A, Hernández-Mijares A, González-Santos P (2009) Lipoprotein ratios: physiological significance and clinical usefulness in cardiovascular prevention. Vasc Health Risk Manag 5:757

Mills S, Serrano LM, Griffin C, O'Connor PM, Schaad G, Bruining C, Hill C, Ross RP, Meijer WC (2011) Inhibitory activity of Lactobacillus plantarum LMG P-26358 against Listeria innocua when used as an adjunct starter in the manufacture of cheese. Microb Cell Fact 10(Suppl 1):S7

Mistry VV, Kasperson KM (1998) Influence of salt on the quality of reduced fat Cheddar cheese. J Dairy Sci 81:1214–1221

Nguyen TD, Kang JH, Lee MS (2007) Characterization of Lactobacillus plantarum PH04, a potential probiotic bacterium with cholesterol-lowering effects. Int J Food Microbiol 113:358–361

Oberg CJ, Moyes LV, Domek MJ, Brothersen C, McMahon DJ (2011) Survival of probiotic adjunct cultures in cheese and challenges in their enumeration using selective media. J Dairy Sci 94:2220–2230

Ong L, Shah NP (2009) Probiotic Cheddar cheese: influence of ripening temperatures on survival of probiotic microorganisms, cheese composition and organic acid profiles. LWT Food Sci Technol 42:1260–1268

Ong L, Henriksson A, Shah NP (2007) Proteolytic pattern and organic acid profiles of probiotic Cheddar cheese as influenced by probiotic strains of Lactobacillus acidophilus, Lb. paracasei, Lb. casei or Bifidobacterium sp. Int Dairy J 17:67–78

Poveda JM, Sousa MJ, Cabezas L, McSweeney PLH (2003) Preliminary observations on proteolysis in Manchego cheese made with a defined-strain starter culture and adjunct starter (Lactobacillus plantarum) or a commercial starter. Int Dairy J 13:169–178

Probstfield JL, Rifkind BM (1991) The lipid research clinics coronary primary prevention trial: design, results, and implications. Eur J Clin Pharmacol 40(Suppl 1):S69–S75

Rantsiou K, Urso R, Dolci P, Comi G, Cocolin L (2008) Microflora of Feta cheese from four Greek manufacturers. Int J Food Microbiol 126:36–42

Sousa MJ, Ardö Y, McSweeney PLH (2001) Advances in the study of proteolysis during cheese ripening. Int Dairy J 11:327–345

Van Hoorde K, Verstraete T, Vandamme P, Huys G (2008) Diversity of lactic acid bacteria in two Flemish artisan raw milk Gouda-type cheeses. Food Microbiol 25:929–935

Vinderola G, Prosello W, Molinari F, Ghiberto D, Reinheimer J (2009) Growth of Lactobacillus paracasei A13 in Argentinian probiotic cheese and its impact on the characteristics of the product. Int J Food Microbiol 135:171–174

Wang Y, Xu N, Xi A, Ahmed Z, Zhang B, Bai X (2009) Effects of Lactobacillus plantarum MA2 isolated from Tibet kefir on lipid metabolism and intestinal microflora of rats fed on high-cholesterol diet. Appl Microbiol Biotechnol 84:341–347

Xie N, Cui Y, Yin YN, Zhao X, Yang JW, Wang ZG, Fu N, Tang Y, Wang XH, Liu XW, Wang CL, Lu FG (2011) Effects of two Lactobacillus strains on lipid metabolism and intestinal microflora in rats fed a high-cholesterol diet. BMC Complement Altern Med 11:53

Zomorodi S, Asl AK, Rohani SMR, Miraghaei S (2011) Survival of Lactobacillus casei, Lactobacillus plantarum and Bifidobacterium bifidum in free and microencapsulated forms on Iranian white cheese produced by ultrafiltration. Int J Dairy Technol 64:84–91
Acknowledgments
The financial support for this work from The Earmarked Fund for Modern Agro-industrial Technology Research Systems in China (CARS-37), National Public Benefit Research (Agriculture) Foundation (200903043), Natural Science Foundation for the Youth (31101245), and the Foundation for Youth of Jilin Province (201101126) is gratefully acknowledged.
About this article
Cite this article
Zhang, L., Zhang, X., Liu, C. et al. Manufacture of Cheddar cheese using probiotic Lactobacillus plantarum K25 and its cholesterol-lowering effects in a mice model. World J Microbiol Biotechnol 29, 127–135 (2013). https://doi.org/10.1007/s11274-012-1165-4
Received:

Accepted:

Published:

Issue Date:
Keywords
Cheddar cheese

Lactobacillus plantarum

Probiotic adjuncts

Proteolysis

Cholesterol-lowering ability