Abstract
As reported in the European Community regulation, grappa is a spirit beverage made in Italy from marc that has been steam distilled or distilled after the addition of water. Grape marc from red grapes has already undergone alcoholic fermentation with the must and can be distilled immediately. Grape marc from white grapes does not contain ethanol but contains sugars that are fermented by spontaneous anaerobic fermentation during a storage period. The characteristic aroma of grappa consists of a large number of volatile compounds, which arise from various sources, the most important of which is yeast. Very few studies have been undertaken to characterize the natural populations of yeast during the fermentation of grape marc. The goal of this study was to understand how different pHs, temperatures and yeast starter cultures affect the growth and dynamics of yeast species involved in pomace fermentation, which could be the basis for improving the final quality of grappa production. We found that a temperature of 15°C has the greatest effect on improving the quality of the product. Unfortunately, due to the solid state of the grape marc and the impossibility of its mixing, it appears that acidification and the addition of yeast starter cultures during the silage period are not effective.
Access options
Buy single article
Instant access to the full article PDF.
USD 39.95
Price excludes VAT (USA)
Tax calculation will be finalised during checkout.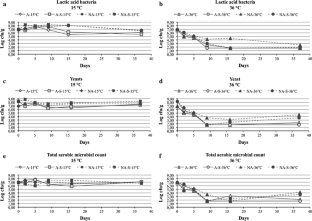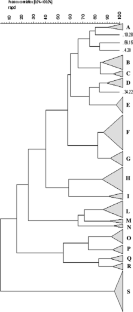 References
Altschul SF, Madden TL, Shaffer AA, Zhang J, Zhang Z, Miller W, Lipman DJ (1997) Gapped BLAST and PSI-BLAST: a new generation of protein database search programs. Nucleic Acids Res 25(17):3389–3402

Bisson LF (1999) Stuck and sluggish fermentations. Am J Enol Vitic 50(1):107–119

Bisson LF, Kunkee RE (1993) Microbial interaction during wine production. In: Zeikus JG, Johnson EA (eds) Mixed cultures in biotechnology. NcGraw-Hill, New York 37

Bonilla F, Mayene M, Merida J, Mulina M (1999) Extraction of phenolic compounds from red grape marc for use as food lipid antioxidant. Food Chem 66:209–216

Boulton RB, Singleton VL, Bisson LF, Kunkee RE (1996) Principles and practices in winemaking. The Chapman & Hall Enology Library, New York

Bovo B, Andrighetto C, Carlot M, Corich V, Lombardi A, Giacomini A (2009) Yeast population dynamics during pilot scale storage of grape marcs for the production of Grappa, a traditional Italian alcoholic beverage. Int J Food Microbiol 129(13):221–228

Cocolin L, Bisson LF, Mills DA (2000) Direct profiling of the yeast dynamics in wine fermentations. FEMS Microbiol Lett 189(1):81–87

Da Porto C (2002) Volatile composition of "grappa low wines" using different methods and conditions of storage on an industrial scale. Int J Food Sci Technol 37(4):395–402

Da Porto C, Decorti D (2009) Supercritical CO2 extraction of grappa volatile compounds. Int J Food Sci Technol 44(10):1927–1932

Da Porto C, Freschet G (2003) Study of some volatile compounds of raw Grappa obtained using marc treated in different ways and stored in plastic tunnels. J Wine Res 14(2–3):139–146

Da Porto C, Sensidoni A, Giomo A (1993a) Grappa ed acquavite d'uva: tradizione ed innovazione nel mercato dei distillati. Ind Bev 22:289–295

Da Porto C, Zironi R, Battistutta F (1993b) Effects of raw material on the partition of some volatile compounds of Grappa, a typical Italian spirit. J Wine Res 4:187–196

Da Porto C, Longo M, Sensidoni A (1996) Effects of low pressure and a rectification column on the volatile composition of fermented grape distillate. Int J Food Sci Technol 31(5):403–410

Da Porto C, Cortella G, Freschet G (2004) Preliminary study on a cooling practice of grape pomace during storage on an industrial scale. I J Food Sci 16(1):87–95

de Pina CG, Hogg TA (1999) Microbial and chemical changes during the spontaneous ensilage of grape pomace. J Appl Microbiol 86(5):777–784

De Rosa T, Castagner R (1994) Tecnologia delle grappe e dei distillati d'uva. Edagricole, Bologna

Demuyter C, Lollier M, Legras JL, Le Jeune C (2004) Predominance of Saccharomyces uvarum during spontaneous alcoholic fermentation, for three consecutive years, in an Alsatian winery. J Appl Microbiol 97(6):1140–1148

EC (2000) EC Regulation n. 287. OJEU 19.12.2000

EC (2008) EC Regulation n. 110. OJEU 13.2.2008

Fleet GH (1990) Growth of yeasts during wine fermentation. J Wine Res 1:211–223

Fleet GH (1998) The microbiology of alcoholic beverages. In: Wood BJB (ed) Microbiology of fermented food. Blackie Academy and Professional, London, p 217

Fleet GH (2003) Yeast interactions and wine flavour. Int J Food Microbiol 86(1–2):11–22

Fleet GH, Prakitchaiwattana C, Beh AL, Heard G (2002) The yeast ecology of wine grapes. In: Ciani M (ed) Biodiversity and Biotechnology of Wine Yeast. Research Signpost, Kerala, p 1

Giusto C, Iacumin L, Comi G, Buiatti S, Manzano M (2006) PCR-TGGE and RAPD-PCR techniques to analyze Saccharomyces cerevisiae and Saccharomyces carlsbergensis isolated from craft beers. J Inst Brew 112(4):340–345

Goddard MR (2008) Quantifying the complexities of Saccharomyces cerevisiae's ecosystem engineering via fermentation. Ecology 89:2077–2082

Hang YD, Woodams EE (2008) Methanol content of grappa made from New York grape pomace. Bioresour Technol 99:3923–3925

Herraiz T, Reglero G, Herraiz M, Martin-Alvarez PJ, Cabezudo MD (1990) The influence of the yeast and type of culture on the volatile composition of wines fermented without sulfur dioxide. Am J Enol Vitic 41:313–318

Huey B, Hall J (1989) Hypervariable DNA fingerprinting in Escherichia coli minisatellite probe from bacteriophage M13. J Bacteriol 171:2528–2532

Iacumin L, Comi G, Cantoni C, Cocolin L (2006) Molecular and technological characterization of Staphylococcus xylosus isolated from naturally fermented Italian sausages by RAPD, Rep-PCR and Sau-PCR analysis. Meat Sci 74:281–288

Iacumin L, Cecchini F, Manzano M, Osualdini M, Boscolo D, Orlic S, Comi G (2009) Description of the microflora of sourdoughs by culture-dependent and culture-independent methods. Food Microbiol 26:128–135

Kurtzman CP, Robnett CJ (1998) Identification and phylogeny of Ascomycetous yeast from analysis of nuclear large subunit (26S) ribosomal DNA partial sequences. Antonie Leeuwenhoek 73:331–371

Lacerda ICA, Mirando RL, Borelli BM, Nunes AC, Nardi RMD, Lachance MA, Rosa CA (2005) Lactic acid bacteria and yeasts associated with spontaneous fermentations during the production of sour cassava starch in Brazil. Int J Food Microbiol 105:213–219

Mafart P (1986) Influence de la Flora de fermentation sur la flavour des vins et selection des souches. Bioresour Technol 17:33–37

Mantell C, Rodriguez M, de la Ossa EM (2003) A screening analysis of the high-pressure extraction of anthocyanins from red grape pomace with carbon dioxide and cosolvent. Eng Life Sci 3:38–42

Manzano M, Cocolin L, Iacumin L, Cantoni C, Comi G (2005) A PCR-TGGE (Temperature Gradient Gel Electrophoresis) technique to assess differentiation among enological Saccharomyces cerevisiae strains. Int J Food Microbiol 101:333–339

Manzano M, Medrala D, Giusto C, Bartolomeoli I, Urso R, Comi G (2006) Classical and Molecular analyses to characterize commercial dry yeasts used in wine fermentations. J Appl Microbiol 100:599–607

Murthy KNC, Singh RP, Jayaprakasha GK (2002) Antioxidant activities of grape (Vitis vinifera) pomace extracts. J Agric Food Chem 50:5909–5914

Nisiotou A, Nychas GJE (2007) Yeast populations residing on healthy or botrytis infected grapes from vineyard in Attica, Greece. Appl Environ Microbiol 73:2765–2768

Orlic S, Voivoda T, Huic Babić K, Nóe Arroyo-López F, Jeromel A, Kozina B, Iacumin L, Comi G (2010) Diversity and oenological characterization of indigenous Saccharomyces cerevisiae associated with Žilavka grapes. World J Microbiol Biotechnol published online 03 February 2010

Pretorius IS (2000) Tailoring wine yeast for the new millennium: novel approaches to the ancient art of winemaking. Yeast 16:675–729

Rahman N, Xiaohong C, Meiqin F, Mingshen D (2009) Characterization of the dominant microflora in naturally fermented camel milk shubat. World J Microbiol Biotechnol 25:1941–1946

Ruberto G, Renda A, Amico V, Tringali C (2008) Volatile components of grape pomaces from different cultivars of Sicilian Vitis Vinifera. Bioresout Technol 99:260–268

Rybarova J, Stros F, Kockova-Kratochvilova A (1980) Candida ethanolica n. sp. Zeitschrift fur Allgemeine Mikrobiologie 20(9):579–581

Saquet JM, Labarbe B, Le Guernevè C, Cheynier V, Moutounet M (2000) Phenolic composition of grape stems. J Agric Food Chem 48:1076–1080

Sheffield VC, Cox DR, Lerman LS, Myers RM (1989) Attachment of a 40-base pairs G + C rich sequence (GC clamp) to genomic DNA fragments by the polymerase chain reaction results in improved detection of single-base changes. Proc Natl Acad Sci USA 86:297–303

Silva ML, Malcata ZX (1998) Relationships between storage conditions of grape pomace and volatile composition of spirits obtained there from. Am J Enol Vitic 49:56–64

Silva ML, Malcata FX, Revel G (1996a) Volatile contents of grape marcs in Portugal. J Food Compost Anal 9:72–80

Silva ML, Malcata FX, Hogg TA (1996b) How do processing conditions affect the microflora of the sweet pomace of white grapes from Vinho Verde? Food Sci Technol 1:129–136

Sipiczki M (2003) Candida zemplinina sp. nov., an osmotolerant and psychrotolerant yeast that ferments sweet botrytized wines. Int J Syst Evol Microbiol 53:2079–2083

Sponholz WR, Kürbel H, Dittrich HH (1991) Beiträge zur bildung von ethylcarbamat in wein. Wein-Wissentschaft 1:11–17

Suzuki M, Nakase T (2002) A phylogenetic study of ubiquinone-7 species of the genus Candida based on 18S ribosomal DNA sequence divergence. J Gen Appl Microbiol 48:55–65

Torres JB, Varela MT, Garcia J, Carilla C, Matito JJ, Centelles M, Cascante X, Sort R, Bobet A (2002) Valorization of grape (Vitis vinifera) by products. Antioxidant and biological properties of polyphenolic fractions differing in procyanidin composition and flavonol content. J Agric Food Chem 50:7548–7555

Usseglio-Tomasset L (1985) La Grappa nella sua composizione e nei suoi sistemi di elaborazione. Atti IX Convegno Nazionale della Grappa, Treviso, 20–21 September

Vauterin L, Vauterin P (1992) Computer-aided objective comparison of electrophoretic patterns for grouping and identification of microorganisms. Eur Clin Microbiol 33:633–641

Versini G, Odello L (1991) Grappa: considerations on the Italian traditional distillation. Les eaux-devie Traditionelles d'Origine Viticole (A. Bertrand). Lavoisier-Tec & Doc, Paris Cedex, p 32

Versini G, Monetti A, Dalla Serra A, Inama S (1990) Caractérisation analytique et statistique de la grappa de différentes regions italiennes. Les eaux-devie Traditionelles d'Origine Viticole (A. Bertrand). Lavoisier-Tec & Doc, Paris Cedex, pp 137–150

Williams PJ, Strauss CR (1978) Spirit recovered from heap-fermented grape marc: nature, origin and removal of the off-odour. J Sci Food Agric 29:527–533

Zocca F, Lomolino G, Curioni A, Spettoli P, Lante A (2007) Detection of pectinmethylesterase activity in presence of methanol during grape pomace storage. Food Chem 102:59–65
About this article
Cite this article
Iacumin, L., Manzano, M., Cecchini, F. et al. Influence of specific fermentation conditions on natural microflora of pomace in "Grappa" production. World J Microbiol Biotechnol 28, 1747–1759 (2012). https://doi.org/10.1007/s11274-011-0989-7
Received:

Accepted:

Published:

Issue Date:

DOI: https://doi.org/10.1007/s11274-011-0989-7
Keywords
Distillate

Grappa

Grape marc fermentation

Molecular characterization

Saccharomyces cerevisiae

RAPD-PCR

PCR-DGGE