Abstract
Dothediomycetes sp., Alternariatenuissima, Thielaviasubthermophila, Alternaria sp., Nigrosporaoryzae, Colletotrichum truncatum, and Chaetomium sp. were isolated as endophytic fungi from leaves and stems of the medicinal plant, Tylophora indica, based on rDNA sequencing of ITS region and microscopic examination. Alternariatenuissima, Colletotrichum truncatum, and Alternaria sp. were found to be active against both Sclerotiniasclerotiorum and Fusariumoxysporum. Chaetomium sp. showed very mild activity against Sclerotiniasclerotiorum and Fusariumoxysporum. Whereas Dothideomycete sp. and Thielaviasubthermophila showed high activity against Sclerotiniasclerotiorum. Methanol extract of Dothediomycetes sp. showed 66.5% growth inhibition (GI) at 500 μg/ml.
Access options
Buy single article
Instant access to the full article PDF.
US$ 39.95
Tax calculation will be finalised during checkout.
Subscribe to journal
Immediate online access to all issues from 2019. Subscription will auto renew annually.
US$ 119
Tax calculation will be finalised during checkout.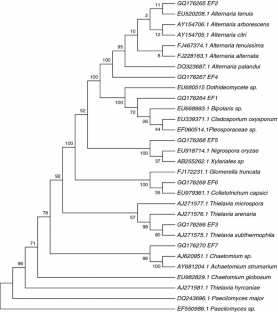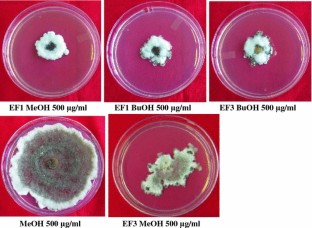 References
Aly AH, Edrada-Ebel R, Indriani ID et al (2008) Cytotoxic metabolites from the fungal endophyte Alternaria sp. and their subsequent detection in its host plant Polygonum senegalense. J Nat Prod 71:972–980

Arnold AE, Mejia LC, Kyllo D, Rojas EI, Maynard Z, Robbins N, Herre EA (2003) Fungal endophyte limit pathogen damage in a tropical tree. Proc Natl Acad Sci USA 100:15649–15654

Bankole SA, Adebanjo A (1996) Biocontrol of brown blotch of cowpea caused by Colletotrichum truncatum with Trichoderma viride. Crop Prot 15:633–636

Barnett HL, Hunter BB (1972) Illustrated genera of imperfect fungi, 3rd edn. Burgess Publishing, Minnesota

Beena KR, Ananda K, Sridhar KR (2000) Fungal endophytes of three sand dune plant species of west coast of India. Sydowia 52:1–9

Begum MM, Sariah M, Puteh AB, Abidin MAZ (2008) Pathogenicity of Colletotrichum truncatum and its influence on soybean seed quality. Intl J Agric Biol 10:393–398

Boyette CD, Jackson MA, Bryson CT, Hoagland RE, Connick WJ Jr, Daigle DJ (2007) Sesbania exaltata biocontrol with Colletotrichum truncatum microsclerotia formulated in pesta granules. Biocontrol 52:413–426

Breen JP (1994) Acremonium endophyte interactions with enhanced plant resistance to insects. Annu Rev Entomol 39:401–423

Brown KB, Hyde KD, Guest DI (1998) Preliminary studies on endophytic fungal communities of Musa acuminata species complex in Hong Kong and Australia. Fungal Diversity 1:27–51

Chomcheon P, Sriubolmas B, Wiyakrutta S, Ngamrojanavanich N, Chaichit N, Mahidol C, Ruchirawat S, Kittakoop P (2006) Cyclopentenones, scaffolds for organic syntheses produced by endophytic fungus mitosporic dothideomycete sp. LRUB20. J Nat Prod 69:1351–1353

Dingle J, McGee PA (2003) Some endophytic fungi reduce the density of pustules of Puccinia recondita f. sp. tritici in wheat. Mycol Res 107:310–316

Felsenstein J (1985) Confidence limits on phylogenies: an approach using the bootstrap. Evolution 39:783–791

Hallmann J, Sikora RA (1996) Toxicity of fungal endophyte secondary metabolites to plant parasitic nematodes and soil-borne plant pathogenic fungi. Eur J Plant Pathol 102:155–162

Horie Y, Li D (1997) Five interesting ascomycetes from herbal drugs. Mycosci 38:287–295

Huang WY, Cai YZ, Hyde KD, Corke H, Sun M (2008) Biodiversity of endophytic fungi associated with 29 traditional Chinese medicinal plants. Fungal Divers 33:61–75

Kathuria V, Kaushik N (2006) Evaluation of insecticidal property of some plant species against Helicoverpa armigera. Indian J Agric Sci 76:614–617

Kaul S, Wani M, Dhar KL, Dhar MK (2008) Production and GC-MS trace analysis of methyl eugenol from endophytic isolate of Alternaria from rose. Ann Microbiol 58:443–445

Kaushal RP, Singh BM (1988) Genetics of disease resistance in urdbean (Vigna mungo (L.) Hepper) to the leaf spots caused by Colletotrichum truncatum (Schw.) Andrus and moore. Euphytica 37:279–281

Kharwar RN, Verma VC, Strobel G, Ezra D (2008) The endophytic fungal complex of Catharanthus roseus (L.) G. Don. Curr Sci 95:228–233

Kumar S, Kaushik N, Edrada-Ebel R, Ebel R, Proksch P (2008) Endophytic fungi for pest and disease management. In: Ciancio A, Mukerji KG (eds) Integrated management of diseases caused by fungi, phytoplasma and bacteria. Springer, Berlin, pp 365–387

Kusari S, Lamshöft M, Zühlke S, Spiteller M (2008) An endophytic fungus from Hypericum perforatum that produces hypericin. J Nat Prod 71:159–162

Latunde-Dada AO, Lucas JA (2007) Localized hemibiotrophy in Colletotrichum: cytological and molecular taxonomic similarities among C. destructivum, C. linicola and C. truncatum. Plant Pathol 56:437–447

Liu A-R, Wu X-P, Xu T (2007) Research advances in endophytic fungi of mangrove. Chin J Appl Ecol 18:912–918

Nalini MS, Mahesh B, Tejesvi MV, Prakash HS, Subbaiah V, Kini KR, Shetty HS (2005) Fungal endophytes from the three-leaved caper, Crataeva magna (Lour.) DC. (Capparidaceae). Mycopathologia 159:245–249

O'Connell RJ, Uronu AB, Waksman G, Nash C, Keon JPR, Bailey JA (1993) Hemibiotrophic infection of Pisum sativum by Colletotrichum truncatum. Plant Pathol 42:774–783

Owen NL, Hundley N (2004) Endophytes-the chemical synthesizers inside plants. Sci Prog 87:79–99

Park JH, Choi GJ, Lee HB, Kim KM, Jung HS, Lee SW, Jang KS, Cho KY, Kim JC (2005) Griseofulvin from Xylaria sp. Strain F0010, and endophytic fungus of Abies holophylla and its antifungal activity against plant pathogenic fungi. J Microbiol Biotechnol 15:112–117

Reddy BU (2009) Antimicrobial activity of Datura stramonium L. and Tylophora indica (Burm.f.) Merr. Pharmacologyonline 1:1293–1300

Romero A, Carrión G, Rico-Gray V (2001) Fungal latent pathogens and endophytes from leaves of Parthenium hysterophorus (Asteraceae). Fungal Divers 7:81–87

Saitou N, Nei M (1987) The neighbor-joining method: a new method for reconstructing phylogenetic trees. Mol Biol Evol 4:406–425

Salgado SC, De García MCC (2005) Endophytic fungi in rose (Rosa hybrida) in Bogota, Colombia [Aislamiento de hongos endofitos en rosa (Rosa hybrida) en Bogotá, Colombia]. Rev Iberoam Micol 22:99–101

Saunders M, Kohn LM (2008) Host-synthesized secondary compounds influence the in vitro interactions between fungal endophytes of maize. Appl Environ Microbiol 74:136–142

Schulz B, Rommert AK, Dammann U, Aust HJ, Strack D (1999) The endophyte-host interaction: a balanced antagonism? Mycol Res 103:1275–1283

Seena S, Sridhar KR (2004) Endophytic fungal diversity of 2 sand dune wild legumes from the southwest coast of India. Can J Microbiol 50:1015–1021

Shankar Naik B, Shashikala J, Krishnamurthy YL (2008) Diversity of fungal endophytes in shrubby medicinal plants of Malnad region, western Ghats, southern India. Fungal Ecol 1:89–93

Siegel MR, Latch GCM, Bush LP, Fannin NF, Rowan DD, Tapper BA, Bacon CW, Johnson MC (1990) Fungal endophyte-infected grasses: alkaloid accumulation and aphid response. J Chem Ecol 16:3301–3315

Strobel G (2006) Muscodor albus and its biological promise. J Ind Microbiol Biotechnol 33:514–522

Strobel GA, Dirkse E, Sears J, Markworth C (2001) Volatile antimicrobials from Muscador albus, a novel endophytic fungus. Microbiol 147:2943–2950

Tamura K, Dudley J, Nei M, Kumar S (2007) MEGA4: molecular evolutionary genetics analysis (MEGA) software version 4.0. Mol Biol Evol 24:1596–1599

Tanaka M, Fukushima T, Tsujino Y, Fujimori T (1997) Nigrosporins A and B, new phytotoxic and antibacterial metabolites produced by a fungus Nigrospora oryzae. Biosci Biotechnol Biochem 61:1848–1852

Tejesvi MV, Mahesh B, Nalini MS, Prakash HS, Kini KR, Shetty HS (2006) Fungal endophyte assemblages from ethanopharmaceutically important medicinal trees. Can J Microbiol 52:427–435

Verma VC, Gond SK, Mishra A, Kumar A, Kharwar RN (2008) Selection of natural strains of fungal endophytes from Azadirachta indica A. Juss, with anti-microbial activity against dermatophytes. Curr Bioact Comp 4:36–40

Wang S, X-Ming Li, Teuscher F, Li D-L, Diesel A, Ebel R, Proksch P, Wang B-G (2006) Chaetopyranin, a benzaldehyde derivative, and other related metabolites from Chaetomium globosum, an endophytic fungus derived from the marine red alga Polysiphonia urceolata. J Nat Prod 69:1622–1625

West CP (1994) Physiology and drought tolerance of endophyte—infected grasses. In: Bacon CW, White JF (eds) Biotechnology of endophytic fungi of grasses. CRC Press, Boca Raton, pp 87–99

White TJ, Bruns TD, Lee SB, Taylor JW (1990) Amplification and direct sequencing of fungal ribosomal RNA genes for phylogenetics. In: Innis MA, Gelfand DH, Sninshy JJ, White TD (eds) PCR protocols: a guide to methods and applications. Academic press, London, pp 315–332

Wicklow DT, Joshi BK, Gamble WR, Gloer JB, Dowd PF (1998) Antifungal metabolites (Monorden, Monocillin IV, and Cerebrosides) from Humicola fuscoatra traaen NRRL 22980, a mycoparasite of Aspergillus flavus sclerotia. Appl Environ Microbiol 64:4482–4484

Zou WX, Meng JC, Lu H, Chen GX, Shi GX, Zhang TY, Tan RX (2000) Metabolites of Colletotrichum gloeosporioides, an endophytic fungus in Artemisia mongolica. J Nat Prod 63:1529–1530
Acknowledgments
Authors are thankful to DST/DAAD for providing partial financial support for exchange visits. Thanks are due to late Prof. K G Mukherjee for identification of fungi. Susheel Kumar is grateful to University Grant Commission, New Delhi, India, for providing Research Fellowship.
About this article
Cite this article
Kumar, S., Kaushik, N., Edrada-Ebel, R. et al. Isolation, characterization, and bioactivity of endophytic fungi of Tylophora indica . World J Microbiol Biotechnol 27, 571–577 (2011). https://doi.org/10.1007/s11274-010-0492-6
Received:

Accepted:

Published:

Issue Date:
Keywords
Endophytic fungi

Tylophora indica
Sclerotinina

Bioassay