Abstract
The Klebsiella sp. strain ATCC13883T capable of degrading carbofuran phenol (2,3-dihydro-2,2-dimethylbenzofuran-7-ol) has been separated from the soil by enrichment culture technique and immobilized in various, namely polyurethane foam (PUF), polyacrylamide, alginate, agar and alginate-bentonite clay-powdered activated charcoal (PAC). The degradation rates of 20 and 30 mM carbofuran phenol by free and immobilized cells in batch and semi-continuous shaken cultures were compared. The PUF-immobilized cells achieved higher degradation rates in a shorter time than freely suspended cells and the cells immobilized in polyacrylamide, alginate and agar. The PUF- and alginate-bentonite clay-PAC-immobilized cells could be reused for more than 36 cycles, polyacrylamide-entrapped cells for 20 cycles and alginate-bentonite-PAC 28 cycles, without losing any degradation capacity and showed better tolerance to pH, temperature and concentration changes than free cells. These results showed that cells immobilized in modified alginate-bentonite-PAC immobilizers tolerated and completely degraded carbofuran phenol at initial concentrations of 20 and 30 mM and also higher. Such a bacterial strain could be used for bioremediation of environments contaminated with phenolic compounds.
Access options
Buy single article
Instant access to the full article PDF.
US$ 39.95
Tax calculation will be finalised during checkout.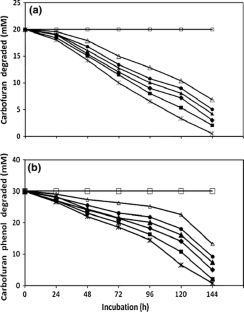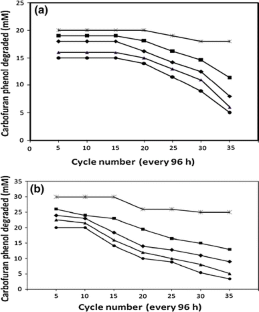 References
Bettman H, Rehm HJ (1984) Degradation of phenol by polymer entrapped microorganisms. Appl Microbiol Biotechnol 20:285–290. doi:10.1007/BF00270587

Cassidy MB, Lee H, Trevors JT (1996) Environmental applications of immobilized microbial cells: a review. J Ind Microbiol 16:79–101. doi:10.1007/BF01570068

Chapalmandugu S, Chaudhry GR (1992) Microbial and biotechnological aspects of metabolism of carbamates and organophosphates. Crit Rev Biotechnol 12:357–389

Chaudhry GR, Ali AN (1988) Bacterial metabolism of carbofuran. Appl Environ Microbiol 54:1414–1419

Chaudhry GR, Mateen A, Kaskar B, Bloda M, Riazuddin S (2002a) Purification, biochemical characterization of the carbamate hydrolase from Pseudomonas sp. 50432. Biotechnol Appl Biochem 36:63–70

Chaudhry GR, Mateen A, Kaskar B, Sardessai M, Bloda MA, Bhatti R, Walia SK (2002b) Induction of carbofuran oxidation to 4-hydroxycarbofuran by Pseudomonas sp. 50432. FEMS Microbiol Lett 214:171–176

Chung TP, Tseng HY, Juang RS (2003) Mass transfer effect and intermediate detection for phenol degradation in immobilized Pseudomonas putida systems. Process Biochem 38:1497–1507

D'Souza SF (2002) Trends in immobilized enzyme and cell technology. Indian J Biotechnol 1:321–328

Desaint S, Hartmann A, Parekh NR, Fournier JC (2000) Genetic diversity of carbofuran-degrading soil bacteria. FEMS Microbiol Ecol 34:173–180

Feng X, Ou LT, Ogram AV (1997) Plasmid-mediated mineralization of carbofuran by Sphingomonas sp. CF06. Appl Environ Microbiol 63:1332–1337

Hall DO, Rao KK (1989) Immobilized photosynthetic membranes and cells for the production of fuels and chemicals. Chim Oggi 1:41–47

Jiyoung S, Junho J, Sang-Don K, Suil K, Jaehong H, Hor-Gil H (2007) Fungal biodegradation of carbofuran and carbofuran phenol by the fungus Mucor ramannianus: identification of metabolites. Water Sci Technol 55:163–167

Jonathan W (1988) Methods of immobilization of microbial cells. J Microb Methods 8:91–102

Kamanavalli CM, Ninnekar HZ (2000) Biodegradation of Propoxur by Pseudomonas species. World J Microbiol Biotechnol 16:329–331

Marwaha SS, Kennedy JF, Khanna PK, Tewari HK, Redhu A (1989) In physiology of Immobilized cells. Proceedings of an international symposium. Elsevier Science Publishers, Wageningen, p 265

Nadal M, Sobhi B, Isam S (2007) Effect of adsorption and bead size of immobilized biomass on the rate of biodegradation of phenol at high concentration levels. Ind Eng Chem Res 46:6820–6824

Ramanand K, Sharmila M, Singh N, Sethunathan N (1991) Metabolism of carbamate insecticides by resting cells and cell-free preparations of a soil bacterium, Arthrobacter sp. Bull Environ Contam Toxicol 46:380–386

Seubert W (1960) Determination of isoprenoid compounds by microorganisms. I. Isolation and characterization of an isoprenoid-degrading bacterium, Pseudomonas citronellolis, new species. J Bacteriol 79:426–434

Tomasek PH, Karns J (1989) Cloning of a carbofuran hydrolase gene from Achromonobacter sp. strain WM111 and its expression in gram-negative bacteria. J Bacteriol 171:4038–4044

Trevors JT, Van Elsas JD, Lee H, Van Overbeek LS (1992) Use of alginate and other carriers for encapsulation of microbial cells for use in soil. Microb Release 1:61–69

Trevors JT, Lee H, Wolters AC, Van Elsas JD (1993) Survival of alginate encapsulated Pseudomonas fluorescens cells in soil. Appl Environ Microbiol 30:637
Acknowledgments
The authors wish to express all their gratitude to University Sophisticated Instrumentation Centre (USIC), Karnatak University, Dharwad for providing instrumental facilities.
About this article
Cite this article
Kadakol, J.C., Kamanavalli, C.M. & Shouche, Y. Biodegradation of Carbofuran phenol by free and immobilized cells of Klebsiella pneumoniae ATCC13883T. World J Microbiol Biotechnol 27, 25–29 (2011). https://doi.org/10.1007/s11274-010-0422-7
Received:

Accepted:

Published:

Issue Date:
Keywords
Carbofuran phenol

Klebsiella sp. strain ATCC13883T

Immobilized cells

Polyurethane foam