Abstract
Tyrosinase is a key enzyme in melanin synthesis. Owing to enlargement of availability of edible types of mushrooms in food medicines, we investigated effects of Agaricus blazei (ABE) on tyrosinase activity using l-tyrosine and l-3, 4-dihydroxyphenylalanine (l-DOPA) as the substrate in normal human epidermal melanocytes (NHEM). ABE inhibited tyrosinase activity similar to arbutin and Vitamin C as two whitening agents in a dose dependent manner. In agreement with this, treatment of the cells with ABE (3–100 μg/ml) reduced melanin content up to 57% of the control in NHEM. In addition, production of nitric oxide (NO) which has the ability of inducing tyrosinase activity in melanocytes was also suppressed by ABE treatment. Furthermore, ABE inhibited NO production in lipopolysaccharides (LPS)-stimulated RAW264.7 macrophages, in a dose dependent manner but without affecting iNOS mRNA expression indicated by reverse transcription-PCR (RT-PCR) technique. These findings suggest that ABE inhibits melanin production via partial inhibition of tyrosinase activity and NO production. This hypopigmenting effect of water soluble Agaricus blazei extract could be useful for the treatment of some skin disorders.
Access options
Buy single article
Instant access to the full article PDF.
US$ 39.95
Tax calculation will be finalised during checkout.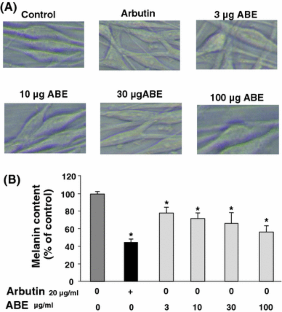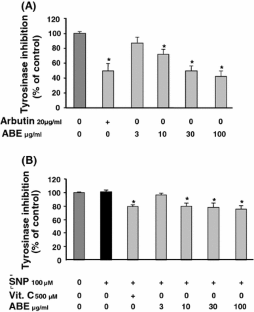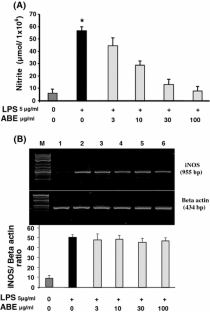 References
Ahn WS, Kim DJ, Chae GT, Lee JM, Bae SM, Sin JI, Kim YW, Namkoong SE, Lee IP (2004) Natural killer cell activity and quality of life were improved by consumption of a mushroom extract, Agaricus blazei Murill, in gynecological cancer patients undergoing chemotherapy. Int J Gynecol Cancer 14:589–594

Ando H, Kondoh H, Ichihashi M, Hearing VJ (2007) Approaches to identify inhibitors of melanin biosynthesis via the quality control of tyrosinase. J Invest Dermatol 127:751–761

Baek S, Kim J, Lee C, Kim J, Chung DK, Lee C (2008) Inhibitory effect of dalbergioidin isolated from the trunk of Lespedeza cyrtobotrya on melanin biosynthesis. J Microbiol Biotechnol 18:874–879

Busca R, Ballotti R (2000) Cyclic AMP a key messenger in the regulation of skin pigmentation. Pigment Cell Res 13:60–69

Chomczynski P, Sacchi N (1987) Single-step method of RNA isolation by acid guanidinium thiocyanate-phenol-chloroform extraction. Anal Biochem 162:156–159

Curto EV, Kwong C, Hermersdörfer H, Glatt H, Santis C, Virador V, Hearing VJ Jr, Dooley TP (1999) Inhibitors of mammalian melanocyte tyrosinase: in vitro comparisons of alkyl esters of gentisic acid with other putative inhibitors. Biochem Pharmacol 57:663–672

Green LC, Wagner DA, Glogowski J, Skipper PL, Wishnok JS, Tannenbaum SR (1982) Analysis of nitrate, nitrite, and [15N] nitrate in biological fluids. Anal Biochem 126:131–138

Hearing VJ, Tsukamoto K (1991) Enzymatic control of pigmentation in mammals. FASEB J 5:2902–2909

Ito H, Shimura K, Itoh H, Kawade M (1997) Antitumor effects of a new polysaccharide-protein complex (ATOM) prepared from Agaricus blazei (Iwade strain 101) ''Himematsutake'' and its mechanisms in tumor bearing mice. Anticancer Res 17:277–284

Jolivet S, Pellon G, Gelhausen M, Arpin N (1999) g-L-[3H]-Glutaminyl-4-[14C]hydroxybenzene (GHB): biosynthesis and metabolic fate after applying on Agaricus bisporus. Phytochemistry 50:581–587

Kaneno R, Fontanari LM, Santos SA, Di Stasi LC, Rodrigues Filho E, Eira AF (2004) Effects of extracts from Brazilian sun-mushroom (Agaricus blazei) on the NK activity and lymphoproliferative responsiveness of Ehrlich tumor-bearing mice. Food Chem Toxicol 42:909–916

Kawagishi H, Inagaki R, Kanao T, Mizuno T, Shimura K, Ito H, Hagiwara T, Nakamura T (1989) Fractionation and antitumor activity of the water insoluble residue of Agaricus blazei fruiting bodies. Carbohydr Res 186:267–273

Kim YJ (2007) Antimelanogenic and antioxidant properties of gallic acid. Biol Pharm Bull 30:1052–1055

Kim YJ, No JK, Lee JH, Chung HY (2005) 4, 4′-Dihydroxybiphenyl as a new potent tyrosinase inhibitor. Biol Pharm Bull 28:323–327

Kim YJ, No JK, Lee JS, Kim MS, Chung HY (2006) Antimelanogenic activity of 3, 4-dihydroxyacetophenone: inhibition of tyrosinase and MITF. Biosci Biotechnol Biochem 70:532–534

Kimura Y, Kido T, Takaku T, Sumiyoshi M, Baba K (2004) Isolation of an anti-angiogenic substance from Agaricus blazei Murill: its antitumor and antimetastatic actions. Cancer Sci 95:758–764

Lavi I, Friesem D, Geresh S, Hadar Y, Schwartz B (2006) An aqueous polysaccharide extract from edible mushroom Pleurotus ostreatus induces anti-proliferative and anti-apoptotic effects on HT-29 colon cancer cells. Cancer Lett 244:61–70

Maeda K, Fukuda M (1996) Arbutin: mechanism of its depigmenting action in human melanocyte culture. J Pharmacol Exp Ther 276:765–769

Mahmoud ME, Nikami H, Shiina T, Takewaki T, Shimizu Y (2010) Capsaicin inhibits IFN-γ-induced MHC class II expression by suppressing transcription of class II transactivator gene in murine peritoneal macrophages. Int Immunopharmacol 10:86–90

Momtaz S, Mapunya BM, Houghton PJ, Edgerly C, Hussein A, Naidoo S, Lall N (2008) Tyrosinase inhibition by extracts and constituents of Sideroxylon inerme L. stem bark, used in South Africa for skin lightenings. J Ethnopharmacol 119:507–517

Menoli RC, Mantovani MS, Ribeiro LR, Speit G, Jordão BQ (2001) Antimutagenic effects of the mushroom Agaricus blazei Murrill extracts on V79 cells. Mutat Res 496:5–13

Mizuno M, Morimoto M, Minato K, Tsuchida H (1998) Polysaccharides from Agaricus blazei stimulate lymphocyte T-cell subsets in mice. Biosci Biotechnol Biochem 62:434–437

Monach C, Scalbert A, Morand C, Rémésy C, Jiménez L (2004) Polyphenols: food sources and bioavailability. Amer J Clinical Nutr 79:727–747

Nakamura K, Yoshida M, Uchiwa H, Kawa Y, Mizoguchi M (2003) Downregulation of melanin synthesis by a biphenyl derivative and its mechanism. Pigment Cell Res 16:494–500

No JK, Kim MS, Kim YJ, Bae SJ, Choi JS, Chung HY (2004) Inhibition of tyrosinase by protocatechuic aldehyde. Amer J Chin Med 32:97–103

Oka Y, Tsuji H, Ogawa T, Sasaoka K (1981) Quantitative determination of the free amino acids and their derivatives in the common edible mushroom, Agaricus bisporus. J Nutr Sci Vitaminol 27:253

Quevedo WC Jr, Holstein TJ, Dyckman J, McDonald CJ, Isaacson EL (2000) Inhibition of UVR-induced tanning and immunosuppression by topical applications of vitamins C and E to the skin of hairless (hr/hr) mice. Pigment Cell Res 13:89–98

Roméro-Graillet C, Aberdam E, Clément M, Ortonne JP, Ballotti R (1997) Nitric oxide produced by ultraviolet-irradiated keratinocytes stimulates melanogenesis. J Clin Invest 99:635–642

Sasaki M, Horikoshi T, Uchiwa H, Miyachi Y (2000) Upregulation of tyrosinase gene by nitric oxide in Human melanocytes. Pigment Cell Res 13:248–252

Silva GM, Maia Campos PM (2000) Histopathological, morphometric and stereological studies of ascorbic acid and magnesium ascorbyl phosphate in a skin care formulation. Int J Cosmet Sci 22:169–179

Sorimachi K, Ikehara Y, Maezato G, Okubo A, Yamazaki S, Akimoto K, Niwa A (2001) Inhibition by Agaricus blazei Murill fractions of cytopathic effect induced by western equine encephalitis (WEE) virus on VERO cells in vitro. Biosci Biotechnol Biochem 65:1645–1647

Wang N, Hebert DN (2006) Tyrosinase maturation through the mammalian secretory pathway: bringing color to life. Pigment Cell Res 19:3–18

Wasser SP, Weis AL (1999) Therapeutic effects of substances occurring in higher Basidiomycetes mushrooms: a modern perspective. Crit Rev Immunol 19:65–96

Xiao L, Matsubayashi K, Miwa N (2007) Inhibitory effect of the water-soluble polymer-wrapped derivative of fullerene on UVA-induced melanogenesis via downregulation of tyrosinase expression in human melanocytes and skin tissues. Arch Dermatol Res 299(5–6):245–257

Yuminamochi E, Koike T, Takeda K, Horiuchi I, Okumura K (2007) Interleukin-12- and interferon-c-mediated natural killer cell activation by Agaricus blazei Murill. Immunology 121:197–206

Zhong S, Wu Y, Soo-Mi A, Zhao J, Wang K, Yang S, Jae-Ho Y, Zhu X (2006) Depigmentation of melanocytes by the treatment of extracts from traditional Chinese herbs: a cell culture assay. Biol Pharm Bull 29:1947–1951
Acknowledgments
The authors acknowledge Prof. Ito (Department of Public Health, Gifu University, Japan) for kindly providing RAW264.7 cell line.
About this article
Cite this article
Mahmoud, M.E., Hesham, A.EL., Ahmed, Y.AG. et al. Inhibition of melanogenesis by the extract from Agaricus blazei without affecting iNOS gene expression. World J Microbiol Biotechnol 26, 2029–2035 (2010). https://doi.org/10.1007/s11274-010-0387-6
Received:

Accepted:

Published:

Issue Date:
Keywords
Agaricus blazei

Melanin

Skin whitening

Melanocytes

RAW264.7 cells, RT-PCR