Abstract
Endophytic fungi are plant symbionts that produce a variety of beneficial metabolites for plant growth and protection against herbivory and pathogens. Fourteen fungal samples were isolated from the roots of soybean cultivar Daemangkong and screened on waito-c rice for their plant growth-promoting capacity. Twelve of the fungal isolates promoted plant growth, while two inhibited it. The fungal isolate DK-1-1 induced maximum plant growth in both waito-c rice and soybean. The plant growth promotion capacity of DK-1-1 was higher than the wild type Gibberella fujikuroi. Gibberellin (GA) analysis of culture filtrate of DK-1-1 showed the presence of higher amounts of bioactive GA3, GA4, and GA7 (6.62, 2.1 and 1.26 ng/mL, respectively) along with physiologically inactive GA5, GA15, GA19, and GA24. Phylogenetic analysis of 18S rDNA sequence identified the fungal isolate as a new strain of Cladosporium sphaerospermum. Gibberellin production and plant growth-promoting ability of genus Cladosporium are reported for the first time in the present study.
This is a preview of subscription content, log in to check access.
Access options
Buy single article
Instant access to the full article PDF.
US$ 39.95
Price includes VAT for USA
Subscribe to journal
Immediate online access to all issues from 2019. Subscription will auto renew annually.
US$ 199
This is the net price. Taxes to be calculated in checkout.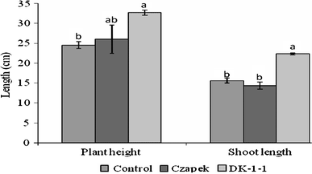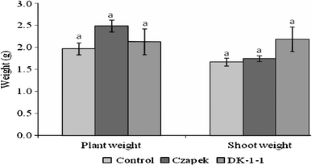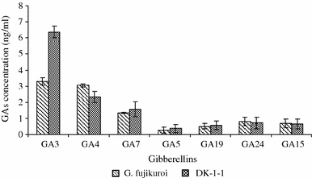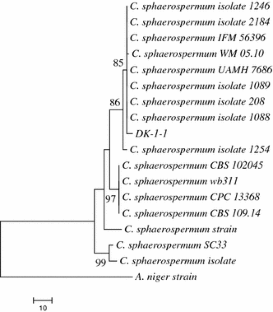 References
Badillet G, de Bievre C, Spizajzen S (1982) Isolement de dematiees a partir d'ongles et de squames. Bull Soc Fr Mycologie 11:69–72

Bayman B, Lebron LL, Tremblay RL et al (1997) Variation in endophytic fungi from roots and leaves of Lepanthes (Orchidaceae). New Phytol 135:143–149. doi:10.1046/j.1469-8137.1997.00618.x

Carroll GC (1986) The biology of endophytism in plants with particular reference to woody perennials. In: Fokkema NJ, Van Den Heuvel J (eds) Microbiology of the Phyllosphere. Cambridge University Press, Cambridge UK, pp 205–222

Choi WY, Rim SO, Lee JH et al (2005) Isolation of gibberellins producing fungi from the root of several Sesamum indicum plants. J Microbiol Biotechnol 15(1):22–28

Cohen JD, Bausher MG, Bialek K et al (1987) Comparison of a commercial ELISA assay for Indole-3-acetic acid at several stages of purification and analysis by gas chromatography-selected ion monitoring-mass spectrometry using a 3C6-labeled internal standard. Plant Physiol 84:982–986. doi:10.1104/pp.84.4.982

Cragg GM, Newman DJ, Snader KM (1997) Natural products in drug discovery and development. J Nat Prod 60:52–60. doi:10.1021/np9604893

Franck C, Lammertyn J, Nicolaï B (2005) Metabolic profiling using GC-MS to study biochemical changes during long-term storage of pears. Proceedings of the 5th International Postharvest Symposium. F. Mencarelli and P. Tonutti. (Eds) Acta Hortic 682:1991–1998

Hao C, Zhao X, Yang P (2007) GC-MS and HPLC-MS analysis of bioactive pharmaceuticals and personal-care products in environmental matrices. Trends Analyt Chem 26:569–580. doi:10.1016/j.trac.2007.02.011

Hasan HAH (2002) Gibberellin and auxin production plant root fungi and their biosynthesis under salinity-calcium interaction. Rostlinna Vyroba 48(3):101–106

Higgs RE, James AZ, Jeffrey DG et al (2001) Rapid method to estimate the presence of secondary metabolites in microbial extracts. Appl Environ Microbiol 67(1):371–376. doi:10.1128/AEM.67.1.371-376.2001

Kawaide H (2006) Biochemical and molecular analysis of gibberellin biosynthesis in fungi. Biosci Biotechnol Biochem 70(3):583–590. doi:10.1271/bbb.70.583

Lee IJ, Foster K, Morgan PW (1998) Photoperiod control of gibberellin levels and flowering in sorghum. Plant Physiol 116:1003–1011. doi:10.1104/pp.116.3.1003

MacMillan J (2002) Occurence of gibberellins in vascular plants, fungi and bacteria. J Plant Growth Regul 20:387–442. doi:10.1007/s003440010038

Marquez LM, Redman RS, Rodriguez RJ et al (2007) A virus in a fungus in a plant-three way symbioses required for thermal tolerance. Science 315:513–515. doi:10.1126/science.1136237

Nishijima T, Koshioka M, Yamazaki H et al (1995) Endogenous gibberellins and bolting in cultivars of Japanese radish. Acta Hortic 394:199–206

Park HG, Managbanag JR, Stamenova EK et al (2004) Comparative analysis of common indoor Cladosporium species based on molecular data and conidial characters. Mycotaxon 89:441–451

Pereira PT, de Carvalho MM, Girio FM et al (2002) Diversity of microfungi in the phylloplane of plants growing in a Mediterranean ecosystem. J Basic Microbiol 42:396–407. doi:10.1002/1521-4028(200212)42:6<396::AID-JOBM396>3.0.CO;2-L

Rim SO, Lee JH, Choi WY et al (2006) Fusarium proliferatum KGL0401 as a new gibberellin-producing fungus. J Microbiol Biotechnol 15(4):809–814

Schmelz EA, Engelberth J, Alborn HT et al (2003) Endophytes as sources of bioactive products. Microbes Infect 5:535–544. doi:10.1016/S1286-4579(03)00073-X

Schulz B, Boyle C (2005) The endophytic continuum. Mycol Res 109:661–686. doi:10.1017/S095375620500273X

Tamura K, Dudley J, Nei M et al (2007) MEGA4: Molecular evolutionary genetics analysis (MEGA) software version 4.0. Mol Biol Evol pp.1596–1599

Tejesvi MV, Kini KR, Prakash HS et al (2007) Genetic diversity and antifungal activity of species of Pestalotiopsis isolated as endophytes from medicinal plants. Fungal Divers 24:37–54

Tudzunski B (1997) Fungal phytohormones in pathogenic and mutualistic associations. In: Esser K, Lemke PA (eds) The mycota vol. V, plant relationship, Part A. Springer-Verlag, Berlin, pp 167–184

Vandenbussche F, Fierro AC, Wiedemann G et al (2007) Evolutionary conservation of plant gibberellin signalling pathway components. BMC Plant Biol 7:65. doi:10.1186/1471-2229-7-65

Vazquez MM, Cesar S, Azcon R et al (2000) Interaction between arbuscular mycorrhizal fungi and other microbial inoculants (Azospirillum, Pseudomonas, Trichoderma) and their effects on microbial population and enzyme activities in the rhizosphere of maize plants. Appl Soil Ecol 15:261–272. doi:10.1016/S0929-1393(00)00075-5

Yamada A, Ogura T, Degawa Y et al (2001) Isolation of Tricholoma matsutake and T. bakamatsutake cultures from field-collected ectomycorrhizas. Mycoscience 42:43–50. doi:10.1007/BF02463974
Acknowledgment
This study was supported by the technology development program for Agriculture and Forestry, Ministry for Agriculture, Forestry and Fisheries, Republic of Korea.
Electronic supplementary material
Below is the link to the electronic supplementary material.
About this article
Cite this article
Hamayun, M., Afzal Khan, S., Ahmad, N. et al. Cladosporium sphaerospermum as a new plant growth-promoting endophyte from the roots of Glycine max (L.) Merr.. World J Microbiol Biotechnol 25, 627–632 (2009). https://doi.org/10.1007/s11274-009-9982-9
Received:

Accepted:

Published:

Issue Date:
Keywords
Cladosporium sphaerospermum

Gibberellins

Plant growth

Endophytic fungi

18S rDNA

Waito-c rice