Abstract
The microorganisms associated with sugary Brazilian kefir beverage were investigated using a combination of culture-dependent and -independent methods. A total of 289 bacteria and 129 yeasts were identified via phenotypic and genotypic methods. Lb. paracasei (23.8%) was the major bacterial isolate identified, followed by Acetobacter lovaniensis (16.31%), Lactobacillus parabuchneri (11.71%), Lactobacillus kefir (10.03%) and Lactococcus lactis (10.03%). Saccharomyces cerevisiae (54.26%) and Kluyveromyces lactis (20.15%) were the most common yeast species isolated. Scanning electron microscopy showed that the microbiota was dominated by lemon-shaped yeast cells growing in close association with Lactobacillus (long and curved). Some lactic acid bacteria detected by sequence analysis of DGGE (denaturing gradient gel electrophoresis) bands were not recovered at any time through fermentation by plating. Conversely, DGGE fingerprints did not reveal bands corresponding to some of the species isolated by culturing methods. The bacteria Acetobacter lovaniensis and the yeast Kazachstania aerobia are described for the first time in sugary kefir. During the 24 h of fermentation, the concentration of lactic acid ranged from 0.2 to 1.80 mg/ml, and that of acetic acid increased from 0.08 to 1.12 mg/ml. The production of ethanol was limited, reaching a final mean value of 1.24 mg/ml.
This is a preview of subscription content, log in to check access.
Access options
Buy single article
Instant access to the full article PDF.
US$ 39.95
Price includes VAT for USA
Subscribe to journal
Immediate online access to all issues from 2019. Subscription will auto renew annually.
US$ 199
This is the net price. Taxes to be calculated in checkout.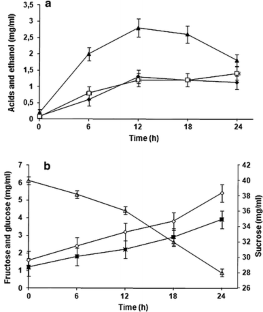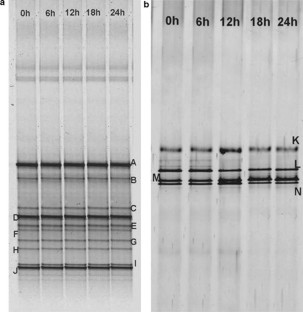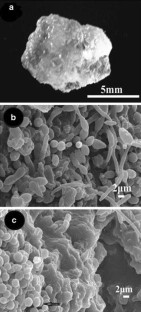 References
Almeida EG, Rachid CCTC, Schwan RF (2007) Microbial population present in fermented beverage 'cauim' produced by Brazilian Amerindians. Int J Food Microbiol 120:146–151. doi:10.1016/j.ijfoodmicro.2007.06.020

AOAC (1995) Official methods of analysis of the association of official analytical chemists, 16th edn. AOAC, Washington

Barnett JA, Payne RW, Yarrow D (2000) Yeast—characteristic and identification. Cambrige University Press, Cambrige

Beshkova DM, Simova ED, Frengova GI, Simov ZI, Dimitrov ZHO (2003) Production of volatile aroma compounds by kefir starter cultures. Int Dairy J 13:529–535. doi:10.1016/S0958-6946(03)00058-X

Chandler DP, Fredrickson JK, Brockman FG (1997) Effect of PCR template concentration on the composition and distribution of total community 16S rDNA clone libraries. Mol Ecol 6:475–482

Cheirsilp B, Shoji H, Shimizu H, Shioya S (2003) Enhanced kefiran production by mixed culture of Lactobacillus kefiranofaciens and Saccharomyces cerevisiae. J Biotechnol 100:43–53. doi:10.1016/S0168-1656(02)00228-6

Chen HC, Wang SY, Chen MJ (2008) Microbiological study of lactic acid bacteria in kefir grains by culture-dependent and culture-independent methods. Food Microbiol 25:492–501. doi:10.1016/j.fm.2008.01.003

Duarte WF, Dias DR, Pereira GVM, Gervásio IM, Schwan RF (2008) Indigenous and inoculated yeast fermentation of gabiroba (Campomanesia pubescens) pulp for fruit wine production. J Ind Microbiol Biotechnol 36:557–569. doi:10.1007/s10295-009-0526-y

Ercolini D, Moschetti G, Blaiotta G, Coppola S (2001) Behavior of variable V3 region from 16S rDNA of lactic acid bacteria in denaturing gradient gel electrophoresis. Curr Microbiol 42:199–202. doi:10.1007/s002840010204

Garrote GL, Abraham AG, De Antoni GL (2001) Chemical and microbiological characterization of kefir grains. J Dairy Res 68:639–652. doi:10.1017/S0022029901005210

Giraffa G (2004) Studying the dynamics of microbial populations during food fermentation. FEMS Microbiol Rev 28:251–260. doi:10.1016/j.femsre.2003.10.005

Guzel-Seydim Z, Wyffels JT, Sedydim AC, Greene AK (2005) Turkish Kefir and kefir grains: microbial enumeration and electron microscopic observation. Int J Dairy Technol 58:25–29. doi:10.1111/j.1471-0307.2005.00177.x

Hammes WP, Hertel C (2003) The genera Lactobacillus and Carnobacterium. In: Dworkin M, Flakow S, Rosenberg E, Schleifer KH, Stackbrandt E (eds) The prokaryotes: an evolving electronic resource for the microbiological community, release 3.15. Springer-Verlag, New York, NY

Haruta S, Ueno S, Egawa I, Hashiguchi K, Fujii A, Nagano M, Ishii M, Igarashi Y (2006) Sucession of bacterial and fungal communities during a traditional pot fermentation of rice vinegar assessed by PCR-mediated denaturing gradient gel electrophoresis. Int J Food Microbiol 109:79–87. doi:0.1016/j.ijfoodmicro.2006.01.015

Holt JG, Krieg NR, Sneath PHA, Stanley JT, Williams ST (1994) Bergey's manual of determinative bacteriology. Williams & Wilkins, Baltimore

Jianzhong Z, Xiaoli L, Hanhu J, Mingsheng D (2009) Analysis of the microflora in Tibetan kefir grains using denaturing gradient gel electrophoresis. Food Microbiol 26:770–775. doi:10.1016/j.fm.2009.04.009

Kumar S, Dudley J, Nei M, Tamura K (2008) MEGA: a biologist-centric software for evolutionary analysis of DNA and protein sequences. Brief Bioinform 9:299–306

Latorre-García L, del Castillo-Agudo L, Polaina J (2007) Taxonomical classification of yeasts isolated from kefir based on the sequence of their ribosomal RNA genes. World J Microbiol Biotechnol 23:785–791. doi:10.1007/s11274-006-9298-y

Lisdiyanti P, Kawasaki H, Seki T, Yamada Y, Uchimura T, Komagata K (2000) Systematic study of the genus Acetobacter with descriptions of Acetobacter indonesiensis sp. nov., Acetobacter tropicalis sp. nov., Acetobacter orleanensis (Henneberg 1906) comb. nov., Acetobacter lovaniensis (Frateur 1950) comb. nov., Acetobacter estunensis (Carr 1958) comb nov. J General Appl Microbiol 46:147–165. doi:10.2323/jgam.46.147

Makimura K, Tamura Y, Mochizuki T, Hasegawa A, Tajiri Y, Hanazawa R, Uchida K, Saito H, Yamaguchi H (1999) Phylogenetic classification and species identification of dermatophyte strains based on DNA sequences of nuclear ribosomal internal transcribed spacer 1 regions. J Clin Microbiol 37:920–924

Naumova ES, YuV Ivannikova, Naumov GI (2004) Genetic differentiation of the sherry yeasts Saccharomyces cerevisiae. Appl Biochem Microbiol 41:578–582. doi:10.1007/s10438-005-0105-6

Ovreas L, Forney L, Daae FL, Torsvik V (1997) Distribution of bacterioplankton in meromictic lake Saelenvannet, as determined by denaturing gradient electrophoresis of PCR-amplified gene fragments coding for 16S rRNA. Appl Environ Microbiol 63:3367–3373

Pidoux M (1989) The microbial flora of sugary kefir grain (the gingerbeer plant): biosynthesis of the grain from Lactobacillus hilgardii producing a polysaccharide gel. World J Microbiol Biotechnol 5:223–238. doi:10.1007/BF01741847

Pidoux M, Marshall VM, Zanoni P, Brooker B (1990) Lactobacilli isolated from sugary kefir grains capable of polysaccharide production and minicell formation. J Appl Microbiol 69:311–320. doi:10.1111/j.1365-2672.1990.tb01521.x

Rahman N, Xiaohong C, Meiqin F, Mingsheng D (2009) Characterization of the dominant microflora in naturally fermented camel milk shubat. World J Microbiol Biotechnol 25:1941–1946. doi:10.1007/s11274-009-0092-5

Schwan RF, Mendonça AT, JJ Silva Jr, Rodrigues V, Wheals AE (2001) Microbiology and physiology of cachaça (aguardente) fermentations. Anton Leeuw Int J G 79:89–96. doi:10.1023/A:1010225117654

Schwan RF, Almeida EG, Souza Dias MAG, Jespersen L (2007) Yeast diversity in rice-cassava fermentations produced by the indigenous Tapirape people of Brazil. FEMS Yeast Res 7:966–972. doi:10.1111/j.1567-1364.2007.00241.x

Simova E, Beshkova D, Angelov A, Hristozova T, Frengova G, Spasov Z (2002) Lactic acid bacteria and yeasts in kefir grains and kefir made from them. J Ind Microbiol Biotechnol 28:1–6. doi:10.1038/sj/jim/7000186

Simova E, Simov Z, Beshkova D, Frengova G, Dimitrov Z, Spasov Z (2006) Amino acid profiles of lactic acid bacteria, isolated from kefir grains and kefir starter made from them. Int J Food Microbiol 107:112–123. doi:10.1016/j.ijfoodmicro.2005.08.020

Thompson JD, Gibson TJ, Plewniak F, Jeanmougin F, Higgins DG (1997) The ClustalX windows interface: flexible strategies for multiple sequence alignment aided by quality analysis tools. Nucleic Acids Res 24:4876–4882

Wang X, Haruta S, Wang P, Ishii M, Igarashi Y, Cui Z (2006) Diversity stable enrichment culture which is useful for silage inoculant and its succession in alfalfa silage. FEMS Microbiol Ecol 57:106–115. doi:10.1111/j.1574-6941.2006.00099.x

Witthuhn RC, Schoeman T, Britz TJ (2004) Isolation and characterization of the microbial population of different South African kefir grains. Int J Dairy Technol 57:33–37. doi:10.1111/j.1471-0307.2004.00126.x
Acknowledgments
The Brazilian agencies Conselho Nacional de Desenvolvimento Científico e Tecnológico do Brasil (CNPQ), Fundação de Amparo a Pesquisa do Estado de Minas Gerais (FAPEMIG) and CAPES (Coordenação de Aperfeiçoamento de Pessoal de Nível Superior) are acknowledged for financial support and scholarships for KTM and GVMP.
About this article
Cite this article
Magalhães, K.T., de M. Pereira, G.V., Dias, D.R. et al. Microbial communities and chemical changes during fermentation of sugary Brazilian kefir. World J Microbiol Biotechnol 26, 1241–1250 (2010). https://doi.org/10.1007/s11274-009-0294-x
Received:

Accepted:

Published:

Issue Date:
Keywords
PCR-DGGE

Culture-dependent and -independent methods

Microbial community

Lactobacillus
Saccharomyces