Abstract
Infections caused by drug-resistant microorganisms result in significant increases in mortality, morbidity, and cost related to prolonged treatments. The antibacterial activity of silver nanoparticles against some drug-resistant bacteria has been established, but further investigation is needed to determine whether these particles could be an option for the treatment and prevention of drug-resistant microbial infections. Hence, we challenged different drug-resistant pathogens of clinical importance (multidrug-resistant Pseudomonas aeruginosa, ampicillin-resistant Escherichia coli O157:H7 and erythromycin-resistant Streptococcus pyogenes) with a suspension of silver nanoparticles. By means of a luciferase-based assay, it was determined that silver nanoparticles (1) inactivate a panel of drug-resistant and drug-susceptible bacteria (Gram positive and Gram negative), (2) exert their antibacterial activity through a bactericidal rather than bacteriostatic mechanism, and (3) inhibit the bacterial growth rate from the time of first contact between the bacteria and the nanoparticles. Additionally, strains with a resistant phenotype to silver nanoparticle were developed and used to explore the bactericidal mode of action of silver nanoparticles. Through a Kirby–Bauer test, it was shown that silver nanoparticles' general mechanism of bactericidal action is based on inhibition of cell wall synthesis, protein synthesis mediated by the 30s ribosomal subunit, and nucleic acid synthesis. Our data suggest that silver nanoparticles are effective broad-spectrum biocides against a variety of drug-resistant bacteria, which makes them a potential candidate for use in pharmaceutical products and medical devices that may help to prevent the transmission of drug-resistant pathogens in different clinical environments.
This is a preview of subscription content, log in to check access.
Access options
Buy single article
Instant access to the full article PDF.
US$ 39.95
Price includes VAT for USA
Subscribe to journal
Immediate online access to all issues from 2019. Subscription will auto renew annually.
US$ 199
This is the net price. Taxes to be calculated in checkout.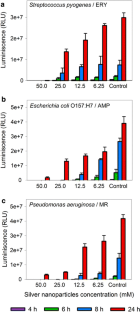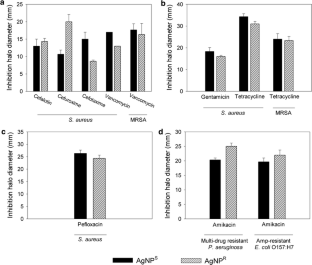 References
Chopra I (2007) The increasing use of silver-based products as antimicrobial agents: a useful development or a cause for concern? J Antimicrob Chemother 59:587–590

Drake PL, Hazelwood KJ (2005) Exposure-related health effects of silver and silver compounds: a review. Ann Occup Hyg 49:575–585

Dunn K, Edwards-Jones V (2004) The role of Acticoat with nanocrystalline silver in the management of burns. Burns 30(Suppl 1):S1–S9

Elechiguerra JL, Burt JL, Morones JR, Camacho-Bragado A, Gao X, Lara HH, Yacaman MJ (2005) Interaction of silver nanoparticles with HIV-1. J Nanobiotechnology 3:6

French GL (2006) Bactericidal agents in the treatment of MRSA infections—the potential role of daptomycin. J Antimicrob Chemother 58:1107–1117

Gupta LK, Jindal R, Beri HK, Chhibber S (1992) Virulence of silver-resistant mutant of Klebsiella pneumoniae in burn wound model. Folia Microbiol (Praha) 37:245–248

Hoyme UB (1993) Clinical significance of Crede's prophylaxis in Germany at present. Infect Dis Obstet Gynecol 1:32–36

Ip M, Lui SL, Poon VK, Lung I, Burd A (2006) Antimicrobial activities of silver dressings: an in vitro comparison. J Med Microbiol 55:59–63

Kong H, Jang J (2008) Antibacterial properties of novel poly (methyl methacrylate) nanofiber containing silver nanoparticles. Langmuir 24:2051–2056

Lok CN, Ho CM, Chen R, He QY, Yu WY, Sun H, Tam PK, Chiu JF, Che CM (2006) Proteomic analysis of the mode of antibacterial action of silver nanoparticles. J Proteome Res 5:916–924

Lok CN, Ho CM, Chen R, He QY, Yu WY, Sun H, Tam PK, Chiu JF, Che CM (2007) Silver nanoparticles: partial oxidation and antibacterial activities. J Biol Inorg Chem 12:527–534

Lut L, Sun RW, Chen R, Hui CK, Ho CM, Luk JM, Lau GK, Che CM (2008) Silver nanoparticles inhibit hepatitis B virus replication. Antivir Ther 13:253–262

Matsumura Y, Yoshikata K, Kunisaki S, Tsuchido T (2003) Mode of bactericidal action of silver zeolite and its comparison with that of silver nitrate. Appl Environ Microbiol 69:4278–4281

McDonnell GE (2007) Chemical disinfection. In: Antisepsis, disinfection, and sterilization, pp 111–115

Morones JR, Elechiguerra JL, Camacho A, Holt K, Kouri JB, Tapia J, Yacaman MJ (2005) The bactericidal effect of silver nanoparticles. Nanotechnology 16:2346–2353

Pal S, Tak YK, Song JM (2007) Does the antibacterial activity of silver nanoparticles depend on the shape of the nanoparticle? A study of the Gram-negative bacterium Escherichia coli. Appl Environ Microbiol 73:1712–1720

Petica A, Gavriliu S, Lungu M, Buruntea N, Panzaru C (2008) Colloidal silver solutions with antimicrobial properties. Mater Sci Eng 152:22–27

Rai M, Yadav A, Gade A (2009) Silver nanoparticles as a new generation of antimicrobials. Biotechnol Adv 27:76–83

Shrivastava S, Bera T, Roy A, Singh G, Ramachandrarao P, Dash D (2007) Characterization of enhanced antibacterial effects of novel silver nanoparticles. Nanotechnology 18:1–9

Sondi I, Salopek-Sondi B (2004) Silver nanoparticles as antimicrobial agent: a case study on E. coli as a model for gram-negative bacteria. J Colloid Interface Sci 275:177–182

Webb GF, D'Agata EM, Magal P, Ruan S (2005) A model of antibiotic-resistant bacterial epidemics in hospitals. Proc Natl Acad Sci USA 102:13343–13348

World Health Organization (2007) WHO Model of essential medicines. Online source

Yamanaka M, Hara K, Kudo J (2005) Bactericidal actions of a silver ion solution on Escherichia coli, studied by energy-filtering transmission electron microscopy and proteomic analysis. Appl Environ Microbiol 71:7589–7593
Acknowledgments
The following funding sources supported the data collection process: the Programa de Apoyo a la Investigacion en Ciencia y Tecnologia (PAICyT) from the Universidad Autonoma de Nuevo Leon, Mexico.
Additional information
Humberto H. Lara and Nilda V. Ayala-Núñez made equal contributions to this study.
About this article
Cite this article
Lara, H.H., Ayala-Núñez, N.V., Ixtepan Turrent, L.d.C. et al. Bactericidal effect of silver nanoparticles against multidrug-resistant bacteria. World J Microbiol Biotechnol 26, 615–621 (2010). https://doi.org/10.1007/s11274-009-0211-3
Received:

Accepted:

Published:

Issue Date:
Keywords
Drug-resistant bacteria

Silver nanoparticles

Silver resistance

Broad-spectrum agent

Bactericidal agent

Nanobiotechnology