Abstract
The in vitro influence of three prebiotics viz. mannitol, maltodextrin and sorbitol was evaluated on probiotic aspects like bile salt tolerance, cholesterol lowering efficiency and bacteriocin production of the strain, Pediococcus acidilactici LAB 5 which was isolated from vacuum packed fermented meat product. Optimum temperature for bacteriocin production in MRS medium was 37°C. The strain deconjugated bile salt (sodium taurocholate) to 607.66 ± 10.894 μg/ml from initial bile salt concentration 3 mg/ml. In vitro cholesterol removal capability of the strain P. acidilactici LAB 5 was 62 ± 2.742 μg/ml. Prebiotic sorbitol had a positive influence on the probiotic parameters like better cell growth, bacteriocin production and cholesterol removal capability. Anaerobic condition had influenced largely on bile salt deconjugation, cholesterol removal and bacteriocin production. Synbiotic treatment of P. acidilactici LAB 5 with sorbitol for 1 month lowered the plasma cholesterol level to 176.34 ± 12.66 μg/ml in comparison to untreated one (208.76 ± 20.27 μg/ml) in Swiss albino mice. Intestinal adherence of P. acidilactici LAB 5 was also more in synbiotic condition than only in probiotic and control treatments.
This is a preview of subscription content, log in to check access.
Access options
Buy single article
Instant access to the full article PDF.
US$ 39.95
Price includes VAT for USA
Subscribe to journal
Immediate online access to all issues from 2019. Subscription will auto renew annually.
US$ 199
This is the net price. Taxes to be calculated in checkout.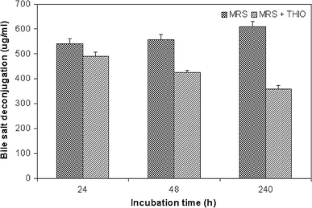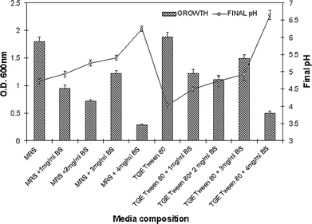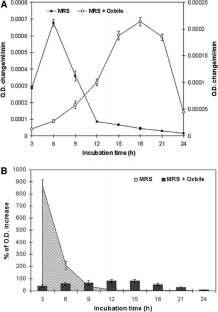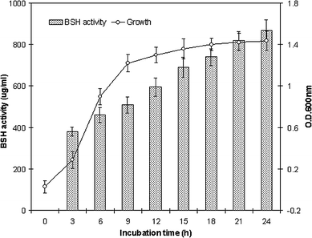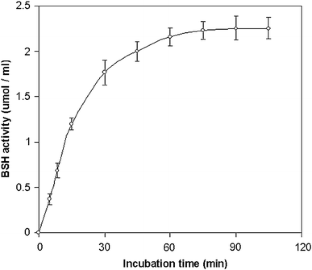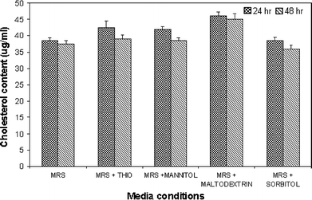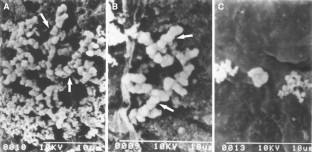 References
Agarwal N, Kamra DN, Chaudhary LC et al (2000) Selection of Saccharomyces cerevisiae strains for use as a microbial feed additive. Lett Appl Microbiol 31:270–273

Anderson JW, Gilliland SE (1999) Effect of fermented milk (Yogurt) containing Lactobacillus acidophilus L1 on serum cholesterol in hypercholesterolemic humans. J Am College Nutr 18:43–50

Annuk H, Shchepetova J, Kullisaar T et al (2003) Characterization of intestinal lactobacilli as putative probiotic candidates. J Appl Microbiol 94:403–412

Bandopadhyay A, Moulik SP (1988) Interaction of bile salts with a nonionic surfactants and their activation energy for conduction as well as calcium and barium ion tolerance in presence of the nonionic surfactant. Ind J Biochem Biophys 25:287–291

Baron SF, Hylemon PB (1997) Biotransformation of bile acids, cholesterol, and steroid hormones. In: Mackie RI, White BA (eds) Gastrointestinal microbiology. Vol. I. Gastrointestinal ecosystems and fermentations. International Thomson Publishing, New York, pp 470–510

Begley M, Gahan CGM, Hill C (2005) The interaction between bacteria and bile. FEMS Microbiol Rev 29:625–651

Begley M, Hill C, Gahan CGM (2006) Bile sat hydrolase activity in probiotics. Appl Environ Microbiol 72:1729–1738

Bhunia AK, Johnson MC, Ray B (1988) Purification, characterization and antimicrobial spectrum of a bacteriocin produced by Pediococcus acidilactici. J Appl Bacteriol 65:261–268

Bhunia AK, Johnson MC, Ray B et al (1990) Antigenic property of pediocin AcH produced by Pediococcusacidilactici H. J Appl Bacteriol 69:211–215

Brashears MM, Gilliland SE, Buck LM (1998) Bile salt deconjugation and cholesterol removal from media by Lactobacillus casei. Appl Environ Microbiol 81:2103–2110

Chowdhury R, Sahu GK, Das J (1996) Stress response in pathogenic bacteria. J Biosci 21:149–160

Collins MD, Gibson GR (1999) Probiotics, prebiotics, and synbiotics: approaches for modulating the microbial ecology of the gut. Am J Clin Nutr 69:1052S–1057S

Corzo G, Gilliland SE (1999) Measurement of bile salt hydrolase activity from Lactobacillus acidophilus based on disappearance of conjugated bile salts. J Dairy Sci 82:466–471

Crittenden RG (1999) Prebiotics. In: Tannock GW (ed) Probiotics: a critical review. Horizon Scientific Press, Wymondham, pp 141–156

Dashkevicz MP, Feighner SD (1989) Development of a differential medium for bile salt hydrolase active Lactobacillus spp. Appl Environ Microbiol 55:11–16

De Boever P, Verstraete W (1999) Bile salt deconjugation by Lactobacillus plantarum 80 and its implication for bacterial toxicity. J Appl Microbiol 87:345–352

Fernandez MF, Boris S, Barbes C (2003) Probiotic properties of human lactobacilli strains to be used in the gastrointestinal tract. J Appl Microbiol 94:449–455

Fuller R (1989) Probiotics in man and animals. J Appl Bacteriol 66:365–378

Fuller R (1991) Probiotics in human medicine. Gut 32:439–442

Gibson GR, Roberfroid B (1995) Dietary modulation of the human colonic microbiota: introducing the concept of prebiotics. J Nutr 125:1401–1412

Gilliland SE, Speck MJ (1977) Deconjugation of bile acids by intestinal lactobacilli. Appl Environ Microbiol 33:15–18

Golledge CL, Stingemore N, Aravena M et al (1990) Septicemia caused by vancomycin-resistant Pediococcus acidilactici. J Clin Microbiol 28:1678–1679

Gonzalez CF, Kunka BS (1987) Plasmid associated bacteriocin production and sucrose fermentation in Pediococcus acidilactici. Appl Environ Microbiol 53:2534–2538

Hosono A (1999) Bile tolerance, taurocholate deconjugation, and binding of cholesterol by Lactobacillus gasseri strains. J Dairy Sci 82:243–248

Irvin JL, Johnston CG, Kopala J (1944) A photometric method of the determination of cholates in bile and blood. J Biol Chem 153:439–457

Jin LZ, Ho YW, Abdullah N et al (1998) Acid and bile tolerance of Lactobacillus isolated from chicken intestine. Lett Appl Micriobiol 27:183–185

Kaur IP, Chopra K, Saini A (2002) Probiotics: potential pharmaceutical applications. Eu J Pharma Sci 15:1–9

Kimmey MB, Elmer GW, Surawicz CM et al (1990) Prevention of further recurrences of Clostridium difficile colitis with Saccharomyces boulardii. Dig Dis Sci 35:897–901

Kimoto H, Ohmomo S, Okamoto T (2002a) Enhancement of bile tolerance in lactococci by Tween 80. J Appl Microbiol 92:41–46

Kimoto H, Ohmomo S, Okamoto T (2002b) Cholesterol removal from media by Lactococci. J Dairy Sci 85:3182–3188

Lee SH, Lillehoj HS, Dalloul RA et al (2007) Influence of Pediococcus based probiotic on coccodiosis in broiler chickens. Poult Sci 86:63–66

Lim HJ, Kim SY, Lee WK (2004) Isolation of cholesterol lowering lactic acid bacteria from human intestine for probiotic use. J Vet Sci 5:391–395

Liong MT, Shah NP (2005a) Acid and bile tolerance and cholesterol removal ability of Lactobacillus strains. J Dairy Sci 88:55–66

Liong MT, Shah NP (2005b) Optimization of cholesterol removal by probiotics in the presence of prebiotics by using a response surface method. Appl Environ Microbiol 71:1745–1753

Mandal V, Sen SK, Mandal NC (2008) Optimized culture conditions for bacteriocin production by Pediococcus acidilactici LAB 5 and its characterization. Ind J Biochem Biophys 45:106–110

Manson JE, Tosteson H, Ridker PM et al (1992) The primary prevention of myocardial infarction. New Eng J Med 326:1406–1416

Mastro TD, Spika JS, Lozano P et al (1990) Vancomycin-resistant Pediococcus acidilactici: nine cases of bacteremia. J Infect Dis 161:956–960

Oksanen PJ, Salminen S, Saxelin M et al (1990) Prevention of travellers' diarrhea by Lactobacillus GG. Ann Med 22:53–56

Ouwehand AC, Salminen S, Isolauri E (2002) Probiotics: an overview of beneficial effects. Ant Van Leeuwenhoek 82:279–289

Pereira DI, Gibson GR (2002) Effects of consumption of probiotics and prebiotics on serum lipid levels in humans. Crit Rev Biochem Mol Biol 37:259–281

Ray B, Miller KW (2000) Natural Food Antimicrobial Systems. Naidu AS (ed). CRC Press Inc, Boca Raton

Ray B, Schamber R, Miller KW (1999) The pediocin AcH precursor is biologically active. Appl Environ Microbiol 65:2281–2286

Ridlon JM, Kang DJ, Hylemon PB (2006) Bile salt biotransformations by human intestinal bacteria. J Lipid Res 47:241–259

Rudel LL, Morris MD (1973) Determination of cholesterol using o-phthalaldehyde. J Lipid Res 14:364–366

Sarem-Damerdji L, Sarem F, Marchel L et al (1995) In vitro colonization ability of human colon mucosa by exogenous Lactobacillus strains. FEMS Microbiol Lett 131:133–137

Schved F, Lalazar A, Henis Y et al (1993) Purification, partial characterization and plasmid-linkage of pediocin SJ-1, a bacteriocin produced by Pediococcus acidilactici. J Appl Bacteriol 74:67–77

Siitonen S, Vapaatalo H, Salminen S et al (1990) Effect of Lactobacillus GG yogurt in prevention of antibiotic-associated diarrhea. Ann Med 22:57–59

Sire JM, Donnio PY, Mensard R et al (1992) Septicemia and hepatic abscess caused by Pediococcus acidilactici. Eur J Clin Microbiol Infect 11:623–625

Tuohy KM, Probert HM, Smejkal CW et al (2003) Using probiotics and prebiotics to improve gut health. Drug Discov Today 8:692–700

Voet D, Voet J, Pratt CW (2002) Fundamentals of biochemistry. Wiley, Hoboken, p 264

Walker DR, Gilliland SE (1993) Relationship among bile tolerance, bile salt deconjugation, and assimilation of cholesterol by Lactobacillus acidophilus. J Dairy Sci 76:956–961

Zhang M, Xiaomin H, Xiaobing F et al (2008) Characterization and selection of Lactobacillus strains for their effect on bile tolerance, taurocholate deconjugation and cholesterol removal. World J Microbial Biotechnol 24:7–14
About this article
Cite this article
Mandal, V., Sen, S.K. & Mandal, N.C. Effect of prebiotics on bacteriocin production and cholesterol lowering activity of Pediococcus acidilactici LAB 5. World J Microbiol Biotechnol 25, 1837–1847 (2009). https://doi.org/10.1007/s11274-009-0085-4
Received:

Accepted:

Published:

Issue Date:
Keywords
Bacteriocin

Bile salt deconjugation

Cholesterol

Pediococcusacidilactici LAB 5

Prebiotics

Synbiotic