Abstract
Pseudomonas sp. strain LP1, an organism isolated on the basis of its ability to grow on pyrene, was assayed for its degradative and biosurfactant production potentials when growing on crude, diesel and engine oils. The isolate exhibited specific growth rate and doubling time of 0.304 days−1 and 2.28 days, respectively on crude oil (Escravos Light). The corresponding values on diesel were 0.233 days−1 and 2.97 days, while on engine oil, were 0.122 days−1 and 5.71 days. The organism did not show significant biosurfactant production towards crude oil and diesel, but readily produced biosurfactant on engine oil. The highest Emulsification index (E24) value for the biosurfactant produced by LP1 on engine oil was 80.33 ± 1.20, on day 8 of incubation. Biosurfactant production was growth-associated. The surface-active compound which exhibited zero saline tolerance had its optimal activity at 50°C and pH 2.0.
Access options
Buy single article
Instant access to the full article PDF.
USD 39.95
Price excludes VAT (USA)
Tax calculation will be finalised during checkout.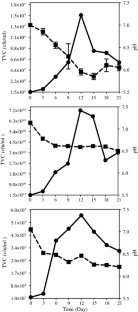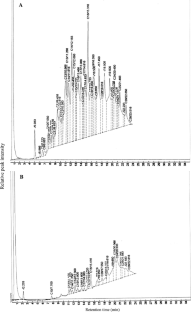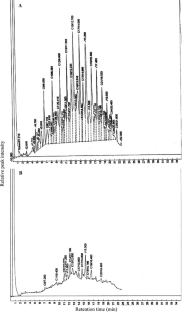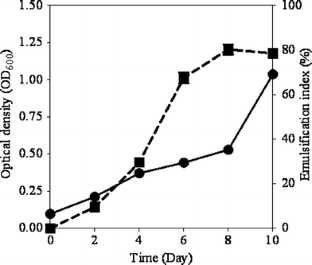 References
Adebusoye SA, Ilori MO, Amund OO, Teniola OD, Olatope SO (2007) Microbial degradation of petroleum in a polluted tropical stream. World J Microbiol Biotechnol 23:1149–1159. doi:10.1007/s11274-007-9345-3

Amund OO, Adebiyi AG (1991) Effect of viscosity on the biodegradability of automotive lubricating oils. Tribol Intern 24:235–237. doi:10.1016/0301-679X(91)90049-F

Atlas RM (1992) Petroleum microbiology. In: Lederberg J (ed) Encyclopedia of microbiology. Academic Press, Baltimore, pp 363–369

Bauchop T, Elsden SR (1960) The growth of microorganisms in relation to their energy. J Gen Microbiol 23:457–459

Churchill SA, Harper JP, Churchill PF (1999) Isolation and characterization of a Mycobacterium species capable of degrading three- and four-ring aromatic and aliphatic hydrocarbons. Appl Environ Microbiol 65:549–552

Desai JD, Banat IM (1997) Microbial production of biosurfactants and their commercial potentials. Microbiol Mol Biol Rev 61:47–64

Deziel E, Paquette G, Villemur R, Lepine F, Bisaillon J (1996) Biosurfactant production by soil Pseudomonas strain growing on polycyclic aromatic hydrocarbons. Appl Environ Microbiol 62:1908–1912

Foght JM, Westlake DWS (1988) Degradation of polycyclic aromatic hydrocarbons and aromatic heterocycles by Pseudomonas species. Can J Microbiol 34:1135–1141

Gurjar M, Khire JM, Khan MI (1995) Bioemulsifier by Bacillus stearothermophillus VR—8 isolate. Lett Appl Microbiol 21:83–86. doi:10.1111/j.1472-765X.1995.tb01012.x

Ilori MO (1998) Microbial degradation of hydrocarbons in soil polluted with crude oil. Ph.d Thesis. University of Lagos, Lagos, Nigeria

Ilori MON, Amund D-I (2001) Production of a peptidoglycolipid bioemulsifier by Pseudomonas aeruginosa grown on hydrocarbon. Z Naturforsch 56c:547–552

Ilori MO, Amobi CJ, Odocha AC (2005) Factors affecting biosurfactant production by oil degrading Aeromonas sp., isolated from a tropical environment. Chemosphere 61:985–992. doi:10.1016/j.chemosphere.2005.03.066

Ilori MO, Adebusoye SA, Ojo AC (2008) Isolation and characterisation of hydrocarbon-degrading and biosurfactant-producing yeast strains obtained from a lagoon water. World J Microbiol Biotechnol 24:2539–2545. doi:10.1007/s11274-008-9778-3

Johnsen AR, Wick LY, Harms H (2005) Principles of microbial PAH-degradation in soil. Environ Pollut 133:71–84. doi:10.1016/j.envpol.2004.04.015

Kastner M, Breuer-Jammali M, Mahro B (1994) Enumeration and characterisation of the soil microflora from hydrocarbon-contaminated soil sites able to mineralise polycylic aromatic hydrocarbons. Appl Microbiol Biotechnol 41:267–273. doi:10.1007/BF00186971

Ko SH, Lebeault JM (1999) Effect of a mixed culture on co-oxidation during the degradation of saturated hydrocarbon mixture. J Appl Microbiol 87:72–79. doi:10.1046/j.1365-2672.1999.00797.x

Kucerova R (2006) Application of Pseudomonas putida and Rhodococcus sp. By biodegradation of PAHs, PCB(s) and NEL soil samples from the hazardous waste dump in Pozdatky, Czech Republic. Rud Geol Naf Zb 18:97–101

Lal B, Khanna S (1996) Degradation of crude oil by Acinetobacter calcoaceticus and Alcaligenes odorans. J Appl Bacteriol 81:355–362

Mandri T, Lin J (2007) Isolation and chatracterisation of engine oil degrading indigenous microorganisms in Kwazulu-Natal, South Africa. Afr J Biotechnol 6:23–26

Marin MA, Pedrogosa A, Laborda F (1996a) Emulsifier production and microscopical study of emulsions and biofilms from by the hydrocarbon utilizing bacteria Acinetobacter calcoaceticus MM5. Appl Microbiol Biotechnol 44:660–667. doi:10.1007/BF00172500

Marin M, Pedregosa A, Rios S, Laborda F (1996b) Study of factors influencing the degradation of heating oil by Acinetobacter calcoaceticus MM5. Int Biodeterior Biodegradation 38:67–75. doi:10.1016/S0964-8305(96)00027-3

Obayori OS, Ilori MO, Adebusoye SA, Oyetibo GO, Amund OO (2008) Pyrene-degradation potentials of Pseudomonas species isolated from polluted tropical soils. World J Microbiol Biotechnol 24:2639–2646. doi:10.1007/s11274-008-9790-7

Office of Technological Assesment (1990). Coping with an oiled sea, US, Congress, OTA-BP-O-63, US Government Printing Office, Washington DC

Okoh AI (2006) Biodegradation alternative in the cleanup of petroleum hydrocarbon pollutants. Biotechnol Mol Biol Rev 1:38–50

Okoh AI, Trejo-Hernandez MR (2006) Remediation of petroleum hydrocarbon polluted systems: exploiting the bioremediation strategies. Afr J Biotechnol 5(25):2520–2525

Okonkwo PO (1984) Toxicological effects of petroleum products pollution: a summary of some observations in Nigeria. In: The Proceedings of International Seminar on Petroleum Industry and the Nigeria Environment, Nigerian National Petroleum Corporation (NNPC), Lagos. pp. 258–259

Oluwole OS, Makinde SCO, Philips DA (2005) The impact of spent engine oil pollution on the growth of Celosia argentea. Proceedings of the Faculty of Science Conference, Lagos State University (LASU), Ojo, Lagos. September 11–14, 2005. Pp. 68–70

Rashedi H, Assadi MM, Jamshidi E, Bonakdapour B (2006) Production of rhamnolipid by Pseudomonas aeruginosa growing on carbon sources. Intern J Environ Sci Tech (Paris) 3:297–303

Rhodes AN, Hendricks CW (1990) A continuous-flow method for measuring effects of chemicals on soil nitrification. Toxic Assess 5:77–78. doi:10.1002/tox.2540050107

Rodrigues L, Moldes A, Teixeira J, Oliveira R (2006) Kinetic study of fermentative biosurfactant production by Lactobacillus strains. Biochem Eng J 28:109–116. doi:10.1016/j.bej.2005.06.001

Rosenberg E, Ron EZ (1997) Bioemulsans: microbial polymeric emulsifier. Curr Opin Biotechnol 8:313–316. doi:10.1016/S0958-1669(97)80009-2

Sarubbo LA, Farias CBB, Campos-Takaki GM (2007) Co-utilisation of canola oil and glucose on the production of a surfactant by Candida lipolytica. Curr Microbiol 54:68–73. doi:10.1007/s00284-006-0412-z

Singh C, Lin J (2008) Isolation and characterisation of disel oil degrading indigenous microorganisms in Kwazulu-Natal, South Africa. Afr J Biotechnol 7(12):1917–1932

Tabatabaee A, Assadi MM, Noohi AA, Sajadian VA (2005) Isolation of biosurfactant producing bacteria from oil reservoirs. Iranian J Environ Health Sci Eng 2:6–12

Tuleva BJ, Inanov GR, Christova NE (2002) Biosurfactant production by a new Pseudomonas putida strain. Z Naturforsch 57c:356–360

Wackett LP, Hershberger LCD (2001) Biocatalysis and biodegradation: microbial transformation of organic compounds. ASM Press, Washington, p 228

Zhang Y, Miller RM (1992) Enhanced octadecane dispersion and biodegradation by a Pseudomonas rhamnolipid surfactant (biosurfactant). Appl Environ Microbiol 58:3276–3282
About this article
Cite this article
Obayori, O.S., Ilori, M.O., Adebusoye, S.A. et al. Degradation of hydrocarbons and biosurfactant production by Pseudomonas sp. strain LP1. World J Microbiol Biotechnol 25, 1615–1623 (2009). https://doi.org/10.1007/s11274-009-0053-z
Received:

Accepted:

Published:

Issue Date:

DOI: https://doi.org/10.1007/s11274-009-0053-z
Keywords
Biodegradation

Biosurfactants

Engine oil

Hydrocarbons

Pseudomonas