Abstract
Antioxidants are molecules that may reverse, prevent or slow cellular damage caused by free radicals. Increasing dietary intake of antioxidants is thought to reduce oxidative stress that may contribute to the development of several diseases. Mushrooms are known to contain antioxidants such as selenium, ergothioneine and phenolics that may serve this role. Here we sought to enhance selenium and ergothioneine concentration in Pleurotus eryngii var. eryngii basidiomata by modifying the techniques used for their commercial cultivation. To enhance selenium content in mushrooms, substrates were supplemented with sodium selenite (Na2SeO3) to reach selenium concentrations of 5 and 10 μg/g. Basidiomata of one commercial isolate (WC888) accumulated selenium up to 4.6 and 9.3 μg/g (d.w.), respectively. Therefore, a serving size (85 g) of fresh P. eryngii mushrooms produced on substrates supplemented with 5 and 10 μg/g of Na2SeO3 would supply 70.4 and 116.3% of the daily value of selenium (DV = 70 μg), respectively. Since selenium-enriched mushrooms would supply more than 20% of the DV, they could be considered an excellent source of selenium. Ergothioneine concentration was enhanced in mushrooms produced on low-moisture (55%) substrate compared to the commonly used 60% (high-moisture) in commercial cultivation. Mushrooms produced on low-moisture substrate had ergothioneine concentrations of 3.0 mg/g, while mushrooms produced on high-moisture substrate contained 2.2 mg/g or less. Use of a casing overlay for mushroom production resulted in significant yield increases on low-moisture substrate but not on high-moisture substrate.
Access options
Buy single article
Instant access to the full article PDF.
USD 39.95
Price excludes VAT (USA)
Tax calculation will be finalised during checkout.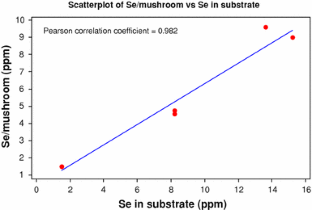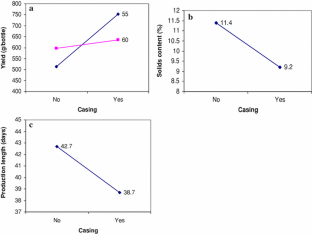 References
Akanmu D, Cecchini R, Aruoma OI, Halliwell B (1991) The antioxidant action of ergothioneine. Arch Biochem Biophys 288:10–16. doi:10.1016/0003-9861(91)90158-F

Beelman RB, Royse DJ (2006) Selenium enrichment of Pleurotus cornucopiae (Paulet) Rollant and Grifola frondosa (Dicks.:Fr.) S.F. gray mushrooms. Int J Med Mushroom 8:1–8. doi:10.1615/IntJMedMushr.v8.i1.10

Clark LC, Combs GF, Turnbull BW, Slate EH, Chalker DK, Chow J, Davis LS, Glover LA, Graham GF, Gross EG, Krongrad A, Lesher JL, Park HK, Sanders BB, Smith CL, Taylor JR (1996) Effects of selenium supplementation for cancer prevention in patients with carcinoma of the skin. A randomized controlled trial. Nutritional Prevention of Cancer Study Group. JAMA 276:1957–1963. doi:10.1001/jama.276.24.1957

Combs GF, Clark LC, Turnbull BW (1997) Reduction of cancer risk with an oral supplement of selenium. Biomed Environ Sci 10:227–234

Dubost NJ, Beelman RB, Peterson D, Royse DJ (2006) Identification and quantification of ergothioneine in cultivated mushrooms by liquid chromatography-mass spectroscopy. Int J Med Mushroom 8:215–222. doi:10.1615/IntJMedMushr.v8.i3.30

Dubost NJ, Beelman RB, Royse DJ (2007) Influence of selected cultural factors and postharvest storage on ergothioneine content of common button mushroom Agaricus bisporus (J. Lge) Imbach (Agaricomycetideae). Int J Med Mushroom 9:163–176. doi:10.1615/IntJMedMushr.v9.i2.70

Ey J, Schomig E, Taubert D (2007) Dietary sources and antioxidant effects of ergothioneine. J Agric Food Chem 55:6466–6474. doi:10.1021/jf071328f

Genghof DS, Van Damme O (1964) Biosynthesis of ergothioneine and hercynine by mycobacteria. J Bacteriol 87:852–862

Hartman PE (1990) Ergothioneine as an antioxidant. Methods Enzymol 186:310–318. doi:10.1016/0076-6879(90)86124-E

Institute of Medicine, Food, Nutrition Board (IOM) (2000) Dietary reference intakes: vitamin C, vitamin E, selenium, and carotenoids. National Academy Press, Washington

Kawano H, Higuichi F, Mayumi T, Hama T (1982) Studies on ergothioneine. VII. Some effects of ergothioneine on glycolytic metabolism in red blood cells from rats. Chem Pharm Bull (Tokyo) 30:2611–2613

Melville DB (1958) Ergothioneine. Vitam Horm 17:155–204. doi:10.1016/S0083-6729(08)60271-X

Melville DB, Genghof DS, Inamine E, Kovalenko V (1956) Ergothioneine in microorganisms. J Biol Chem 223:9–17

Mutanen M (1986) Bioavailability of selenium in mushrooms, Boletus edulis, to young women. Int J Vitam Nutr Res 56:297–301

Office of Dietary Supplements (ODS) (2004) Dietary supplement fact sheet: Selenium, National Institute of Health. http://dietary-supplements.info.nih.gov/factsheets/ selenium.asp. Accessed 28 Feb 2008

Ogra Y, Ishiwata K, Encinar JR, Lobinski R, Suzuki KT (2004) Speciation of selenium in selenium-enriched shiitake mushroom, Lentinula edodes. Anal Bioanal Chem 379:861–866. doi:10.1007/s00216-004-2670-6

Rahman I, Gilmour PS, Jimenez LA, Biswas SK, Antonicelli F, Aruoma OI (2003) Ergothioneine inhibits oxidative stress- and TNF-α-induced NF-κB activation and interleukin-8 release in alveolar epithelial cells. Biochem Biophys Res Commun 302:860–864. doi:10.1016/S0006-291X(03)00224-9

Rodriguez Estrada AE, Royse DJ (2007) Yield, size and bacterial blotch resistance of Pleurotus eryngii grown on cottonseed hulls/oak sawdust supplemented with manganese, copper and whole ground soybean. Bioresour Technol 98:1898–1906

Rodriguez Estrada AE, Royse DJ (2008) Pleurotus eryngii and Pleurotus nebrodensis: from the wild to the commercial production. Mushroom News 56:4–11

Royse DJ (1992) Recycling of spent shiitake substrate for production of the oyster mushroom, Pleurotus sajor-caju. Appl Microbiol Biotechnol 38:79–182. doi:10.1007/BF00174464

Ryan-Harshman M, Aldoori W (2005) The relevance of selenium to immunity, cancer, and infectious/inflammatory diseases. Can J Diet Pract Res 66:98–102. doi:10.3148/66.2.2005.98

Shukla Y, Kulshrestha OP, Khuteta KP (1981) Ergothioneine content in normal and senile human cataractous lenses. Indian J Med Res 73:472–473

Stajic M, Brceski I, Wasser SP, Nevo E, Vukojevic J, Duletic-Lausevic S (2005) Ability of selenium absorption by mycelia of Pleurotus eryngii (DC.:Fr.) Quel., depending on selenium source in medium. Int J Med Mushroom 7:469

Tham LX, Matsuhhashi S, Kume T (1999) Growth and fruit body formation of Ganoderma lucidum on media supplemented with vanadium, selenium and germanium. Mycoscience 40:87–92. doi:10.1007/BF02465679

Thuong NQ, Bao DT, Muravieva DA, Ogursob IU, Strapuchuko PA (1995) Etude d'une levure rich en selenium. Rev Pharm 1:21–26

USEPA (1986) Test methods for evaluating solid waste, vol IA, 3rd edn. EPA/SW-846. National Technical Information Service, Springfield

Van Elteren JT, Woroniecka UD, Kroon KJ (1998) Accumulation and distribution of selenium and cesium in the cultivated mushroom Agaricus bisporus—a radiotracer-aided study. Chemosphere 36:1787–1798. doi:10.1016/S0045-6535(97)10064-9

Werner AR, Beelman RB (2002) Growing high-selenium edible and medicinal button mushrooms (Agaricus bisporus (J. Lge) Imbach) as ingredients for functional foods or dietary supplements. Int J Med Mushroom 4:167–171
About this article
Cite this article
Rodriguez Estrada, A.E., Lee, HJ., Beelman, R.B. et al. Enhancement of the antioxidants ergothioneine and selenium in Pleurotus eryngii var. eryngii basidiomata through cultural practices. World J Microbiol Biotechnol 25, 1597–1607 (2009). https://doi.org/10.1007/s11274-009-0049-8
Received:

Accepted:

Published:

Issue Date:

DOI: https://doi.org/10.1007/s11274-009-0049-8
Keywords