Abstract
Criteria selected for screening of biosurfactant production by Bacillus megaterium were hemolytic assay, bacterial cell hydrophobicity and the drop-collapse test. The data on hemolytic activity, bacterial cell adherence with crude oil and the drop-collapse test confirmed the biosurfactant-producing ability of the strain. Accordingly, the strain was cultured at different temperatures, pH values, salinity and substrate (crude oil) concentration in mineral salt medium to establish the optimum culture conditions, and it was shown that 38°C, 2.0% of substrate concentration, pH 8.0 and 30‰ of salt concentration were optimal for maximum growth and biosurfactant production. Laboratory scale biosurfactant production in a fermentor was done with crude oil and cheaper carbon sources like waste motor lubricant oil and peanut oil cake, and the highest biosurfactant production was found with peanut oil cake. Characterization of partially purified biosurfactant inferred that it was a glycolipid with emulsification potential of waste motor lubricant oil, crude oil, peanut oil, diesel, kerosene, naphthalene, anthracene and xylene.
This is a preview of subscription content, log in to check access.
Access options
Buy single article
Instant access to the full article PDF.
US$ 39.95
Price includes VAT for USA
Subscribe to journal
Immediate online access to all issues from 2019. Subscription will auto renew annually.
US$ 199
This is the net price. Taxes to be calculated in checkout.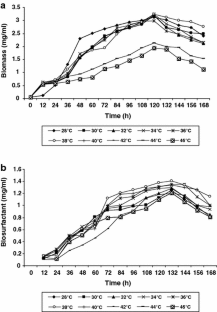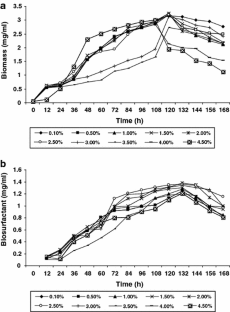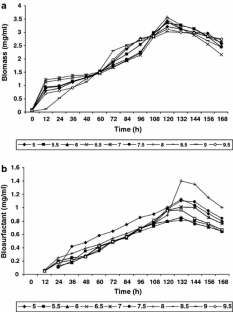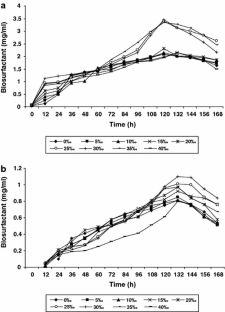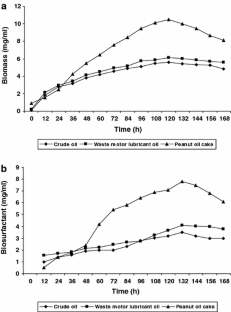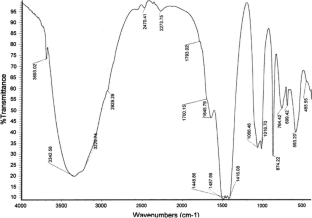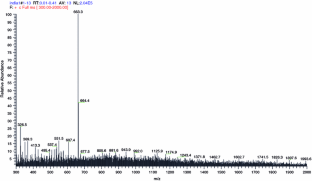 References
Arima K, Kakinuma A, Tamura G (1968) Surfactin, a crystalline peptide surfactant produced by Bacillus subtilis: isolation, characterization and its inhibition of fibrin clot formation. Biochem Biophys Res Commun 31:488–494

Banat IM (1993) The isolation of a thermophilic biosurfactant producing Bacillus sp. Biotechnol Lett 15:591–594

Banat IM, Makkar RS, Cameotra SS (2000) Potential commercial applications of microbial surfactants. Appl Microbiol Biotechnol 53:495–508

Benincasa M, Contiero J, Manresa MA et al (2002) Rhamnolipid production by Pseudomonas aeruginosa LBI growing on soapstock as the sole carbon source. J Food Eng 54:283–288

Bernheimer AW, Avigad LS (1970) Nature and properties of a cytological agent produced by Bacillus subtilis. J Gen Microbiol 61:361–369

Besson F, Michel G, (1992) Biosynthesis of iturin and surfactin by Bacillus subtilis. Evidence for amino acid activating enzymes. Biotechnol Let 14:1013–1018

Betts RP, Bankers P, Banks JG (1989) Rapid enumeration of viable microorganisms by staining and direct microscopy. Lett Appl Microbiol 9:199–202

Bodour AA, Maier RM (1998) Application of a modified dropcollapse technique for surfactant quantification and screening of biosurfactant-producing microorganisms. J Microbiol Methods 32:273–280

Bredholt H, Bruheim P, Potocky M et al (2002) Hydrophobicity development, alkane oxidation and crude-oil emulsification in a Rhodococcus species. Can J Microbiol 48:295–304

Buchanan RE, Gibbons NE, Cowan ST et al (1974) Bergey's manual of determinative bacteriology. Williams and Wilkinns Co, Baltimore

Carrillo P, Mardaraz C, Pitta-Alvarez S et al (1996) Isolation and selection of biosurfactant-producing bacteria. World J Microbiol Biotechnol 12:82–84

Cooper DG, Goldenberg BG (1987) Surface-active agents from two Bacillus species. Appl Environ Microbiol 53:224–229

Desai JD, Banat IM (1997) Microbial production of surfactants and their commercial potential. Microbiol Mol Biol Rev 61:47–64

Deshpande M, Daniels L (1995) Evaluation of sophorolipid biosurfactant production by Candida bombicola using animal fat. Bioresour Technol 54:143–150

Deziel E, Paquette G, Villemur R et al (1999) Biosurfactant production by a soil Pseudomonas strains growing on poly aromatic hydrocarbons. Appl Environ Microbiol 62:1908–1912

Dubois M, Gilles KA, Hamilton JK et al (1956) Colorimetric method for determination of sugars and related substances. Anal Chem 28:350–356

Fernandez-Linares L, Acquaviva M, Bertrand J-C et al (1996) Effect of sodium chloride concentration on growth and degradation of eicosane by marine halotolerent bacterium Marinobacter hydrocarbonoclastieus. Appl Microbiol 19:113–121

Folch JM, Lees M, Stanly HS (1956) A simple method for the isolation and quantification of total lipids from animal tissues. J Biol Chem 226:497–509

Fox SL, Bala GA (2000) Production of surfactant from Bacillus subtilis ATCC 21332 using potato substrates. Bioresour Technol 75:235–240

Goldman S, Shabtai Y, Rubinovitz C, Rosenberg E et al (1982) Emulsan in Acinetobacter calcoaceticus RAG-I: distribution of cell-free and cell associated cross-reacting materials. Appl Environ Microbiol 44:165–170

Jain DK, Collins-Thompson DL, Lee H et al (1991) A drop-collapsing test for screening surfactant-producing microorganisms. J Microbiol Methods 13:271–279

Johnson M, Boese-Marrazzo D (1980) Production and properties of heat stable extracellular hemolysin from Pseudomonas aeruginosa. Infect Immun 29:1028–1033

Juwarkar A, Khirsagar DG (1991) Emulsification and oil degradation by marine bacteria. Indian J Mar Sci 20:78–79

Li Z-Y, Lang S, Wagner F et al (1984) Formation and identification of interfacial-active glycolipids from resting microbial cells. Appl Environ Microbiol 48:610–617

Makkar RS, Cameotra SS (1999) Biosurfactant production by microorganisms on unconventional carbon sources-a review. J Surf Det 2:237–241

Marahiel M, Denders W, Krause M et al (1977) Biological role of gramicidin S in spore function. Studies on gramicidinc-S negative mutants of Bacillus brevis 9999. Eur J Microbiol 99:49–52

Mercade ME, Manresa MA (1994) The use of agroindustrial byproducts for biosurfactant production. J Am Oil Chem Soc 71:61–64

Mercade ME, Manresa MA, Robert M et al (1993) Olive oil mill effluent (OOME). New substrate for biosurfactant production. Bioresour Technol 43:1–6

Moran A, Alejandra M, Martinez F et al (2002) Quantification of surfactin in culture supernatant by hemolytic activity. Biotechnol Lett 24:177–180

Mukherjee AK, Das K (2005) Correlation between diverse cyclic lipopeptides production and regulation of growth and substrate utilization by Bacillus subtilis strains in a particular habitat. FEMS Microbiol Ecol 54:479–489

Mulligan CN, Cooper DG, Neufeld RJ (1984) Selection of microbes producing biosurfactants in media without hydrocarbons. J Ferment Technol 62:311–314

Neu TR, Poralla K (1990) Emulsifying agent from bacteria isolated during screening for cells with hydrophobic surfaces. Appl Microbiol Biotechnol 32:521–525

Nitschke M, Pastore GM (2004) Biosurfactant production by Bacillus subtilis using cassava processing effluent. Appl Biochem Biotechnol 112:163–172

Rahman KSM, Rahman TJ, McClean S et al (2002) Rhamnolipid biosurfactant production by strains of Pseudomonas aeruginosa using low-cost raw materials. Biotechnol Prog 18:1277–1281

Rodrigues LR, Teixeira JA, van der Mei HC, Oliveira R (2006) Isolation and partial characterization of a biosurfactant produced by Streptococcus thermophilus A. Colloids Surf B Biointerfaces 53:105–112

Rosenberg E, Zuckerberg A, Rubinovitz C et al (1979) Emulsifier of Arthrobacter RAG-I: isolation and emulsifying properties. Appl Environ Microbiol 37:402–408

Rosenberg M, Gutnick DL, Rosenberg E (1980) Adherence of bacteria to hydrocarbons: a simple method for measuring cell-surface hydrophobicity. FEMS Microbiol Lett 9:29–33

Sandrin C, Peypoux F, Michel G (1990) Coproduction of surfactin and iturin A lipopeptides with surfactant and antifungal properties by Bacillus subtilis. Biotechnol Appl Biochem 12:370–375

Sheppard JD, Mulligan CN (1987) The production of surfactin by Bacillus subtilis grown on peat hydrolysate. Appl Microbiol Biotechnol 27:110–116

Tahzibi A, Kamal F, Assadi MM (2004) Improved production of rhamnolipids by a Pseudomonas aeruginosa mutant. Iran Biomed J 8:25–31

Thavasi R, Jayalakshmi S (2003) Bioremediation potential of hydrocarbonoclastic bacteria in Cuddalore harbour waters (India). Res J Chem Environ 7:17–22

Tuleva BK, Ivanov RG, Christova NE (2001) Biosurfactant production by an new Pseudomonas putida strain. Z Naturforsch 57:356–360

Yonebayashi H, Yoshida S, Ono K et al (2000) Screening of microorganisms for microbial enhanced oil recovery process. Sekiyu Gakkaishi 43:59–69

Youssef NH, Duncan KE, Nagle DP et al (2004) Comparison of methods to detect biosurfactant production by diverse microorganisms. J Microbiol Methods 56:339–347

Youssef N, Simpson DR, Duncan KE et al (2007) In situ biosurfactant production by Bacillus strains injected into a limestone petroleum reservoir. Appl Environ Microbiol 73:1239–1247
Acknowledgement
The authors thank the authorities of Annamalai University for providing the facilities and Department of Ocean Development and Council of Scientific and Industrial Research Govt. of India for their financial support to carryout the work in a successful way.
About this article
Cite this article
Thavasi, R., Jayalakshmi, S., Balasubramanian, T. et al. Production and characterization of a glycolipid biosurfactant from Bacillus megaterium using economically cheaper sources. World J Microbiol Biotechnol 24, 917–925 (2008). https://doi.org/10.1007/s11274-007-9609-y
Received:

Accepted:

Published:

Issue Date:
Keywords
Biosurfactants

Emulsification

Biodegradation

Crude oil

Waste lubricant oil

Peanut oil