Abstract
The growth of a toxigenic strain (Saktiman 3Nst) of Aspergillus flavus decreased progressively with increasing concentration of essential oils from leaves of Cinnamomum camphora and rhizome of Alpinia galanga incorporated into SMKY liquid medium. The oils significantly arrested aflatoxin B1 elaboration by A. flavus. The oil of C. camphora completely checked aflatoxin B1 elaboration at 750 ppm (mg/L) while that of A. galanga showed complete inhibition at 500 ppm only. The oil combination of C. camphora and A. galanga showed more efficacy than the individual oils showing complete inhibition of AFB1 production even at 250 ppm.
Access options
Buy single article
Instant access to the full article PDF.
USD 39.95
Price excludes VAT (USA)
Tax calculation will be finalised during checkout.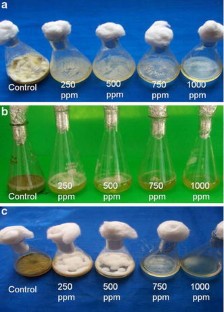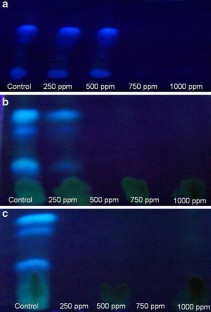 References
AOAC (1984) Natural poisons. Official methods of analysis of the Association of official analytical chemists. pp 447–484

Bailey LS (1958) Manual of cultivated plants most commonly grown in continental United States and Canada. The Macmillan Press Co., New York, p 116

Cowan MM (1999) Plant products as antimicrobial agents. Clin Microbiol Rev 12:564–582

Deans SG, Noble RC, Hiltunen R, Wuryani W, Penzes LG, (1995) Antimicrobial and antioxidant properties of Syzygium aromaticum (L.) Merr. & Perry. Impact upon bacteria, fungi and fatty acid levels in ageing mice. Flavour Frag J 10:323–328

Dienner UI, Davis ND (1966) Aflatoxin production by isolates of Aspergillus flavus. Phytopathology 56:1390–1393

Don-Pedro KN (1985) Toxicity of some Citrus peels to Dermertes maculates Deg. and Callosobruchus maculates (F). J Stored Prod Res 21(1):31–34

Dorman HJD, Deans SG (2000) Antimicrobial agents from plants: antibacterial activity of plant volatile oils. J Appl Microbiol 88:308–316

Dubey NK (2004) Flora of BHU campus. Banaras Hindu University. BHU Press, Varanasi, India

Dubey NK, Bhargava KS, Dixit SN (1983) Protection of some stored food commodities from fungi by essential oils of Ocimum canum and Citrus medica. Int J Trop Plant Dis 1:177–179

Duthie JF (1960) Flora of Upper gangetic plain and of adjacent Siwalic and Sub Himalyan tract. (Rep. Eds.) Botanical survey of Calcutta, India

Holley AH, Patel H (2005) Improvement in shelf life and safety of perishable food by plant essential oils and smoke antimicrobials. Int J Food Microbiol 22:273–292

Makun HA, Gbody TA, Akanya OH, Salako EA, Ogbadu GH (2006) Fungi and some mycotoxins contaminating rice (Oryza sativa) in Niger state. Afr J Biotechnol 6:99–108

Maheshwari JK (1963) The flora of Delhi. Central National Herbarium. Botanical Garden R Publication, India

Mallic AK, Nandi B (1982) Deterioration of stored rice, volatile compounds in short term preservation of grains/seeds. Sci Technol 10:315–320

Mishra AK, Kishore N, Dubey NK, Chansouria JPN (1992) An evaluation of the toxicity of the oils of Cymbopogon citratus and Citrus medica in rats. Phytotherapy Res 6:279–281

Olivier C, Halseth DE, Mizubuti SG, Loria R (1998) Post-harvest application of organic and inorganic salts for suppression of silver scurf on potato tubers. Plant Dis 82:213–217

Pittet A (1998) Natural occurrence of mycotoxins in foods and feeds-an update review. Revue de Medicine Veterinrie 149:479–492

Rasooli I, Abyaneh MR (2004) Inhibitory effects of Thyme oils on growth and aflatoxin production by A. parasiticus . Food Control 15:479–483

Santapau H (1967) The flora of Khandala on the Western ghats of India. Rec Bot Surv India 16:1–373

Sinha KK, Sinha AK (1993) Effect of aflatoxin B1 On germination index and seedling growth in wheat varieties. Mycotoxicoses Mycotoxins 112:165–169

Soares LMV, Rodriguez-Amaya DB (1989) Survey of aflatoxins, ochratoxins A, Zearalenone and sterigmatocystin in some Brazilian foods by using multi-toxin thin layer chromatographic method. J Assoc Anal Chem 72:22–26

Tripathi P, Dubey NK (2004) Exploitation of natural products as an alternative strategy to control post harvest fungal rotting of fruits and vegetables. Postharvest Biol Technol 32:235–245

Tripathi P, Dubey NK, Banerji R, Chansouria JPN (2004) Evaluation of some essential oils as botanical fungitoxicants in management of post-harvest rotting of Citrus fruits. World J Microbiol Biotechnol 20:317–321

Ultee A, Bennik MHJ, Moerelaar R (2002) The phenolic hydroxyl group of Carvacrol is essentisl for action against the food borne pathogen Bacillus cereus. Appl Environ Biol 68:1561–1568

Varma J, Dubey NK (1999) Prospectives of botanical and microbial products as pesticides of tomorrow. Curr Sci 76:172–179

Varma J, Dubey NK (2001) Efficacy of essential oils of Caesulia axillaries and Mentha arvensis against some storage pests causing biodeterioration of food commodities. Int J Food Microbiol 68:207–210

Williams HJ, Phillips TD, Jolly EP, Stiles KJ, Jolly MC, Aggarwal D (2004) Human aflatoxicosis in developing countries: a review of toxicology, exposure, potential health consequences and interventions. Am J Clin Nutr 80:1106–1122
Acknowledgements
Authors are thankful to UGC New Delhi, India for financial assistance in the form of CAS Junior Research Fellowship.
About this article
Cite this article
Srivastava, B., Singh, P., Shukla, R. et al. A novel combination of the essential oils of Cinnamomum camphora and Alpinia galanga in checking aflatoxin B1 production by a toxigenic strain of Aspergillus flavus . World J Microbiol Biotechnol 24, 693–697 (2008). https://doi.org/10.1007/s11274-007-9526-0
Received:

Accepted:

Published:

Issue Date:

DOI: https://doi.org/10.1007/s11274-007-9526-0
Keywords
Antimicrobial

Antiaflatoxigenic

Aflatoxin

Fungitoxicity

Aspergillus flavus