Abstract
Lactobacillus delbrueckii subsp. lactis strains were developed having increased activity, by gradually acclimatizing the bacteria to acidic conditions over repeated batch culture. Cells from one batch culture were used as the inoculum for the subsequent batch culture and thereby an adapted strain of Lactobacillus was obtained showing improved lactic acid productivity, cell growth and total glucose utilization. Furthermore, the acclimatized cells used significantly less nitrogen for a given level of lactic acid production, which is significant from an industrial point of view. The developed procedure decreases fermentation time and nutrient use, leading to reduced operation costs, while providing a lactic acid yield superior to previously reported methods.
Access options
Buy single article
Instant access to the full article PDF.
USD 39.95
Price excludes VAT (USA)
Tax calculation will be finalised during checkout.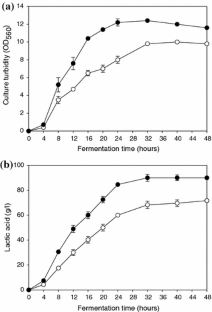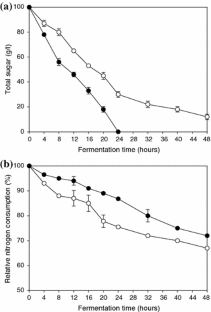 References
Arasaratnan V, Senthuran A, Balasubramaniam K (1996) Supplementation of whey with glucose and different nitrogen sources for lactic acid production by Lactobacillus delbrueckii. Enzyme Microbial Technol 19:482–486

Assinder SJ, Eynstone LV, Shellis RP, Dibdin GH (1995) Inhibition of acid production in Streptococcus mutants R9: inhibition constants and reversibility. FEMS Microbiol Lett 134:287–292

Cheryan M (1984) Ethanol production in a membrane recycle bioreactor: conversion of glucose using Saccharomyces cerevisiae. Process Biochem 19:204–208

deMan JC, Rogosa M, Sharpe ME (1960) A medium for the cultivation of lactobacilli. J Appl Bacteriol 23:30–135

Harass GB, Sanchez-Rivera F, Severson DK 1994 Polymers of lactic acid In: Mobley DP (ed) Plastics from microbes: microbial synthesis of polymers and polymer precursors. Hander Publishers, Munich, pp 93–137

Kashket ER (1987) Bioenergetics of lactic acid bacteria: cytoplasmic pH and osmotolerance. FEMS Microbiol Rev 46:233–244

Lee KB, Lee JW, Kim YH, Moon SH, Park YH (2001) Unique properties of four lactobacilli in amino acid production and symbiotic mixed culture for lactic acid biosynthesis. Curr Microbiol 43:383–390

Mehaia MA, Cheryan M (1986) Lactic acid from acid whey permeate in a membrane recycle bioreactor. Enzyme Microbial Technol 8:289–292

Mehaia MA, Cheryan M (1987) Production of lactic acid from sweet whey permeate concentrates. Process Biochem 22:185–188

Rethink D (1995) The technology and economy potential of poly (lactic acid) and its Ramification. FEMS Microbiol Rev 16:221–231

Ryun HW, Yen JS, Wee YJ (2003) In: Pander A (ed) Concise encyclopedia of bioresearch technology. The Haworth Press, New York, pp 635

Smith PK, Krohn R, Hermanson EK (1985) Measurement of protein using bicinchoninic acid. Anal Biochem 150:76–85

Vickroy TB (1985) Lactic acid. In: Blanch HW, Drew S, Wang DIC (eds) The practice of biotechnology: commodity products. Pergamon Press, Elmsford, NY, pp 761–776
About this article
Cite this article
Lee, K. Enhanced production of lactic acid by an adapted strain of Lactobacillus delbrueckii subsp. lactis . World J Microbiol Biotechnol 23, 1317–1320 (2007). https://doi.org/10.1007/s11274-007-9358-y
Received:

Accepted:

Published:

Issue Date:

DOI: https://doi.org/10.1007/s11274-007-9358-y
Keywords
Lactobacillus delbrueckii subsp. Lactis

Acclimatization

Partial reuse of culture

Subsequent batch culture

Lactic acid productivity