Abstract
The microbiological quality of preserves made from the pulp of the pequi (Caryocar brasiliense Camb.), a typical Brazilian fruit, was assessed. The total aerobic mesophilic and the yeast and mould counts in the samples suggest inadequate hygienic conditions during the processing of the product. Low levels of contamination by coliform bacteria and enterobacteria were observed; however, the presence of injured cells of these microorganisms was demonstrated. The presence of Staphylococcus aureus and sulfite-reducing clostridia was not shown. Salmonella spp. was found in 33% of the samples analysed, indicating that the product can represent a public health risk.
Access options
Buy single article
Instant access to the full article PDF.
USD 39.95
Price excludes VAT (USA)
Tax calculation will be finalised during checkout.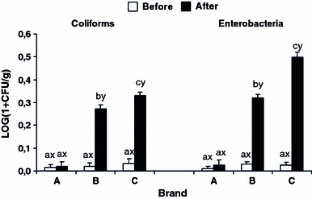 References
APHA (American Public Health Association) (1992) In: Vanderzant C, Splittstoesser D.F. (eds) Compendium of methods for the microbiological examination of foods, 3rd edn. Washington, DC: APHA technical committee on microbiological methods for foods. ISBN 0-87553173-3

Araújo FD (1995) A review of Caryocar brasiliense (Caryocaraceae): an economically valuable of central Brazilian Cerrados. Econ Bot 49:40–48

Brasil (Agência Nacional de Vigilância Sanitária) (2001) RDC n° 12. http://e-legis.anvisa.gov.br/leisref/public/showAct.php?id = 144&word=

IBGE (Instituto Brasileiro de Geografia e Estatística) (2006) Produção da extração vegetal e da silvicultura. http://www.ibge.gov.br/home/estatistica/economia/pevs/ tabela1apevs_2001.shtm

ICMSF (International Commission on Microbiological Specifications for Foods) (1980) Factors Affecting Life and Death of Microorganisms. In Microbial Ecology of Foods, vol 1. New York, Academic Press ISBN 0–12-363501-2

ICMSF (International Commission on Microbiological Specifications for Foods) (2001) Guidelines for the microbiological examination of ready-to-eat foods. http://www.foodstandards.gov.au/_srcfiles/Guidelines%20for%20Micro%20exam.pdf

Ireland 2001 Guidelines for the interpretation of results of microbiological analysis of some ready-to-eat foods sampled at point of sale. Dublin: Food Safety Authority of Ireland

Leyer GJ, Johnson EA (1993) Acid adaptation induces cross-protection against environmental stresses in Salmonella typhimurium. Appl Environ Microbiol 59:1842–1847

Lund BM, Graham AF, Franklin JG (1987) The effect of acid pH on the probability of growth of proteolytic strains of Clostridium botulinum. Int J Food Microbiol 4:215–226

PHLS Advisory Committee for Food and Dairy products (2000) Guidelines for the microbiological quality of some ready to eat foods sampled at the point of sale. Commun Dis Public Health 3:163–167

Salleh NA, Rusul G, Hassan Z, Reezal A, Isa SH, Nishibuchi M, Radu S (2003) Incidence of Salmonella spp. In raw vegetables in Selangor, Malaysia. Food Control 14:475–479

Zeitoun AAM, Debevere JM, Mossel DAA (1994) Significance of Enterobacteriaceae as index organisms for hygiene on fresh untreated poultry treated with lactic acid and poultry stored in a modified atmosphere. Food Microbiol 11:169–176
About this article
Cite this article
Ferreira, L.C., Junqueira, R.G. Microbiological evaluation of pequi (Caryocar brasiliense Camb.) preserves made from a typical Brazilian fruit. World J Microbiol Biotechnol 23, 1179–1181 (2007). https://doi.org/10.1007/s11274-006-9335-x
Received:

Accepted:

Published:

Issue Date:

DOI: https://doi.org/10.1007/s11274-006-9335-x
Keywords
Caryocar brasiliense Cambess

Microbial hazards

Microbiological quality

Pequi preserves