Abstract
To improve the quality and functionality and increase the utilization of silver carp (Hypophthalmichthys molitrix) muscle, three groups of silver carp sausages inoculated with the combinations of Staphylococcus xylosus-12 with Lactobacillus plantarum-15, Pediococcus pentosaceus-ATCC33316, and Lactobacillus casei subsp. casei-1.001, and a batch without any starter (control) were prepared. During the 48 h fermentation at 30°C, silver carp sausages inoculated with mixed starter cultures resulted in a rapid pH decrease, suppression in the growth of Enterobacteriaceae, Pseudomonas, yeasts and molds, and exhibited higher texture profiles (hardness, gumminess, springiness, and chewiness) and whiteness than the control (P < 0.05). The changes in non-protein nitrogen (NPN), free amino acid and SDS-PAGE indicated severe hydrolysis of muscle protein occurred during fermentation. Polyunsaturated fatty acids were higher in quantity in sausages with cultures compare to the control. No significant differences for taste, texture, and appearance were found among batches with mixed starters. The sausage inoculated with the combination of Lactobacillus plantarum-15, S. xylosus-12, and Lactobacillus casei subsp. casei-1.001 (S-PXC) gained highest scores for flavor and overall acceptability. There was an apparent positive correlation (r = 0.87) between the NPN and the overall acceptability in sausages, whereas pH value showed a significantly negative correlations (r = –0.89 to −0.99, P < 0.05) with taste, flavor, texture, appearance, and overall acceptability.
Access options
Buy single article
Instant access to the full article PDF.
US$ 39.95
Tax calculation will be finalised during checkout.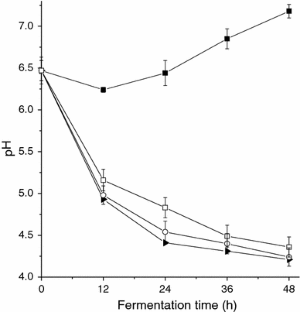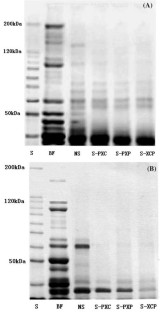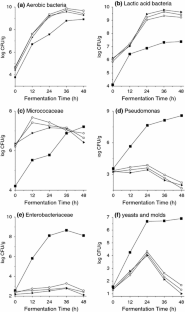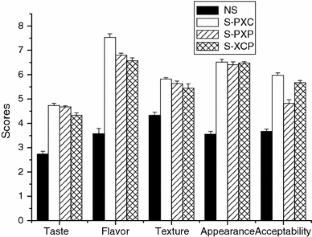 References
Aksu MI, Kaya M (2004) Effect of usage Urtica dioica L. on microbiological properties of sucuk, a Turkish dry-fermented sausage. Food Control 15:591–595

Alford JA, Smith JL, Lilly HD (1971) Relation of microbial activity to changes in lipids of foods. J Appl Bacteriol 34:133–146

Antoine F, Wei C, Littell R, Quinn B, Hogle A, Marshall M (2001) Free amino acids in dark- and white-muscle fish as determined by o-phthaldialdehyde precolumn derivatization. J Food Sci 66:72–74

AOAC (1997) Official methods of analysis of AOAC International (16th), Association of Official Analytical Chemists. Arlington, VA, USA

Aryanta RW, Fleet GH, Buckle KA (1991) The occurrence and growth of microorganisms during the fermentation of fish sausage. Int J Food Microbiol 13:143–155

Barriere C, Centeno D, Lebert A, Leroy-Setrin S, Berdague JL, Talon R (2001) Roles of superoxide dismutase and catalase of Staphylococcus xylosus in the inhibition of linoleic acid oxidation. FEMS Microbiol Lett 201:181–185

Benito MJ, Rodríguez M, Martín A, Aranda E, Córdoba JJ (2004) Effect of the fungal protease EPg222 on the sensory characteristics of dry fermented sausage "salchichon" ripened with commercial starter cultures. Meat Sci 67:497–505

Bloukas JG, Paneras ED, Fournitzis GC (1997) Effect of replacing olive oil for pork backfat on processing and quality characteristics of fermented sausages. Meat Sci 45:133–144

Bover-Cid S, Holzapfel WH (1999) Improved screening procedure for biogenic amine production by lactic acid bacteria. Int J Food Microbiol 53:33–41

Bover-Cid M, Izquierdo-Pulido M, Vidal-Carou MC (2000) Mixed starter cultures to control biogenic amine production in dry fermented sausages. J Food Prot 63:1556–1562

Bruna JM, Fernández M, Ordóñez JA (2002) Enhancement of the flavour development of dry fermented sausages by using a protease (Pronase E) and a cell-free extract of Penicillium camemberti. J Sci Food Agric 82:526–533

Cobb GF, Alaniz I, Thompson CA (1973) Biochemical and microbial studies on shrimp: Volatile nitrogen and amino acid analysis. J Food Sci 38:431–437

Cooke RD, Twiddy DR, Alan Reilly PJ (1987) Lactic-acid fermentation as a low-cost means of food preservation in tropical countries. FEMS Microbiol Lett 46:369–379

Demeyer D, Hoozee J, Mesdom H (1974) Specificity of lipolysis during dry sausage ripening. J Food Sci 39:293–296

Dierick N, Vanderkerckove V, Demeyer D (1974) Changes in non-protein nitrogen compounds during dry sausage ripening. J Food Sci 39:301–304

Fadda S, Oliver G, Vignolo G (2002) Protein degradation by Lactobacillus plantarum and Lactobacillus casei in a sausage model system. J Food Sci 67:1179–1183

Faustman C, Cassens R (1990) The biochemical basis for discoloration in fresh meat: a review. J Muscle Foods 1:217–243

Fekkes D (1996) State-of-the-art of high-performance liquid chromatographic analysis of amino acids in physiological samples. J Chromatogr B Biomed Sci Appl 682:3–22

Gandemer G, Morvan-Mahi B, Meynier A, Leperq M (1991) Quantitative and qualitative analysis of free fatty acids in meat and meat products. Proc Int Congr Meat Sci Technol 37:1139–1142

Garcia ML, Dominguez R, Galvez MD, Casas C, Selgas MD (2002) Utilization of cereal and fruit fibres in low fat dry fermented sausages. Meat Sci 60:227–236

Gelman A, Drabkin V, Glatman L (2000) Evaluation of LAB, isolated from lightly preserved fish products, as starter cultures for new fish-based food products. Innovative Food Sci Emerg Technol 1:219–226

Gimeno O, Astiasaran I, Bello J (2001) Calcium ascorbate as a potential partial substitute for NaCl in dry fermented sausages: effect on colour, texture and hygienic quality at different concentrations. Meat Sci 57:23–29

Herranz B, De la Hoz L, Hierro E, Fernández M, Ordóñez JA (2005) Improvement of the sensory properties of dry-fermented sausages by the addition of free amino acids. Food Chem 91:673–682

Hugas M, Monfort JM (1997) Bacterial starter cultures for meat fermentation. Food Chem 59:547–554

Hughes MC, Kerry JP, Arendt EK, Kenneally PM, McSweeney PLH, O'Neill EE (2002) Characterization of proteolysis during the ripening of semi-dry fermented sausages. Meat Sci 62:205–216

Johansson G, Berdague J-L, Larsson M, Tran N, Borch E (1994) Lipolysis, proteolysis and formation of volatile components during ripening of a fermented sausage with Pediococcus pentosaceus and Staphylococcus xylosus as starter cultures. Meat Sci 38:203–218

Kaya M, Gökalp HY (2004) The behavior of Listeria monocytogenes in sucuks produced with different lactic starter cultures. Turk J Vet Anim Sci 28:1113–1120

Kim CR, Hearnsberger JO (1994) Gram negative Bacteria inhibition by lactic acid culture and food preservatives on catfish fillets during refrigerated storage. J Food Sci 59:513–516

Laemmli U (1970) Cleavage of structural proteins during the assembly of the head of bacteriophage T4. Nature 227:680–685

Lee CH (1997) Lactic acid fermented foods and their benefits in Asia. Food Control 8:259–269

Mauriello G, Casaburi A, Blaiotta G, Villani F (2004) Isolation and technological properties of coagulase negative staphylococci from fermented sausages of Southern Italy. Meat Sci 67:149–158

Milstein A, Hepher B, Teltsch B (1985) Interactions between fish species and the ecological conditions in mono- and polyculture pond system: I. Phytoplankton. Aquaculture Fish Manage 16:305–317

Mizutani T, Kimizuka A, Ruddle K, Ishige N (1992) Chemical components of fermented fish products. J Food Composition Anal 5:152–159

Molly K, Demeyer D, Johansson G, Raemaekers M, Ghistelinck M, Geenen I (1997) The importance of meat enzymes in ripening and flavour generation in dry fermented sausages. First results of a European project. Food Chem 59:539–545

Montel MC, Reitz J, Talon R, Berdague JL, Rousset-Akrim S (1996) Biochemical activities of Micrococcaceae and their effects on the aromatic profiles and odours of a dry sausage model. Food Microbiol 13:489–499

Olesen PT, Meyer AS, Stahnke LH (2004) Generation of flavour compounds in fermented sausages—the influence of curing ingredients, Staphylococcus starter culture and ripening time. Meat Sci 66:675–687

Paludan-Muller C, Madsen M, Sophanodora P, Gram L, Moller PL (2002) Fermentation and microflora of plaa-som, a Thai fermented fish product prepared with different salt concentrations. Int J Food Microbiol 73:61–70

Palumbo SA, Smith JL, Marmer BS, Zaika LL, Bhaduri S, Turner-Jones C, Williams AC (1993) Thermal destruction of Listeria monocytogenes during liver sausage processing. Food Microbiol 10:243–247

Parskevopoulou A, Kiosseoglou V (1997) Texture profile. analysis of heat-formed gels and cakes prepared with low cholesterol egg yolk concentrates. J Food Sci 62:208–211

Paukatong KV, Kunawasen S (2001) Hazard analysis and critical control points (HACCP) generic model for the production of Thai fermented pork sausage (Nham). Berl Munch Tierarztl Wochenschr 114:327–330

Rongrong L, Carpenter JA, Cheney R (1998) Sensory and instrumental properties of smoked sausage made with mechanically separated poultry (MSP) meat and wheat protein. J Food Sci 63:923–929

Sakhare PZ, Rao N (2003) Microbial profiles during lactic fermentation of meat by combined starter cultures at high temperatures. Food Control 14:1–5

Stewart M, Zipser M, Watts B (1965) The use of reflectance. spectrophotometry for the assay of raw meat pigments. J Food Sci 30:464–469

Talon R, Walter D, Chartier S, Barriere C, Montel MC (1999) Effect of nitrate and incubation conditions on the production of catalase and nitrate reductase by staphylococci. Int J Food Microbiol 52:47–56

Wang FS (2000) Effects of three preservative agents on the shelf life of vacuum packaged Chinese-style sausage stored at 20°C. Meat Sci 56:67–71

Yin LJ, Pan CL, Jiang ST (2002) Effect of lactic acid bacterial fermentation on the characteristics of minced mackerel. J Food Sci 67:786–792
Acknowledgement
This research was financially supported by the Chinese Key Scientific and Technological Project in the national Fifteenth Five-year Development Plan (No. 2001BA501A-25) and the Key Scientific and Technological Plan Project of Wuxi city (Jiangsu provence, China; DL060001).
About this article
Cite this article
Hu, Y., Xia, W. & Ge, C. Effect of mixed starter cultures fermentation on the characteristics of silver carp sausages. World J Microbiol Biotechnol 23, 1021–1031 (2007). https://doi.org/10.1007/s11274-006-9330-2
Received:

Accepted:

Published:

Issue Date:
Keywords
Silver carp

Lactic acid bacteria

Staphylococcus xylosus

Fermented sausage

Mixed starter cultures