Summary
Biosorption of manganese from its aqueous solution using yeast biomass Saccharomyces cerevisiae and fungal biomass Aspergillus niger was carried out. Manganese biosorption equilibration time for A. niger and S. cerevisiae were found to be 60 and 20 min, with uptakes of 19.34 and 18.95 mg/g, respectively. Biosorption increased with rise in pH, biomass, and manganese concentration. The biosorption equilibrium data fitted with the Freundlich isotherm model revealed that A. niger was a better biosorbent of manganese than S. cerevisiae.
Access options
Buy single article
Instant access to the full article PDF.
USD 39.95
Price excludes VAT (USA)
Tax calculation will be finalised during checkout.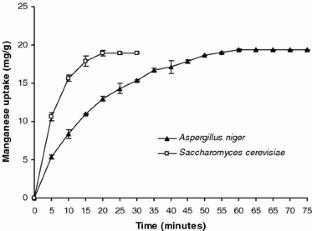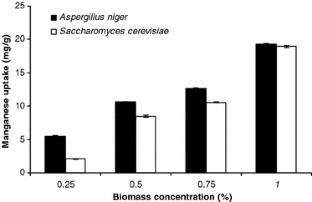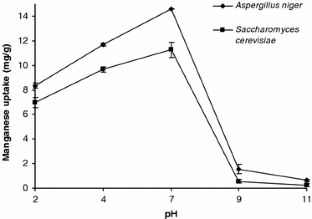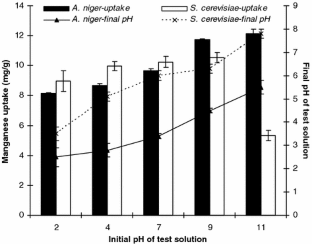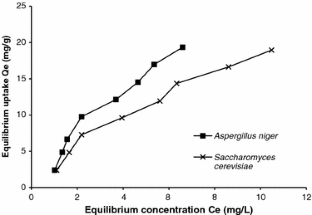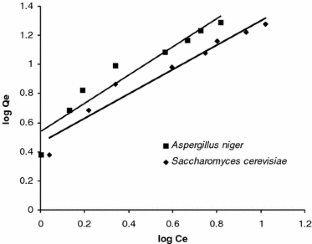 References
American Public Health Association (APHA) (1998) Standard methods for the examination of water and wastewater, 20th edn. American Public Health Association Publications, Washington

Atkinson BW, Bux F, Kasan HC (1998) Considerations for application of biosorption technology to remediate metal-contaminated industrial effluents. Water SA 24:129–135

Baik WY, Bae JH, Cho KM, Hartmeier W (2002) Biosorption of heavy metals using whole mold mycelia and parts thereof. Bioresource Technol 81:167–170

Basci N, Kocadagistan E, Kocadagistan B (2004) Biosorption of copper (II) from aqueous solutions by wheat shell. Desalination 164:135–140

Burgoa CS, Rios C, Mercado LA, Serrano SA, Valle FC, Wynter RAE, Sangrador JLT, Barragan JPV, Agudelo YR, Montes S (2001) Exposure to manganese: health effects on the general population, a Pilot Study in Central Mexico. Environ Res 85:90–104

Chandrasekhar K, Subramanian S, Modak JM, Natarajan KA (1998) Removal of metals using an industrial biomass with reference to environmental control. Int J Miner Process 53:107–120

Goyal N, Jain SC, Banerjee UC (2003) Comparative studies on the microbial adsorption of heavy metals. Adv Environ Res 7:311–319

Henrik S, Thomsen MD, Svendsen ODVM, Klastrup S (2004) Increased concentration in the liver after oral intake. Acad Radiol 11:38–44

Jianlong W (2002) Biosorption of copper (II) by chemically modified biomass of Saccharomyces cerevisiae. Process Biochem 37:847–850

Jianlong W, Xinmin Z, Decai D, Ding Z (2001) Bioadsorption of lead (II) from aqueous solution by fungal biomass of Aspergillus niger. J Biotechnol 87:273–277

Kuyucak N, Volesky B (1998) Accumulation of cobalt by marine alga. Biotechnol Bioeng 33:809–815

Luk E, Jensen LT, Culotta VC (2003) The many highways for intracellular trafficking of metals. J Biol Inorg Chem 8:803–809

Marques PASS, Rosa MF, Pinheiro HM (2000) pH effects on the removal of Cu2+, Cd2+ and Pb2+ from aqueous solution by waste brewery biomass. Bioprocess Eng 23:135–141

Mohamed AZ (2001) Removal of cadmium and manganese by a non-toxic strain of the freshwater cyanobacterium Gloeothece magna. Water Res 35:4405–4409

Mullen MD, Wolf DC, Beveridge TJ, Bailey GW (1992) Sorption of heavy metals by the soil fungi Aspergillus niger and Mucor rouxii. Soil Biol Biochem 24:129–135

Pulsawat W, Leksawasdi N, Rogers PL, Foster LJR (2003) Anions effects on biosorption of Mn (II) by extracellular polymeric substance (EPS) from Rhizobium etli. Biotechnol Lett 25:1267–1270

Suh JH, Kim DS, Yun JW, Song SK (1998) Process of Pb2+ accumulation in Saccharomyces cerevisiae. Biotechnol Lett 20:153–156

Ting Y, Sun G (2000) Use of polyvinyl alcohol as a cell immobilization matrix for copper biosorption by yeast cells. J Chem Technol Biot 75:541–546

Véliz GD, Mora S, Gómez P, Dossi MT, Montiel J, Arriagada C, Aboitiz F, Aguilar S (2004) Behavioral effects of manganese injected in the rat substantia nigra are potentiated by dicumarol, a DT-diaphorase inhibitor. Pharmacol Biochem 7:245–251

Vianna LNL, Andrade MC, Nicoli JR (2000) Screening of waste biomass from Saccharomyces cerevisiae, Aspergillus oryzae and Bacillus lentus fermentations for removal of Cu, Zn and Cd by biosorption. World J Microb Biot 16:437–440

Vieira RHSF, Volesky B (2000) Biosorption: a solution to pollution? Int Microbiol 3:17–24

Zouboulis AI, Matis KA, Lazaridis NK (2001) Removal of metal ions from simulated wastewater by Saccharomyces yeast biomass: combining biosorption and flotation processes. Separ Sci Technol 36:349–365

Zouboulis AI, Rousou EG, Matis KA, Hancock IC (1999) Removal of toxic metals from aqueous mixtures. I. Biosorption. J Chem Technol Biot 74:429–436
Acknowledgment
Financial assistance from the University Grants Commission (UGC), New Delhi, India, is acknowledged.
About this article
Cite this article
Parvathi, K., Naresh Kumar, R. & Nagendran, R. Biosorption of manganese by Aspergillus niger and Saccharomyces cerevisiae . World J Microbiol Biotechnol 23, 671–676 (2007). https://doi.org/10.1007/s11274-006-9281-7
Received:

Accepted:

Published:

Issue Date:

DOI: https://doi.org/10.1007/s11274-006-9281-7
Keywords