Abstract
This study assessed the conditions of wetland hydrology, hydrophyte and soil under different state and federal conservation programs, and then identified the restorable potential of conserved playas. The distribution of hydrology and hydrophyte were geospatially examined through annual tracking the quantity and quality of wetlands on historical hydric soil footprints under different conservation programs in the Rainwater Basin in Nebraska, USA during 2004–2015. The results show that the historical hydric soil footprints with the conservation programs had significantly better performance in ponded water and hydrophyte than non-conserved wetlands. The yearly average of ponded water areas within footprints varies at 12.59% for the Waterfowl Production Areas (WPAs), 14.78% for Wildlife Management Areas (WMAs), 27.37% for Wetlands Reserve Program's conservation easements (WRPs), and 1.86% for non-conserved wetlands, respectively. The yearly average of hydrophyte plant community coverage within footprints reaches at 77.51% for WPAs, 79.28% for WMAs, and 66.53% for WRPs, and 8.82% for non-conserved hydric footprints. Within conserved lands, Massie/Water soil series demonstrated the prominent ability to hold ponding water, especially in the ponded footprints with higher ponding frequency. Nevertheless, the proportion of Fillmore, Rusco or Butler soil series roughly decreased when the ponding water frequency increased. The areas, with high likelihood to be restored, are the places between annual ponding/hydrophyte covered areas and 11 years' maximized ponding/hydrophyte areas.
This is a preview of subscription content, log in to check access.
Access options
Buy single article
Instant unlimited access to the full article PDF.
US$ 39.95
Price includes VAT for USA
Subscribe to journal
Immediate online access to all issues from 2019. Subscription will auto renew annually.
US$ 99
This is the net price. Taxes to be calculated in checkout.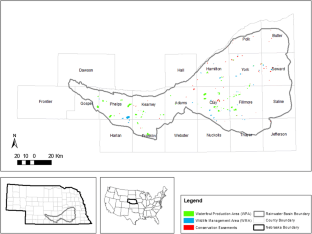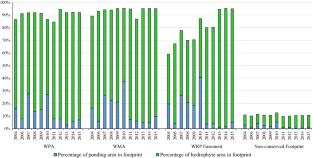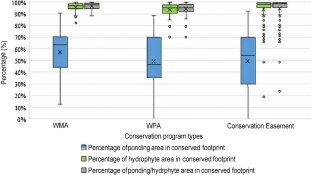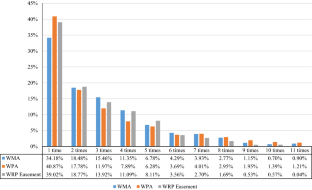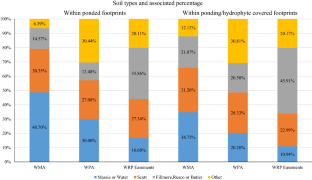 References
Bartuszevige AM, Pavlacky DC, Burris L, Herbener K (2012) Inundation of playa wetlands in the western Great Plains relative to landcover context. Wetlands 32:1103–1113

Beas BJ, Smith LM (2014) Amphibian community responses to playa restoration in the Rainwater Basin. Wetlands 34:1247–1253

Bolen EG, Smith LM, Schramm HL (1989) Playa lakes: prairie wetlands of the Southern High Plains. Bioscience 39:615–623

Braza M (2017) Effectiveness of conservation easements in agricultural regions. Conserv Biol 31:848–859

Collins S, Heintzman L, Starr S, Wright C, Henebry G, McIntyre N (2014) Hydrological dynamics of temporary wetlands in the southern Great Plains as a function of surrounding land use. J Arid Environ 109:6–14

Daniel DW, Smith LM, Haukos DA, Johnson LA, McMurry ST (2014) Land use and conservation reserve program effects on the persistence of playa wetlands in the High Plains. Environ Sci Technol 48:4282–4288

Daniel DW, Smith LM, McMurry ST (2017) Effects of sediment removal and surrounding land use on carbon and nitrogen storage in playas and watersheds in the Rainwater Basin region of Nebraska. Soil Tillage Res 174:169–176

Duriancik LF, Bucks D, Dobrowolski JP, Drewes T, Eckles SD, Jolley L, Kellogg RL, Lund D, Makuch JR, O'Neill M, Rewa CA, Walbridge MR, Parry R, Weltz MA (2008) The first five years of the conservation effects assessment project. J Soil Water Conserv 63:185A–197A

Flanagan NE, Richardson CJ (2010) A multi-scale approach to prioritize wetland restoration for watershed-level water quality improvement. Wetl Ecol Manage 18:695–706

Galatowitsh SM, van der Valk AG, Budelsky RA (1998) Decisionmaking for prairie wetland restorations. Great Plains Res 8:137–155

Gill TE (1996) Eolian sediments generated by anthropogenic disturbance of playas: human impacts on the geomorphic system and geomorphic impacts on the human system. Geomorphology 17:207–228

Haukos DA, Johnson LA, Smith LM, McMurry ST (2016) Effectiveness of vegetation buffers surrounding playa wetlands at contaminant and sediment amelioration. J Environ Manage 181:552–562

Johnson LA, Haukos DA, Smith LM, McMurry ST (2011) Loss of playa wetlands caused by reclassification and remapping of hydric soils on the southern high plains. Wetlands 31:483–492

Kauffman-Axlrod JL, Steinberg SJ (2010) Development and application of an automated GIS based evaluation to prioritize wetland restoration opportunities. Wetlands 30:437–448

LaGrange TG (2005) A guide to Nebraska's wetlands and their conservation needs, 2nd edn. Nebraska Game and Parks Commission, Lincoln

LaGrange TG (2015) Wetland program plan for Nebraska. Nebraska Game and Parks Commission, Lincoln

LaGrange TG, Stutheit R, Gilbert M, Shurtliff D, Whited PM (2011) Sedimentation of Nebraska's playa wetlands: a review of current knowledge and issues. Nebraska Game and Parks Commission, Lincoln

Luo HR, Smith LM, Allen B, Haukos DA (1997) Effects of sedimentation on playa wetland volume. Ecol Appl 7:247–252

McMurtrey MD, Craig R, Schildman G, Nebraska wetland survey (1972) Habitat work plan K-71. Nebraska Game and Parks Commission, Lincoln

Nugent E, Bishop A, Grosse R, LaGrange T, Varner D, Vrtiska M (2015) An assessment of landscape carrying capacity for waterfowl and shorebirds in Nebraska's Rainwater Basin. A conservation effects assessment project wildlife component assessment report. Rainwater Basin Joint Venture, Wood River, p 45

O'Connell JL, Johnson LA, Smith LM, McMurry ST, Haukos DA (2012) Influence of land-use and conservation programs on wetland plant communities of the semiarid United States Great Plains. Biol Conserv 146:108–115

O'Connell JL, Daniel DW, McMurry ST, Smith LM (2016) Soil organic carbon in playas and adjacent prairies, cropland, and Conservation Reserve Program land of the High Plains, USA. Soil Tillage Res 156:16–24

O'Neill MP, Schmidt JC, Dohbrowolski JP, Hawkins CP, Neale CMU (1997) Identifying sites for riparian wetland restoration: application of a model to the Upper Arkansas River Basin. Restor Ecol 5:85–102

Rainwater Basin Joint Venture (2013) The Rainwater Basin Joint Venture Implementation Plan. Grand Island, Nebraska

Rainwater Basin Joint Venture (2015) Rainwater Basin Joint Venture, GIS Projects. Rainwater Basin Joint Venture. https://www.fws.gov/mountain-prairie/migbirds/rwbjvLandingPage.php. Accessed 25 Dec 2017

Rosen MR (1996) Hydrogeology, water quality, and nitrate movement in the unconfined gravel aquifer beneath the Maraekakaho sheep feedlot, Hawke's Bay, New Zealand. J Hydrol (New Zealand) 35(1):29–49

Skagen SK, Melcher CP, Haukos DA (2008) Reducing sedimentation of depressional wetlands in agricultural landscapes. Wetlands 28:594–604

Smith LM (2003) Playas of the great plains. University of Texas Press, Austin

Smith LM, Haukos DA (2002) Floral diversity in relation to playa wetland area and watershed disturbance. Conserv Biol 16:964–974

Smith LM, Haukos DA, McMurry ST, LaGrange T, Willis D (2011) Ecosystem services provided by playas in the high plains: potential influences of USDA conservation programs. Ecol Appl 21(sp1):S82–S92

Soil Survey Geographic Database (SSURGO) (2017) Description of SSURGO Database, https://www.nrcs.usda.gov/wps/portal/nrcs/detail/soils/survey/?cid=nrcs142p2_053627. Accessed 31 Oct 2017

Stein ED, Dark S, Longcore T, Grossinger R, Hall N, Beland M (2010) Historical ecology as a tool for assessing landscape change and informing wetland restoration priorities. Wetlands 30:589–601

Tang Z, Li X, Zhao N, Li R, Harvey EF (2012) Developing a restorable wetland index for rainwater basin wetlands in south-central Nebraska: A multi-criteria spatial analysis. Wetlands 32:975–984

Tang Z, Gu Y, Dai Z, Li Y, LaGrange T, Bishop A, Drahota J (2015a) Examining playa wetland inundation conditions for National Wetland Inventory, Soil Survey Geographic database, and LiDAR data. Wetlands 35:641–654

Tang Z, Gu Y, Drahota J, LaGrange T, Bishop A, Kuzila MS (2015b) Using fly ash as a marker to quantify culturally-accelerated sediment accumulation in playa wetlands. J Am Water Resour Assoc 51:1643–1655

Tang Z, Gu Y, Jiang W, Xue Y, Bishop A, LaGrange T, Nugent E (2016a) Use RUSLE2 model to assess the impact of soil erosion on playa inundation and hydrophyte conditions in the Rainwater Basin, Nebraska. Environ Monit Assess 188:319

Tang Z, Li Y, Gu Y, Jiang W, Xue Y, Hu Q, LaGrange T, Bishop A, Drahota J, Li R (2016b) Assessing Nebraska playa wetland inundation status during 1985–2015 using Landsat data and Google Earth Engine. Environ Monit Assess 188:654

Tang Z, Drahota J, Hu Q, Jiang W (2018) Examining playa wetland contemporary conditions in the Rainwater Basin, Nebraska. Wetlands 38:25–36

Tsai JS, Venne LS, McMurry ST, Smith LM (2012) Local and landscape influences on plant communities in playa wetlands. J Appl Ecol 49:174–181

United States Department of Agriculture Farm Service Agency (2017) Conservation Reserve Program Sign-Up 45 Environmental Benefits Index (EBI), https://www.fsa.usda.gov/Internet/FSA_File/su45ebifactsheet.pdf. Accessed 22 Dec 2017
Acknowledgements
We also appreciate the valuable suggestions and constructive comments from the reviewers and the editors. Their comments significantly helped the improvement of this paper. This paper has been funded by the United States Environmental Protection Agency (EPA) under assistance agreements (CD 97763501; CD 97753701). The contents do not necessarily reflect the views and policies of the funding agencies, and do not mention the trade names or commercial products that constitute endorsement or recommendation for use. The findings and conclusions in this paper are those of the authors and do not necessarily represent the views of the U.S. Fish and Wildlife Service. The research team sincerely appreciates the valuable guidance, field survey support, and data sharing support from the U.S. Fish and Wildlife Service, the U.S. Department of Agriculture-Natural Resources Conservation Service, the Rainwater Basin Joint Venture, and the Nebraska Game and Parks Commission.
Additional information
Publisher's Note
Springer Nature remains neutral with regard to jurisdictional claims in published maps and institutional affiliations.
About this article
Cite this article
Zhang, H., Tang, Z., Bishop, A. et al. Conservation significantly improves wetland conditions: evaluation of playa wetlands in different conservation status. Wetlands Ecol Manage (2019) doi:10.1007/s11273-019-09696-x
Received:

Accepted:

Published:
Keywords
Playa wetland

Conservation programs

Historical hydric soil footprints

Ponding

Hydrophyte

Rainwater basin