Abstract
Peatlands provide important ecosystem services which includes the production of fibers of Sphagnum moss that are used as a substrate in horticulture. Sphagnum fibers are greatly desired by international markets, resulting in an increase in their extraction, thus causing environmental deterioration through overexploitation, especially in Patagonian peatlands. Given this environmental problem, the present study aimed to evaluate the effect of the application of two fertilizers (NH4NO3 and NaH2PO4) on the regeneration and growth rate of Sphagnum magellanicum and Sphagnum falcatulum. An ex situ experiment was carried out in micro- and mesocosms extracted from three localities in Isla Grande de Chiloé, Los Lagos Region, Chile. The results reported that fertilization affects the development of Sphagnum moss, showing positive results on growth in height, while having a very limited effect on regeneration. Our data show a positive impact of some concentrations under natural climatic conditions. After three months, mesocosms with 10 g/m2 of NH4NO3 (3.5 g N/m2) for S. falcatulum, and 5 g/m2 of NaH2PO4 (1.3 g P/m2) for S. magellanicum, demonstrated statistically significant differences with respect to the control, with a mean growth of 15.2 mm and 5.6 mm respectively. According to the data, we can show that these treatments may be considered for the propagation of moss ex situ followed by reintroduction into the field. Field experiments are required to better understand the dynamics of nitrogen in Patagonian peatlands; nevertheless, these data suggest that attention be paid to nonpoint pollution of surface waters with nitrogen, because excessive inputs may have important effects on the growth of this natural resource.
Access options
Buy single article
Instant access to the full article PDF.
USD 39.95
Price excludes VAT (USA)
Tax calculation will be finalised during checkout.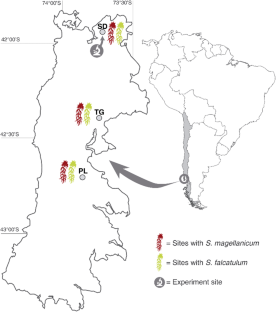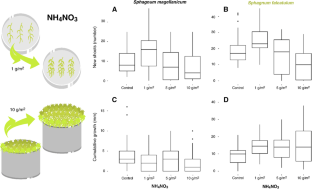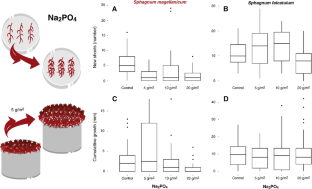 References
Aerts R, Wallen B, Malmer N (1992) Growth-limiting nutrients in Sphagnum-dominated bogs subject to low and high atmospheric nitrogen supply. J Ecol 80:131–140. https://doi.org/10.2307/2261070

Baker RGE, Boatman DJ (1990) Some effects of nitrogen, phosphorus, potassium and carbon dioxide concentration on the morphology and vegetative reproduction of Sphagnum cuspidatum. Ehrh New Phytol 116:605–611. https://doi.org/10.1111/j.1469-8137.1990.tb00545.x

Bragazza L et al (2006) Atmospheric nitrogen deposition promotes carbon loss from peat bogs. Proc Natl Acad Sci USA 103:19386–19389. https://doi.org/10.1073/pnas.0606629104

Bragazza L et al (2012) High nitrogen deposition alters the decomposition of bog plant litter and reduces carbon accumulation. Glob Change Biol 18:1163–1172. https://doi.org/10.1111/j.1365-2486.2011.02585.x

Breeuwer A, Heijmans M, Robroek B, Berendse F (2008) The effect of temperature on growth and competition between Sphagnum species. Oecologia 156:155–167. https://doi.org/10.1007/s00442-008-0963-8

Carmona MR et al (2010) Estación Biológica Senda Darwin: investigación ecológica de largo plazo en la interfase ciencia-sociedad. Revista Chilena de Historia Natural 83:113–142. https://doi.org/10.4067/S0716-078X2010000100007

Clymo R (1970) The growth of Sphagnum: methods of measurement. J Ecol 58:13–49. https://doi.org/10.2307/2258168

CONAF (2009) Plan de Acción Provincial Chiloé—Plan de Gestión Territorial. Oficina Provincial Chiloé - Corporación Nacional Forestal, Castro, Chile

Daniels RE, Eddy A (1985) Handbook of European Sphagna. Institute of Terrestrial Ecology, Natural Environment Research Council, Great Britain

Délano G, Oberpaur C, Díaz MF, Barba M, León CA, Iñiguez C, Délano M (2013) Guia de terreno: manejo y recolección sustentable de musgo pompón (Sphagnum magellanicum). Gobierno Regional de Los Lagos - Universidad Santo Tomás, Santiago de Chile

di Castri F, Hajek ER (1976) Bioclimatología de Chile. Editorial Universidad Católica de Chile, Santiago, Chile

Díaz MF, Silva W (2012) Improving harvesting techniques to ensure Sphagnum regeneration in Chilean peatlands. Chil J Agr Res 72:296–300. https://doi.org/10.4067/S0718-58392012000200021

Díaz MF, Larraín J, Zegers G, Tapia C (2008) Caracterización florística e hidrológica de turberas de la Isla Grande de Chiloé. Chile Revista Chilena de Historia Natural 81:445–468. https://doi.org/10.4067/S0716-078X2008000400002

Díaz MF, Tapia C, Jiménez P, Bacigalupe LD (2012) Sphagnum magellanicum growth and productivity in Chilean anthropogenic peatlands. Revista Chilena de Historia Natural 85:513–518. https://doi.org/10.4067/S0716-078X2012000400013

Domínguez E (2014) Manual de buenas prácticas para el uso sostenido del musgo Sphagnum magellanicum en Magallanes, Chile vol Nº 276. Instituto de Investigaciones Agropecuarias. Centro Regional de Investigación Kampenaike, Punta Arenas, Chile

Ferland C, Rochefort L (1997) Restoration techniques for Sphagnum-dominated peatlands. Can J Bot 75:1110–1118. https://doi.org/10.1139/b97-122

Fritz C, van Dijk G, Smolders AJP, Pancotto VA, Elzenga T, Roelofs JGM, Grootjans AP (2012) Nutrient additions in pristine Patagonian Sphagnum bog vegetation: can phosphorus addition alleviate (the effects of) increased nitrogen loads. Plant Biol 14:491–499. https://doi.org/10.1111/j.1438-8677.2011.00527.x

Gorham E, Rochefort L (2003) Peatland restoration: a brief assessment with special reference to Sphagnum bogs. Wetlands Ecol Manag 11:109–119. https://doi.org/10.1111/j.1438-8677.2011.00527.x

Gunnarsson U, Rydin H (2000) Nitrogen fertilization reduces Sphagnum production in bog communities. New Phytol 147:527–537. https://doi.org/10.1046/j.1469-8137.2000.00717.x

Hassel K, Kyrkjeeide MO, Yousefi N, Prestø T, Stenøien HK, Shaw JA, Flatberg KI (2018) Sphagnum divinum (sp. nov.) and S. medium Limpr. and their relationship to S. magellanicum. Brid J Bryol 40:197–222. https://doi.org/10.1080/03736687.2018.1474424

Hauser A (1996) Los depósitos de turba en Chile y sus perspectivas de utilización. Revista Geológica de Chile 23:217–229

INFOR (2018) Productos forestales no madereros. Instituto Forestal

Iturraspe R (2016) Patagonian Peatlands (Argentina and Chile). In: Finlayson CM, Milton GR, Prentice RC, Dacidson NC (eds) The wetland book II: distribution, description and conservation. Springer, Dordrecht, pp 1–10

Japan Ministry of Finance (2018) Trade statistics. http://www.customs.go.jp/toukei/srch/index_e.htm?M=01&P=1,2,,,,,,,,4,1,2017,0,0,0,2,140490410,,,,,,,,,,1,,,,,,,,,,,,,,,,,,,,,,20

Joosten H, Clarke D (2002) Wise use of mires and peatlands. Background and principles including a framework for decision-making. International Mire Conservation Group & International Peat Society, Saarijarvi, Finland

Karlin EF, Buck WR, Seppelt RD, Boles SB, Jonathan Shaw A (2013) The double allopolyploid Sphagnum × falcatulum (Sphagnaceae) in Tierra del Fuego, a Holantarctic perspective. J Bryol 35:157–172. https://doi.org/10.1179/1743282013y.0000000066

León CA, Oliván G, Gaxiola A (2018) Environmental controls of cryptogam composition and diversity in anthropogenic and natural peatland ecosystems of Chilean Patagonia. Ecosystems 21:203–215. https://doi.org/10.1007/s10021-017-0142-z

Mackenzie R, Lewis LR, Rozzi R (2016) Nuevo registro de Sphagnum falcatulum Besch (Sphagnaceae) en Isla Navarino. Reserva de la Biósfera Cabo de Hornos Anales del Instituto de la Patagonia 44:79–84. https://doi.org/10.4067/S0718-686X2016000100007

Minayeva T (2008) Peatlands and Biodiversity. In: Parish F, Sirin A, Charman D, Joosten H, Minayeva T, Silvius M, Stringer L (eds) Assessment on peatlands, biodiversity and climate change: main report Global Environment Centre. Kuala Lumpur and Wetlands International, Wageningen, pp 60–97

Ministerio de Agricultura (2017) Decreto N°25 - Dispone medidas para la protección del musgo Sphagnum magellanicum. Diario Oficial de la República de Chile

ODEPA (2018) Exportaciones de musgos secos, distintos de los usados para ramos y adornos y de los medicinales. Código SACH 14049020. Estadísticas Comercio Exterior, Oficina de Estudios y Políticas Agrarias (ODEPA), Ministerio de Agricultura. http://www.odepa.cl/series-anuales-por-producto-de-exportaciones-importaciones/. Accessed 7 Feb 2018

Paffen BGP, Roelofs JGM (1991) Impact of carbon dioxide and ammonium on the growth of submerged Sphagnum cuspidatum. Aquat Bot 40:61–71. https://doi.org/10.1016/0304-3770(91)90074-F

Pérez CA, Armesto JJ, Torrealba C, Carmona MR (2003) Litterfall dynamics and nitrogen use efficiency in two evergreen temperate rainforests of southern Chile. Austral Ecol 28:591–600. https://doi.org/10.1046/j.1442-9993.2003.01315.x

Quinty F, Rochefort L (2003) Peatland restoration guide, 2nd edn. Canadian Sphagnum Peat Moss Association et New Brunswick Department of Natural Resources and Energy, Québec, Canada

Ramsar (2004) Lineamientos para la acción mundial sobre las turberas. Manual 14. Manuales Ramsar para el uso racional de los humedales. Secretaría de la Convención de Ramsar, Gland, Suiza

Rochefort L (2000) Sphagnum—a keystone genus in habitat restoration. The Bryologist 103:503–508

Rydin H, Jeglum JK (2006) The Biology of Peatlands. Biology of Habitats. Oxford University Press, London

Schlatter R, Schlatter J (2004) Los turbales de Chile. In: Blanco D, Balze Vdl (eds) Los Turbales de la Patagonia: Bases para su inventario y la conservación de su biodiversidad. Wetlands Internacional, Buenos Aires, Argentina, pp 75–80

Sottocornola M, Boudreau S, Rochefort L (2007) Peat bog restoration: effect of phosphorus on plant re-establishment. Ecol Eng 31:29–40. https://doi.org/10.1016/j.ecoleng.2007.05.001

Taiwan Bureau of Foreign Trade (2018) Trade statistics. https://cus93.trade.gov.tw/FSCE030F/FSCE030F?menuURL=FSCE030F

R Development Core Team (2017) A language and enviroment for statistical computing. R Foundation for Statistical Computing, Vienna, Austria

Temmink RJM et al (2017) Sphagnum farming in a eutrophic world: the importance of optimal nutrient stoichiometry. Ecol Eng 98:196–205. https://doi.org/10.1016/j.ecoleng.2016.10.069

Zegers G, Larraín J, Díaz MF, Armesto JJ (2006) Impacto ecológico y social de la explotación de pomponales y turberas de Sphagnum en la Isla Grande de Chiloé Revista. Ambiente y Desarrollo 22:28–34
Acknowledgements
The authors gratefully acknowledge the CONICYT Chile for funding the research. Special thanks to César González for his help in statistical analysis. We are very grateful to the reviewers for their constructive suggestions. This is a contribution to the Research Program of LTSER-Chile network at Senda Darwin Biological Station, Chiloé, Chile.
Funding
The research was funded by FONDECYT 11150275.
Additional information
Publisher's Note
Springer Nature remains neutral with regard to jurisdictional claims in published maps and institutional affiliations.
About this article
Cite this article
León, C.A., Neila-Pivet, M., Benítez-Mora, A. et al. Effect of phosphorus and nitrogen on Sphagnum regeneration and growth: an experience from Patagonia. Wetlands Ecol Manage 27, 257–266 (2019). https://doi.org/10.1007/s11273-019-09657-4
Received:

Accepted:

Published:

Issue Date:

DOI: https://doi.org/10.1007/s11273-019-09657-4
Keywords
Sphagnum

Growth

Fertilization

Nitrogen

Phosphorus

Chile