Abstract
The growth of human societies worldwide has been associated with the degradation of natural resources; in particular, freshwater ecosystems are among the most seriously threatened. Riparian restoration has received much attention due to the importance of ecological functions and ecosystem services sustained by watercourses. The objective of this paper was to assess the environmental quality of riversides in a highly urbanized watershed in the Buenos Aires metropolitan area (Argentina) in order to identify rehabilitation opportunities. We conducted a stratified random sampling of 82 sites where we recorded 33 variables regarding geomorphologic traits, vegetation attributes and anthropogenic impacts. Pristine riparian habitats are almost completely extirpated throughout the watershed and most of the streams sampled showed signs of degradation related to multiple threats. We detected a degradation pattern that follows the urban–rural gradient occurring in the watershed which enabled the definition of four types of riversides. In order to identify potential river rehabilitation alternatives in accordance with each degradation driver detected, we performed a systematic review of the literature. We identified the fluvial rehabilitation techniques implemented and we grouped them into four types of measures: passive restoration, active abiotic techniques, active biotic techniques and active social techniques. We also recognized the reported social, ecological, economic and/or political constraints which were encountered in those experiences. All possible dimensions of the potential constraints should be recognized during the planning stage of rehabilitation and then properly addressed before and during the implementation of measures in order to make the interventions successful.
This is a preview of subscription content, log in to check access.
Access options
Buy single article
Instant access to the full article PDF.
US$ 39.95
Price includes VAT for USA
Subscribe to journal
Immediate online access to all issues from 2019. Subscription will auto renew annually.
US$ 99
This is the net price. Taxes to be calculated in checkout.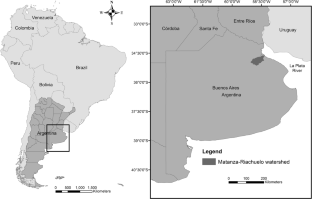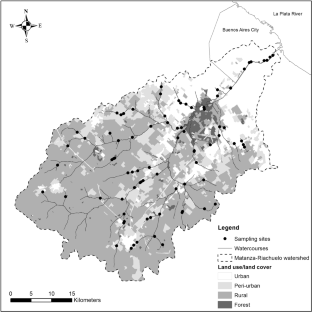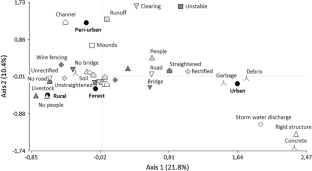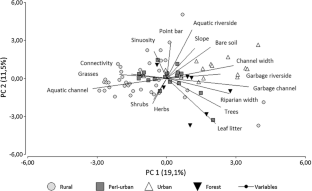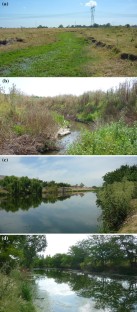 References
ACUMAR (2009) Plan integral de saneamiento ambiental de la cuenca Matanza-Riachuelo. ACUMAR, Buenos Aires

Allan JD (2004) Landscapes and riverscapes: the influence of land use on stream ecosystems. Annu Rev Ecol Evol Syst 35:257–284

Bilenca D, Codesido M, González Fischer C, Pérez Carusi L (2009) Impactos de la actividad agropecuaria sobre biodiversidad en la ecorregión pampeana. Ediciones INTA, Buenos Aires

Bradshaw AD (1996) Underlying principles of restoration. Can J Fish Aquat Sci 53:3–9. https://doi.org/10.1139/f95-265

Brailovsky AE, Foguelman D (2009) Memoria verde. Historia ecológica de la Argentina, 8va edn. Debolsillo, Buenos Aires

Cabrera ÁL (1971) Fitogeografía de la República Argentina. Bol Soc Argent Bot XIV:1–42

Cockerill K, Anderson WP (2014) Creating false images: stream restoration in an urban setting. J Am Water Resour Assoc 50:468–482. https://doi.org/10.1111/jawr.12131

Feijoó CS, Lombardo RJ (2007) Baseline water quality and macrophyte assemblages in Pampean streams: a regional approach. Water Res 41:1399–1410. https://doi.org/10.1016/j.watres.2006.08.026

Ghersa CM, de la Fuente E, Suárez S, León RJC (2002) Woody species invasion in the Rolling Pampa grasslands, Argentina. Agric Ecosyst Environ 88:271–278. https://doi.org/10.1016/S0167-8809(01)00209-2

Giorgi A, Feijoó C, Tell G (2005) Primary producers in a Pampean stream: temporal variation and structuring role. Biodivers Conserv 14:1699–1718. https://doi.org/10.1007/s10531-004-0694-z

González del Tánago M, García De Jalón D (2006) Attributes for assessing the environmental quality of riparian zones. Limnetica 25:389–402. https://doi.org/10.1016/B978-0-12-374794-5.00003-1

Gregory KJ (2006) The human role in changing river channels. Geomorphology 79:172–191. https://doi.org/10.1016/j.geomorph.2006.06.018

Groffman PM, Bain DJ, Band LE et al (2003) Down by the riverside: urban riparian ecology. Front Ecol Environ 1:315–321. https://doi.org/10.1890/1540-9295(2003)001%5b0315:DBTRUR%5d2.0.CO;2

Guida Johnson B, Faggi A, Voigt A et al (2015) Environmental perception among residents of a polluted watershed in Buenos Aires. J Urban Plan Dev 141:A5014002. https://doi.org/10.1061/(ASCE)UP.1943-5444.0000250

Guida-Johnson B, Zuleta GA (2017) Riparian rehabilitation planning in an urban–rural gradient: integrating social needs and ecological conditions. Ambio 46:578–587. https://doi.org/10.1007/s13280-016-0857-7

Harris RR (1999) Defining reference conditions for restoration of riparian plant communities: examples from California, USA. Environ Manag 24:55–63. https://doi.org/10.1007/s002679900214

Hartig JH, Wallace MC (2015) Creating world-class gathering places for people and wildlife along the Detroit Riverfront, Michigan, USA. Sustain 7:15073–15098. https://doi.org/10.3390/su71115073

Hepp LU, Santos S (2009) Benthic communities of streams related to different land uses in a hydrographic basin in southern Brazil. Eniveron Monit Assess 157:305–318. https://doi.org/10.1007/s10661-008-0536-7

INDEC (2010) Censo Nacional de Población, Hogares y Viviendas. http://www.censo2010.indec.gov.ar/. Accessed 12 Jan 2015

Jacobson CR (2011) Identification and quantification of the hydrological impacts of imperviousness in urban catchments: a review. J Environ Manag 92:1438–1448. https://doi.org/10.1016/j.jenvman.2011.01.018

Kauffman JB, Krueger WC (1984) Livestock impacts on riparian ecosystems and streamside management implications. A review. J Range Manag 37:430–438. https://doi.org/10.2307/3899631

Kauffman JB, Beschta RL, Otting N, Lytjen D (1997) An ecological perspective of riparian and stream restoration in the Western United States. Fisheries 22:12–24. https://doi.org/10.1577/1548-8446(1997)022%3c0012:AEPORA%3e2.0.CO;2

Lafflitto CM, Zuleta GA, Schell D, Guida Johnson B (2011) Land use at the watershed scale: restrictive factors or opportunities for environmental rehabilitation? Case study in Buenos Aires, Argentina. In: 4th World Conference on Ecological Restoration. Mérida, México

Lee M, Jung I (2016) Assessment of an urban stream restoration project by cost-benefit analysis: the case of Cheonggyecheon stream in Seoul, South Korea. KSCE J Civ Eng 20:152–162. https://doi.org/10.1007/s12205-015-0633-4

McKergow LA, Weaver DM, Prosser IP et al (2003) Before and after riparian management: sediment and nutrient exports from a small agricultural catchment, Western Australia. J Hydrol 270:253–272

Meek CS, Richardson DM, Mucina L (2010) A river runs through it: land-use and the composition of vegetation along a riparian corridor in the Cape Floristic Region, South Africa. Biol Conserv 143:156–164. https://doi.org/10.1016/j.biocon.2009.09.021

Miller JR, Hobbs RJ (2007) Habitat restoration—do we know what we're doing? Restor Ecol 15:382–390. https://doi.org/10.1111/j.1526-100X.2007.00234.x

Moffatt SF, McLachlan SM (2003) Effects of land use disturbance on seed banks of riparian forests in southern Manitoba. Ecoscience 10:361–369

Moffatt SF, McLachlan SM (2004) Understorey indicators of disturbance for riparian forests along an urban-rural gradient in Manitoba. Ecol Indic 4:1–16. https://doi.org/10.1016/j.ecolind.2003.08.002

Muller I, Delisle M, Ollitrault M, Bernez I (2016) Responses of riparian plant communities and water quality after 8 years of passive ecological restoration using a BACI design. Hydrobiologia 781:67–79. https://doi.org/10.1007/s10750-015-2349-3

Nápoli AM (2009) Una política de estado para el Riachuelo. In: Di Paola ME, Sangalli F, Caorsi S (eds) Informe ambiental anual 2009. Fundación Ambiente y Recursos Naturales, Buenos Aires, pp 175–233

Nienhuis PH, Leuven RSEW (2001) River restoration and flood protection: controversy or synergism? Hydrobiologia 444:85–99. https://doi.org/10.1023/A:1017509410951

Palmer M, Allan JD, Meyer J, Bernhardt ES (2007) River restoration in the twenty-first century: data and experiential knowledge to inform future efforts. Restor Ecol 15:472–481. https://doi.org/10.1111/j.1526-100X.2007.00243.x

Pereyra FX (2004) Geología urbana del área metropolitana bonaerense y su influencia en la problemática ambiental. Rev la Asoc Geol Argent 59:394–410

Ratto S, Marceca E, Moscatelli G et al (2004) Evaluación de la contaminación orgánica e inorgánica en un suelo aluvial de la costa del Riachuelo, Buenos Aires, Argentina. Ecol Austral 14:179–190

Rios-Touma B, Prescott C, Axtell S, Kondolf GM (2015) Habitat restoration in the context of watershed prioritization: the ecological performance of urban stream restoration projects in Portland, Oregon. River Res Appl 31:755–766

Roni P, Hanson K, Beechie T (2008) Global review of the physical and biological effectiveness of stream habitat rehabilitation techniques. North Am J Fish Manag 28:856–890. https://doi.org/10.1577/M06-169.1

Sala OE, Chapin FS III, Armesto JJ et al (2000) Global biodiversity scenarios for the year 2100. Science (80-) 287:1770–1774. https://doi.org/10.1126/science.287.5459.1770

Selvakumar A, O'Connor TP, Struck SD (2010) Role of stream restoration on improving benthic macroinvertebrates and in-stream water quality in an urban watershed: case study. J Environ Eng 136:127–139. https://doi.org/10.1061/(ASCE)EE.1943-7870.0000116

Sliva L, Williams DD (2001) Buffer zone versus whole catchment approaches to studying land use impact on river water quality. Water Res 35:3462–3472. https://doi.org/10.1016/S0043-1354(01)00062-8

Smith B, Chadwick MA (2014) Litter decomposition in highly urbanized rivers: influence of restoration on ecosystem function. Fundam Appl Limnol/Arch für Hydrobiol 185:7–18. https://doi.org/10.1127/fal/2014/0581

Stacey PB, Jones AL, Catlin JC, et al (2009) User's guide for the rapid assessment of the functional condition of stream-riparian ecosystems in the American Southwest. Wild Utah Project

Stranko SA, Hilderbrand RH, Palmer MA (2012) Comparing the fish and benthic macroinvertebrate diversity of restored urban streams to reference streams. Restor Ecol 20:747–755. https://doi.org/10.1111/j.1526-100X.2011.00824.x

Tavzes B, Urbanic G, Toman MJ (2006) Biological and hydromorphological integrity of the small urban stream. Phys Chem Earth 31:1062–1074

Turak E, Waddell N, Johnstone G (2004) New South Wales Australian River Assessment System (AUSRIVAS) sampling and processing manual

Vidon P, Campbell MA, Gray M (2008) Unrestricted cattle access to streams and water quality in till landscape of the Midwest. Agric Water Manag 95:322–330. https://doi.org/10.1016/j.agwat.2007.10.017

Walsh CJ, Roy AH, Feminella JW et al (2005) The urban stream syndrome: current knowledge and the search for a cure. J North Am Benthol Soc 24:706–723. https://doi.org/10.1899/04-028.1

Weigelhofer G, Hein T, Kucera-Hirzinger V et al (2011) Hydrological improvement of a former floodplain in an urban area: potential and limits. Ecol Eng 37:1507–1514. https://doi.org/10.1016/j.ecoleng.2011.05.005

Yamashita S, Shimatani Y, Watanabe R et al (2013) Comprehensive flood control involving citizens in a Japanese watershed. Water Sci Technol 68:791–798. https://doi.org/10.2166/wst.2013.293

Yocom K (2014) Building watershed narratives: an approach for broadening the scope of success in urban stream restoration. Landsc Res 39:698–714. https://doi.org/10.1080/01426397.2014.947249

Zingraff-Hamed A, Noack M, Greulich S et al (2018) Model-based evaluation of urban river restoration: Conflicts between sensitive fish species and recreational users. Sustain. https://doi.org/10.3390/su10061747

Zuleta GA, Guida Johnson B, Lafflitto CM et al (2012) Rehabilitación de ambientes perdidos en megaciudades: el caso de la cuenca Matanza-Riachuelo. In: Athor J (ed) Buenos Aires, la historia de su paisaje natural. Fundación de Historia Natural Félix de Azara, Buenos Aires, pp 445–459
Acknowledgements
This research was funded by the National Agency for Science and Technology of Argentina (PICT-2009-0125 and PME funds granted to GZ and PFDT doctoral scholarship granted to BGJ at the National University of Lomas de Zamora). We would also like to thank the Maimónides University for financial and logistic support and Adriana Pérez for her assistance in the sampling design and the statistical analysis. We gratefully thank Mariano Arias, Matías Ciancio, Gerardo Elsesser, Francisco Ferrer, Andrés Said and Diego Schell for their collaboration during the field surveys. We would also like to thank Mark Briggs and two anonymous reviewers for their valuable comments and suggestions, which helped to improve the manuscript.
Additional information
Publisher's Note
Springer Nature remains neutral with regard to jurisdictional claims in published maps and institutional affiliations.
This research was funded by the National Agency for Science and Technology of Argentina (PICT-2009-0125 and PME funds granted to GZ and PFDT doctoral scholarship granted to BGJ at the National University of Lomas de Zamora).
Electronic supplementary material
Below is the link to the electronic supplementary material.
About this article
Cite this article
Guida-Johnson, B., Zuleta, G.A. Environmental degradation and opportunities for riparian rehabilitation in a highly urbanized watershed: the Matanza-Riachuelo in Buenos Aires, Argentina. Wetlands Ecol Manage 27, 243–256 (2019). https://doi.org/10.1007/s11273-019-09656-5
Received:

Accepted:

Published:

Issue Date:
Keywords
Environmental management planning

Exotic species invasions

Land use impacts

Rehabilitation needs

Urban–rural gradient