Abstract
There are many different anthropogenic causes of wetland degradation, such as disturbances which affect the physical structure of wetlands, resulting in erosion (altered fire regimes, road and railway building through wetlands, channelization of wetlands), pollution, land-cover change, and climate change. These different types of degradation have various impacts, depending on the type of wetland, soils, biochemistry and other factors. We researched a poorly-studied South African valley-bottom peatland that is dominated by the ecosystem engineer Palmiet: Prionium serratum. We ask the question: what is the impact of degradation by gully erosion, pollution and alien tree invasion on biochemistry and plant community composition of palmiet wetlands? In 39 plots from three palmiet wetlands situated approximately 200 km apart we found that channel erosion, through a loss of alluvium, has probably resulted in leached soils with lower soil organic matter and water content, less able to retain nutrients and cations. Soil leaching is a possible explanation for the groundwater of degraded wetlands having higher electrical conductivity and pH than that of pristine wetlands and a lower soil cation exchange capacity (21.3 ± 5.80–7.7 ± 4.91 meq/100 g). The loss of alluvium typically resulted in a completely new plant community, composed mostly of pioneer species and several alien species. The increase in base saturation (17.5 ± 8.46–30.2 ± 17.85%) and soil pH (4.8 ± 0.51–5.1 ± 0.50) with degradation was hypothesized to be the result of liming practices. Once extremely degraded, i.e. all the alluvium is lost, it is unlikely that these sensitive palmiet wetlands will recover original vegetation communities and lost functions, except on long timescales. We recommend conservation of the few pristine wetlands that remain, and rehabilitation of those that still retain some of their original function.
Access options
Buy single article
Instant access to the full article PDF.
US$ 39.95
Tax calculation will be finalised during checkout.
Subscribe to journal
Immediate online access to all issues from 2019. Subscription will auto renew annually.
US$ 79
Tax calculation will be finalised during checkout.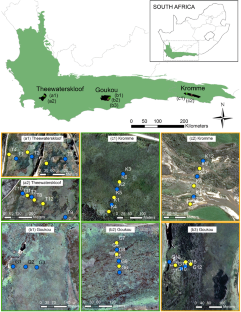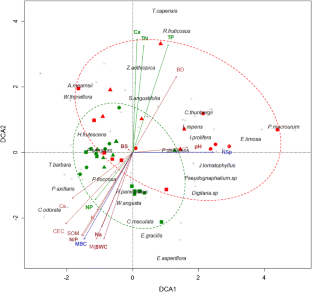 References
Aggenbach CJS, Backx H, Emsens WJ, Grootjans AP, Lamers LPM, Smolders AJP, Stuyfzand PJ, Wolejko L, Van Diggelen R (2013) Do high iron concentrations in rewetted rich fens hamper restoration? Preslia 85:405–420

Bates D, Maechler M, Bolker B, Walker S (2015) Fitting Linear mixed-effects models using lme4. J Stat Softw 67:1–48

Beck T, Joergensen RG, Kandeler E, Makeschin F, Nuss E, Oberholzer HR, Scheu S (1997) An inter-laboratory comparison of ten different ways of measuring soil microbial biomass C. Soil Biol Biogeochem 29:1023–1032

Beukes DJ, Fyfield TP, Jezile GG, Mapumulo TC (2012) Comparison of medium-term organic and inorganic fertiliser application on leaf nutrient concentration and yield of maize in rural agriculture in the Mbizana area, Eastern Cape province, South Africa. S Afr J Plant Soil 29:127–133. https://doi.org/10.1080/02571862.2013.777131

Boardman J (2014) How old are the gullies (dongas) of the Sneeuberg uplands, Eastern Karoo, South Africa? CATENA 113:79–85. https://doi.org/10.1016/j.catena.2013.09.012

Brooks AP, Brierley GJ, Millar RG (2003) The long-term control of vegetation and woody debris on channel and flood-plain evolution: insights from a paired catchment study in southeastern Australia. Geomorphology 51:7–29. https://doi.org/10.1016/S0169-555X(02)00323-9

Brown IC (1943) A rapid method of determining exchangable hydrogen and total exchangable bases of soils. Soil Sci 56:353–357

Cabezas A, Pallasch M, Schönfelder I, Gelbrecht J, Zak D (2014) Carbon, nitrogen, and phosphorus accumulation in novel ecosystems: Shallow lakes in degraded fen areas. Ecol Eng 66:63–71. https://doi.org/10.1016/j.ecoleng.2013.10.037

Carpenter SR, Bennett EM (2011) Reconsideration of the planetary boundary for phosphorus. Environ Res Lett 6:14009. https://doi.org/10.1088/1748-9326/6/1/014009

de Haan V (2016) The Effects of Erosion-control Structures and Gully Erosion on Groundwater Dynamics along the Kromrivier, Eastern Cape, South Africa. Masters Thesis. Stockholm University

Emsens WJ, Aggenbach CJS, Smolders AJP, van Diggelen R (2015) Topsoil removal in degraded rich fens: can we force an ecosystem reset? Ecol Eng 77:225–232. https://doi.org/10.1016/j.ecoleng.2015.01.029

Ferreira AC, Lacerda LD (2016) Degradation and conservation of Brazilian mangroves, status and perspectives. Ocean Coast Manag 125:38–46. https://doi.org/10.1016/j.ocecoaman.2016.03.011

Houba R, Van der Lee JJ, Novozamsky I, Wallinga I (1989) Soil and Plant Analysis, a Series of Syllabi. Part 5. Wageningen

Huo L, Chen Z, Zou Y, Lu X, Guo J, Tang X (2013) Effect of Zoige alpine wetland degradation on the density and fractions of soil organic carbon. Ecol Eng 51:287–295. https://doi.org/10.1016/j.ecoleng.2012.12.020

Job N (2014) Geomorphic origin and dynamics of deep, peat-filled, valley bottom wetlands dominated by palmiet (Prionium serratum)—a case study based on the Goukou Wetland, Western Cape. Rhodes University, Eastern Cape

Jordan TE, Whigham DF, Hofmockel KH, Pittek MA (2003) Nutrient and sediment removal by a restored wetland receiving agricultural runoff. J Environ Qual 32:1534. https://doi.org/10.2134/jeq2003.1534

Kotze DC (2015) A survey of organic soils in the upper Riviersonderend catchment. WWF, South Africa

Krüger JP, Leifeld J, Glatzel S, Szidat S, Alewell C (2015) Biogeochemical indicators of peatland degradation—a case study of a temperate bog in northern Germany. Biogeosciences 12:2861–2871. https://doi.org/10.5194/bg-12-2861-2015

Li H, Lei GC, Zhi YB, An SQ, Huang HP, Ouyang Y, Zhao L, Deng ZF, Liu YH (2011) Nitrogen level changes the interactions between a native (Scirpus triqueter) and an exotic species (Spartina anglica) in coastal China. PLoS ONE 6:10. https://doi.org/10.1371/journal.pone.0025629

Martens R (1995) Current methods for measuring microbial biomass C in soil: Potentials and limitations. Biol Fertil Soils 19:87–99

Meli P, Benayas JRM, Balvanera P, Ramos MM (2014) Restoration enhances wetland biodiversity and ecosystem service supply, but results are context- dependent : a meta-analysis. PLoS ONE 9:e93507. https://doi.org/10.1371/journal.pone.0093507

Meng W, He M, Hu B, Mo X, Li H, Liu B, Wang Z (2017) Status of wetlands in China: a review of extent, degradation, issues and recommendations for improvement. Ocean Coast Manag 146:50–59. https://doi.org/10.1016/j.ocecoaman.2017.06.003

Middleton BJ, Bailey AK (2008) Water resources of South Africa, 2005 study (WR2005). Pretoria, South Africa

Midgley GF, Hannah L, Millar D, Thuiller W, Booth A (2003) Developing regional and species-level assessments of climate change impacts on biodiversity in the Cape Floristic Region. Biol Conserv 112:87–97. https://doi.org/10.1016/S0006-3207(02)00414-7

Mueller-Dombois D, Ellenberg H (1974) Aims and methods of vegetation ecology. Wiley, Hoboken, pp 93–135

Naudé M (2012) Fynbos Riparian Biogeochemistry and Invasive Australian Acacias

Nel JL, Roux DJ, Maree G, Kleynhans CJ, Moolman J, Reyers B, Rouget M, Cowling RM (2007) Rivers in peril inside and outside protected areas: a systematic approach to conservation assessment of river ecosystems. Divers Distrib 13:341–352. https://doi.org/10.1111/j.1472-4642.2007.00308.x

Nsor AC (2007) Plant community distribution and diversity, and threats to vegetation of the Kromme River Peat Basins, Eastern Cape Province. Rhodes University, South Africa

Pulley S, Ellery WN, Lagesse JV, Schlegel PK, McNamara SJ (2018) Gully erosion as a mechanism for wetland formation: an examination of two contrasting landscapes. Land Degrad Dev 29:1–12. https://doi.org/10.1002/ldr.2972

Rebelo AJ, Le Maitre DC, Esler KJ, Cowling RM (2015) Hydrological responses of a valley-bottom wetland to land-use/land-cover change in a South African catchment: Making a case for wetland restoration. Restor Ecol 23:829–841. https://doi.org/10.1111/rec.12251

Rebelo AJ, Scheunders P, Esler KJ, Meire P (2017) Detecting, mapping and classifying wetland fragments. Remote Sens Appl Soc Environ 8:212–223

Salimin MI, Gandaseca S, Ahmed OH, Majid NMA (2010) Comparison of selected chemical properties of peat swamp soil before and after timber harvesting. Am J Environ Sci 6:164–167. https://doi.org/10.3844/ajessp.2010.164.167

Sankura H, Lemma B, Ram N (2014) Effect of changing natural forest and wetland to other land uses on soil properties and stocks of carbon and nitrogen in South Ethiopia. Carpathian J Earth Environ Sci 9:259–265

Schuyt KD (2005) Economic consequences of wetland degradation for local populations in Africa. Ecol Econ 53:177–190. https://doi.org/10.1016/j.ecolecon.2004.08.003

Sieben EJJ (2012) Plant functional composition and ecosystem properties: the case of peatlands in South Africa. Plant Ecol 213:809–820. https://doi.org/10.1007/s11258-012-0043-3

Siemann E, Rogers WE (2007) The role of soil resources in an exotic tree invasion in Texas coastal prairie. J Ecol 95:689–697. https://doi.org/10.1111/j.1365-2745.2007.01253.x

Walinga I, Van Vark W, Houba VJG, Van Der Lee JJ (1989) Plant analysis procedures. Soil and Plant Analysis, Part 7. Wageningen, NL

Warton DI, Wright TW, Wang Y (2012) Distance-based multivariate analyses confound location and dispersion effects. Methods Ecol Evol 3:89–101

Watters JR, Stanley EH (2007) Stream channels in peatlands: The role of biological processes in controlling channel form. Geomorphology 89:97–110. https://doi.org/10.1016/j.geomorph.2006.07.015

Wheeler BD, Proctor MCF (2000) Ecological gradients, subdivisions and terminology of north-west European mires. J Ecol 88:187–203. https://doi.org/10.1046/j.1365-2745.2000.00455.x

Winde F (2011) Peatlands as filters for polluted mine water?—a case study from an uranium-contaminated karst system in South Africa—part II: examples from literature and a conceptual filter model. Water 3:291–322

Zedler JB, Kercher S (2004) Causes and consequences of invasive plants in wetlands: opportunities, opportunists, and outcomes. CRC Crit Rev Plant Sci 23:431–452. https://doi.org/10.1080/07352680490514673

Zedler JB, Kercher S (2005) Wetland resources: status, trends, ecosystem services, and restorability. Annu Rev Environ Resour 30:39–74. https://doi.org/10.1146/annurev.energy.30.050504.144248
Acknowledgements
A.J.R. gratefully acknowledges the following organizations for funding: The Erasmus Mundus Programme (European Commission), Research Fund of the University of Antwerp (Belgium), the National Research Foundation (South Africa) and a Consolidoc Grant (Stellenbosch University). Thank you to Byron-Mahieu van der Linde for assistance in the field and Tom van der Spiet for lab assistance. We also wish to thank two anonymous reviewers for helpful suggestions which improved the manuscript. Research was conducted under permit number: 0052-AAA008-00019 (Cape Nature).
Electronic supplementary material
Below is the link to the electronic supplementary material.
About this article
Cite this article
Rebelo, A.J., Emsens, WJ., Meire, P. et al. The impact of anthropogenically induced degradation on the vegetation and biochemistry of South African palmiet wetlands. Wetlands Ecol Manage 26, 1157–1171 (2018). https://doi.org/10.1007/s11273-018-9638-3
Received:

Accepted:

Published:

Issue Date:
Keywords
Fen

Gully

Anthropogenic activities

Peatland

Liming

Ecological infrastructure