Abstract
Livestock grazing is an important land use in the western USA and can have positive or negative effects on amphibians. Columbia Spotted Frog (Rana luteiventris) often use ponds that provide water for cattle. We conducted a long-term manipulative study on US Forest Service land in northeastern Oregon to determine the effects of full and partial exclosures that limited cattle access to ponds used by frogs. We found weak evidence of a short-term increase in abundance that did not differ between full and partial exclosures and that diminished with continuing exclusion of cattle. The benefit of exclosures was small relative to the overall decline in breeding numbers that we documented. This suggests that some protection can provide a short-term boost to populations.
Access options
Buy single article
Instant access to the full article PDF.
US$ 39.95
Tax calculation will be finalised during checkout.
Subscribe to journal
Immediate online access to all issues from 2019. Subscription will auto renew annually.
US$ 79
Tax calculation will be finalised during checkout.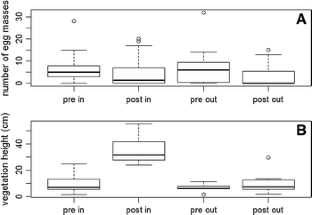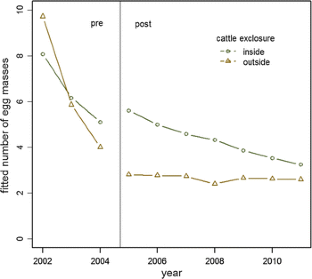 References
Adams MJ et al (2009) Short-term effect of cattle exclosures on Columbia Spotted Frog (Rana luteiventris) populations and habitat in northeastern Oregon. J Herpetol 43:132–138

Adams MJ et al (2013) Trends in amphibian occupancy in the United States. PLoS ONE 8:e64347. https://doi.org/10.1371/journal.pone.oo64347

Arkle RS, Pilliod DS (2015) Persistence at distributional edges: Columbia spotted frog habitat in the arid Great Basin. USA Ecol Evolut 5:3704–3724

Bates D, Maechler M (2010) lme4: Linear mixed-effects models using S4 classes. R package version 0.999375-37. http://CRAN.R-project.org/package=lme4. Accessed 10 July 2017

Bull EL, Hayes MP (2000) Livestock effects on reproduction of the Columbia spotted frog. J Range Manag 53:291–294

Bull EL, Marx DB (2002) Influence of fish and habitat on amphibian communities in high elevation lakes in northeastern Oregon. Northwest Sci 76:240–248

Bull EL, Deal JW, Hohmann JE (2001) Avian and amphibian use of fenced and unfenced stock ponds in northeastern Oregon forests. United States Department of Agriculture, Forest Service, PNW-RP-539

Burton EC, Gray MJ, Schmutzer AC, Miller DL (2009) Differential responses of postmetamorphic amphibians to cattle grazing in wetlands. J Wildl Manag 73:269–277. https://doi.org/10.2193/2007-562

Clary WP, Webster BF (1989) Managing grazing of riparian areas of intermountain region. U. S. Department of Agriculture, Forest Service, Intermountain Research Station GTR-INT-263, Ogden, UT, USA

Cole EM, Hartman R, North MP (2016) Hydroperiod and cattle use associated with lower recruitment in an r-selected amphibian with a declining population trend in the Klamath Mountains. Calif J Herpetol 50:37–43

Denton JS, Hitchings SP, Beebee TJC, Gent A (1997) A recovery program for the Natterjack Toad (Bufo calamita) in Britain. Conserv Biol 11:1329–1338

Franklin JF, Dyrness CT (1988) Natural vegetation of Oregon and Washington. Oregon State University Press, Corvallis

Funk WC, Pearl CA, Draheim HM, Adams MJ, Mullins TD, Haig SM (2008) Range-wide phylogeographic analysis of the spotted frog complex (Rana luteiventris and R. pretiosa) in northwestern North America. Mol Phylogenetics Evolut 49:198–210

Gray MJ, Miller DL, Schmutzer AC, Baldwin CA (2007) Frog virus 3 prevalence in tadpole populations inhabiting cattle-access and non-access wetland in Tennessee, USA. Dis Aquat Org 77:97–103. https://doi.org/10.3354/dao01837

Holechek JL, Gomez H, Molinar F, Galt D (1999) Grazing studies: what we've learned. Rangelands 21:12–16

Hossack BR et al (2013) Roles of patch characteristics, drought frequency, and restoration in long-term trends of a widespread amphibian. Conserv Biol 27:1410–1420

Jansen A, Healey M (2003) Frog communities and wetland condition: relationships with grazing by domestic livestock along an Australian floodplain river. Biol Conserv 109:207–219

Joseph MB, Preston DL, Johnson PTJ (2016) Integrating occupancy models and structural equation models to understand species occurrence. Ecology 97:765–775

Kauffman JB, Krueger WC (1984) Livestock impacts on riparian ecosystems and streamside management implications…a review. J Range Manag 37:430–438

Knutson MG, Richardson WB, Reineke DM, Gray BR, Parmelee JR, Weick SE (2004) Agricultural ponds support amphibian populations. Ecol Appl 14:669–684

Licht LE (1975) Comparative life history features of the western spotted frog, Rana pretiosa, from low- and high-elevation populations. Can J Zool 53:1254–1257

Malheur National Forest (2014) 2013 end of year livestock grazing report. Malheur National Forest. https://www.fs.usda.gov/Internet/FSE_DOCUMENTS/stelprdb5438684.pdf. Accessed 10 July 2017

Monello RJ, Wright RG (1999) Amphibian habitat preferences among artificial ponds in the Palouse region of northern Idaho. J Herpetol 33:298–303

Morris RL, Tanner WW (1969) The ecology of the western spotted frog, Rana pretiosa pretiosa Baird and Girard, a life history study. Gt Basin Nat 24:45–81

Nickerson C, Ebel R, Borchers A, Carriazo F (2011) Major uses of land in the United States, 2007 vol Economic Information Bulletin Number 89

Pearl CA, Adams MJ, Wente WH (2007) Characteristics of Columbia Spotted Frog (Rana luteiventris) oviposition sites in northeastern Oregon, USA. West N Am Nat 67:86–91

Pilliod DS, Scherer RD (2015) Managing habitat to slow or reverse population decline of the Columbia spotted frog in the Northern Great Basin. J Wildl Manag 79:579–590. https://doi.org/10.1002/jwmg.868

Reaser JK, Pilliod DS (2005) Rana luteiventris Thompson, 1913: Columbia spotted frog. In: Lannoo M (ed) Amphbian declines: the conservation status of United States Species. Univeristy of California Press, Los Angeles, pp 559–563

Rittenhouse TAG, Semlitsch RD, Thompson FR (2009) Survival costs associated with wood frog breeding migrations: effects of timber harvest and drought. Ecology 90:1620–1630

Roche LM, Allen-Diaz B, Eastburn DJ, Tate KW (2012) Cattle grazing and Yosemite Toad (Bufo canorus Camp) breeding habitat in Sierra Nevada meadows. Rangel Ecol Manag 65:56–65. https://doi.org/10.2111/REM-D-11-00092.1

Scheele BC, Driscoll DA, Fischer J, Hunter DA (2012) Decline of an endangered amphibian during an extreme climatic event. Ecosphere 3:101

Schmalz HJ, Taylor RV, Johnson TN, Kennedy PL, DeBano SJ, Newingham BA, McDaniel PA (2013) Soil morphologic properties and cattle stocking rate affect dynamic soil properties. Rangel Ecol Manag 66:445–453

Schmutzer AC, Gray MJ, Burton EC, Miller DL (2008) Impacts of cattle on amphibian larvae and the aquatic environment. Freshw Biol 53:2613–2625. https://doi.org/10.1111/j.1365-2427.2008.02072.x

Shive JP, Pilliod DS, Peterson CR (2010) Hyperspectral analysis of Columbia Spotted Frog habitat. J Wildl Manag 74:1387–1394

Stuart SN, Chanson JS, Cox NA, Young BE, Rodrigues ASL, Fischman DL, Waller RW (2004) Status and trends of amphibian declines and extinctions worldwide. Science 306:1783–1786

US Fish and Wildlife Service (2015) Species status assessment report for the Columbia spotted frog (Rana luteiventris), Great Basin Distinct Population Segment. Reno Fish and Wildlife Office, Reno

Watson JW, McAllister KR, Pierce DJ (2003) Home ranges, movements, and habitat selection of Oregon spotted frogs (Rana pretiosa). J Herpetol 37:292–300

Welch NE, MacMahon JA (2005) Identifying habitat variables important to the rare Columbia spotted frog in Utah (USA): an information-theoretic approach. Conserv Biol 19:473–481
Acknowledgements
We thank A. Kuehl, S. Lisle, M. Hall, W. Frye, R. Estes, and the staff at the Wallowa-Whitman National Forest for logistical support, fence construction, and assistance identifying study sites. We thank J. Alexander and members of the Eastern Oregon Miners and Prospectors for their interest and cooperation in the use of ponds. This study was funded by the U.S. Fish and Wildlife Service, U.S. Forest Service, and the U.S. Geological Survey's Amphibian Research and Monitoring Initiative. Work was done under scientific collecting permits from Oregon Department of Fish and Wildlife and animal care approval by Oregon State University. This is product number 622 of the U.S. Geological Survey's Amphibian Research and Monitoring Initiative. Any use of trade, product, or firm names is for descriptive purposes only and does not imply endorsement by the U.S. Government.
Electronic supplementary material
Below is the link to the electronic supplementary material.
About this article
Cite this article
Adams, M.J., Pearl, C.A., Chambert, T. et al. Effect of cattle exclosures on Columbia Spotted Frog abundance. Wetlands Ecol Manage 26, 627–634 (2018). https://doi.org/10.1007/s11273-018-9596-9
Received:

Accepted:

Published:

Issue Date:
Keywords
Amphibian

Experiment

Grazing

Pond

Rana luteiventris