Abstract
Invasion biology research, often performed by scientists at relatively small spatial scales, provides experimental precision but may be limited in generalizability. Conversely, large-scale invasive species management represents a largely untapped wealth of information on invasion ecology and management, but such data are difficult to capture and synthesize. We developed a network ("PhragNet") of individuals managing wetlands occupied by native and non-native lineages of the invasive wetland grass Phragmites australis (common reed). This network collected environmental and genetic samples, habitat data, and management information to identify environmental and plant community associations of Phragmites invasion and patterns of management responses. Fifty managers overseeing 209 Phragmites stands in 16 US states and ON, Canada participated. Participants represented federal agencies (26%), municipalities (20%), NGOs (20%), academia (14%), state agencies (12%), and private landowners (8%). Relative to the native lineage, non-native Phragmites occurred in areas with higher nitrate/nitrite and ammonium than non-native Phragmites. Stand interiors had higher soil electrical conductivity than nearby uninvaded areas, consistent with use of road salt promoting spread of Phragmites. Non-native Phragmites co-occurred with fewer plant species than native Phragmites and was actively targeted for management. Herbicide was applied to 51% of non-native stands; surprisingly, 11% of native stands were also treated with herbicide. This project demonstrates the utility of crowdsourcing standardized data from resource managers. We conclude by describing how this approach could be expanded into an adaptive management framework, strengthening connections between wetland management and research.
Access options
Buy single article
Instant access to the full article PDF.
US$ 39.95
Tax calculation will be finalised during checkout.
Subscribe to journal
Immediate online access to all issues from 2019. Subscription will auto renew annually.
US$ 79
Tax calculation will be finalised during checkout.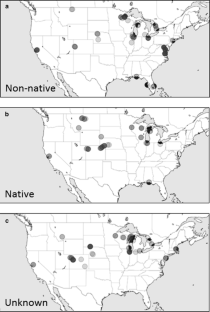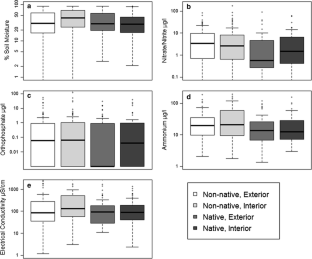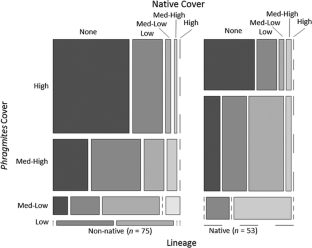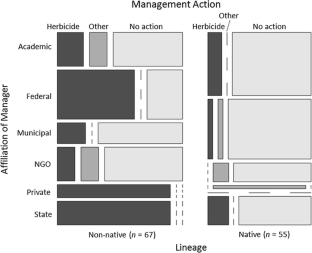 References
Able KW, Hagan SM (2000) Effects of common reed (Phragmites australis) invasion on marsh surface macrofauna: response of fishes and decapod crustaceans. Estuaries Coasts 23:633–646

Bates D, Maechler M, Bolker B, et al (2015) Package "lme4". r-project.org

Bellard C, Cassey P, Blackburn TM (2016) Alien species as a driver of recent extinctions. Biol Lett 12:20150623. doi:10.1098/rsbl.2015.0623

Benoit LK, Askins RA (1999) Impact of the spread of Phragmites on the distribution of birds in Connecticut tidal marshes. Wetlands 19:194–208. doi:10.1007/BF03161749

Bertness MD, Ewanchuk PJ, Silliman BR (2002) Anthropogenic modification of New England salt marsh landscapes. PNAS 99:1395–1398. doi:10.1073/pnas.022447299

Brisson J, de Blois S, Lavoie C (2010) Roadside as invasion pathway for common reed (Phragmites australis). Invasive Plant Sci Manag 3:506–514

Burdick DM, Konisky RA (2003) Determinants of expansion for Phragmites australis, common reed, in natural and impacted coastal marshes. Estuaries 26:407–416

Caraco N, Tamse A, Boutros O, Valiela I (1987) Nutrient limitation of phytoplankton growth in brackish coastal ponds. Can J Fish Aquat Sci 44:473–476. doi:10.1139/f87-056

Conrad CC, Hilchey KG (2011) A review of citizen science and community-based environmental monitoring: issues and opportunities. Environ Monit Assess 176:273–291. doi:10.1007/s10661-010-1582-5

Eallonardo AS, Leopold DJ (2014) Inland salt marshes of the Northeastern United States: stress, disturbance and compositional stability. Wetlands 34:155–166. doi:10.1007/s13157-013-0493-y

Ehrenfeld JG (2003) Effects of exotic plant invasions on soil nutrient cycling processes. Ecosystems 6:503–523

Fant JB, Price AL, Larkin DJ (2016) The influence of habitat disturbance on genetic structure and reproductive strategies within stands of native and non-native Phragmites australis (common reed). Divers Distrib 22:1301–1313. doi:10.1111/ddi.12492

Gratton C, Denno RF (2006) Arthropod food web restoration following removal of an invasive wetland plant. Ecol Appl 16:622–631. doi:10.1890/1051-0761(2006)016[0622:AFWRFR]2.0.CO;2

Hazelton ELG, Mozdzer TJ, Burdick DM et al (2014) Phragmites australis management in the United States: 40 years of methods and outcomes. AoB Plants 6:1–19. doi:10.1093/aobpla/plu001

Holdredge C, Bertness MD, von Wettberg E, Silliman BR (2010) Nutrient enrichment enhances hidden differences in phenotype to drive a cryptic plant invasion. Oikos 119:1776–1784. doi:10.1111/j.1600-0706.2010.18647.x

Jodoin Y, Lavoie C, Villeneuve P et al (2008) Highways as corridors and habitats for the invasive common reed Phragmites australis in Quebec, Canada. J Appl Ecol 45:459–466. doi:10.1111/j.1365-2664.2007.01362.x

League MT, Colbert EP, Seliskar DM, Gallagher JL (2006) Rhizome growth dynamics of native and exotic haplotypes of Phragmites australis (common reed). Estuaries Coasts 29:269–276. doi:10.1007/BF02781995

Martin LJ, Blossey B (2013) The runaway weed: costs and failures of Phragmites australis management in the USA. Estuaries Coasts 36:626–632. doi:10.1007/s12237-013-9593-4

Minchinton TE, Bertness MD (2003) Disturbance-mediated competition and the spread of Phragmites australis in a coastal marsh. Ecol Appl 13:1400–1416

Mozdzer TJ, Zieman JC, McGlathery KJ (2010) Nitrogen uptake by native and invasive temperate coastal macrophytes: importance of dissolved organic nitrogen. Estuaries Coasts 33:784–797. doi:10.1007/s12237-009-9254-9

Price AL, Fant JB, Larkin DJ (2014) Ecology of native vs. introduced Phragmites austrais (common reed) in Chicago-area wetlands. Wetlands 34:369–377

Ramseur GG (2012) Predicting wetland susceptibility to Phragmites australis: an assessment of environmental conditions in coastal Louisiana with recommendations for wetland management. Thesis, Bard College, Annadale on Hudson, NY

R Development Core Team (2009) R: a language and environment for statistical computing. R Foundation for Statistical Computing, Vienna

Saltonstall K (2002) Cryptic invasion by a non-native genotype of the common reed, Phragmites australis, into North America. Proc Natl Acad Sci 99:2445–2449. doi:10.1073/pnas.032477999

Saltonstall K (2003) A rapid method for identifying the origin of North American Phragmites populations using RFLP analysis. Wetlands 23:1043–1047. doi:10.1672/0277-5212(2003)023[1043:ARMFIT]2.0.CO;2

Saltonstall K (2011) Remnant native Phragmites australis maintains genetic diversity despite multiple threats. Conserv Genet 12:1027–1033

Saltonstall K, Peterson PM, Soreng R (2004) Recognition of Phragmites australis subsp. americanus (Poaceae: Arundinaceae) in North America: evidence from morphological and genetic analyses. SIDA 21:683–692

The National Invasive Species Council (2014) 2014 Invasive species interagency crosscut budget. The National Invasive Species Council, Washington DC

Theobald EJ, Ettinger AK, Burgess HK et al (2015) Global change and local solutions: tapping the unrealized potential of citizen science for biodiversity research. Biol Conserv 181:236–244. doi:10.1016/j.biocon.2014.10.021

Tulbure MG, Johnston CA (2010) Environmental conditions promoting non-native Phragmites australis expansion in Great Lakes coastal wetlands. Wetlands 30:577–587. doi:10.1007/s13157-010-0054-6

Williams BK, Szaro RC, Shapiro CD (2009) Adaptive management: The U.S. Department of the Interior technical guide. Adaptive Management Working Group, U.S. Department of the Interior, Washington DC

Windham L, Meyerson LA (2003) Effects of common reed (Phragmites australis) expansions on nitrogen dynamics of tidal marshes of the Northeastern US. Estuaries Coasts 26:452–464

Wondolleck JM, Yaffee SL (2000) Making collaboration work: lessons from innovation in natural resource management. Island Press, Washington DC
Acknowledgements
This research was supported by funding from Illinois-Indiana Sea Grant. The authors thank the many natural resource managers who participated in this project, and Clément Kouyoumdjian, John M. Keller, and Anna Braum for help with field work, laboratory analyses, and data management. Joel Brown and two anonymous reviewers provided helpful input on the manuscript.
Funding
This research was supported by funding from Illinois-Indiana Sea Grant; Award Number 2010-02247-01.
Electronic supplementary material
Below is the link to the electronic supplementary material.
About this article
Cite this article
Hunt, V.M., Fant, J.B., Steger, L. et al. PhragNet: crowdsourcing to investigate ecology and management of invasive Phragmites australis (common reed) in North America. Wetlands Ecol Manage 25, 607–618 (2017). https://doi.org/10.1007/s11273-017-9539-x
Received:

Accepted:

Published:

Issue Date:
Keywords
Habitat management

Herbicide

Invasive species

Nutrients

Salinity

Wetlands