Abstract
Mangroves provide numerous ecosystem services, including biodiversity values such as nesting sites for piscivorous waterbirds. High concentrations of waterbirds at nest sites are hypothesized to affect ecosystem dynamics, yet few studies have examined their effects as a nutrient source in mangroves. We examined the effects of nutrient enrichment by colonial waterbirds at a mangrove rookery in the Gulf of Fonseca, Honduras. We compared nutrient inputs via bird guano deposition and macronutrient levels in the vegetation and soils between a small island that hosted large numbers of roosting waterbirds and an adjacent island with little evidence of waterbird activity. Nest density at the rookery was 1721 ± 469 nests ha−1. Rookery birds deposited 7.2 ± 3.4 g m−2 day−1 guano dry weight, delivering an estimated 1.12 Mg ha−1 nitrogen and 0.16 Mg ha−1 phosphorus to the island over a 120 day breeding season. This large nutrient influx contributed to substantially higher concentrations of biologically important nutrients in the rookery soils (seven times more plant available phosphorus, eight times more nitrate, and two times more ammonium). Rookery mangrove leaves contained significantly higher concentrations of nitrogen and phosphorus compared to the control site. These results suggest that colonial waterbirds significantly influence nutrient dynamics of mangroves at local scales. Further research is needed to understand the effects of avian derived nutrients on mangrove growth rates, nutrient export to adjacent waters, invertebrate communities, and mangrove associated fisheries.
Access options
Buy single article
Instant access to the full article PDF.
US$ 39.95
Tax calculation will be finalised during checkout.
Subscribe to journal
Immediate online access to all issues from 2019. Subscription will auto renew annually.
US$ 79
Tax calculation will be finalised during checkout.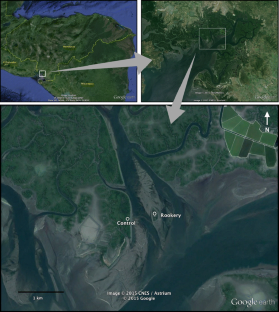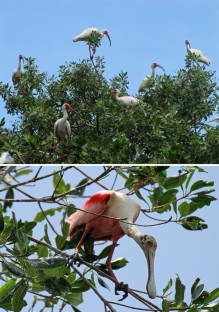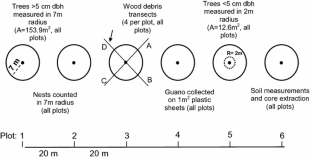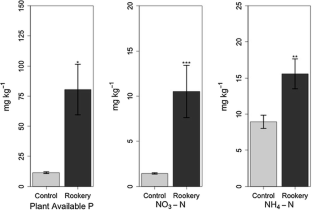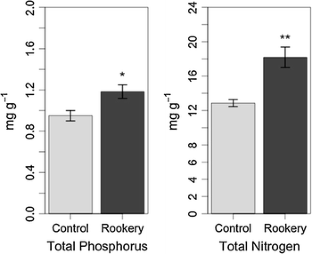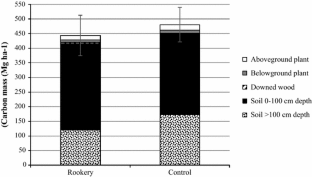 References
Adame MF, Kauffman JB, Medina I, Gamboa JN, Torres O, Caamal JP, Reza M, Herrera-Silveira JA (2013) Carbon stocks of tropical coastal wetlands within the karstic landscape of the Mexican Caribbean. PLoS One 8:e56569. doi:10.1371/journal.pone.0056569

Adame MF, Fry B, Gamboa JN, Herrera-Silveira JA (2015) Nutrient subsidies delivered by seabirds to mangrove islands. Mar Ecol Prog Ser 525:5–24. doi:10.3354/meps11197

Allaway WG, Ashford AE (1984) Nutrient input by seabirds to the forest on a coral island of the Great Barrier Reef. Mar Ecol Prog Ser 19:297–298

Alongi DM (2014) Carbon cycling and storage in mangrove forests. Annu Rev Mar Sci 6:195–219. doi:10.1146/annurev-marine-010213-135020

Boto K, Wellington J (1983) Phosphorus and nitrogen nutritional status of a Northern Australian mangrove forest. Mar Ecol Prog Ser 11:63–69

Bray RH, Kurtz LT (1945) Determination of total, organic, and available forms of phosphorus in soils. Soil Sci 59:39–45

Buelow C, Sheaves M (2015) A birds-eye view of biological connectivity in mangrove systems. Estuar Coast Shelf Sci 152:33–43. doi:10.1016/j.ecss.2014.10.014

Castañeda-Moya E, Rivera-Monroy V, Twilley RR (2006) Mangrove zonation in the dry life zone in the Gulf of Fonseca, Honduras. Estuaries Coasts 29:751–764

Chen CF, Son NT, Chang NB, Chen CR, Chang LY, Valdez M, Centeno G, Thompson CA, Aceituno JL (2013) Multi-decadal mangrove forest change detection and prediction in Honduras, Central America, with Landsat imagery and a Markov chain model. Remote Sens 5:6408–6426. doi:10.3390/rs5126408

Devenish C, Diaz Fernandez DF, Clay RP, Davidson I, Yepez Zabala I (2009) Important bird areas Americas—priority sites for biodiversity conservation. BirdLife International (BirdLife Conservation Series No. 16), Quito, Ecuador

Donato DC, Kauffman JB, Murdiyarso D, Kurnianto S, Stidham M, Kanninen M (2011) Mangroves among the most carbon-rich forests in the tropics. Nat Geosci 4:293–297. doi:10.1038/ngeo1123

Duke NC et al (2007) A world without mangroves? Science 317:41–42. doi:10.1126/science.317.5834.41b

Ellis JC (2005) Marine birds on land: a review of plant biomass, species richness, and community composition in seabird colonies. Plant Ecol 181:227–241

Feller IC (1995) Effects of nutrient enrichment on growth and herbivory of dwarf red mangrove (Rhizophora mangle). Ecol Monogr 65:477–505

Feller IC, McKee KL, Whigham DF, O'Neill JB (2003) Nitrogen vs. phosphorus limitation across an ecotonal gradient in a mangrove forest. Biogeochemistry 62:145–175

Food and Agriculture Organization of the United Nations (FAO) (2007) The world's mangroves 1980–2005 (FAO Forestry Paper 153)

Food and Agriculture Organization of the United Nations (FAO) (2012) Estado de las áreas marinas y costeras protegidas en América Latina. Elaborado por Aylem Hernández Avila. REDPARQUES Cuba. Santiago de Chile

Frederick PC, Powell GVN (1994) Nutrient transport by wading birds in the Everglades. In: Davis SM, Ogden JC (eds) Everglades: the ecosystem and its restoration. St. Lucie Press, Delray Beach, FL (chap 23)

Fromard F, Puig H, Mougin E, Marty G, Betoulle JL, Cadamuro L (1998) Structure, above-ground biomass and dynamics of mangrove ecosystems: new data from French Guiana. Oecologia 115:39–53

Gill FB (2007) Ornithology. W.H. Freeman and Company, New York

Hargreaves G (1980) Monthly precipitation: probabilities for moisture availability for Honduras. Utah State University Report, Logan, Utah

Howell SNG, Webb S (1995) A guide to the birds of Mexico and northern Central America. Oxford University Press, New York

IPCC (2014) 2013 supplement to the 2006 IPCC guidelines for national greenhouse gas inventories: wetlands—Methodological guidance on lands with wet and drained soils, and constructed wetlands for wastewater treatment. In: Hiraishi T, Krug T, Tanabe K, Srivastava N, Baasansuren J, Fukuda M, Troxler TG (eds). IPCC, Geneva

Kauffman JB, Donato DC (2012) Protocols for the measurement, monitoring and reporting of structure, biomass and carbon stocks in mangrove forests. Working Paper 86. CIFOR, Bogor, Indonesia

Komiyama A, Ong JE, Poungparn S (2008) Allometry, biomass, and productivity of mangrove forests: a review. Aquat Bot 89:128–137

Lander CH, Moffitt D (1996) Nutrient use in cropland Agriculture (commercial fertilizer and manure): nitrogen and phosphorus. Working Paper No. 14, USDA-NRCS, Washington

McCauley DJ, DeSalles PA, Young HS, Dunbar RB, Dirzo R, Mills MM, Micheli F (2012) From wing to wing: the persistence of long ecological interaction chains in less-disturbed ecosystems. Nat Sci Rep 2:409. doi:10.1038/srep00409

Mcleod E, Chmura GL, Bouillon S, Salm R, Björk M, Duarte CM, Lovelock CE, Schlesinger WH, Silliman BR (2011) A blueprint for blue carbon: toward an improved understanding of the role of vegetated coastal habitats in sequestering CO2. Front Ecol Environ 9:552–560. doi:10.1890/110004

Onuf CP, Teal JM, Valiela I (1977) Interactions of nutrients, plant growth and herbivory in a mangrove ecosystem. Ecology 58:514–526

Polidoro BA et al (2010) The loss of species: mangrove extinction risk and geographic areas of global concern. PLoS One 5:e10095. doi:10.1371/journal.pone.0010095

Polis GA, Hurd SD (1996) Linking marine and terrestrial food webs: allochthonous input from the ocean supports high secondary productivity on small islands and coastal land communities. Am Nat 147:396–423

Polis GA, Anderson WB, Holt RD (1997) Toward an integration of landscape and foodweb ecology: the dynamics of spatially subsidized foodwebs. Annu Rev Ecol Syst 28:289–316

Powell GVN, Kenworthy JW, Fourqurean JW (1989) Experimental evidence for nutrient limitation of seagrass growth in a tropical estuary with restricted circulation. Bull Mar Sci 44:324–340

Ramos-Ordoñez MF, Rodríguez-Flores C, Soberanes-González C, Arizmendi MC (2010) Boat-billed Heron (Cochlearius cochlearius), Neotropical Birds Online (T. S. Schulenberg, Editor). Ithaca: Cornell Lab of Ornithology; retrieved from Neotropical Birds Online: http://neotropical.birds.cornell.edu/portal/species/overview?p_p_spp=115356

Ramsey FL, Schafer DW (2002) The statistical sleuth: a course in methods of data analysis. Brooks/Cole, Belmont

Reef R, Feller IC, Lovelock CE (2010) Nutrition of mangroves. Tree Physiol 30:1148–1160. doi:10.1093/treephys/tpq048

Reef R, Feller IC, Lovelock CE (2014) Mammalian herbivores in Australia transport nutrients from terrestrial to marine ecosystems via mangroves. J Trop Ecol 30:179–188. doi:10.1017/S0266467414000054

Rivera-Monroy VH, Twilley RR, Castañeda E (2002) Hurricane Mitch: integrative management and rehabilitation of mangrove resources to develop sustainable shrimp mariculture in the Gulf of Fonseca, Honduras: USGS Open File Report 03-177

Rodewald P (ed) (2015) The Birds of North America Online: http://bna.birds.cornell.edu. Cornell Laboratory of Ornithology, Ithaca, NY

Saenger P (2002) Mangrove ecology, silviculture, and conservation. Springer Science + Business Media B.V., Dordrecht

Smith JS, Johnson CR (1995) Nutrient inputs from seabirds and humans on a populated coral cay. Mar Ecol Prog Ser 124:189–200

Tilman GD (1984) Plant dominance along an environmental nutrient gradient. Ecology 65:1445–1453

UNEP (2014) The importance of mangroves to people: a call to action. In: van Bochove J, Sullivan E, Nakamura T (eds). United Nations Environment Programme World Conservation Monitoring Centre, Cambridge. 128 pp

Vergne P, Hardin M, Dewalt B (1993) Environmental study of the Gulf of Fonseca. Tropical Research and Development, Inc., Washington

Whelan CJ, Wenny DG, Marquis RJ (2008) Ecosystem services provided by birds. Ann N Y Acad Sci 1134:5–60

Young HS, McCauley DJ, Dunbar RB, Dirzo R (2010) Plants cause ecosystem nutrient depletion via the interruption of bird-derived spatial subsidies. Proc Natl Acad Sci 107:2072–2077. doi:10.1073/pnas.0914169107

Young HS, Hurrey L, Kolb GS (2011) Effects of seabird-derived nutrients on aquatic systems. In: Mulder CP, Anderson WB, Towns DR, Bellingham PJ (eds) Seabirds: ecology, invasion, and restoration. Oxford University Press, New York
Acknowledgments
This work was part of the Sustainable Wetlands Adaptation and Mitigation Program (SWAMP), a collaborative effort by the Center for International Forestry Research, Oregon State University, and the United States Forest Service, with support from the United States Agency for International Development (USAID). Additional funding came from the Oregon State University Honors College and the Oregon State University College of Agricultural Sciences in support of the undergraduate thesis by the senior author. We wish to thank Ian Drysdale, Luis Turcios, Wendy Naira and Claudia Vallejo for logistical support in Honduras, as well as Johnathon Lainez and the Honduran Secretariat of Natural Resources and the Environment (SERNA) for their collaboration. We also wish to acknowledge Dr. Fourqueren of Florida International University for the carbon analysis of soils. We are grateful to all of the participants of the Gulf of Fonseca SWAMP workshop for their local knowledge and contributions to data collection in the field.
Electronic supplementary material
Below is the link to the electronic supplementary material.
About this article
Cite this article
McFadden, T.N., Kauffman, J.B. & Bhomia, R.K. Effects of nesting waterbirds on nutrient levels in mangroves, Gulf of Fonseca, Honduras. Wetlands Ecol Manage 24, 217–229 (2016). https://doi.org/10.1007/s11273-016-9480-4
Received:

Accepted:

Published:

Issue Date:
Keywords
Mangroves

Macronutrient cycling

Waterbirds

Guano

Nutrient enrichment