Abstract
The present study investigates the population trends of Black-necked Grebe Podiceps nigricollis (Podicipedidae: Podicidae) over 5 years (2009–2013) in three Middle Atlas wetlands (Aguelmam Afennourir, Dayet Aoua and Dayet Ifrah). Using generalized linear models with a Poisson distribution, we demonstrated that the number of Black-necked Grebe breeding pairs has varied significantly and positively over the 5 years and between the three study wetlands. The annual population growth rate of the three colonies was 0.48 (±0.01). This positive trend is consistent with the current Least Concern conservation status of the IUCN Red List. Further more detailed studies are, however, needed to improve our understanding on the mechanisms driving the population increase in this part of North Africa. This remains a prerequisite for proper population conservation and management.
Access options
Buy single article
Instant access to the full article PDF.
USD 39.95
Price includes VAT (USA)
Tax calculation will be finalised during checkout.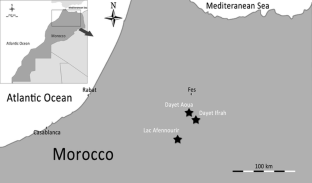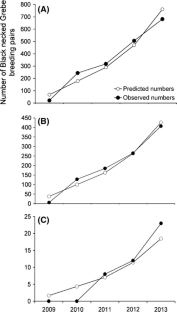 References
Birdlife international (2012) Podiceps nigricollis. In: IUCN 2012. IUCN red list of threatened species. Version 2012.2. www.iucnredlist.org

Burnham KP, Anderson DR (2002) Model selection and multimodel inference: a practical infor- mation-theoretic approach. Springer, New York

Cherkaoui I, Dakki M, Lahrouz S, Hanane S (2013) Dix années de suivi des anatidés nicheurs sur le lac de Sidi Boughaba (Nord-Ouest Marocain): situation, tendances d'évolution et perspectives de recherche. Rev Écol (Terre Vie) 68:167–180

Couturier T, Cheylan M, Bertolero A, Astruc G, Besnard A (2013) Estimating abundance and population trends when detection is low and highly variable: a comparison of three methods for the Hermann's tortoise. J Wildl Manag 77(3):454–462

Dean CB (1992) Testing for overdispersion in Poisson and binomial regression models. J Am Stat Assoc 87:451–457

del Hoyo J, Elliot A, Sargatal J (1992) Handbook of the Birds of the World, vol. 1: Ostrich to ducks. Lynx Edicions, Barcelona

Friend M (2006) Evolving changes in diseases of waterbirds. In: Boere G, Galbraith C, Stroud D (eds) Waterbirds around the world. The Stationary Office, Edinburgh, pp 412–417

Isenmann P, Moali A (2000) Les oiseaux d 'Algérie [Birds of Algeria. Societe d'étude ornithologiques de, France

Isenmann P, Gaultier T, El Hili A, Azafzaf H, Dlensi H, Smart M (2005) Oiseaux de Tunisie (Birds of Tunisia). Seof editions, Paris

IUCN (2012) The IUCN red list of threatened species. Version 2012.2. http://www.iucnredlist.org

Loh J, Green RE, Ricketts T, Lamoreux J, Jenkins M, Kapos V, Randers J (2005) The Living Planet Index: using species population time series to track trends in biodiversity. Philosophical Trans Royal Soc B 360:289–295

Martí R, Del Moral JC (2003) Atlas de las aves reproductoras de España. Dirección General de Conservación de la Naturaleza-SEO/BirdLife, Madrid

Martin B, Smith J (2007) A survey of breeding Black-necked Grebes in the UK: 1973–2004. Brit Birds 100:368–378

Mccullagh P, Nelder JA (1989) Generalized Linear Models. Chap man & Hall, London

O'Donnel C, Fjeldså J (eds) (1997) Grebes: status survey and conservation action plan, vol VII. IUCN, Gland, p 59

Ogilvie M, Rose C (2003) Grebes of the World. Bruce Coleman, Uxbridge

Palomino D, Molina B (Eds.) (2009) Aves acuáticas reproductoras en España. Población en 2007 y método de censo. SEO/BirdLife. Madrid

Smith P, Heitjan F (1993) Testing and adjusting for departures from nominal dispersion in generalized linear models. Appl Stat 42(1):31–34

R core development team (2009) R: A Language and Environment for Statistic al Computing. R foundati on for statistical computing, Vienna, http://www.r-project.org

Thévenot M, Vernon JDR, Bergier P (2003) The Birds of Morocco. British Ornithologists' Union Checklist Series: 20. 594 pp

Woollhead J (1987) A method for estimating the number of breeding pairs of Great Crested Grebes Podiceps cristatus on lakes. Bird Study 34:82–86
Acknowledgments
We thank the two anonymous reviewers and the Editor of Wetlands Ecology and Management journal, for commenting on an earlier version of the manuscript. This study complies with the current Moroccan laws as it is based on simple field observations without any experiment or prejudice to the animals studied.
About this article
Cite this article
Cherkaoui, I., Bouajaja, A., Elbanak, A. et al. The Black-necked Grebe (Podiceps nigricollis): an expanding species in the Middle Atlas wetlands, Morocco. Wetlands Ecol Manage 22, 93–98 (2014). https://doi.org/10.1007/s11273-013-9321-7
Received:

Accepted:

Published:

Issue Date:
Keywords
Podiceps nigricollis

Black-necked Grebe

Western Middle Atlas

GLM

Positive trend

Least concern