Abstract
Several management techniques are effective in controlling Lepidium latifolium (perennial pepperweed) in rangelands and hay meadows; however, this invader's rapid spread into sensitive aquatic habitats throughout the western US calls for alternative control strategies. To evaluate control methods for use in tidal marshes of San Francisco Estuary, we tested chemical, mechanical, and biological methods in field and greenhouse experiments. In a field experiment in three brackish marshes spanning the estuary, application of the herbicide glyphosate to re-growth of L. latifolium following hand-removal reduced L. latifolium cover by an average of 80% after 2 years and led to a 60% increase in native vegetation cover. Glyphosate alone was less effective at reducing L. latifolium cover (20% decrease) and increasing native cover (34% increase). Preliminary tests of a potential biological control, a native parasitic plant, were not successful, thus plots intended for field trials were instead used to test the newly approved herbicide imazapyr, which showed promise in controlling L. latifolium. An additional greenhouse experiment found large reductions in stem lengths with either glyphosate following clipping or imazapyr with or without clipping, all significantly more so than glyphosate alone. We conclude that an integrated management approach of applying glyphosate following mechanical removal can be effective at reducing L. latifolium cover and allowing recovery of native tidal marsh plants, providing a useful solution for controlling smaller, accessible infestations of the invader. Our preliminary tests of imazapyr suggest that it may be very effective at controlling L. latifolium in tidal marshes, although further assessment of non-target effects and native plant recovery are needed to evaluate its relative merit.
This is a preview of subscription content,
to check access.
Access this article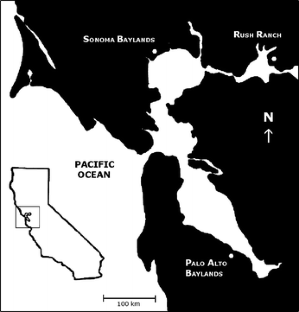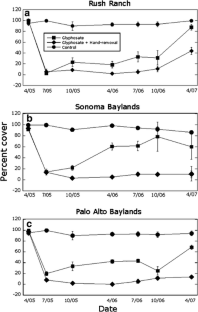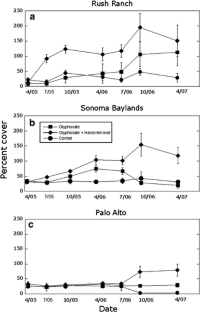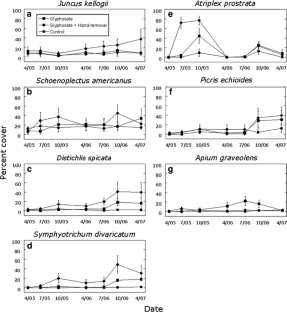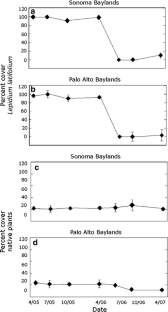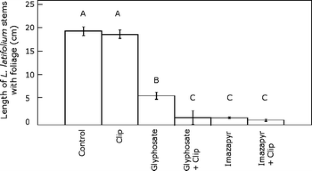 Similar content being viewed by others
References
Ailstock M, Norman C, Bushman P et al (2001) Common Reed Phragmites australis: control and effects upon biodiversity in freshwater non-tidal wetlands. Restor Ecol 9:5–49

Alberston J, Evans J (2000) California clapper rail. In: Olofson P (ed) Bayland ecosystem species and community profiles: life histories and environmental requirements of key plants, fish and wildlife. San Francisco Estuary Project, Oakland, California

Andrew ME, Ustin SL (2009) Habitat suitability model of an invasive plant with advanced remote sensing data. Diversity Distrib 15:627–640

Ayres DR, Smith DL et al (2004) Spread of exotic cordgrasses and hybrids (Spartina sp.) in the tidal marshes of San Francisco Bay, California, USA. Biol Inv 6:221–231

Benner D (2005) Parasitism of Cuscuta subinclusa on Lepidium latifolium in brackish marsh habitat. Masters Thesis, San Francisco State University

Blank R, Young J (1997) Lepidium latifolium: influences on soil properties, rate of spread, and competitive stature. In: Brock J, Wade M, Pysek P, Green D (eds) Plant invasions: studies from North America and Europe. Backuys Publishers, Leiden

Burton R (1997) Botanical records for 1996. Lond Nat 76:193–201

Byers J (2009) Invasive animals in marshes: biological agents of change. In: Silliman B, Grosholz E, Bertness M (eds) Human impacts on salt marshes: a global perspective. University of California Press, CA

Chornesky E, Randall J (2003) The threat of invasive alien species to biological diversity: setting a future course. Ann Mo Bot Gard 90:67–76

Cornish S, Burgin S (2005) Residual effects of glyphosate herbicide in ecological restoration. Restor Ecol 13:695–702

Crain C, Silliman B, Bertness S et al (2004) Physical and biotic drivers of plant distribution across estuarine salinity gradients. Ecology 85:2539–2549

Fiedler P, Keever M et al (2007) Rare plants in the Golden Gate Estuary (California): the relationship between scale and understanding. Aust J Bot 55:206–220

Geyer W, Fick W, Carliesle J (2002) Weed management on military storage gravel lots. Trans Kans Acad Sci 105:66–71

Grewell B, DaPratro M et al (2003) Reintroduction of endangered soft bird's beak (Cordylanthus mollis ssp. mollis) to restored habitat in Suisun Marsh. Final Report for CALFED Ecosystem Restoration Project 99-N05

Grosholz E (2002) Ecological and evolutionary consequences of coastal invasions. Trends Ecol Evol 17:22–27

Hobbs R, Humphries S (1995) An integrated approach to the ecology and management of plant invasion. Conserv Biol 9:761–770

Holland AF, Sanger DM, Gawle CP et al (2004) Linkages between tidal creek ecosystems and the landscape and demographic attributes of their watersheds. J Exp Mar Biol Ecol 298:151–178

Kay S (1995) Efficacy of wipe-on applications of glyphosate and imazapyr on common reed in aquatic sites. J Aquat Plant Manag 33:25–26

Kiemnec G, McInnis M (2002) Hoary Cress (Cardaria draba) root extract reduces germination and root growth of five plant species. Weed Technol 16:231–234

Leininger SP, Foin TC (2009) Lepidium latifolium reproductive potential and seed dispersal along salinity and moisture gradients. Biol Inv 11:2351–2365

Leson and Associates (2005) Use of imazapyr herbicide to control invasive cordgrass (Spartina spp.) in the San Francisco Estuary: water quality, biological resources, and human health and safety. Report to San Francisco Estuary Invasive Spartina Project, May 4, 2005

Levin LA, Neira C, Grosholz ED (2006) Invasive cordgrass modifies wetland trophic function. Ecology 87:419–432

Levine J, D'Antonio T (1999) Elton revisited: a review of evidence linking diversity and invasibility. Oikos 87:15–26

Major W, Grue C, Grassley J et al (2003) Mechanical and chemical control of smooth cordgrass in Willapa Bay, Washington. J Aquat Plant Manag 41:6–12

Manchester S, Bullock J (2000) The impacts of non-native species on UK biodiversity and the effectiveness of control. J Appl Ecol 37:845–864

Melzer H, Barta T (1994) Erodium ciconium, the great heron, a hundred years of Laustria and other discoveries of flowering plants in Vienna, Lower Austria, and Burgenland. Linz Biol Beitr 26:343–364

Miller G, Young J, Evans R (1986) Germination of seeds of perennial pepperweed (Lepidium latifolium). Weed Sci 34:252–255

Norsworthy J (2003) Allelopathic potential of Wild Radish (Raphanus raphanistrum). Weed Technol 17:307–313

Patten K (2004) Comparison of chemical and mechanical control efforts for invasive Spartina in Willipa Bay, WA. In: Proceedings of the 3rd international conference on invasive Spartina, San Francisco, California

Renz M, DiTomaso J (1998) The effectiveness of mowing and herbicides to control perennial pepperweed in rangeland and roadside habitats. In: Proceedings from the 1998 California weed science society conference, Santa Barbara, California

Reynolds L, Boyer K (2010) Properties of perennial pepperweed (Lepidium latifolium) invaded tidal marshes. Inv Plant Sci and Manag (in press). doi:10.1614/IPSM-D-09-00015.1

Robbins W, Bellue M, Ball W (1951) Weeds of California. California Department of Agriculture, Sacramento, California

Romero M, Amigo J (1992) Notes on Galician flora: XIL. Bol Soc Broteriana 65:195–203

Shellhammer H (1982) Reithrodontomys raviventris. Mammalian Species. J Mammal 169:1–3

Spenst R (2006) The biology and ecology of Lepidium latifolium in the San Francisco Estuary and their implications for eradication of this invasive weed. Dissertation, University of California, Davis

Tu M, Hurd C, Randall JM (2004) Imazapyr. In: Weed control methods handbook: tools and techniques for use in natural areas, Chapter 7H. The Nature Conservancy

Tyler AC, Lambrinos JG, Grosholz ED (2007) Nitrogen inputs promote the spread of an invasive marsh grass. Ecol Appl 7:1886–1898

Whitcraft CR, Levin LA et al (2008) Utilization of invasive tamarisk by salt marsh consumers. Oecologia 15:259–272

Wilson RG, Boelk D, Kyser GB, DiTomaso J (2008) Integrated management of pepperweed (Lepidium latifolium). Inv Plant Sci Manag 1:17–25

WSSA (1994) Herbicide handbook. Weed Science Society of America, Champaign, Illinois

Young J, Turner C, James L (1995) Perennial pepperweed. Rangeland J 17:121–123

Young J, Palmquist D, Wotring S (1997) The invasive nature of Lepidium latifolium: a review. In: Brock J, Wade M, Pysek P, Green D (eds) Plant invasions: studies from North America and Europe. Backuys Publishers, Leiden

Young J, Palmquist D, Wotring S (1998) The ecology and control of perennial pepperweed (Lepidium latifolium). Weed Technol 12:305–402

Zedler JB, Kercher S (2004) Causes and consequences of invasive plants in wetlands: opportunities, opportunists, and outcomes. Crit Rev Plant Sci 23:431–452
Acknowledgements
We thank L. Reynolds, B. Huntington, J. Kertesz, G. Archbald, and S. Kiriakopolos for field assistance. We appreciate access to study sites by Solano Land Trust (Rush Ranch), San Pablo Bay National Wildlife Refuge (site adjacent to Sonoma Baylands), and the City of Palo Alto (Palo Alto Baylands). We are grateful to managers of these sites (Nathan Boone, Julian Meisler, Giselle Block, and Daren Anderson, respectively) for their advice and assistance. This study was supported by grants to APB from the Western Aquatic Plant Management Society, the California Native Plant Society, and the National Science Foundation GK-12 program.
About this article
Cite this article
Boyer, K.E., Burdick, A.P. Control of Lepidium latifolium (perennial pepperweed) and recovery of native plants in tidal marshes of the San Francisco Estuary. Wetlands Ecol Manage 18, 731–743 (2010). https://doi.org/10.1007/s11273-010-9193-z
Received:

Accepted:

Published:

Issue Date:

DOI: https://doi.org/10.1007/s11273-010-9193-z
Keywords