Abstract
The aim of the present paper is to provide first information on the mangrove fish community of the tropical fjord-like Golfo Dulce (GD), to study its importance for fish diversity and fisheries in the area and to give preliminary results on its spatial–temporal variation. Eighty-two species belonging to 30 families were identified. More than half of them belonged to the estuarine transient fish group and only 14 species were estuarine resident, highlighting the importance of the Zancudo mangrove as a transition area. The most diverse families were Sciaenidae, Carangidae and Haemulidae for both rainy and dry seasons. As much as 71% of the species captured were of first or second grade economic value and only 11% had no commercial value. Comparing our data with fisheries and scientific surveys inside and outside the gulf suggests the importance of the Zancudo mangrove for regional fisheries and fish diversity. Multidimensional scaling (MDS) indicated gradual changes in the fish community composition from the river mouth to the more internal sampling sites for rainy and dry seasons. Moreover, shifts in abundance and species composition between seasons were observed, mainly an increase in the differences between the boundaries and the central zones of the mangrove. These changes were attributed to the higher salinity differences between sites during the dry season forcing the occasional visitor fish downstream and freshwater fish taxa upstream. While the results contribute to initiatives for participative fisheries management in the region, further studies are needed to analyse the variations in detail.
This is a preview of subscription content, log in to check access.
Access options
Buy single article
Instant unlimited access to the full article PDF.
US$ 39.95
Price includes VAT for USA
Subscribe to journal
Immediate online access to all issues from 2019. Subscription will auto renew annually.
US$ 99
This is the net price. Taxes to be calculated in checkout.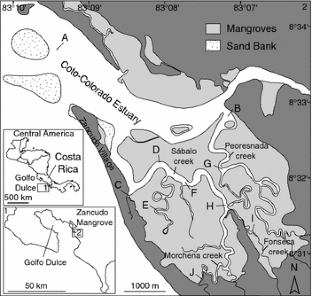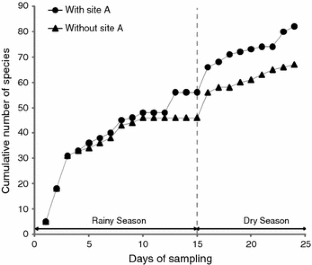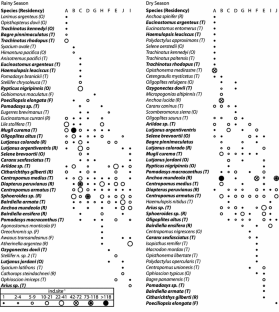 References
Baran E, Hambrey J (1999) Mangrove conservation and coastal management in Southeast Asia: What impact on fishery resources? Mar Pollut Bull 37:431–440

Barletta-Bergan A, Barletta M, Saint-Paul U (2002) Community structure and temporal variability of ichthyoplankton in North Brazilian mangrove creeks. J Fish Biol 61(Suppl A):33–51

Blaber SJM (2000) Mangroves and estuarine dependence. In: Blader SJM (ed) Tropical estuarine fishes: ecology, exploitation and conservation. Blackwell Science, Oxford, pp 185–201

Blaber SJM (2007) Mangroves and fishes: issues of diversity, dependence, and dogma. Bull Mar Sci 80:457–472

Bussing W, López M (1996) Fishes collected during the Victor Hensen Costa Rica expedition (1993/1994). Rev Biol Trop 44(Suppl 3):183–186

Campos J (1989) Evaluación de la pesca artesanal del Golfo Dulce, Vicerrectoría de Investigación. CIMAR, University of Costa Rica, San José, Costa Rica, 195 pp

Chicas FA (1995) Distribución, diversidad y dinámica poblacional de la ictiofauna comercial de la Reserva Forestal Térraba-Sierpe, Puntarenas, Costa Rica. MSc Thesis, University of Costa Rica, San José, Costa Rica, 115 pp

Chicas FA (2001) Peces juveniles en una poza de marea, Reserva Forestal Térraba-Sierpe, Puntarenas, Costa Rica. Rev Biol Trop 49(Suppl 2):307–314

Clarke KR (1993) Non-parametric multivariate analyses of changes in community structure. Aust J Ecol 18:117–143

Clarke KR, Warwick RM (1994) Change in marine communities: an approach to statistical analysis and interpretation. Natural Environment Research Council, UK, 144 pp

Córdoba R, Vargas JA (1996) Temperature, salinity, oxygen, and nutrient profiles at a 200 m deep station in Golfo Dulce, Pacific coast of Costa Rica. Rev Biol Trop 44(Suppl 3):233–236

Cortés J (1992) Los arrecifes coralinos de Golfo Dulce, Costa Rica: aspectos ecológicos. Rev Biol Trop 40:19–26

Dominici-Arosemena A, Wolff M (2006) Reef fish community structure in the Tropical Eastern Pacific (Panama): living on a relatively stable rocky reef environment. Helgol Mar Res 60:287–305

Fargier L, Hartmann HJ, Molina H (2009) Desarrollo de un proceso de monitoreo participativo en comunidades pesqueras del Pacífico Sur de Costa Rica. In: 4th international conference on integrated management of coastal areas, CARICOSTAS, Santiago, Cuba. Ciencia en su PC 4, 2009: MEGACEN, ISSN 1027–2887. RNPS 1829. http://169.158.189.18/cienciapc/index.php/cienciapc/index. Accessed 30 Jan 2010

Farnsworth EJ (1998) Issues of space, taxonomic and temporal scale in delineating links between mangrove diversity and ecosystem function. Glob Ecol Biogeogr Lett 7:15–25

Faunce CH, Serafy JE (2006) Mangroves as fish habitat: 50 years of field studies. Mar Ecol Prog Ser 318:1–18

Fisher W, Krupp F, Schneider W, Sommer C, Carpenter KE, Niem VH (1995) Guía FAO para la identificación de especies para los fines de la pesca. Pacifico Centro-Oriental. FAO, Roma

Freeman SM, Rogers SI (2003) A new analytical approach to the characterisation of macro-epibenthic habitats: linking species to the environment. Estuar Coast Shelf Sci 56:749–764

Garcia AM, Vieira JP, Winemiller KO (2001) Dynamics of the shallow-water fish assemblage of the Patos Lagoon estuary (Brazil) during cold and warm ENSO episodes. J Fish Biol 59:1218–1238

Gonzáles AF, De la Cruz-Agüero G, De la Cruz-Agüero J, Ruiz-Campos G (2005) Seasonal pattern of fish assemblage of El Conchalito mangrove swamp, La Paz Bay, Baja California Sur, Mexico. Hidrobiológica 15(Suppl 2):205-214

Guzmán-Mora AG, Molina-Ureña H (2008) La Pesquería artesanal de peces en Golfo Dulce, Costa Rica. In: Proceedings of the 60th Gulf and Caribbean Fisheries Institute, Punta Cana, Dominican Republic, pp 137–142

Holguin G, Vazquez P, Bashan Y (2001) The role of sediment microorganisms in the productivity, conservation and rehabilitation of mangrove ecosystems: an overview. Biol Fertil Soils 33:265–278

INCOPESCA (2008) Reglamento para el establecimiento de áreas marinas para la pesca responsable (de conformidad con el decreto ejecutivo No. 27919-MAG). Agreement of the Governing Board of INCOPESCA, AJDIP 138–2008, 4/4/2008. Instituto Costarricense de Pesca y Acuicultura, San José, Costa Rica

Laegdsgaard P, Johnson C (2001) Why do juvenile fish utilize mangrove habitats? J Exp Mar Biol Ecol 257:229–253

Ley JA, McIvor CC, Montague CL (1999) Fishes in mangrove prop-root habitats of northeastern Florida Bay: distinct assemblages across an estuarine gradient. Estuar Coast Shelf Sci 48:701–723

Lizano OG (2006) Algunas características de las mareas en la costa pacífica y caribe de Centroamérica. Cienc Tecnol 24:51–64

Lobo J, Bolaños F (eds) (2005) Historia natural de Golfito, Costa Rica. Instituto Nacional de la Biodiversidad, Santo Domingo de Heredia, Costa Rica, 261 pp

Manson FJ, Loneragan NR, Skilleter GA, Phinn SR (2005) An evaluation of the evidence for linkages between mangroves and fisheries: a synthesis of the literature and identification of research directions. Oceanogr Mar Biol Ann Rev 43:483–513

Mumby PJ, Edwards AJ, Arias-González JE, Lindeman KC, Blackwell PG, Gall A, Gorczynska MI, Harborne AR, Pescod CL, Renken H, Wabnitz CC, Llewellyn G (2004) Mangroves enhance the biomass of coral reef fish communities in the Caribbean. Nature 427:533–536

Phillips PC (1981) Diversity and fish community structure in a Central American mangrove embayment. Rev Biol Trop 29:227–236

Phillips PC (1983) Diel and monthly variation in abundance, diversity and composition of littoral fish populations in the Gulf of Nicoya, Costa Rica. Rev Biol Trop 31:297–306

Pielou EC (1966) The measurement of diversity in different types of biological collection. J Theor Biol 13:131–144

Poirout T (2008) Diagnóstico socio ambiental de la pesca artesanal por una gestión participativa de la zona costera de Zancudo (Golfo Dulce, Costa Rica). MSc Thesis, University of La Rochelle, La Rochelle, France, 83 pp

Quesada Alpizar MA (2006) Participation and fisheries management in Costa Rica: from theory to practice. Mar Policy 30:641–650

Richards FA, Anderson JJ, Cline JD (1971) Chemical and physical observations in Golfo Dulce, an anoxic basin in the Pacific coast of Costa Rica. Limnol Oceanogr 16:43–50

Robertson AI, Duke NC (1987) Mangroves as nursery sites: comparisons of the abundance and species composition of fish and crustaceans in mangroves and other nearshore habitats in tropical Australia. Mar Biol 96:193–205

Rojas RE (2001) Caracterización de la ictiofauna de los sustratos duros de la parte interna del Golfo Dulce, Costa Rica. Lic Thesis, University of Costa Rica, San José, 71 pp

Rojas JR, Pizarro JF, Castro M (1994) Diversidad y abundancia íctica en tres áreas de manglar en el Golfo de Nicoya, Costa Rica. Rev Biol Trop 42:663–672

Rönnbäck P, Troell M, Kautsky N, Primacera JH (1999) Distribution pattern of shrimps and fish among Avicennia and Rhizophora microhabitats in the Pagbilao mangroves, Philippines. Estuar Coast Shelf Sci 48:223–234

Shervette VR, Aguirre WE, Blacio E, Cevallos R, Gonzalez M, Pozo F, Gelwick F (2007) Fish communities of a disturbed mangrove wetland and an adjacent tidal river in Palmar, Ecuador. Estuar Coast Shelf Sci 72:115–128

Silva-Benavides AM (2009) Mangroves. In: Werthermann IS, Cortés J (eds) Marine biodiversity of Costa Rica, Central America. Monogr. Biol. 86. Springer Science + Business Media B.V., Berlin, pp 123–130

Thamdrup B, Canfield DE, Ferdelman TM, Glud RN, Gundersen JK (1996) A biogeochemical survey of the anoxic basin Golfo Dulce, Costa Rica. Rev Biol Trop 44(Suppl 3):19–34

Thu PM, Populus J (2007) Status and changes of mangrove forest in Mekong Delta: case study in Tra Vinh, Vietnam. Estuar Coast Shelf Sci 71:98–109

Wolff M (1996) Demersal fish assemblages along the Pacific coast of Costa Rica: a quantitative and multivariate assessment based on the Victor Hensen Costa Rica Expedition (1993/1994). Rev Biol Trop 44(Suppl 3):187–214

Wolff M, Hartmann HJ, Koch V (1996) A pilot trophic model for Golfo Dulce, a fjord-like tropical embayment, Costa Rica. Rev Biol Trop 44(Suppl 3):215–231

Yáñez Arancibia A (1978) Taxonomía, ecología y estructura de les comunidades de peces en lagunas costeras con bocas efímeras del Pacifico de México. An Centro Cienc del Mar y Limnol, Univ Nal Auton, México, pp 1–306
Acknowledgements
We are grateful to all the fishers of Zancudo and especially Juan C. Caballero and Ronald C. Soto for their great help for fishing the mangrove. We also thank Thomas Poirout and Grégoire Laugier for help with field work and William Bussing for fish identification. In addition we are grateful to Drs. Tony Robinet and Helena Molina U. for helpful discussions. This research was partially supported by a grant from the Walton Family Foundation administrated by "Friends of the Osa" of Puerto Jiménez, Costa Rica. Dr. Margarita Silva B. has been of great help in facilitating this funding.
About this article
Cite this article
Feutry, P., Hartmann, H.J., Casabonnet, H. et al. Preliminary analysis of the fish species of the Pacific Central American Mangrove of Zancudo, Golfo Dulce, Costa Rica. Wetlands Ecol Manage 18, 637–650 (2010) doi:10.1007/s11273-010-9183-1
Received:

Accepted:

Published:

Issue Date:
Keywords
Tropical fjord-like

Mangrove

Fish diversity

Eastern Pacific

Participative sampling