Abstract
Restoration of degraded swamps often requires strong human intervention because of their fragility. In Brazil, coastal swamp forests are now much reduced by anthropogenic action. This paper investigates survival and growth performance of nine native shrub and tree species introduced into a degraded swamp invaded by exotic grasses and sedges in coastal Rio de Janeiro. Our central aim was to evaluate which species were more appropriate for use in initial stages of revegetation. Additionally, in separate field experiments, we tested statistical hypotheses that higher survival and growth performance would be found for seedlings: (a) taller in height, (b) subjected to shorter duration of flooding, and (c) planted with addition of organic matter inside the planting holes. Results were analyzed after 3 years of planting. "Planting in mounds", and a consequent reduction on the flooding period plants are exposed to, increased survival and growth. The use of taller seedlings often increased survival, and organic matter addition increased growth. Three (Myrsine rubra, Tabebuia cassinoides, and Calyptranthes brasiliensis) out of nine species tested showed high growth- and use-viability indices, and were therefore indicated for use in revegetation programs. Interspecific variation as regards responses to the treatments applied suggests that in the future, species evaluated for this purpose, should be examined on a case-by-case basis.
Access options
Buy single article
Instant access to the full article PDF.
USD 39.95
Price excludes VAT (USA)
Tax calculation will be finalised during checkout.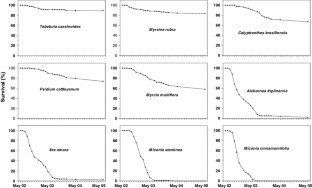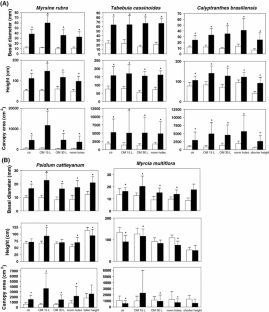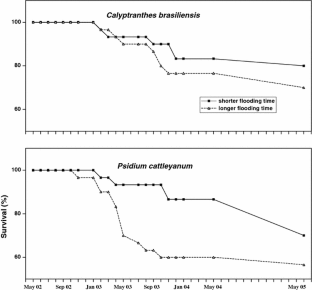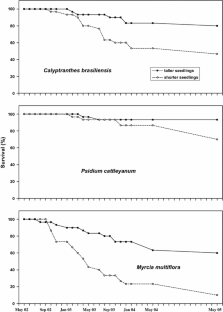 References
Araujo DSD (2000) Análise florística e fitogeográfica das restingas do Estado do Rio de Janeiro. Doctoral thesis, Universidade Federal do Rio de Janeiro

Araujo DSD, Henriques RPB (1984) Análise florística das restingas do Estado do Rio de Janeiro. In: Lacerda LD, Araujo DSD, Cerqueira R, Turcq B (eds) Restingas: origem, estrutura, processos. CEUFF, Niterói

Bozelli RL, Esteves FA, Roland F (eds) (2000) Lago Batata: impacto e recuperação de um ecossistema amazônico. Universidade Federal do Rio de Janeiro/Sociedade Brasileira de Limnologia, Rio de Janeiro

Conner WH, McLeod KW, McCarron JK (1997) Flooding and salinity effects on growth and survival of four common forested wetland species. Wetl Ecol Manag 5:99–109

Crawford RMM (1992) Oxygen availability as an ecological limit to plant distribution. Adv Ecol Res 23:93–185

Durigan G, Silveira ER (1999) Recomposição da mata ciliar em domínio de cerrado, Assis, SP. Sci For 56:135–144

Effler RS, Goyer RA, Lenhard GJ (2006) Baldcypress and water tupelo responses to insect defoliation and nutrient augmentation in Maurepas Swamp, Louisiana, USA. For Ecol Manag 236:295–304

Ernst KA, Brooks JR (2003) Prolonged flooding decreased stem density, tree size and shifted composition towards clonal species in a central Florida hardwood swamp. For Ecol Manage 173:261–279

Evans GC (1972) The quantitative analysis of plant growth. Blackwell, Oxford

Feller IC, Whigham DF, McKee KL, Lovelock CE (2003) Nitrogen limitation of growth and nutrient dynamics in a disturbed mangrove forest, Indian River Lagoon, Florida. Oecologia 134:405–414

Freitas MF, Kinoshita LS (2005) Novas espécies de Myrsine L. (Myrsinaceae) para o Brasil. Rodriguésia 56:67–72

Galatowitsch SM, van der Valk AG (1996) The vegetation of restored and natural prairie wetlands. Ecol Appl 6:102–112

Gentry AH (1992) Bignoniaceae. Part.II (Tribe Tecomeae). Flora Neotropica Monogr 252:1–370

Goldenberg R (2004) O gênero Miconia (Melastomataceae) no Estado do Paraná. Acta Bot Bras 18:927–947

Haggar J, Wightman K, Fischer R (1997) The potential of plantations to foster woody regeneration within a deforested landscape in lowland Costa Rica. For Ecol Manag 99:55–64

Holl KD, Loik ME, Lin EHV, Samuels IA (2000) Tropical montane forest restoration in Costa Rica: overcoming barriers to dispersal and establishment. Restor Ecol 8:339–349

Joly CA (1994) Biodiversity of the gallery forest and its role in soil stability in the Jacaré-Pepira water, state of São Paulo, Brazil. In: Ecotones at the river basin scale-global land/water interactions: Proceedings of the Ecotones Regional Workshop, UNESCO Ecotones Research Project, Barmera, 12–15 October 1992

Keeland BD, Conner WH, Sharitz RR (1997) A comparison of wetland tree growth response to hydrologic regime in Louisiana and South Carolina. For Ecol Manag 90:237–250

King SL (1995) Effects of flooding regimes on two impounded bottomland hardwood stands. Wetlands 15:272–284

Koponen P, Nygren P, Sabatier D, Rousteau A, Saur E (2004) Tree species diversity and forest structure in relation to microtopography in a tropical freshwater swamp forest in French Guiana. Plant Ecol 173:17–32

Lacerda LD, Araujo DSD, Maciel NC (1993) Dry coastal ecosystems of the tropical Brazilian coast. In: Van der Maarel E (ed) Ecosystems of the world 2B: dry coastal ecosystems Africa, America, Asia and Oceania. Elsevier, Amsterdam

Lapenta MJ, Procópio de Oliveira P, Kierluff MCM, Motta-Júnior JC (2003) Fruit exploitation by golden lion tamarins (Leontopithecus rosalia) in the União Biological Reserve, Rio das Ostras, RJ–Brasil. Mammalia 67:41–46

Legrand CD, Klein RM (1969) Mirtáceas. In: Reitz PR (ed) Flora ilustrada catarinense. Herbário Barbosa Rodrigues, Itajaí

Legrand CD, Klein RM (1971) Myrtáceas: 6. Calyptranthes. In: Reitz PR (ed) Flora lustrada catarinense. Herbário Barbosa Rodrigues, Itajaí

Lugo AE, Brown SL (1984) The Oklawaha River forested wetlands and their response to chronic flooding. In: Ewel KC, Odum HT (eds) Cypress swamps. University Press, Gainesville

Mattos A (1978) Frutos indígenas comestíveis do Rio Grande do Sul. Publ Inst Pesqui Recur Nat Renováveis 1:1–37

Mattos A (1989) Myrtaceae do Rio Grande do Sul. Embrapa, Porto Alegre

McLeod KW (2000) Species selection trials and silvicultural techniques for the restoration of bottomland hardwood forests. Ecol Eng 15:S35–S46

McLeod KW, Reed MR, Wike LD (2000) Elevation, competition control, and species affect bottomland forest restoration. Wetlands 20:162–168

Middleton BA, McKee KL (2005) Primary production in an impounded baldcypress swamp (Taxodium distichum) at the northern limit of the range. Wetl Ecol Manag 13:15–24

Missouri Botanical Garden (2008) http://mobot.mobot.org/W3T/Search/vast.html. Cited 18 Sep 2008

Parrotta JA, Turnbull JW, Jones N (1997) Catalysing native forest regeneration on degraded tropical lands. For Ecol Manag 99:1–7

Pezeshki SR, Anderson PH, Delaune RD (2000) Effects of nursery pre-conditioning on Panicum hemitomon and Sagittaria lancifolia used for wetland restoration. Restor Ecol 8:57–64

Ponnamperuma FN (1984) Effects of flooding on soils. In: Kozlowski TT (ed) Flooding and plant growth. Academic Press, New York

Raulings EJ, Boon PI, Bailey PC, Roache MC, Morris K, Robinson R (2007) Rehabilitation of swamp paperbark (Melaleuca ericifolia) wetlands in south-eastern Australia: effects of hidrology, microtopography, plant age and planting technique on the success of community-based revegetation trials. Wetl Ecol Manag 15:175–188

Ribeiro MC, Metzger JP, Martensen AC, Ponzoni F, Hirota MM (2009) Brazilian Atlantic forest: how much is left and how is the remaining forest distributed? Implications for conservation. Biol Conserv 142:1141–1153

Roças G, Scarano FR, Barros CF (2001) Leaf anatomical variation in Alchornea triplinervia (Spreng) Müll Arg. (Euphorbiaceae) under distinct light and soil water regimes. Bot J Linn Soc 136:231–238

Rodrigues RR, Leitão-Filho HF (2000) Matas ciliares: conservação e recuperação. Editora da Universidade de São Paulo/Fapesp, São Paulo

Scarano FR (2002) Structure, function and floristic relationships of plant communities in stressful habitats marginal to the Brazilian Atlantic rainforest. Ann Bot 90:517–524

Scarano FR (2006) Plant community structure and function in a swamp forest within the Atlantic rain forest complex: a synthesis. Rodriguésia 57:491–502

Scarano FR (2009) Plant communities at the periphery of the Atlantic rain forest: rare-species bias and its risks for conservation. Biol Conserv 142:1201–1208

Scarano FR, Crawford RMM (1992) Ontogeny and the concept of anoxia-tolerance: the case of the Amazonian leguminous tree Parkia pendula. J Trop Ecol 8:349–352

Scarano FR, Rios RI, Esteves FA (1998) Tree species richness, diversity and flooding regime: case studies of recuperation after anthropic impact in Brazilian flood-prone forests. Int J Ecol Environ Sci 24:223–225

Simmons ME, Wu XB, Whisenant SG (2009) Plant and soil responses to created microtopography and soil treatments in bottomland hardwood forest restoration. Restor Ecol. doi: 10.1111/j.1526-100X.2009.00524.x

Souza AF, Martins FR (2005) Spatial variation and dynamics of flooding, canopy openness, and structure in a neotropical swamp forest. Plant Ecol 180:161–173

Spjotvoll E, Stoline MR (1973) An extension of the T-method of multiple comparison to include the cases with unequal sample sizes. J Am Stat Assoc 68:976–978

Sugiyama M (1998) Estudo de florestas da restinga da Ilha do Cardoso, Cananéia, São Paulo, Brasil. Bol Inst Bot 11:119–159

Sweeney BW, Czapka SJ, Yerkes T (2002) Riparian forest restoration: increasing success by reducing plant competition and herbivory. Restor Ecol 10:392–400

Teixeira AP, Assis MA, Siqueira FR, Casagrande JC (2008) Tree species composition and environmental relationships in a Neotropical swamp forest in Southeastern Brazil. Wetl Ecol Manag 16:451–461

WCMC World Conservation Monitoring Centre (1992) Global biodiversity-status of the earth living resources. Chapman & Hall, London

Zamith LR, Scarano FR (2004) Produção de mudas de espécies das restingas do município do Rio de Janeiro, RJ, Brasil. Acta Bot Bras 18:161–176

Zamith LR, Scarano FR (2006) Restoration of a restinga sandy coastal plain in Brazil: survival and growth of planted woody species. Restor Ecol 14:87–94

Zar JH (1996) Biostatistical analysis, 3rd edn. Prentice Hall, New Jersey
Acknowledgments
We thank V. Dalmaso, R. Mangolin, G. Schittini and B. Richers for field assistance, and two anonymous reviewers for their valuable comments; Brazilian Research Council (CNPq) and Rio de Janeiro Research Agency (FAPERJ) for productivity grants to FRS; Fundação Parques e Jardins, Secretaria Municipal de Meio Ambiente, Prefeitura da Cidade do Rio de Janeiro for funding and logistic support.
About this article
Cite this article
Zamith, L.R., Scarano, F.R. Restoration of a coastal swamp forest in southeast Brazil. Wetlands Ecol Manage 18, 435–448 (2010). https://doi.org/10.1007/s11273-010-9177-z
Received:

Accepted:

Published:

Issue Date:

DOI: https://doi.org/10.1007/s11273-010-9177-z
Keywords