Abstract
The consumptive benefits of mangrove forests to subsistence economy receive little recognition. This paper quantifies the value of provisioning services of mangrove forests to local livelihoods in terms of forestry and fishery products. To examine the use of mangrove products, 324 households from 36 villages in the Bhitarkanika Conservation Area located in East Coast of India were surveyed using structured questionnaires. For estimating the contribution of mangrove forests to fish productivity, fish production was evaluated in three stages—inshore fishery, offshore fishery and the role of mangrove forests as nursery ground for fish and shellfish. The findings revealed that 14.2% of the fuel need of each household was being met by the forests. Other forestry products used were timber, honey and thatch grass. During the study, 14 species of fish and three of shellfish were recorded. The total catch for inshore fishery was estimated as 3.77 kg h−1 having market price of US$ 2.25. In offshore fishery the number of species caught as well as income from the catch was higher in areas with mangroves (US$ 44.61 h−1) than in those without mangroves (US$ 2.62 h−1). The market price of the forestry and fishery products used by the people was estimated as US$ 107 household−1 annum−1. The resources extracted from mangrove forests contributed to more than 14.5% of the total income of the household. This was around 30% for the households residing in the immediate vicinity of the forests. This study suggests that provisioning services provided by the mangrove forests are of significant importance to the coastal communities as they increase the resilience and sustainability of the local economy.
Access options
Buy single article
Instant access to the full article PDF.
US$ 39.95
Tax calculation will be finalised during checkout.
Subscribe to journal
Immediate online access to all issues from 2019. Subscription will auto renew annually.
US$ 79
Tax calculation will be finalised during checkout.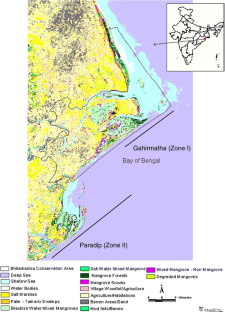 References
Badola R, Hussain SA (2003) Valuation of the Bhitarkanika mangrove ecosystem for ecological security and sustainable resource use. Study report. Wildlife Institute of India, Dehra Dun

Badola R, Hussain SA (2005) Valuing ecosystem functions: an empirical study on the storm protection function of Bhitarkanika mangrove ecosystem, India. Environ Conserv 32(1):85–92

Bandaranayake WM (1998) Traditional and medicinal uses of mangroves. Mangroves Salt Marshes 2(3):133–148

Bann C (1998) The economic value of mangroves: a manual for researchers. Economy and Environment Program for Southeast Asia, Singapore

Basit MA (1995) Non-wood forest products from the mangrove forests of Bangladesh. In: Durst PB, Bishop A (ed) Beyond timber: social, economic and cultural dimensions of non-wood forest products in Asia and the Pacific. Bangkok, RAP Publication (FAO) 13:193–200

Bennett EL, Reynolds CJ (1993) The value of a mangrove area in Sarawak. Biodivers Conserv 2(4):359–375

Bouillon S, Borges AV, Castañeda-Moya E, Diele K, Thorsten D, Duke NC, Kristensen E, Lee SY, Marchand C, Middelburg JJ, Rivera-Monroy VH, Smith III TJ, Twilley RR (2008) Mangrove production and carbon sinks: a revision of global budget estimates. Global Biogeochem Cycles 22:GB2013. doi:10.1029/2007GB003052

Carlton JM (1974) Land building and stabilization by mangroves. Environ Conserv 1(4):285–294

Chadha S, Kar CS (1999) Bhitarkanika, myth and reality. Natraj Publishers, Dehra Dun, pp 388

Christensen B (1982) Management and utilization of mangroves in Asia and the Pacific, FAO Environment Paper 3. Food and Agriculture Organization, Rome, pp 160

Costanza R, Wiagner L, Folke C, Mäler KG (1993) Modeling complex ecological economic systems: toward an evolutionary dynamic understanding of people and nature. Bioscience 43:545–555

Dahdouh-Guebas F, Jayatissa LP, Di Nitto D, Bosire JO, Lo Seen D, Koedam N (2005) How effective were mangroves as a defense against the recent tsunami? Curr Biol 15(12):443–447

Dani CS, Kar SK, Behura BK (1999) Bhitarkanika—a unique mangrove ecosystem. Nature and Wildlife Conservation Society of Orissa, India, pp 35

de Groot RS, Wilson MA, Boumans RMJ (2002) A typology for the classification, description and valuation of ecosystem functions, goods and services. Ecol Econ 41(3):393–408

Delang CO (2006) Not just minor forest products: the economic rationale for the consumption of wild food plants by subsistence farmers. Ecol Econ 59(1):64–73

Diop ES (ed) (1993) Conservation and sustainable utilization of mangrove forests in Latin America and Africa regions. Part II—Africa. International Society for Mangrove Ecosystems and Coastal marine Project of UNESCO. Mangrove Ecosystems Technical Report No. 3

Dixon JA, Sherman PB (1991) Economics of protected areas: a new look at benefits and costs. Earthscan, London

Eaton D, Sarch MT (1997) The economic importance of wild resources in the Hadejia-Nguru wetlands, Nigeria. CREED Working Paper 13, IIED, London, UK

Furukawa K, Wolanski E, Mueller H (1997) Currents and sediment transport in mangrove forests. Estuar Coast Shelf Sci 44:301–310

Gilbert AJ, Jansen R (1997) The use of environmental functions to evaluate management strategies for the pagbilao mangrove forest. CREED Working Paper 15, pp 51

Glaser M (2003) Interrelations between mangrove ecosystem, local economy and social sustainability in Caeté Estuary, North Brazil. Wetlands Ecol Manage 11(4):265–272

Gopi GV, Pandav B, Chaudhury BC (2002) Experimental trawling along the Orissa coast to estimate the mortality of sea turtles. Study Report, Wildlife Institute of India, Dehra Dun

Hoq M, Enamul M, Wahab A, Islam MN (2006) Hydrographic status of Sundarbans mangrove, Bangladesh with special reference to post-larvae and juvenile fish and shrimp abundance. Wetlands Ecol Manage 14(1):79–93

Hussain SA, Badola R (2008) Valuing mangrove ecosystem services: linking nutrient retention function of mangrove forests to enhanced agroecosystem production. Wetlands Ecol Manage 16:441–450

IIED (1995) The hidden harvest: The value of wild resources in agricultural systems. A summary. Sustainable Agriculture Program, IIED, London

Islam MS, Haque M (2005) The mangrove-based coastal and near shore fisheries of Bangladesh: ecology, exploitation and management. Rev Fish Biol Fisheries 14:153–180

Kar SK, Bustard HR (1986) Status of the Saltwater Crocodile (Crocodylus porosus, Schneider) in the Bhitarkanika Wildlife Sanctuary, Orissa, India. J Bombay Nat Hist Soc 86:140–150

Kathiresan K, Rajendran N (2005) Coastal mangrove forests mitigated tsunami. Estuar Coast Shelf Sci 65(3):601–606

Koranteng KA, Ofori-Dason PK, Entsua-Mensah M (2000) Fish and fisheries of the Muni lagoon in Ghana, West Africa. Biodivers Conserv 9:487–499

Kunstadter P, Bird E, Sabhasri S (1986) Man in the mangroves. United Nations University, Tokyo

Lacerda LD (ed) (2002) Mangrove ecosystems: function and management. Springer, Berlin, pp 315

Lal PN (1990) Conservation or conversion of mangroves in Fiji—an ecological economic analysis. Occasional paper 11. Environmental Policy Institute, East-West Center

Little MC, Reay PJ, Grove SJ (1988) The fish community of an East African mangrove creek. J Fish Biol 32(5):729–747

Macnae W (1974) Mangrove forest and fisheries. FAO/UNDP Indian Ocean Fishery Programme. Indian Ocean Fishery Commission. Publication IOFCDev/74/34-35

Magalhaes A, da Costa RM, da Silva R, Pereira LCC (2007) The role of women in the mangrove crab (Ucides cordatus, Ocypodidae) production process in North Brazil (Amazon region, Pará). Ecol Econ 61(2–3):559–565

Maltby E (1986) Waterlogged wealth: why waste the world's wet places?. IIED, London

Miller JM, Crowder LB, Moser ML (1983) Migration and utilization of estuarine nurseries by juvenile fishes: an evolutionary perspective. Contrib Mar Sci 27:338–352

Moberg F, Rönnbäck P (2003) Ecosystem services of the tropical seascape: interactions, substitutions and restoration. Ocean Coast Manag 46(1–2):27–46

Narendran K, Murthy IK, Suresh HS, Dattaraja HSS, Ravindranath NH, Sukumar R (2001) Non-timber forest product extraction, utilization and valuation: a case study from the Nilgiri Biosphere Reserve, Southern India. Econ Bot 55(4):528–538

Naylor R, Drew M (1998) Valuing mangrove resources in Kosrae, Micronesia. Environ Dev Econ 3(4):471–490

Nickerson DJ (1999) Trade-offs of mangrove area development in the Philippines. Ecol Econ 28(2):279–298

Patterson MG (2002) Ecological production based pricing of biosphere processes. Ecol Econ 41(3):457–478

Primavera JH (1995) Mangroves and brackish water pond culture in the Philippines. Hydrobiologia 295(1–3):303–309

Primavera JH (1998) Mangroves as nurseries: shrimp populations in mangrove and non-mangrove habitats. Estuar Coast Shelf Sci 46(3):457–464

Richman CL (2002) The socio-economic significance of subsistence non-wood forest products in Leyte, Philippines. Environ Conserv 29(2):253–262

Rosolofo MV (1997) Use of mangroves by traditional fishermen in Madagascar. Mangroves Salt Marshes 1(4):243–253

Sathirathai S, Barbier EB (2001) Valuing mangrove conservation in southern Thailand. Contemp Econ Policy 19(2):109–122

Semesi AK (1998) Mangrove management and utilization in Eastern Africa. Ambio 27(8):620–626

Shervette VR, Aguirre WE, Blacio E, Cevallos R, Gonzalez M, Pozo F, Gelwick F (2007) Fish communities of a disturbed mangrove wetland and an adjacent tidal river in Palmar, Ecuador. Estuar Coast Shelf Sci 72:115–128

Snedaker SC, Snedaker JG (1984) The Mangrove ecosystem: research methods. UNESCO, UK

Sokal RR, Rohlf FJ (1995) Biometry: the principles and practice of statistics in biological research, 3rd edn. W. H. Freeman and Co, New York, pp 887

Spalding M, Blasco F, Field C (1997) World mangrove atlas. The International Society for Mangrove Ecosystems, Okinawa 178

Spaninks F, Beukering PV (1997) Economic Valuation of Mangrove Ecosystems: Potential and Limitations. CREED Working Paper 14

Sudarshana R, Mitra D, Mishra AK (2000) The philosophy of 'Subtle Issues'. Indian Institute of Remote Sensing, Dehra Dun, pp 1–10

Twilley RR, Chen RH, Hargis T (1992) Carbon sinks in mangroves and their implications to carbon budget of tropical coastal ecosystems. Water Air Soil Pollut 64(1–2):265–288

Walters BB (2005) Patterns of local wood use and cutting of Philippine mangrove forests. Econ Bot 59(1):66–76

Wilson MA, Carpenter SR (1999) Economic valuation of freshwater ecosystems services in the United States 1971–1997. Ecol Appl 9(3):772–783

Wolanski E (1985) Numerical modeling of flows in the tidal creek- mangrove swamp system. Proceedings 21st, Congress International Association for Hydraulic Research 3, Melbourne, pp. 80–85

Zakaria R, Mansor M, Ali AB (1999) Swamp-riverine tropical fish population: a comparative study of two spatially isolated freshwater ecosystems in Peninsular Malaysia. Wetlands Ecol Manage 6(4):261–268
Acknowledgments
The India Environment Management Capacity Building (EMCaB) Project, Indira Gandhi Institute of Development Research (IGIDR), Mumbai provided funding support for this study. We thank Chief Wildlife Warden, Government of Orissa for permitting us to carry out this research in the N.P. Bhitarkanika. We thank Dr. Hemant Kumar Sahu, Ms. Poonam Semwal, Ms. Kalpana Ambastha, Ms. Shivani Chandola and Mr. K.R. Anoop for assisting us in field data collection. Ms. Ashi Qureshi and Ms. Pariva edited the manuscript.
About this article
Cite this article
Hussain, S.A., Badola, R. Valuing mangrove benefits: contribution of mangrove forests to local livelihoods in Bhitarkanika Conservation Area, East Coast of India. Wetlands Ecol Manage 18, 321–331 (2010). https://doi.org/10.1007/s11273-009-9173-3
Received:

Accepted:

Published:

Issue Date:
Keywords
Mangrove ecosystems

Local livelihoods

Resource dependency

Fishery

Ecosystem services

Economic valuation