Abstract
Hydraulic restoration by opening the shrimp pond banks facilitated the establishment of planted mangroves and colonisation by non-planted mangrove species and was shown to be an effective method of mangrove rehabilitation. Planted Rhizophora apiculata and Rhizophora mucronata had grown significantly in 6 years, to 300 and 350 cm, respectively. However, the growth rate of Bruguiera cylindrica was merely 150 cm in the same period despite vigorous growth in the initial stage. About 15 non-planted mangrove species had colonised within 6 years after reopening the banks, with the dominant species being Avicennia marina (46.9%) followed by B. cylindrica (27.0%) and Ceriops tagal (14.9%). After the enhancement, soil organic carbon increased considerably from 110 to 160 tonC ha−1 in 2 years at the lower elevation, indicating that hydraulic restoration could stimulate carbon recovery through enhancement of mangrove growth. However, soil organic carbon decreased by almost half in the higher ground, suggesting that carbon decomposition was accelerated due to drying of soils.
This is a preview of subscription content,
to check access.
Access this article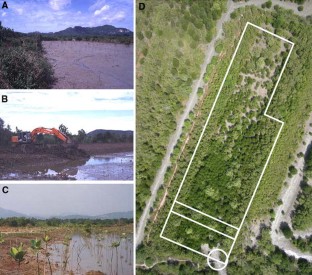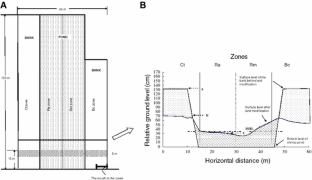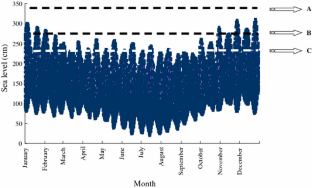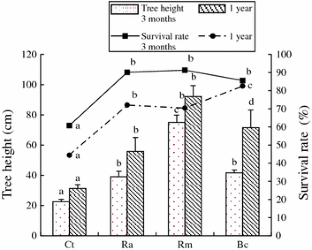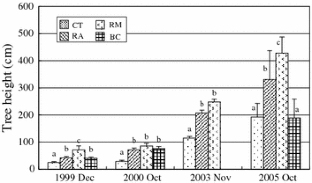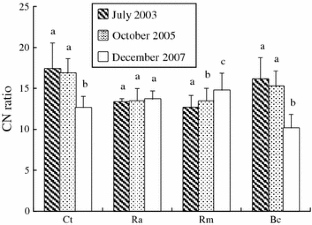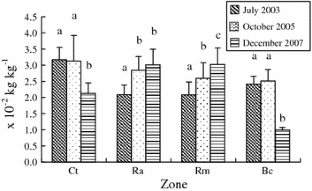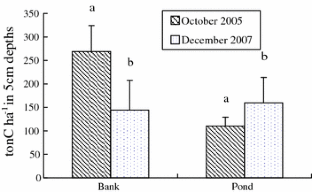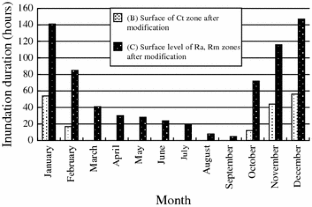 Similar content being viewed by others
References
Aksornkoae S, Paphavasit N, Wattayakorn G (1993) Mangroves of Thailand: Present status of conservation, use and management. In: Clough BF (ed) The Economic and Environmental Values of Mangrove Forests and Their Present State of Conservation in the South-East Asia Pacific Region. International Society for Mangrove Ecosystems, Okinawa, pp 83–133

Barbier EB, Strand I (1998) Valuing mangrove-fishery linkages—a case study of Campeche, Mexico. Environ Resour Econ 12:151–166

Bosire JO, Dahdouh-Guebas F, Kairo JG, Koedam N (2003) Colonisation of non-planted mangrove species into restored mangrove stands in Gazi Bay, Kenya. Aquat Bot 76:267–279

Brockmeyer RE, Rey JR, Virnstein RW, Gilmore RG, Earnest L (1997) Rehabilitation of impounded estuarine wetlands by hydrologic reconnection to the Indian River Lagoon, Florida (USA). Wetl Ecol Manag 4:93–109

Clarke PJ, Allaway WG (1993) The regeneration niche of the grey mangrove (Avicennia marina): effects of salinity, light and sediment factors on establishment, growth and survival in the field. Oecologia 93:548–556

Ellison JC (2009) Geomorphology and sedimentology of mangroves. In: Perillo GME, Wolanski E, Cahoon DR, Brinson MM (eds) Coastal wetlands: an integrated ecosystem approach. Elsevier, Amsterdam, pp 565–591

Elster C (2000) Reasons for reforestation success and failure with three mangrove species in Colombia. For Ecol Manag 131:201–214

Field CD (1996) Restoration of mangrove ecosystems. International Society for Mangrove Ecosystems, Okinawa

Hutchings P, Saenger P (1987) Ecology of mangroves. University of Queensland Press, St Lucia

Katherine C, Ewel KC, Twilley RR, Ong JE (1998) Different kinds of mangrove forests provide different goods and services. Global Ecol Biogeogr Lett 7:83–94

Kjerfve B (1990) Manual for investigation of hydrological processes in mangrove ecosystems. The UNESCO/UNDP regional project 'Mangrove ecosystems in Asia and the Pacific, RAS/79/002 and RAS/86//120', Thomson Press, p 79

Lewis RR (2000) Ecologically based goal setting in mangrove forest and tidal marsh restoration. Ecol Eng 15:191–198

Lewis RR (2005) Ecologically engineering for successful management and restoration of mangrove forests. Ecol Eng 24:403–418

Macintosh DJ, Ashton EC, Havanond S (2002) Mangrove rehabilitation and intertidal biodiversity: a study in the Ranong mangrove ecosystem, Thailand. Estuar Coast Shelf Sci 55:331–345

Matsui N (1998) Estimated stocks of organic carbon in mangrove roots and sediments in Hinchinbrook Channel, Australia. Mangrove Salt Marshes 2:199–204

Matsui N, Kosaki T (2007a) Spatial and temporal evaluation of mangrove (Rhizophora mucronata Lamk.) tree heights and soil properties in 3-years and 7-years after the mangrove plantation. In: Tateda Y, Upstill-Goddard R, Goreau T, Alongi D, Nose A, Kristensen E, Wattayakorn G (eds) Greenhouse gas and carbon balances in mangrove coastal ecosystems. Gendaitosho, Japan, pp 93–107

Matsui N, Kosaki T (2007b) Quantitative and qualitative evaluation on stored carbons of mangrove ecosystems in Chumphon, Thailand. Mangrove Sci 5:13–19

Matsui N, Yamatani Y (2000) Estimated total stocks of sediment carbon in relation to stratigraphy underlying the mangrove forests of Sawi Bay. Phuket Mar Biol Cent Spec Publ 22:15–25

Mazda Y, Wolanski E, Ridd PV (2003) The role of physical processes in mangrove environments. Terrapub publisher, Tokyo

Naido G (2003) Effects of waterlogging and salinity on plant-water relations and on the accumulation of solutes in three mangrove species. Aquat Bot 22:133–143

Orlov DS (1995) Humic substances of soils and general theory of humification. A.A.Balkema/Rotterdam/Brookfield, Moscow

Sathirathai S (1998) Economic valuation of mangroves and the roles of local communities in the conservation of natural resources: case study of Surat Thani. South of Thailand. EEPSEA Research Report Series, Economy and Environment Program for Southeast Asia, Singapore

Sathirathai S, Barbier EB (2001) Valuing mangrove conservation in Southern Thailand. Contemp Econ Policy 19:109–122

Sheridan P (1997) Benthos of adjacent mangrove, seagrass and non-vegetated habitats in Rookery Bay, Florida, USA. Estuar Coast Shelf Sci 44:455–469

Snedaker SC (1989) Overview of ecology of mangroves and information needs for Florida Bay. Bull Mar Sci 44:341–347

Stevenson NJ, Lewis RR, Burbridge PR (1999) Disused shrimp ponds and mangrove rehabilitation. In: Streever WJ (ed) An international perspective on wetland rehabilitation. Kluwer, Netherlands, pp 277–297

Turner RE, Lewis RR (1997) Hydrologic restoration of coastal wetlands. Wetl Ecol Manag 4:65–72

Yonebayashi K (1994) Humic component distribution of humic acids as shown by adsorption chromatography using XAD-8 resin. In: Senesi N, Miano TM (eds) Humic substances in the global environment and implications on human health. Elsevier Sciences, Amsterdam, pp 181–186

Yonebayashi K (2009) Humic substances in soils. In: Ishiwatari R, Yonebayashi K, Miyajima T (eds) Humic substances in environments. Characteristics and research methods. Sankyo Shuppan, Tokyo, pp 10–29
Acknowledgments
The research works described in this paper was undertaken as a part of Joint Research Project that had been conducted among Department of Marine and Coastal Resources (DMCR), Thailand, Kansai Electric Power Co., Inc. and Kanso Technos Co., Ltd. from 1998 to 2007. We would like to thank all staffs of Mangrove Resources Research & Development Station Nr. 6, DMCR for their hard work in the field.
About this article
Cite this article
Matsui, N., Suekuni, J., Nogami, M. et al. Mangrove rehabilitation dynamics and soil organic carbon changes as a result of full hydraulic restoration and re-grading of a previously intensively managed shrimp pond. Wetlands Ecol Manage 18, 233–242 (2010). https://doi.org/10.1007/s11273-009-9162-6
Received:

Accepted:

Published:

Issue Date:

DOI: https://doi.org/10.1007/s11273-009-9162-6
Keywords