Abstract
The effect of intensive human intervention, poor socio-economic conditions and little knowledge on mangrove ecology pose enormous challenges for mangrove restoration in Southeast Asia. We present a framework for tropical mangrove restoration. Our proposed restoration framework addresses the ecology, economy and social issues simultaneously by considering the causes of mangrove degradation. We provide a step by step guideline for its restoration. We argue that although, ecological issues are of prime importance, economic and social issues must be considered in the restoration plan in order for it to be successful. Since mangrove ecology is not adequately studied in this region, local ecological knowledge can be used to fill the baseline information gaps. Unwanted human disturbance can be minimized by encouraging community participation. This can be ensured and sustained by facilitating the livelihood of the coastal community. We translated the restoration paradigm into a readily available practical guideline for the executors of the plans. We provide an example of mangrove restoration project that is closely related to our proposed framework. We are optimistic that this framework has the potential for universal application with necessary adjustments.
Access options
Buy single article
Instant access to the full article PDF.
USD 39.95
Price excludes VAT (USA)
Tax calculation will be finalised during checkout.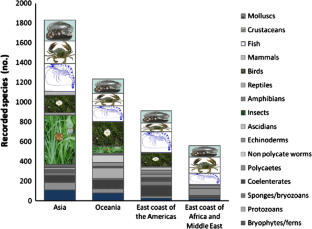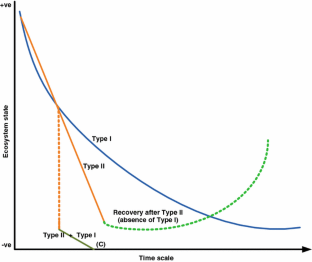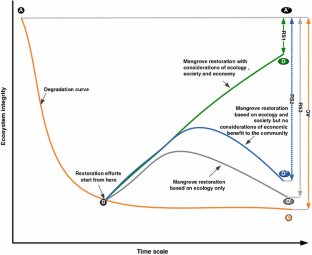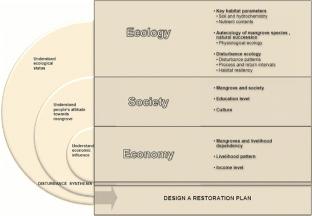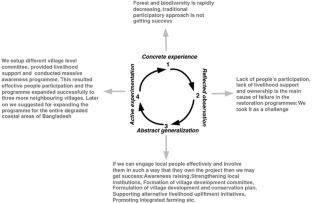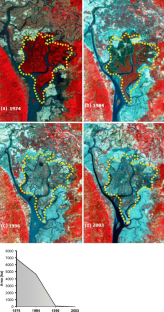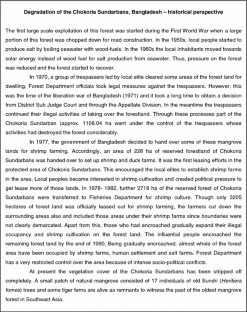 References
Aksornkoae S (1996) Reforestation of mangrove forests in Thailand: a case study of Pattani Province. In: Field CD (ed) Restoration of mangrove ecosystem. International Tropical Timber Organization and International Society for Mangrove Ecosystems, Okinawa, pp 52–63

Al-Khayat JA, Jones DA (1999) A comparison of the macrofauna of natural and replanted mangroves in Qatar. Estuar Coast Shelf Sci 49A:55–63

Alongi DM (1998) Coastal ecosystem processes. CRC Press, Boca Raton, Florida

Bacon PR (1987) Use of wetlands for tourism in the insular Caribbean. Ann Tourism Res 14:104–117

Bacon PR (1993) Wetland restoration and rehabilitation in the insular Caribbean. In: Moser M, Prentice RC, van Vessem J (eds) Waterfowl and wetland conservation in the 1990s—a global perspective. IWRB, St. Petersburg, Florida, pp 206–209

Bandaranayake WM (1998) Traditional and medicinal uses of mangroves. Mangroves Salt Marshes 2:133–148

Barbier EB (2000) Valuing the environment as input: review of applications to Mangrove–Fishery Linkages. Ecol Econ 35:47–61

Barbier EB (2006) Natural barriers to natural disasters: replanting mangroves after the tsunami. Front Ecol Environ 4(3):124–131

Barbier EB, Cox M (2002) Economic and demographic factors affecting mangrove loss in the coastal provinces of Thailand, 1979–1996. Ambio 31(4):351–357

Barbier EB, Strand I, Sathirathai S (2002) Do open access conditions affect the valuation of an externality? Estimating the welfare effects of Mangrove–Fishery Linkages in Thailand. Environ Resour Econ 21:343–367

Biswas SR, Choudhury JK (2007) Forests and forest management practices in Bangladesh: the question of sustainability. Int Forest Rev 9(2):627–640

Biswas SR, Choudhury JK, Nishat A et al (2007) Do invasive plants threaten the Sundarbans mangrove forest of Bangladesh? Forest Ecol Manage 245(1–3):1–9

Bormthanarat S, Hossain Z, Chairoenwatana B (2007) Community-led mangrove rehabilitation: experiences from Hua Khao community, Sangkhla, Thailand. Asia Pac J Rural Dev XVI(2):53–68

Bradshaw AD (1987) Restoration: an acid test for ecology. In: Jordan WR, Gilpin ME, Aber JD (eds) Restoration ecology—a synthetic approach to ecological restoration. Cambridge University Press, Cambridge, UK, pp 23–30

Callaway JC (2001) Hydrology and substrate. In: Zedler JB (ed) Handbook for restoring tidal wetlands. CRC press, Boca Raton, Florida, pp 89–117

Choudhury JK (2003) Mangrove restoration in Indonesia. Project final report, FAO

Choudhury AM, Quadir AM, Islam J (1990) Study of Chokoria Sundarbans using Remote Sensing Techniques. SPARSO, Dhaka, p 77

Clements FE (1916) Plant succession, an analysis of the development of vegetation. Reprinted by permission of Carnegie Institution of Washington. 42:140–143

Dahadough-Guebas F, Hettiarachchi S, Leo Seen D et al (2005a) Transition in ancient inland freshwater resource management in Sri Lanka affect biota and human populations in and around coastal lagoons. Curr Biol 15:579–586

Dahdouh-Guebas F, Jayatissa LP, Di Nitto D et al (2005b) How effective were mangroves as a defense against the recent tsunami? Curr Biol 15(12):R443–R447

Danielsen F, Sorensen MK, Olwig MF et al (2005) The Asian tsunami: a protective role for coastal vegetation. Science 310(5748):643

Das S, Siddiqi NA (1985) The mangroves and mangrove forests of Bangladesh. Mangrove Silviculture Division Bulletin No. 2, BFRI and UNDP/FAO Project, BGD/79/017, Chittagong

DeWalt BR, Vergne P, Hardin H (1996) Shrimp aquaculture development and the environment: people, mangroves, and fisheries on the Gulf on Fonseca, Honduras. World Dev 24(7):1193–1208

Duke NC, Meynecke JO, Dittmann S et al (2007) A world without mangroves? Science 317(5834):41–42

EJF [Environmental Justice Foundation] (2003) Risky business: Vietnamese shrimp aquaculture—impacts and improvements. London, UK

Ellison AM (2000) Mangrove restoration: do we know enough? Restor Ecol 8(3):219–229

Erftemeijer PLA, Lewis RR (2000) Planting mangroves on intertidal mudflats: habitat restoration or habitat conversion? In: Proceedings of the ECOTONE VIII seminar enhancing coastal ecosystems restoration for the 21st century, Ranong, Thailand, 23–28 May 1999. Royal Forest Department of Thailand, Bangkok, Thailand. pp156–165

Fransworth EJ, Ellison AM (1997) Global patterns of predispersal propagule predation in mangrove forests. Biotropica 29(3):318–330

Gain P (ed) (2002) Bangladesh: environment. Facing the 21st century, 2nd ed. Society for Environment and Human Development (SEHD), Dhaka Bangladesh

Gleason HA (1917) The structure and development of the plant association. Bull Torrey Bot Club 44:463–481

Hinrichsen D (1998) Coastal waters of the world: trends, threats and strategies. Island Press, Washington

Hobbs RJ (2007) Setting effective and realistic restoration goals: key directions for research. Restor Ecol 15(2):354–357

Hobbs RJ, Norton DA (1996) Towards a conceptual framework for restoration ecology. Restor Ecol 4:93–110

Hobbs RJ, Norton DA (2004) Ecological filters, thresholds, and gradients in resistance to ecosystem reassembly. In: Temperton VM, Hobbs RJ, Nuttle T et al (eds) Assembly rules and restoration ecology—bridging the gap between theory and practice. Island Press, Washington, pp 72–95

Hossain MS, Lin CK, Hussain MZ (2001) Goodbye Chakaria Sundarban: the oldest mangrove forest. Soc Wetland Scientists Bull 18(3):19–22

Hussain YA, Zuhair MM, Weir M (1999) Monitoring mangrove forests using Remote Sensing and GIS. International Institute for Aerospace Survey and Earth Science, The Netherlands. http://www.gisdevelopment.net/aars/acrs/1999/ps5/ps5126pf.htm

Iftekhar MS, Islam R (2004) Degeneration of Bangladesh Sundarban: a management issue. Int Forest Rev 6(4):123–135

IUCN Bangladesh (2005) Restoration of a critical coastal ecosystem: the Chokoria Sundarbans. Project final report. IUCN–The World Conservation Union, Bangladesh Country Office, Dhaka, p 65

Jayatissa LP, Hettiarachi S, Dahadough-Guebas F (2006) An attempt to recover economic losses from decadal changes in two lagoon systems of SriLanka through a newly patented mangrove product. Environ Dev Sustainability 8(4):585–595

Kairo JG, Dahdouh-Guebas F, Bosire J et al (2001) Restoration and management of mangrove systems—a lesson for and from East African region. S Afr J Bot 67:383–389

Kathiresan K, Rajendran N (2005) Coastal mangrove forests mitigated tsunami. Estuar Coast Shelf Sci 65(3):601–606

Kathiresan K, Rajendran N (2006) Reply to 'Comments of Kerr et al. on 'Coastal mangrove forests mitigated tsunami'. Estuar Coast Shelf Sci 65 (2005) 601–606. Estuar Coast Shelf Sci 67:542

Kolb DA (1984) Experiential learning: experience as the source of learning and development. Prentice-Hall Inc, New Jersey

Lacerda LD, Conde JE, Kjerfve B et al (2002) American Mangroves. In: de Lacerda LD (ed) Mangrove ecosystems, function and management. Springer-Verlag, Berlin, p 315

Lewis RR (2000) Ecologically based goal setting in mangrove forest and tidal marsh restoration in Florida. Ecol Eng 15(3–4):191–198

Lewis RR (2005) Ecological engineering for successful management and restoration of mangrove forests. Ecol Eng 24:403–418

Lewis RR, Marshall MJ (1997) Principles of successful restoration of shrimp Aquaculture ponds back to mangrove forests. Programa/resumes de Marcuba '97, September 15/20. Palacio de Convenciones de La Habana, Cuba, p 126

Macnae W (1968) A general account of the fauna and flora of mangrove swamps and forests in the Indo-West-Pacific region. Adv Mar Biol 6:73–270

Primavera JH (1995) Socio-economic impacts of shrimp culture. Aquac Res 28:815–827

Primavera JH (2005) Mangroves, fishponds, and the quest for sustainability. Science 310:57–59

Primavera JH, Sadaba RB, Lebata MJHL et al (2004) Handbook of mangroves in the Philippines-Panay. SEAFDEC Aquaculture Department, Iloilo, Philippines

Prokant B, Reeves P (2007) From fish and forest to salt and shrimp: the changing nature of coastal development policy and its impact on coastal resources and communities in southeast Bangladesh. http://www.marecentre.nl/people_and_the_sea_3/papers/stream%203/panel%201/pokrant.pdf Accessed 13 August 2007

Rist S, Dahadough-Guebas F (2006) Ethnosciences—a step towards the integration of scientific and indigenous forms of knowledge in the management of natural resources for the future. Environ Dev Sustainability 8:467–493

Ruiz-Jaen M, Aide MT (2005) Restoration success: how is it being measured? Restor Ecol 13(3):569–577

Saenger P, Siddiqi NA (1993) Land from the sea: the mangrove afforestation programme of Bangladesh. Ocean Coast Manage 201(11):23–39

Saenger P, Hegerl EJ, Davie JDS (1983) Global status of mangrove ecosystems. Environmentalist 3(3):1–88

SER [The Society for Ecological Restoration Science and Policy Working Group] (2002) The SER premier on ecological restoration. Available from http://www.ser.org

SER [The Society for Ecological Restoration Science and Policy Working Group] (2004) The SER international premier on ecological restoration. Available from http://www.ser.org

Spalding MD, Blasco F, Field CD (eds) (1997) World Mangrove Atlas. The International Society for Mangrove Ecosystems, Okinawa, Japan

Sutherland JP (1974) Multiple stable points in natural communities. Am Nat 108:859–873

Temperton VM (2007) Recent double paradigm shift in restoration ecology. Restor Ecol 15(2):344–347

Walters BB (1997) Human ecological questions for tropical restoration: experiences from planting native upland trees and mangroves in the Phillippines. Forest Ecol Manage 99:275–290

Walters BB (2000) Local mangrove planting in the Phillippines: are fisherfolk and fishpond owners effective restorationist? Restor Ecol 8:237–246

Walters BB (2004) Local management of mangrove forest in the Philipines: successful conservation or efficient resources exploitation? Hum Ecol 32(2):177–195

Walters BB (2005) Patterns of local wood use and cutting of Philippine mangrove forests. Econ Bot 59(1):66–76

Walton MEM, Samonte-Tan GPB, Primavera JH et al (2006) Are mangrove worth replanting? The direct economic benefits of a community based reforestation project. Environ Conserv 33(4):335–343
Acknowledgements
The first author (SRB) acknowledge IUCN-The World Conservation Union, Bangladesh Country Office where he was based for more than three and half years and actively planned and implemented the Restoration of the Chokoria Sundarbans programme with others. UNEP/GPA provided financial support for the programme. Arif M Faisal helped with the implementation of the programme and communication with the community in the local dialect. Bradley B. Walters, Rakibul Haque and Sayed Iftekhar provided thoughtful comments on an earlier version of this manuscript. We thank Tom Hazenberg for his constructive criticism and editorial support on this manuscript. Comments of the two anonymous reviewers and the editor were helpful in improving the manuscript.
About this article
Cite this article
Biswas, S.R., Mallik, A.U., Choudhury, J.K. et al. A unified framework for the restoration of Southeast Asian mangroves—bridging ecology, society and economics. Wetlands Ecol Manage 17, 365–383 (2009). https://doi.org/10.1007/s11273-008-9113-7
Received:

Accepted:

Published:

Issue Date:

DOI: https://doi.org/10.1007/s11273-008-9113-7
Keywords
Community development

Community participation

Experiential learning

Ecological restoration

Ecosystem synthesis

Mangrove degradation