Abstract
Provision of water to wildlife is crucial during dry season along the Great Ruaha River (GRR) in Ruaha National Park due to mismanagement of water resources upstream. This paper shows that wildlife in the dry areas of the park utilizes effectively the water from natural and artificial waterholes dug in the sandy riverbed of the GRR. Artificial water holes help alleviate the effects of artificial water shortage in the river, and because the location of the artificial water holes varies annually, the impact on the vegetation of aggregating herbivores around water holes was minimized. Water quality was comparable in natural and artificial water holes, and was the highest in holes dug by elephants in the sandy river bed.
Access options
Buy single article
Instant access to the full article PDF.
US$ 39.95
Tax calculation will be finalised during checkout.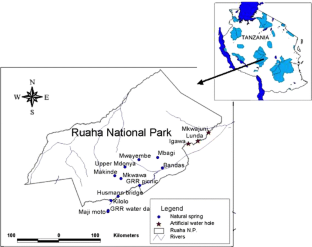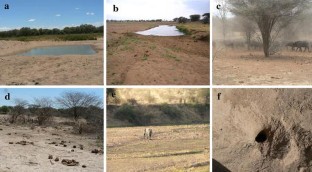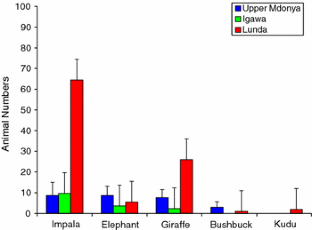 References
Ayeni JSO (1977) Waterholes in Tsavo National Park, Kenya. J Appl Ecol 14(2):369–378

Brits J, Van Rooyen MW, Van Rooyen N (2002) Ecological impact of large herbivores on the woody vegetation at selected watering points on the eastern basaltic soils in the Kruger National Park. Afr J Ecol 40(1):53–60

Child GFT (1972) Water and its role in nature conservation and wildlife management in Bostwana. Botswana Notes Rec 4:253–255

Coppolillo PB, Kashaija L, Moyer DC, Knap E (2004) Technical Report on Water Availability in the Ruaha River and the State of Usangu Game Reserve, November 2003. Wildlife Conservation Society and WWF-Tanzania Program

De Beer Y, Kilian W, Versfeld W, van Aarde RJ (2006) Elephants and low rainfall alter woody vegetation in Etosha National Park, Namibia. J Arid Environ 64:412–421

Douglas-Hamilton I (1973) On the ecology and behaviour of the Lake Manyara elephants. E Afr Wildl J 11:401–403

Du Toit JT, Biggs HC, Rogers KH (2003) The Kruger experience: ecology and management of savanna heterogeneity. Island Press, Washington, 519 pp

Dudley JP, Graig GC, Gibson DStC, Haynes G, Klimowicz J (2001) Drought mortality of bush elephants in Hwange National Park, Zimbambwe. Afr J Ecol 39(2):187–194

Eckhardt HC, Van Wilgen BW, Biggs HC (2000) Trends in woody vegetation cover in the Kruger National Park, South Africa, between 1940 and 1998. Afr J Ecol 38(2):108–115

Fryxell JM, Synclair ARE (1988) Seasonal migration of the white-eared kob in relation resources. Afr J Ecol 26:17–31

Gereta E, Wolanski E (1998) Water quality–wildlife interaction in the Serengeti National Park, Tanzania. Afr J Ecol 36(1):1–14

Gereta E, Mwangomo E, Wolanski E (2004) The influence of wetlands in regulating water quality in the Seronera River, Serengeti National Park, Tanzania. Wetlands Ecol Manage 12:301–307

Herve F, Sonia S, Pierre-Cyril R, Snoden M, Craig C, Francois M (2003) The effects of agricultural fields and human settlements on the use of rivers by wildlife in the mid-Zambezi valley, Zimbabwe. Landsc Ecol 18(3):293–302

Jarman PJ (1972) The use of drinking sites, wallows and salt licks by herbivores in the flooded middle Zambezi valley. E Afr Wildl J 10:197–201

McNaugthon SJ (1990) Mineral nutrition and seasonal movements of African migratory ungulates. Nature 345:613–615

Mtahiko MGG, Gereta E, Kajuni AR, Chiombola EAT, Ng'umbi GZ, Coppolillo P, Wolanski E (2006) Towards an ecohydrology-based restoration of the Usangu wetlands and the Great Ruaha River, Tanzania. Wetlands Ecol Manage 14:489–503

Owen-Smith N (1996) Ecological guidelines for waterpoints in extensive protected areas. S Afr J Wildl Res 26(4):107–112

Rautenstrauch KR, Krausman RP (1989) Influence of water availability and rainfall on movements of desert mule deer. J Mammol 70:197–201

Senzota RBM, Mtahiko G (1990) Effects on wildlife on a waterhole in Mikumi National Park, Tanzania. Afr J Ecol 28(2):147–151

SMUWC (2002) The Sustainable Management of the Usangu Wetland and its Catchment. September 1998–March 2003, vol 20. UK Department of International Development and Ministry of Water and Livestock, Dar es Salaam

Todd SW (2006) Gradients in vegetation cover, structure and species richness of Nama-Karoo shrublands in relation to distance from livestock watering points. J Appl Ecol 43(2):293–304

Tolsma DJ, Ernest WHO, Verweyg RA (1987) Nutrient in soil and vegetation around two artificial water points in eastern Botswana. J Appl Ecol 24(3):991–1000

Trash I (1998) Impact of water provision on herbaceous vegetation in Kruger National Park, South Africa. J Arid Envir 38:437–450

Walker BH, Emslie RH, Owen-Smith RN, Scholes RJ (1987) To cull or not to cull: lessons from a Southern African Drought. J Appl Ecol 24(2):381–401

Western D (1975) Water availability and its influence on the structure and dynamics of large mammal community. E Afr Wildl J 13:265–286

Williamson D, Williamson J, Ngwamotsoki KT (1988) Wildebeest migration in the Kalahari. Afr J Ecol 26:269–280

Wolanski E, Gereta E (1999). Oxygen cycle in hippo pool, Serengeti National Park, Tanzania. Afr J Ecol 37:419–423

Wolanski E, Gereta E (2001) Water quantity and quality as the factors driving the Serengeti ecosystem, Tanzania. Hydrobiologia 458:169–180
Acknowledgements
We thank the Director General of Tanzania National Parks (TANAPA) for supporting the study, Ruaha National Park (RNP) Authority for facilitating logistics of the study and the Park staff for participating in the study, and Dr. E. Wolanski for his advice.
About this article
Cite this article
Epaphras, A.M., Gereta, E., Lejora, I.A. et al. Wildlife water utilization and importance of artificial waterholes during dry season at Ruaha National Park, Tanzania. Wetlands Ecol Manage 16, 183–188 (2008). https://doi.org/10.1007/s11273-007-9065-3
Received:

Accepted:

Published:

Issue Date:
Keywords
Artificial waterhole

Wildlife water use

Waterhole significance

Water availability

Environmental degradation