Abstract
Monitoring periods for compensatory wetland mitigation projects are relatively short, typically 3 to 5 years. Although forested wetlands may require decades to develop structural characteristics similar to those of natural systems, studies that describe long-term trends in site development are rare. Eighteen mitigation sites in Florida that had originally been sampled in 1988 were re-visited in 2005. Changes in mangrove community composition and stand structure occurring over this timeframe at ten of these sites are described and compared with other mangrove wetlands in Florida. Factors limiting development of the remaining sites are discussed. The continued persistence and development of the majority of these mitigation sites indicates that the mitigation process can be successful, at least in terms of compliance with the typical permit requirements. Basal area and height had increased at most sites, and some were difficult to visually distinguish from adjacent natural stands of mangroves. However, even after 13–25 years, stand structure in mangrove mitigation wetlands in Florida still differed from that of natural sites. Although the number of mangrove species was similar, mitigation sites had lower basal area and height than natural sites, and were more dense and complex than natural sites.
Access options
Buy single article
Instant access to the full article PDF.
USD 39.95
Price excludes VAT (USA)
Tax calculation will be finalised during checkout.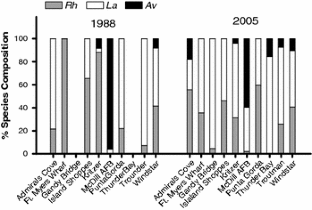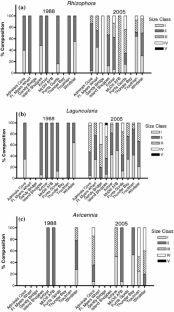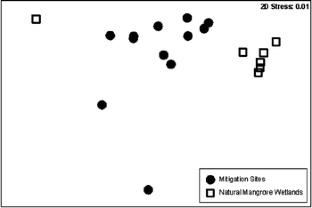 References
Cintron G, Novelli YS (1984) Methods for studying mangrove structure. In: Snedaker SC, Snedaker JG (eds) The mangrove ecosystems research methods. UNESCO, Paris, France, pp 91–113

Clarke KR, Warwick RM (2001) Change in marine communities: an approach to statistical analysis and interpretation. 2nd edn. Plymouth Marine Laboratory, United Kingdom

Cole CA, Shafer D (2002) Section 404 wetland mitigation and permit success criteria in Pennsylvania, USA, 1986–1999. Environ Manage 30:508–515

Crewz DW, Lewis RR (1991) An evaluation of historical attempts to establish emergent vegetation in marine wetlands in Florida. Florida Sea Grant College, Gainesville, Florida, USA. Technical Paper No. 60

Dahl TE (2006) Status and trends of wetlands in the conterminous United States-1998 to 2004. United States Department of the Interior, Fish and Wildlife Service, Washington, DC, USA

Kentula ME (2000) Perspectives on setting success criteria for wetland restoration. Ecol Eng 15:199–209

Lewis RR (1982a) Mangrove forests. In: Lewis RR (ed) Creation and restoration of coastal plant communities. CRC Press, Inc., Boca Raton, Florida, pp 153–171

Lewis RR (1982b) Low marshes, peninsular Florida. In: Lewis RR (ed) Creation and restoration of coastal plant communities. CRC Press, Inc., Boca Raton, Florida, pp 147–152

Lewis RR (1990) Creation and restoration of coastal plain wetlands in Florida. In: Kusler JA, Kentula ME (eds) Wetland creation and restoration: the status of the science. Island Press, Washington, DC, pp 73–101

Lewis RR (2005) Ecological engineering for successful management and restoration of mangrove forests. Ecol Eng 24:403–418

Lewis RR, Dunstan FM (1976) The possible role of Spartina alterniflora Loisel in establishment of mangroves in Florida. In: Lewis RR (ed) Proceedings of the 2nd Annual conference on restoration of coastal vegetation in Florida. Hillsborough Community College, Tampa, Florida, pp 81–100

Lewis RR, Gilmore RG, Crewz DW, Odum WE (1985) Mangrove habitat and fishery resources of Florida. In: Seaman W (ed) Florida aquatic habitat and fishery resources. American Fisheries Society, Florida chapter, Eustis, Florida, pp 281–336

Lewis RR, Hodgson AB, Mauseth GS (2005) Project facilitates the natural reseeding of mangrove forests (Florida). Ecol Restor 23:276–277

Lugo AE, Snedaker SC (1974) The ecology of mangroves. Ann Rev Ecol Syst 5:39–64

Lugo AE (1980) Mangrove ecosystems: Succcessional or steady state? Trop Succ 12:65–72

McKee KL, Faulkner P (2000) Restoration of biogeochemical function in mangrove forests. Restor Ecol 8:47–259

Mitsch WJ, Wilson RF (1996) Improving the success of wetland creation and restoration with know-how, time, and self-design. Ecol Appl 6:77–83

Mumby PJ, Edwards AJ, Arias-Gonzalez JE, Lindeman KC, Blackwell PG, Gall A, Gorczynska MI, Harborne AR, Pescod CL, Renken H, Wabnitz CC, Llewellyn G (2004) Mangroves enhance the biomass of coral reef fish communities in the Caribbean. Nature 427:533–536

Odum WE, McIvor CC, Smith TJ III (1982) The ecology of the mangroves of South Florida: a community profile. United States Fish and Wildlife Service, Office of Biological Sciences, Washington, DC, USA. FWS/OBS-81/24

Pielou EC (1984) The interpretation of ecological data. John Wiley & Sons. New York, NY, USA

Pool DJ, Snedaker SC, Lugo AE (1977) Structure of mangrove forests in Florida, Puerto Rico, Mexico, and Costa Rica. Biotropica 9:195–212

Roberts TH (1991) Habitat value of man-made coastal marshes in Florida. U.S. Army Engineer Waterways Experiment Station, Vicksburg, Mississippi, USA. Technical Report WRP-RE-2

Simenstad CA, Thom RM (1996) Functional equivalency trajectories of the restored Gog-Le-Hi-Te estuarine wetland. Ecol Appl 6:38–56

State of Florida (1996) Mangrove trimming and preservation act. http://www.dep.state.fl.us/water/rules/mpta96.htm

Streever W (1999) Examples of performance standards for wetland creation and restoration in Section 404 permits and an approach to developing performance standards. U.S. Army Engineer Research and Development Center, Vicksburg, Mississippi, USA. WRP Technical Note WG-RS-3.3
About this article
Cite this article
Shafer, D.J., Roberts, T.H. Long-term development of tidal mitigation wetlands in Florida. Wetlands Ecol Manage 16, 23–31 (2008). https://doi.org/10.1007/s11273-007-9044-8
Received:

Accepted:

Published:

Issue Date:

DOI: https://doi.org/10.1007/s11273-007-9044-8
Keywords