Abstract
Shape memory materials comprising aerogels, hydrogels, sponges, and ionogels have come on the scene as novel adsorbents for water purification. These materials demonstrate high adsorption capacities, enhanced mechanical strength, and shape resilience at the laboratory scale in unary, binary, and multicomponent adsorbate synthetic solutions. However, their reliable use in real-world water purification applications is significantly limited by hurdles. Based on the available literature, these hurdles are discussed in this review article. The hurdles include the following: (1) the need for extensive testing of the shape memory adsorbents in real and complex wastewaters under the extreme hydrodynamic conditions that can be expected in both pilot-scale column-type studies and real water treatment systems, (2) the redesigning of their synthetic routes to tune their specific physicochemical and mechanical properties so they can withstand harsh environmental conditions over repeated cycles of use, and (3) significant research efforts are required to simulate and optimize large-scale adsorption-based water purification systems for commercial use.
Access options
Buy single article
Instant access to the full article PDF.
USD 39.95
Price includes VAT (USA)
Tax calculation will be finalised during checkout.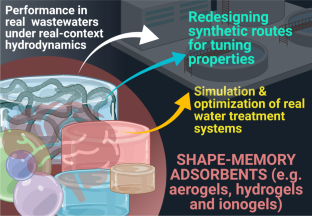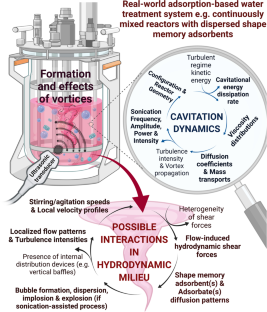 Data Availability
Data sharing is not applicable to this article as no datasets were generated or analyzed during the current study.
Acknowledgements
Author M.S. acknowledges the support received through the Distinguished Scientist Fellowship Program (DSFP) at King Saud University, Riyadh, Saudi Arabia. The contents of this article have been crosschecked for similarity in the Turnitin software. The figures have been entirely created with BioRender.com, and they were exported under paid plans having Receipt #2991-3014 (for Figure 1) and Receipt #2991-3014 (for Figures 2 and 3).
Ethics declarations
Conflict of Interest
The authors declare no competing interests.
Additional information
Publisher's Note
Springer Nature remains neutral with regard to jurisdictional claims in published maps and institutional affiliations.
Highlights/Learning Points
• Shape memory materials can become practical adsorbents for water purification.
• However, shape memory adsorbents will be exposed to realistic hydrodynamic forces.
• Examining shape memory adsorbents' behavior in real-world environments is crucial.
About this article
Cite this article
Mudhoo, A., Patel, M., Mohan, D. et al. Shape Memory Adsorbents for Water Remediation: Recent Progress, Associated Hydrodynamics, and Research Needs. Water Air Soil Pollut 232, 447 (2021). https://doi.org/10.1007/s11270-021-05404-9
Received:

Accepted:

Published:
Keywords
Hydrogel

Aerogel

Sponge

Shape memory

Mechanical strength

Water purification