Abstract
The issue tending toward alternative water resources tremendously becomes important for supplying the increasing water demand all over the world. It may be a good option to evaluate industrial effluents for agricultural irrigation. However, industrial effluent must be cleansed from the factors such as salt, toxic compounds, and microbial load that possibly cause negative effects on soil during agricultural irrigation. In this study, microbiological qualities and toxicity conditions of water sources such as membrane bioreactor (MBR) influent, MBR effluent, and mixture of MBR effluent and reverse osmosis (RO) permeate (MBR:RO = 2:1) were analyzed and evaluated according to irrigation standards. Total aerobic heterotrophic bacteria (TAHB), total coliforms (TC), fecal coliforms (FC), fecal streptococci (FS), and Clostridium spp. were screened and enumerated as indicator microbial groups for the microbial quality of water samples. Analyses of indicator microorganisms showed that loads of different bacterial groups decreased by 5.2 and 6.66 log units at maximum levels in MBR and MBR + RO system at the end of treatment. Also, evaluation of the toxicity effects of MBR effluent and MBR + RO permeate waters on Vibrio fischeri and Daphnia magna was investigated. None of the samples showed any acute toxic effect on D. magna after 48 h and V. fischeri in 5 min and 15 min. From the outputs of this study, it can be said that industrial effluents treated by advanced filtration technologies may provide a significant source of water for agricultural irrigation. This option can have positive impacts on both environmental and economic factors.
Access options
Buy single article
Instant access to the full article PDF.
USD 39.95
Price includes VAT (USA)
Tax calculation will be finalised during checkout.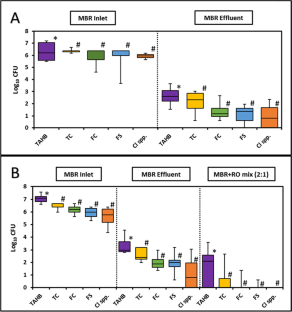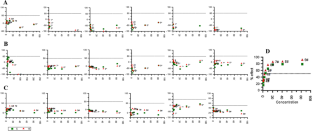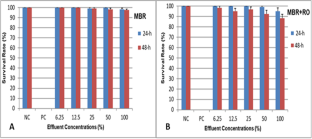 Data Availability
Data will be made available on reasonable request.
Abbreviations
TAHB:

Total aerobic heterotrophic bacteria

TC:

Total coliforms

FC:

Fecal coliforms

FS:

Fecal streptococci

MBR:

Membrane bioreactor

RO:

Reverse osmosis

LC50:

Lethal concentrations

EC50:

Effective concentration
References
Antony, A., How, J., Gray, S., Childress, A. E., & Le-clech, P. (2011). Leslie G, Scale formation and control in high pressure membrane water treatment systems: A review. J Membr Sci, 383(1–2), 1–16.

Azis, K., Vardalachakis, C., Ntougias, S., & Melidis, P. (2017). Microbiological and physicochemical evaluation of the effluent quality in a membrane bioreactor system to meet the legislative limits for wastewater reuse. Water Sci Technol, 76(7-8), 1796–1804.

Bottino, A., Capannelli, G., Comite, A., Ferrari, F., Firpo, R., & Venzano, S. (2009). Membrane technologies for water treatment and agroindustrial sectors. CR Chim, 12(8), 882–888.

Celebi, H., & Sponza, D. T. (2012). Comparison of the sensitivities of fish, microtox and Daphnia magna bioassays to amoxycillin in anaerobic/aerobic sequential reactor systems. Water Sci Technol, 66(5), 1117–1131.

Daniel, M., Sharpe, A., Driver, J., Knight, A. W., Keenan, P. O., Walmsley, R. M., Robinson, A., Zhang, T., & Rawson, D. (2004). Results of a technology demonstration project to compare rapid aquatic toxicity screening tests in the analysis of industrial effluents. J Environ Monit, 6(11), 855–865.

De Nicola, E., Oral, R., Gallo, M., Tünay, O., Meric, S., Vuttariello, E., Pagano, G., Russo, T., Warnau, M., Sorrentino, T., & Iaccarino, M. (2004). Hormetic versus toxic effects of vegetable tannin in a multitest study. Arch Environ Con Tox, 46(3), 336–344.

Falizi, N. J., Hacıfazlıoğlu, M. C., Parlar, İ., Kabay, N., Pek, T., & Yüksel, M. (2018). Evaluation of MBR treated industrial wastewater quality before and after desalination by NF and RO processes for agricultural reuse. J Water Process Eng, 22, 103–108.

Falizi, N. J., Madenoğlu, T. G., Kurttaş, Y. K., Meriç, K., Özçakal, E., Üremek, N. C., Ballice, L., Yüksel, M., Sağlam, M., & Kabay, N. (2020). Production of biodiesel from safflower plant cultivated using membrane bioreactor (MBR) effluent discharged from wastewater treatment plant. J Chem Technol Biotechnol, 95(3), 527–534.

Fujioka, T., Makabeb, R., Moric, N., Snyderd, S. A., & Leddy, M. (2019a). Assessment of online bacterial particle counts for monitoring the performance of reverse osmosis membrane process in potable reuse. Sci Total Environ, 667, 540–544.

Fujioka, T., Hoang, A. T., Ueyama, T., & Nghiem, L. D. (2019b). Integrity of reverse osmosis membrane for removing bacteria: New insight into bacterial passage. Environ Sci: Water Res Technol, 5, 239–245.

Gander, M. A., Jefferson, B., & Judd, S. J. (2000). Membrane bioreactors for use in small wastewater treatment plants: Membrane materials and effluent quality. Water Sci Technol, 41(1), 205–211.

Griffith, J. F., Schiff, K. C., Lyon, G. S., & Fuhrman, J. A. (2010). Microbiological water quality at non-human influenced reference beaches in southern California during wet weather. Mar Pollut Bull, 60, 500–508.

Hai, F. I., Riley, T., Shawkat, S., Magram, S. F., & Yamamoto, K. (2014). Removal of pathogens by membrane bioreactors: A review of the mechanisms, influencing factors and reduction in chemical disinfectant dosing. Water-SUI, 6(12), 3603–3630.

Hirani, Z. M., Bukhari, Z., Oppenheimer, J., Jjemba, P., LeChevallier, M. W., & Jacangelo, J. G. (2013). Characterization of effluent water qualities from satellite membrane bioreactor facilities. Water Res, 47(14), 5065–5075.

Hirani, Z. M., Decarolis, J. F., Lehman, G., Adham, S. S., & Jacangelo, J. G. (2012). Occurrence and removal of microbial indicators from municipal wastewaters by nine different MBR systems. Water Sci Technol, 66(4), 865–871.

Huang Y, Campana O and Wlodkowic D, A (2017). Millifluidic system for analysis of daphnia magna locomotory responses to water-born toxicants. Sci Rep 7(1) : 17603 .

Huang, X., Zhao, Z., Hernandez, D., & Jiang, S. C. (2016). Near real-time flow cytometry monitoring of bacterial and viral removal efficiencies during water reclamation processes. Water, 8(10), 464. https://doi.org/10.3390/w8100464

Jarma, Y. A., Parlar, İ., Pek, T. Ö., Kayral, K., Kabay, N., Yiğit, N., Kitiş, M., & Yüksel, M. (2018). Study on operational conditions to minimize membrane fouling in membrane bioreactor (MBR) system for wastewater treatment-preliminary pilot tests. Journal of Membrane Science and Research, 4, 212–217.

Kaiser, K. L. (1998). Correlations of Vibrio fischeri bacteria test data with bioassay data for other organisms. Environ Health Perspect, 106(Suppl 2), 583–591.

Koçbaş, F., & Oral, R. (2015). Daphnia magna as a test species for toxicity evaluation of municipal wastewater treatment plant effluents on freshwater cladoceran in Turkey. Turk J Fish Aquat Sc, 15(3), 619–624.

Le, N. L., & Nunes, S. P. (2016). Materials and membrane technologies for water and energy sustainability. SUSMAT, 7, 1–28.

Liu, M. C., Chen, C. M., Cheng, H. Y., Chen, H. Y., Su, Y. C., & Hung, T. Y. (2002). Toxicity of different industrial effluents in Taiwan: A comparison of the sensitivity of Daphnia similis and Microtox®. Environ Toxicol, 17(2), 93–97.

Lonigro A., Montemorru N., Rubino P., Vergine P., Pollice A., (2015). Reuse of treated municipal wastewater for irrigation in Apulia region: The "In.Te.R.R.A." project. Environ Eng Manag J 14(7) : 1665-1674.

Ma, J., Wang, Z., Zang, L., Huang, J., & Wu, Z. (2015). Occurrence and fate of potential pathogenic bacteria as revealed by pyrosequencing in a fullscale membrane bioreactor treating restaurant wastewater. RSC Adv, 5, 24469–24478.

Miura, T., Okabe, S., Nakahara, Y., & Sano, D. (2015). Removal properties of human enteric viruses in a pilot-scale membrane bioreactor (MBR) process. Water Res, 75, 282–291.

Nicolaisen, B. (2003). Developments in membrane technology for water treatment. Desalination, 153(1–3), 355–360.

Official Journal, 2009. https://www.resmigazete.gov.tr/eskiler/2009/10/20091010-6.htm. Accessed Sept 2015

Official Journal, 2010. https://www.resmigazete.gov.tr/eskiler/2010/03/20100320-7.htm. Accessed Sept 2015

Ottoson, J., Hansen, A., Björleneus, B., Norder, H., & Stenström, T. A. (2006). Removal of viruses, parasitic protozoa and microbial indicators in conventional and membrane processes in a wastewater pilot plant. Water Res, 40, 1449–1457.

Oral, R., Meriç, S., De Nicola, E., Petruzzelli, D., Rocca, C. D., & Pagano, G. (2007). Multi species toxicity evaluation of a chromium-based leather tannery wastewater. Desalination, 211(1–3), 48–57.

Özcan E (2010) Wastewater management in Turkey 24–25 September 2014. https://webdosya.csb.gov.tr/db/tay/webmenu/webmenu13378.pdf. Accessed: 19 Apr 2020

Parvez, S., Venkataraman, C., & Mukherji, S. (2006). A review on advantages of implementing luminescence inhibition test (Vibrio fischeri) for acute toxicity prediction of chemicals. Environ Int, 32(2), 265–268.

Persoone, G., Baudo, R., Cotman, M., Blaise, C., KCL, T., Moreira-Santos, M., Vollat, T. A., & Han, T. (2009). Review on the acute daphnia magna toxicity test – Evaluation of the sensitivity and the precision of assays performed with organisms from laboratory cultures or hatched from dormant eggs. Knowl Managt Aquatic Ecosyst, 393, 01. https://doi.org/10.1051/kmae/2009012

Pintar, A., Besson, M., Gallezot, P., Gibert, J., & Martin, D. (2004). Toxicity to Daphnia magna and Vibrio fischeri of kraft bleach plant effluents treated by catalytic wet-air oxidation. Water Res, 38(2), 289–300.

Persoone, G., Marsalek, B., Blinova, I., Törökne, A., Zarina, D., Manusadzianas, L., Nalecz-Jawecki, G., Tofan, L., Stepanova, N., Tothova, L., & Kolar, B. (2003). A practical and user friendly toxicity classification system with microbiotests for natural waters and wastewaters. Environmental Toxicology, 18(6), 395–402.

Purnell, S., Ebdon, J., Buck, A., Tupper, M., & Taylor, H. (2015). Bacteriophage removal in a full-scale membrane bioreactor (MBR)—Implications for wastewater reuse. Water Res, 73, 109–117.

Quist-Jensen, C. A., Macedonio, F., & Drioli, E. (2015). Membrane technology for water production in agriculture: Desalination and wastewater reuse. Desalination, 364, 17–32.

Schoen, M. E., Jahne, M. A., & Garland, J. (2018). Human health impact of non-potable reuse of distributed wastewater and greywater treated by membrane bioreactors. Microb Risk Anal, 9, 72–81.

Ueda, T., & Horan, N. J. (2000). Fate of indigenous bacteriophage in a membrane bioreactor. Water Res, 34(7), 2151–2159.

USEPA. 2002. Methods for measuring the acute toxicity of effluents and receiving waters to freshwater and marine organisms. https://www.epa.gov/sites/production/files/2015-08/documents/acute-freshwater-andmarine-wet-manual_2002.pdf. Accessed Mar 2019

van den Akker, B., Trinh, T., Coleman, H. M., Stuetz, R. M., Le-Clech, P., & Khan, S. J. (2014). Validation of a full-scale membrane bioreactor and the impact of membrane cleaning on the removal of microbial indicators. Bioresour Technol, 155, 432–437.

Whitton, R., Fane, S., Jarvis, P., Tupper, M., Raffin, M., Coulon, F., & Nocker, A. (2018). Flow cytometry-based evaluation of the bacterial removal efficiency of a blackwater reuse treatment plant and the microbiological changes in the associated non-potable distribution network. Sci Total Environ, 645, 1620–1629.

Winward, G. P., Avery, L. M., Williams, R. F., Pidou, M., Jeffrey, P., Stephenson, T., & Jefferson, B. (2008). A study of the microbial quality of grey water and an evaluation of treatment technologies for reuse. Ecol Eng, 32(2), 187–197.

Zannetti, F., De Luca, G., & Sacchetti, R. (2010). Performance of a full-scale membrane bioreactor system in treating municipal wastewater for reuse purposes. Bioresour Technol, 101(10), 3768–3771.

Zhang, X. J., Qin, H. W., Su, L. M., Qin, W. C., Zou, M. Y., Sheng, L. X., Zhao, Y. H., & Abraham, M. H. (2010). Interspecies correlations of toxicity to eight aquatic organisms: Theoretical considerations. Sci Total Environ, 408(20), 4549–4555.

Zhou, J., Wang, X. C., Ji, Z., Xu, L., & Yu, Z. (2015). Source identification of bacterial and viral pathogens and their survival/fading in the process of wastewater treatment, reclamation, and environmental reuse. World J Microbiol Biotechnol, 31(1), 109–120.

Zularisam, A. W., Ismail, A. F., & Salim, R. (2006). Behaviours of natural organic matter in membrane filtration for surface water treatment — A review. Desalination, 194(1-3), 211–231.
Acknowledgements
We thank Izmir Torbalı Organized Industrial Zone and especially T.Ö. Pek for the help in getting samples at wastewater treatment plant. Also, we acknowledge M. Hacifazlioğlu and I. Parlar for providing us with RO permeate and mixture of MBR + RO (2:1) samples from the pilot RO system for our analyses and N.J. Falizi for chemical analyses of water samples.
Funding
This research was funded by Türkiye Bilimsel ve Teknolojik Araştırma Kurumu (TUBITAK-Project No: 114Y500) in behalf of Prof. Kabay.
Additional information
Publisher's Note
Springer Nature remains neutral with regard to jurisdictional claims in published maps and institutional affiliations.
About this article
Cite this article
Vural, C., Topbaş, T., Dağlıoğlu, S.T. et al. Assessment of Microbial and Ecotoxicological Qualities of Industrial Wastewater Treated with Membrane Bioreactor (MBR) Process for Agricultural Irrigation. Water Air Soil Pollut 232, 442 (2021). https://doi.org/10.1007/s11270-021-05372-0
Received:

Accepted:

Published:
Keywords
Agricultural irrigation

Membrane bioreactor (MBR)

Reverse osmosis (RO)

Microbial quality

Toxicity

Wastewater reclamation and reuse