Abstract
17α-Ethynylestradiol (EE2) is a synthetic hormone that has become a widespread problem in the aquatic environments. The immunomodulatory effects of EE2 in fish have attracted much attention in recent years; however, little is known about its immunotoxicological impacts. This study was conducted to investigate the immune function of female Siamese fighting fish exposed to an environmental concentration of EE2, 10 ng/L. Aggressive reproductive behavior in this species often results in injuries to females after spawning, and thus they are a good candidate in immunotoxic actions of EE2. Fish were exposed to EE2 for 15 days and then distributed for breeding. Immune function, pathogen resistance, and survival rate were assessed after spawning. Immune responses including serum concentrations of IgM, lysozyme, complement, and bactericidal activity were lower in EE2-exposed females than the control fish. Also, EE2-exposed females showed higher mortality rate regardless of whether they were challenged with the bacterium. These results suggest that EE2 suppressed immune responses of spawned female fighting fish, thereby reducing its potential to resist against opportunistic pathogens.
Access options
Buy single article
Instant access to the full article PDF.
US$ 39.95
Tax calculation will be finalised during checkout.
Subscribe to journal
Immediate online access to all issues from 2019. Subscription will auto renew annually.
US$ 119
Tax calculation will be finalised during checkout.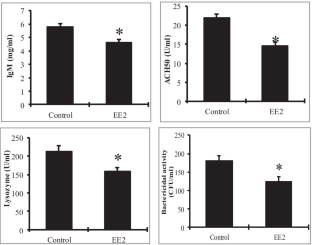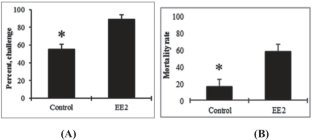 Data Availability
The datasets generated during and/or analyzed during the current study are available from the corresponding author on reasonable request.
Acknowledgements
authors are particularly grateful to the BettaGlory ornamental fish farm for providing the fish and space for the experiments.
Ethics declarations
Conflict of interest
The authors declare no competing interests.
Additional information
Publisher's Note
Springer Nature remains neutral with regard to jurisdictional claims in published maps and institutional affiliations.
Highlights
• Siamese fighting fish was used to determine immunotoxic impacts of 17α-ethynylestradiol (EE2).
• Females were exposed before spawning and their immune function assessed after spawning.
• Serum activity levels of immune parameters were declined in the EE2 exposed fish.
• EE2 exposed females showed lower resistance to the induced pathogen than the control fish.
• Post-spawning survival rate was decreased in the females exposed to EE2.
About this article
Cite this article
Forsatkar, M.N., Khoei, A.J., Heibatian, M. et al. Impact of 17α-Ethynylestradiol Increase on Post-Spawning Mortality in the Female Siamese Fighting Fish. Water Air Soil Pollut 232, 244 (2021). https://doi.org/10.1007/s11270-021-05203-2
Received:

Accepted:

Published:
Keywords
Toxicology

Estrogenic activity

Betta splendens

Immune function

Survival