Abstract
In the present study, laccase was immobilized over on activated carbon nanotubes (ACNTs) prepared from Prosopis juliflora bark (PJB) to improve good stability, reusability, and its adsorption performance of magenta dye. The immobilized laccase-ACNTs were characterized by scanning electron microscopy (SEM) and Fourier-transform infrared spectroscopy (FT-IR). The efficiency of magenta dye (MD) adsorption process was investigated in batch adsorption experiments. Response surface methodology (RSM)-based Box-Behnken design (BBD) was used to optimize the parameters, and the maximum MD adsorption was achieved around 95% at 120 min. The obtained results revealed that the immobilized laccase-ACNTs are a promising composite for degradation of textile dyes.
This is a preview of subscription content,
to check access.
Access this article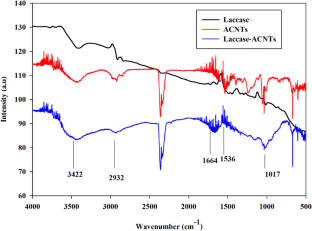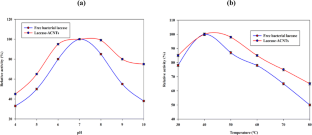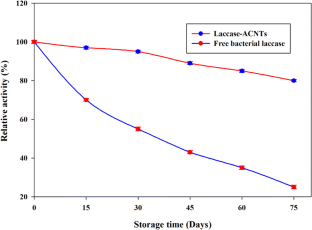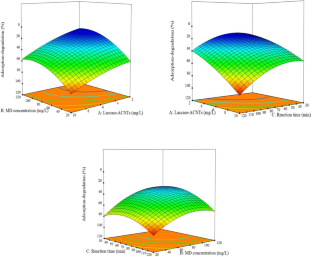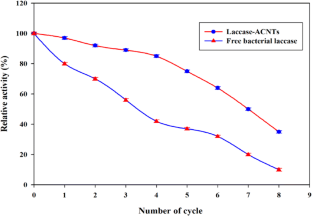 References
Barrios-Estrada, C., Rostro-Alanis, M. d. J., Parra, A. L., Belleville, M.-P., Sanchez-Marcano, J., Iqbal, H. M. N., & Parra-Saldívar, R. (2018). Potentialities of active membranes with immobilized laccase for Bisphenol A degradation. International Journal of Biological Macromolecules, 108, 837–844.

Bayramoglu, G., Karagoz, B., & Arica, M. Y. (2018). Cyclic-carbonate functionalized polymer brushes on polymeric microspheres: immobilized laccase for degradation of endocrine disturbing compounds. Journal of Industrial and Engineering Chemistry, 60, 407–417.

Bilal, M., Iqbal, H. M. N., Shah, S. Z. H., Hu, H., Wang, W., & Zhang, X. (2016). Horseradish peroxidase-assisted approach to decolorize and detoxify dye pollutants in a packed bed bioreactor. Journal of Environmental Management, 183, 836–842.

Bilal, M., Asgher, M., Parra-Saldivar, R., Hu, H., Wang, W., Zhang, X., & Iqbal, H. M. (2017). Immobilized ligninolytic enzymes: an innovative and environmental responsive technology to tackle dye-based industrial pollutants. Sci. Total Environ, 576, 646–659.

Bilal, M., Asgher, M., Cheng, H., Yan, Y., & Iqbal, H. M. N. (2019). Multi-point enzyme immobilization, surface chemistry, and novel platforms: a paradigm shift in biocatalyst design. Critical Reviews in Biotechnology, 39(2), 202–219.

Bronikowski, A., Hagedoorn, P. L., Koschorreck, K., & Urlacher, V. B. (2017). Expression of a new laccase from Moniliophthora roreri at high levels in Pichia pastoris and its potential application in micropollutant degradation. AMB Express, 73, 1–13.

Damasceno, G. A. B., Ferrari, M., & Giordani, R. B. (2017). Prosopis juliflora (SW) D. C., an invasive species at the Brazilian Caatinga: phytochemical, pharmacological, toxicological and technological overview. Phytochemistry Reviews, 16, 309–331.

Dave, P. N., & Bhandari, J. (2013). Prosopis julifera: a review. Int. J. Chem. Stud, 1(3), 181–196.

Henrikki, S. M., Muhammad, F., Jari, K., Alessandro, P., Jani, S., & Monika, S. (2018). Spatially confined lignin nanospheres for biocatalytic ester synthesis in aqueous media. Nature Communications, 9(1), 2300.

Hu, X., Zhao, X., & Hwang, H.-M. (2007). Comparative study of immobilized Trametes versicolor laccase on nanoparticles and kaolinite. Chemosphere., 66, 1618–1626.

Iark, D., dos Reis Buzzo, A. J., Garcia, J. A. A., Correa, V. G., Helm, C. V., Correa, R. C. G., & Peralta, R. M. (2019). Enzymatic degradation and detoxification of azo dye Congo red by a new laccase from Oudemansiella canarii. Bioresource Technology, 289, 121655.

Kadam, A. A., Jang, J., & Lee, D. (2017). Supermagnetically tuned halloysite nanotubes functionalized with aminosilane for covalent laccase immobilization. ACS Appl. Mater. Inerfaces, 9(18), 15492–15501.

Kato, K., Inukai, K., Fujikura, K., & Kasuga, T. (2014). Effective encapsulation of laccase in an aluminium silicate nanotube hydrogel. New Journal of Chemistry, 38, 3591–3599.

Khan, M., Husain, Q., & Bushra, R. (2017). Immobilization of β-galactosidase on surface modified cobalt/multiwalled carbon nanotube nanocomposite improves enzyme stability and resistance to inhibitor. International Journal of Biological Macromolecules, 105, 693–701.

Maruthanayagam, A., Mani, P., Kaliappan, K., & Chinnappan, S. (2020). In-vitro and in silico studies on the removal of methyl orange from aqueous solution using Oedogonium subplagiostomum AP1. Water, Air, and Soil Pollution, 231(5).

Nguyen, L. N., Hai, F. I., Dosseto, A., Richardson, C., Price, W. E., & Nghiem, L. D. (2016). Continuous adsorption and biotransformation of micropollutants by granular activated carbon-bound laccase in a packed-bed enzyme reactor. Bioresource Technology, 210, 108–116.

Othman, A. M., Gonzalez-Dominguez, E., Sanroman, A., Correa-Duarte, M., & Moldes, D. (2016). Immobilization of laccase on functionalized multiwalled carbon nanotube membranes and application for dye decolorization. RSC Advances, 6(115), 114690–114697.

Rodrigues, R. C., Ortiz, C., Berenguer-Murcia, A., Torres, R., & Fernandez-Lafuente, R. (2013). Modifying enzyme activity and selectivity by immobilization. Chemical Society Reviews, 42(15), 6290–6307.

Sathishkumar, P., Kamala-Kannan, S., Cho, M., Kim, J. S., Hadibarata, T., Salim, M. R., & Oh, B.-T. (2014). Laccase immobilization on cellulose nanofiber: the catalytic efficiency and recyclic application for simulated dye effluent treatment. Journal of Molecular Catalysis B: Enzymatic, 100, 111–120.

Selvam, K., Govarthanan, M., Kamala-Kannan, S., Govindharaju, M., Senthilkumar, B., Selvankumar, T., & Sengottaiyan, A. (2014). Process optimization of cellulase production from alkali-treated coffee pulp and pineapple waste using Acinetobacter sp. TSK-MASC. RSC Adv, 4(25), 13045–11305.

Shao, Y. M., Zhou, L. C., Bao, C., MaJ, J., Liu, M. Z., & Wang, F. (2016). Magnetic responsive metal–organic frameworks nanosphere with core-shell structure for highly efficient removal of methylene blue. Chemical Engineering Journal, 283, 1127–1136.

Shi, L., Ma, F., Han, Y., Zhang, X., & Yu, H. (2014). Removal of sulfonamide antibiotics by oriented immobilized laccase on Fe3O4 nanoparticles with natural mediators. Journal of Hazardous Materials, 279, 203–211.

Taghizadeh, T., Talebian-Kiakalaieh, A., Jahandar, H., Amin, M., Tarighi, S., & Faramarzi, M. A. (2020). Biodegradation of bisphenol A by the immobilized laccase on some synthesized and modified forms of zeolite Y. Journal of Hazardous Materials, 386, 121950.

Taheran, M., Naghdi, M., Brar, S. K., Knystautas, E. J., Verma, M., & Surampalli, R. Y. (2017). Degradation of chlortetracycline using immobilized laccase on polyacrylonitrile-biochar composite nanofibrous membrane. Sci. Total Environ, 605-606, 315–321.

Thiyagarajan, P., Sengottaiyan, A., Selvam, K., Sudhakar, C., Ashraf, Y., Khalifa, Z., & Aroulmoji, V. (2020). Biodegradation of acid yellow using laccase produced by Bacillus sp. strain TR and its in-silico modeling of the dye degradation system. International Journal of Peptide Research and Therapeutics. https://doi.org/10.1007/s10989-019-10005-6.

Tkaczyk, A., Mitrowska, K., & Posyniak, A. (2020). Synthetic organic dyes as contaminants of the aquatic environment and their implications for ecosystems: a review. Sci. Total Environ, 717, 137222.

Xia, T. T., Liu, C. Z., Hu, J. H., & Guo, C. (2016). Improved performance of immobilized laccase on amine-functioned magnetic Fe3O4 nanoparticles modified with polyethylenimine. Journal of Chemical Engineering, 295, 201–206.

Xu, R., Tang, R. Z., Zhou, Q. J., Li, F. T., & Zhang, B. R. (2015). Enhancement of catalytic activity of immobilized laccase for diclofenac biodegradation by carbon nanotubes. Chemical Engineering Journal, 262, 88–95.

Yuan, L.-Y., Liu, Y.-L., Shi, W.-Q., Li, Z., Lan, J.-H., Feng, Y.-X., & Chai, Z.-F. (2012). A novel mesoporous material for uranium extraction, dihydroimidazole functionalized SBA-15. Journal of Materials Chemistry, 22(33), 17019.

Zdarta, J., Antecka, K., Frankowski, R., Zgołagrzeskowiak, A., Ehrlich, H., & Jesionowski, T. (2018). The effect of operational parameters on the biodegradation of bisphenols by Trametes versicolor laccase immobilized on Hippospongia communis spongin scaffolds. Sci. Total Environ, 615, 784–795.
Ethics declarations
Conflict of Interest
The authors declare that they have no conflict of interest.
Additional information
Publisher's Note
Springer Nature remains neutral with regard to jurisdictional claims in published maps and institutional affiliations.
About this article
Cite this article
Thiyagarajan, P., Selvam, K., Sudhakar, C. et al. Enhancement of Adsorption of Magenta Dye by Immobilized Laccase on Functionalized Biosynthesized Activated Carbon Nanotubes. Water Air Soil Pollut 231, 364 (2020). https://doi.org/10.1007/s11270-020-04737-1
Received:

Accepted:

Published:

DOI: https://doi.org/10.1007/s11270-020-04737-1
Keywords