Abstract
It is traditionally accepted that urban vegetation contributes to improve air quality by intercepting and retaining the particulate matter. Although the mitigating role of plants has been recognized by several studies, the role of individual species is still poorly understood. This is particularly important in cities like Santiago (Chile), which has high levels of atmospheric particulate and also has high plant species diversity. In this study, we evaluated the retention of atmospheric particles by three widely distributed ornamental species (Nerium oleander, Pittosporum tobira, and Ligustrum lucidum) in Santiago. For this proposal, we took leaf samples in different sampling points across the city which vary in their concentration of atmospheric particulate. Samples were taken 12 and 16 days after a rainfall episode that washed the leaves of plants in the sampling sites. In the laboratory, leaves were washed to recover the surface retained particles that were collected to determine its mass gravimetrically. With this information, we estimated the foliar retention (mass of particulate matter retained in the foliar surface) and daily retention efficiency (mass of particulate matter retained in the foliar surface per day). We found that foliar retention and daily retention efficiency varied significantly between the studied species. The leaves of N. oleander retained 8.2 g m−2 of particulate matter on average, those of P. tobira 6.1 g m−2, and those of L. lucidum 3.9 g m−2; meanwhile, the daily retention efficiencies of particulate matter were 0.6, 0.4, and 0.3 g m−2 day−1 for N. oleander, P. tobira, and L. lucidum, respectively. These results suggest that the studied species retain atmospheric particulate matter differentially in Santiago. These results can be attributed to differences on leaf surface characteristics. The recognition of the most efficient species in the retention of the atmospheric particulate matter can help to decide which species can be used to improve the air quality in the city.
This is a preview of subscription content, log in to check access.
Access options
Buy single article
Instant access to the full article PDF.
US$ 39.95
Price includes VAT for USA
Subscribe to journal
Immediate online access to all issues from 2019. Subscription will auto renew annually.
US$ 199
This is the net price. Taxes to be calculated in checkout.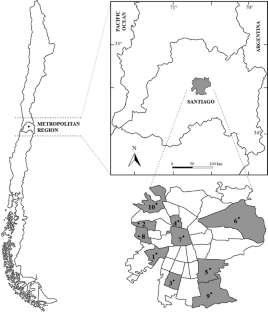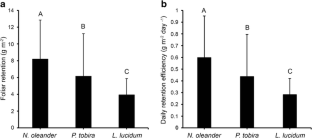 References
Bealey, W. J., McDonald, A. G., Nemitz, E., Donovan, R., Dragosits, U., Duffy, T. R., & Fowler, D. (2007). Estimating the reduction of urban PM10 concentration by trees within an environmental information system for planners. Journal of Environmental Management, 85, 44–58.

Beckett, K. P., Freer-Smith, P. H., & Taylor, G. (2000). The capture of particulate pollution by trees at five contrasting urban sites. Arboricultural Journal: The International Journal of Urban Forestry, 24, 209–230.

Bernstein, J. A., Alexis, N., Barnes, C., Bernstein, I. L., Bernstein, J. A., Nel, A., et al. (2004). Health effects of air pollution. Journal of Allergy and Clinical Immunology, 114, 1116–1123.

Escobedo, F. J., Wagner, J. E., Nowak, D. J., De la Maza, C. L., Rodriguez, M., & Crane, D. E. (2008). Analyzing the cost effectiveness of Santiago, Chile's policy of using urban forests to improve air quality. Journal of Environmental Management, 86, 148–157.

Escobedo, F. J., & Nowak, D. J. (2009). Spatial heterogeneity and air pollution removal by an urban forest. Landscape and Urban Planning, 90, 102–110.

Escobedo, F. J., Kroeger, T., & Wagner, J. E. (2011). Urban forests and pollution mitigation: analyzing ecosystem services and disservices. Environmental Pollution, 159, 2078–2087.

Figueroa, J. A., Teillier, S., Guerrero, N., Ray, C., Rivano, S., Saavedra, D., & Castro, S. A. (2016). Vascular flora in public spaces of Santiago, Chile. Gayana Botánica, 73, 44–69.

Garreaud, R. D., & Rutllant, J. A. (2006). Factores meteorológicos de la contaminación atmosférica. In R. Morales (Ed.), Contaminación atmosférica urbana: Episodios críticos de contaminación ambiental en la ciudad de Santiago (pp. 35–54). Santiago: Colección de Química Ambiental, Editorial Universitaria.

Gurjar, B. R., Butler, T. M., Lawrence, M. G., & Lelieveld, J. (2008). Evaluation of emissions and air quality in megacities. Atmospheric Environment, 42, 1593–1606.

Hertel, O., & Goodsite, M.E. (2009). Urban air pollution climates throughout the world. In: Hester, R.E., Harrison, R.M. (Eds.), Air quality in urban environments (pp. 1–22). Issues in: Environmental Science and Technology, Vol. 28, Royal Society of Chemistry, Cambridge.

Instituto Nacional de Estadísticas (INE). (2015). Comunas: actualization de poblation 2002–2012 and proyections 2013–2020. Productos estadísticos demografía. Disponible en: http://www.ine.cl/canales/chile_estadistico/familias/demograficas_vitales.php.

Jimoda, L. A. (2012). Effects of particulate matter on human health, the ecosystem, climate and materials: a review. Facta Universitatis, 9, 27–44.

Leung, D. Y. C., Tsui, J. K. Y. D., Chen, F., Yip, W., Vrijmoed, L. L. P., & Liu, C. (2011). Effects of urban vegetation on urban air quality. Landscape Research, 36, 173–188.

Liu, L., Guan, D., & Peart, M. R. (2012). The morphological structure of leaves and the dust-retaining capability of afforested plants in urban Guangzhou, South China. Environmental Science and Pollution Research, 19, 3440–3449.

Luebert, F., & Pliscoff, P. (2006). Sinopsis bioclimática y vegetacional de Chile. Chile: Colección Biodiversidad, Editorial Universitaria.

Nowak, D. J., Crane, D. E., & Stevens, J. C. (2006). Air pollution removal by urban trees and shrubs in the United States. Urban Forestry & Urban Greening, 4, 115–123.

Nowak, D. J., Hirabayashi, S., Bodine, A., & Greenfield, E. (2014). Tree and forest effects on air quality and human health in the United States. Environmental Pollution, 193, 119–129.

Pal, A., Kulshreshtha, K., Ahmad, K.J., Behl, H.M. (2002). Do leaf surface characters play a role in plant resistance to auto-exhaust pollution? Flora, 197, 47–55.

Polunin, O. (1991). Trees and bushes of Europe. Editorial Omega.

Prusty, B. A. K., Mishra, P. C., & Azeez, P. A. (2005). Dust accumulation and leaf pigment content in vegetation near the national highway at Sambalpur, Orissa, India. Ecotoxicology and Environmental Safety, 60, 228–235.

Qiu, Y., Dongsheng, G., Song, W., & Huang, K. (2009). Capture of heavy metals and sulfur by foliar dust in urban Huizhou, Guangdong Province, China. Chemosphere, 75, 447–452.

Reyes, S., & Figueroa, I. M. (2010). Distribución, superficie y accesibilidad de las áreas verdes en Santiago de Chile. Revista de Estudios Urbanos Regionales, 36, 89–110.

Saebo, A., Popek, R., Nawrot, B., Hanslin, H. M., Gawronska, H., & Gawronski, S. W. (2012). Plant species differences in particulate matter accumulation on leaf surfaces. Science of the Total Environment, 427–428, 347–354.

Sistema de Información Nacional de Calidad del Aire (SINCA). (2014). Ministerio del Medio Ambiente, Gobierno de Chile. Servicio online disponible en: http://sinca.mma.gob.cl/ [último acceso 28-11-2014].

Sistema Nacional de Información Ambiental (SINIA). (2010). Plan de Prevención y Descontaminación de la Región Metropolitana. Ministerio del Medio Ambiente, Gobierno de Chile. Disponible en: http://www.sinia.cl/1292/w3-article-39262.html.

Wang, Y. C. (2011). Carbon sequestration and foliar dust retention by woody plants in the greenbelts along two major Taiwan highways. Annals of Applied Biology, 159, 244–251.

Wang, H., Shi, H., & Li, Y. (2011). Leaf dust capturing capacity of urban greening plant species in relation to leaf micromorphology. International Symposium on Water Resource and Environmental Protection, 3, 2198–2201.

Wang, H., Shi, H., Li, Y., Yu, Y., & Zhang, J. (2013). Seasonal variations in leaf capturing of particular matter, surface wettability and micromorphology in urban tree species. Frontiers of Environmental Science and Engineering, 7, 579–588.

Wang, H., Shi, H., & Wang, Y. (2015). Effects of weather, time and pollution level on the amount of particulate matter deposited on leaves of Ligustrum lucidum. Scientific World Journal, 2015, 935–942.

World Health Organization (WHO). (2016). Ambient Air Pollution Database. Available at: http://www.who.int/phe/health_topics/outdoorair/databases/cities/en/

Yang, J., McBride, J., Zhou, J., & Sun, Z. (2005). The urban forest in Beijing and its role in air pollution reduction. Urban Forestry & Urban Greening, 3, 65–78.
Acknowledgments
The authors gratefully acknowledge the support of the Center for the Development of Nanoscience and Nanotechnology, CEDENNA FB0807 – Line 6, DICYT 021543CM, USA 1498.04 and CORFO 13IDL2-18665.
About this article
Cite this article
Guerrero-Leiva, N., Castro, S.A., Rubio, M.A. et al. Retention of Atmospheric Particulate by Three Woody Ornamental Species in Santiago, Chile. Water Air Soil Pollut 227, 435 (2016). https://doi.org/10.1007/s11270-016-3124-4
Received:

Accepted:

Published:
Keywords
Atmospheric particulate

Daily retention efficiency

Foliar retention

Mitigation

PM10

Urban trees