Abstract
Textile dyes and antibiotics are two main classes of environmental pollutants which could be found in soil and water. Those persistent pollutants can have a negative influence on plant growth and development and affect the level of secondary metabolites. In the present work, we studied the effect of textile dyes and antibiotics on total leaf flavonoid contents in wheat (Triticum aestivum L.). Contaminant solutions were applied daily using concentrations of 0.5 mg L−1 (lower) and 1.5 mg L−1 (higher dose) for either 1 or 2 weeks. We observed that exposure to the higher concentration of textile dyes resulted in a reduction in flavonoid content while antibiotics enhanced flavonoid contents at lower doses of exposure and reduced at higher doses of exposure. These results suggest that diffuse chronic pollution by artificial organic contaminants can importantly alter antioxidative capacity of plants.
Access options
Buy single article
Instant access to the full article PDF.
US$ 39.95
Tax calculation will be finalised during checkout.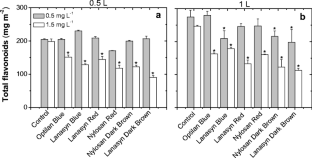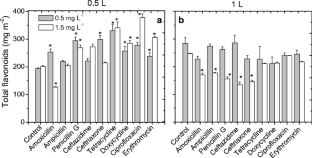 References
Agati, G., Azzarello, E., Pollastri, S., & Tattini, M. (2012). Flavonoids as antioxidants in plants: location and functional significance. Plant Science, 196, 67–76.

Andersen, Ø. M., & Markham, K. R. (2006). Flavonoids—chemistry, biochemistry and applications. Boca Raton: CRC Press Taylor & Francis Group.

Aristilde, L., Melis, A., & Sposito, G. (2010). Inhibition of photosynthesis by a fluoroquinolone antibiotic. Environmental Science & Technology, 44(4), 1444–1450.

Brunetti, C., Guidi, L., Sebastiani, F., & Tattini, M. (2015). Isoprenoids and phenylpropanoids are key components of the antioxidant defense system of plants facing severe excess light stress. Environmental and Experimental Botany, 119, 54–62.

Clemens, S., Palmgren, M. G., & Kramer, U. (2002). A long way ahead: understanding and engineering plant metal accumulation. Trends in Plant Science, 7(7), 309–315.

Copaciu, F., Coman, V., Simedru, D., Beldean-Galea, S., Opriş, O., & Ristoiu, D. (2013a). Determination of two textile dyes in wastewater by solid phase extraction and liquid chromatography/electrospray ionization tandem mass spectrometry analysis. Journal of Liquid Chromatography & Related Technologies, 36(12), 1646–1660.

Copaciu, F., Opriş, O., Coman, V., Ristoiu, D., Niinemets, Ü., & Copolovici, L. (2013b). Diffuse water pollution by anthraquinone and azo dyes in environment importantly alters foliage volatiles, carotenoids and physiology in wheat (Triticum aestivum). Water, Air, and Soil Pollution, 224(3), 1478–1489.

Di Ferdinando, M., Brunetti, C., Fini, A., & Tattini, M. (2012). Flavonoids as antioxidants in plants under abiotic stresses. In P. Ahmad & M. N. V. Prasad (Eds.), Abiotic stress responses in plants: metabolism, productivity and sustainability (pp. 159–179). New York: Springer.

Dolliver, H., Kumar, K., & Gupta, S. (2007). Sulfamethazine uptake by plants from manure-amended soil. Journal of Environmental Quality, 36(4), 1224–1230.

Edwards, L. C., Freeman, H. S., & Claxton, L. D. (2004). Developing azo and formazan dyes based on environmental considerations: Salmonella mutagenicity. Mutation Research, 546(1–2), 17–28.

Epolito, W. J., Lee, Y. H., Bottomley, L. A., & Pavlostathis, S. G. (2005). Characterization of the textile anthraquinone dye Reactive Blue 4. Dyes and Pigments, 67(1), 35–46.

Esteban, R., Fernando, M. J., Maria Becerril, J., & Garcia-Plazaola, I. J. (2015). Versatility of carotenoids: an integrated view on diversity, evolution, functional roles and environmental interactions. Environmental and Experimental Botany, 119, 63–75.

Field, C. B., Campbell, J. E., & Lobell, D. B. (2008). Biomass energy: the scale of the potential resource. Trends in Ecology & Evolution, 23(2), 65–72.

Fischbach, R. J., Kossmann, B., Panten, H., Steinbrecher, R., Heller, W., Seidlitz, H. K., et al. (1999). Seasonal accumulation of ultraviolet-B screening pigments in needles of Norway spruce (Picea abies (L.) Karst.). Plant, Cell and Environment, 22(1), 27–37.

Garg, V. K., & Kaushik, P. (2008). Influence of textile mill wastewater irrigation on the growth of sorghum cultivars. Applied Ecology and Environmental Research, 6(1), 1–12.

Hamada, A. M. (2001). Alteration in growth and some relevant metabolic processes of broad bean plants during extreme temperatures exposure. Acta Physiologiae Plantarum, 23(2), 193–200.

Havaux, M., & Kloppstech, K. (2001). The protective functions of carotenoid and flavonoid pigments against excess visible radiation at chilling temperature investigated in Arabidopsis npq and tt mutants. Planta, 213(6), 953–966.

Imran, M., Shaharoona, B., Crowley, D. E., Khalid, A., Hussain, S., & Arshad, M. (2015). The stability of textile azo dyes in soil and their impact on microbial phospholipid fatty acid profiles. Ecotoxicology and Environmental Safety, 120, 163–168.

Jjemba, P. K. (2002). The potential impact of veterinary and human therapeutic agents in manure and biosolids on plants grown on arable land: a review. Agriculture Ecosystems & Environment, 93(1), 267–278.

Jozefczak, M., Remans, T., Vangronsveld, J., & Cuypers, A. (2012). Glutathione is a key player in metal-induced oxidative stress defenses. International Journal of Molecular Sciences, 13(3), 3145–3175.

Katoh, T., Kasuya, M., Kagamimori, S., Kozuka, H., & Kawano, S. (1989). Inhibition of the shikimate pathway in the leaves of vascular plants exposed to air pollution. New Phytologist, 112(3), 363–367.

Kaushik, P., Garg, V. K., & Singh, B. (2005). Effect of textile effluents on growth performance of wheat cultivars. Bioresource Technology, 96(10), 1189–1193.

Kaya, A., Yigit, E., & Akbulut, G. B. (2012). The effects of reactive black 5 textile dye on peroxidase activity, lipid peroxidation and total chlorophyll concentration of Phaseolus Vulgaris L. Cv. "Gina". Fresenius Environmental Bulletin, 21(1), 54–60.

Kholodova, V., Volkov, K., Abdeyeva, A., & Kuznetsov, V. (2011). Water status in Mesembryanthemum crystallinum under heavy metal stress. Environmental and Experimental Botany, 71(3), 382–389.

Kondo, T., Yoshida, K., Nakagawa, A., Kawai, T., Tamura, H., & Goto, T. (1992). Structural basis of blue-color development in flower petals from Commelina communis. Nature, 358, 515–518.

Landi, M., Tattini, M., & Gould, K. S. (2015). Multiple functional roles of anthocyanins in plant-environment interactions. Environmental and Experimental Botany, 119, 4–17.

Lavola, A. (1998). Accumulation of flavonoids and related compounds in birch induced by UV-B irradiance. Tree Physiology, 18(1), 53–58.

Lavola, A., Julkunen-Tiitto, R., & Pääkkönen, E. (1994). Does ozone stress change the primary or secondary metabolites of birch (Betula pendula Roth.)? New Phytologist, 126(4), 637–642.

Lee, Y. H., & Pavlostathis, S. G. (2004). Decolorization and toxicity of reactive anthraquinone textile dyes under methanogenic conditions. Water Research, 38(7), 1838–1852.

Li, B., Zhang, T., Xu, Z., & Fang, H. H. P. (2009). Rapid analysis of 21 antibiotics of multiple classes in municipal wastewater using ultra performance liquid chromatography-tandem mass spectrometry. Analytica Chimica Acta, 645(1–2), 64–72.

Liu, L., Gitz, D. C., & McClure, J. W. (1995). Effects of UV-B on flavonoids, ferulic acid, growth and photosynthesis in barley primary leaves. Physiologia Plantarum, 93(4), 725–733.

Loreti, E., Povero, G., Novi, G., Solfanelli, C., Alpi, A., & Perata, P. (2008). Gibberellins, jasmonate and abscisic acid modulate the sucrose-induced expression of anthocyanin biosynthetic genes in Arabidopsis. New Phytologist, 179(4), 1004–1016.

Martinez, J. L. (2009). Environmental pollution by antibiotics and by antibiotic resistance determinants. Environmental Pollution, 157(11), 2893–2902.

Martínez-Carballo, E., González-Barreiro, C., Scharf, S., & Gans, O. (2007). Environmental monitoring study of selected veterinary antibiotics in animal manure and soils in Austria. Environmental Pollution, 148, 570–579.

Mierziak, J., Kostyn, K., & Kulma, A. (2014). Flavonoids as important molecules of plant interactions with the environment. Molecules, 19(10), 16240–16265.

Migliore, L., Brambilla, G., Casoria, P., Civitareale, C., Cozzolino, S., & Gaudio, L. (1996). Effect of sulphadimethoxine contamination on barley (Hordeum distichum L., Poaceae, Liliopsida). Agriculture, Ecosystems & Environment, 60(2–3), 121–128.

Migliore, L., Cozzolino, S., & Fiori, M. (2003). Phytotoxicity to and uptake of enrofloxacin in crop plants. Chemosphere, 52(7), 1233–1244.

Mittler, R. (2006). Abiotic stress, the field environment and stress combination. Trends in Plant Science, 11(1), 15–19.

Moawad, H., Abd El-Rahim, W. M., & Khalafallah, M. (2003). Evaluation of biotoxicity of textile dyes using two bioassays. Journal of Basic Microbiology, 43(3), 218–229.

Myhrstad, M. C., Carlsen, H., Nordström, O., Blomhoff, R., & Moskaug, J. Ø. (2002). Flavonoids increase the intracellular glutathione level by transactivation of the gamma-glutamylcysteine synthetase catalytical subunit promoter. Free Radical Biology & Medicine, 32, 386–393.

Nakabayashi, R., & Saito, K. (2015). Integrated metabolomics for abiotic stress responses in plants. Current Opinion in Plant Biology, 24, 10–16.

Neill, S. O., Gould, K. S., Kilmartin, P. A., Mitchell, K. A., & Markham, K. R. (2002). Antioxidant activities of red versus green leaves in Elatostema rugosum. Plant, Cell & Environment, 25(4), 539–547.

Nilratnisakorn, S., Thiravetyan, P., & Nakbanpote, W. (2007). Synthetic reactive dye wastewater treatment by narrowleaved cattails (Typha angustifolia Linn.): effects of dye, salinity and metals. Science of the Total Environment, 384(1–3), 67–76.

Nogués, S., & Baker, N. R. (2000). Effects of drought on photosynthesis in Mediterranean plants grown under enhanced UV-B radiation. Journal of Experimental Botany, 51(348), 1309–1317.

Opriş, O., Copaciu, F., Coman, V., & Ristoiu, D. (2011). UV–vis study regarding the influence of two potential environmental pollutants on the total flavonoid content in Triticum aestivum L. and Secale cereale L. Studia Universitatis Babes-Bolyai, Chemia, 56(4), 17–25.

Opriş, O., Soran, M. L., Coman, V., Copaciu, F., & Ristoiu, D. (2013a). Determination of some frequently used antibiotics in waste waters using solid phase extraction followed by high performance liquid chromatography with diode array and mass spectrometry detection. Central European Journal of Chemistry, 11(8), 1343–1351.

Opriş, O., Copaciu, F., Soran, M. L., Ristoiu, D., Niinemets, Ü., & Copolovici, L. (2013b). Influence of nine antibiotics on key secondary metabolites and physiological characteristics in Triticum aestivum: leaf volatiles as a promising new tool to assess toxicity. Ecotoxicology and Environmental Safety, 87, 70–79.

Pan, X., Deng, C., Zhang, D., Wang, J., Mu, G., & Chen, Y. (2008). Toxic effects of amoxicillin on the photosystem II of Synechocystis sp. characterized by a variety of in vivo chlorophyll fluorescence tests. Aquatic Toxicology, 89(4), 207–213.

Pedras, M. S., & Yaya, E. E. (2015). Plant chemical defenses: are all constitutive antimicrobial metabolites phytoanticipins? Natural Product Communications, 10(1), 209–218.

Petrussa, E., Braidot, E., Zancani, M., Peresson, C., Bertolini, A., Patui, S., & Vianello, A. (2013). Plant flavonoids—biosynthesis, transport and involvement in stress responses. International Journal of Molecular Sciences, 14, 14950–14973.

Petry, R. D., Ortega, G. G., & Silva, W. B. (2001). Flavonoid content assay: influence of the reagent concentration and reaction time on the spectrophotometric behavior of the aluminium chloride-flavonoid complex. Pharmazie, 56(6), 465–470.

Pietrini, F., Iannelli, M. A., & Massacci, A. (2002). Anthocyanin accumulation in the illuminated surface of maize leaves enhances protection from photo-inhibitory risks at low temperature, without further limitation to photosynthesis. Plant, Cell & Environment, 25(10), 1251–1259.

Puvaneswari, N., Muthukrishnan, J., & Gunasekaran, P. (2006). Toxicity assessment and microbial degradation of azo dyes. Indian Journal of Experimental Biology, 44, 618–626.

Romanian Pharmacopoeia (1993) Xth edition. Medical Publishing House, Bucharest.

Saewan, N., & Jimtaisong, A. (2013). Photoprotection of natural flavonoids. Journal of Applied Pharmaceutical Science, 3, 129–141.

Samanta, A., Das, G., & Das, S. K. (2011). Roles of flavonoids in plants. International Journal of Pharmaceutical Science and Technology, 6(1), 12–35.

Saniewski, M., Miszczak, A., Kawa-Miszczak, L., Wegrzynowicz-Lesiak, E., Miyamoto, K., & Ueda, J. (1998). Effects of methyl jasmonate on anthocyanin accumulation, ethylene production, and CO2 evolution in uncooled and cooled tulip bulbs. Journal of Plant Growth Regulation, 17(1), 33–37.

Seifrtová, M., Nováková, L., Lino, C., Pena, A., & Solich, P. (2009). An overview of analytical methodologies for the determination of antibiotics in environmental waters. Analytica Chimica Acta, 649(2), 158–179.

Sisa, M., Bonnet, S. L., Ferreira, D., & Van der Westhuizen, J. H. (2010). Photochemistry of flavonoids. Molecules, 15, 5196–5245.

Takahashi, A., Takeda, K., & Ohnishi, T. (1991). Light-induced anthocyanin reduces the extent of damage to DNA in UV-irradiated Centaurea cyanus cells in culture. Plant and Cell Physiology, 32(4), 541–547.

Tamtam, F., Mercier, F., Le Bot, B., Eurin, J., Dinh, Q. T., Clément, M., et al. (2008). Occurrence and fate of antibiotics in the Seine Riverin various hydrological conditions. Science of the Total Environment, 393(1), 84–95.

Umbuzeiro, G. A., Freeman, H. S., Warren, S. H., Oliveira, D. P., Terao, Y., Watanabe, T., et al. (2005). The contribution of azo dyes to the mutagenic activity of the Cristais River. Chemosphere, 60(1), 55–64.

Wojnárovits, L., & Takács, E. (2008). Irradiation treatment of azo dye containing wastewater: an overview. Radiation Physics and Chemistry, 77(3), 225–244.

Xie, X., Zhou, Q., Lin, D., Guo, J., & Bao, Y. (2011). Toxic effect of tetracycline exposure on growth, antioxidative and genetic indices of wheat (Triticum aestivum L.). Environmental Science and Pollution Research, 18(4), 566–575.

Yaronskaya, E. B., Gritskevich, E. R., Trukhanovets, N. L., & Averina, N. G. (2007). Effect of kinetin on early stages of chlorophyll biosynthesis in streptomycin-treated barley seedlings. Russian Journal of Plant Physiology, 54(3), 388–395.

Zadoks, J. C., Chang, T. T., & Konzak, D. F. (1974). A decimal code for the growth stages of cereals. Weed Research, 14, 415–421.
Acknowledgments
Funding for this study has been provided by the Estonian Ministry of Science and Education (institutional grant IUT-8-3), the European Commission through the European Regional Development Fund (Centre of Excellence EcolChange), the European Research Council (advanced grant 322603, SIP-VOL+), and the European Commission and the Romanian Government (project POSCCE 621/2014).
About this article
Cite this article
Copaciu, F., Opriş, O., Niinemets, Ü. et al. Toxic Influence of Key Organic Soil Pollutants on the Total Flavonoid Content in Wheat Leaves. Water Air Soil Pollut 227, 196 (2016). https://doi.org/10.1007/s11270-016-2888-x
Received:

Accepted:

Published:
Keywords
Antibiotics residues

Textile dyes

Abiotic stress

Environmental pollutants

Flavonoids

Triticum aestivum