Abstract
In this study, adsorption and biodegradation were exploited sequentially to remove the herbicide fenuron, the insecticide carbaryl and the estrogens 17β-estradiol (E2) and 4-tert-octylphenol (OP) from a municipal landfill leachate (MuLL). In the first step, we used spent coffee grounds, almond shells, a biochar and potato dextrose agar to adsorb the compounds spiked in MuLL at a concentration of 1 mg L−1. After only 3 days, any adsorbent removed from MuLL the totality of E2 and OP, averagely more than 95 % of carbaryl and 62 % of fenuron (81 % after 7 days). In the second step, the adsorbents collected from MuLL after 7 days were inoculated with the fungi Bjerkandera adusta and Irpex lacteus, separately. After 7 days, the maximum degradation occurred for OP in any treatment being averagely 78 and 74 % using B. adusta and I. lacteus, respectively. After 15 days, the average percentages of fenuron, carbaryl, E2 and OP degraded were, respectively, 75, 76, 88 and 88 % using B. adusta, and 74, 79, 85 and 89 % using I. lacteus. Residual estrogenicity in the adsorbents, tested with the recombinant yeast assay, was strictly related to residual E2, thus indicating a negligible contribution from the other contaminants and/or degradation products. The 7-day treatment of MuLL with the adsorbents caused a significant abatement of MuLL phytotoxicity on flax (2.5 times seedling elongation with coffee grounds, compared to MuLL) and a huge stimulation of rapeseed respect to water (biomass almost doubled), thus suggesting a possible worthwhile recycling of this wastewater in agriculture.
Access options
Buy single article
Instant access to the full article PDF.
USD 39.95
Price excludes VAT (USA)
Tax calculation will be finalised during checkout.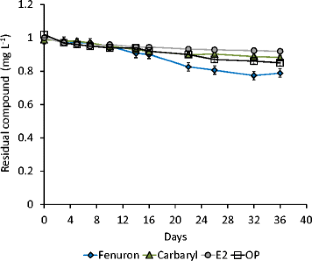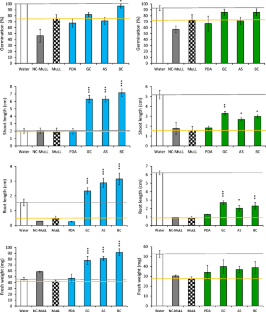 References
Ahel, M., Giger, W., & Schaffner, C. (1994). Behaviour of alkylphenol polyethoxylate surfactants in the aquatic environment—II. Occurrence and transformation in rivers. Water Research, 28, 1143–1152.

Ali, I. (2010). The quest for active carbon adsorbent substitutes: inexpensive adsorbents for toxic metal ions removal from wastewater. Separation and Purification Reviews, 39, 95–171.

Ali, I. (2012). New generation adsorbents for water treatment. Chemical Reviews, 112, 5073–5091.

Ali, I. (2014). Water treatment by adsorption columns: evaluation at ground level. Separation and Purification Reviews, 43, 175–205.

Ali, I., & Gupta, V. K. (2007). Advances in water treatment by adsorption technology. Nature Protocols, 1, 2661–2667.

Ali, I., Asim, M., & Khan, T. A. (2012). Low cost adsorbents for the removal of organic pollutants from wastewater. Journal of Environmental Management, 113, 170–183.

Bending, G. D., Friloux, M., & Walker, A. (2002). Degradation of contrasting pesticides by white rot fungi and its relationship with ligninolytic potential. FEMS Microbiology Letters, 212, 59–63.

Bhatnagar, A., & Sillanpää, M. (2010). Utilization of agro-industrial and municipal waste materials as potential adsorbents for water treatment—a review. Chemical Engineering Journal, 157, 277–296.

Bondarenko, S., & Gan, J. (2004). Degradation and sorption of selected organophosphate and carbamate insecticides in urban stream sediments. Environmental Toxicology and Chemistry, 23, 1809–1814.

Cajthaml, T., Křesinová, Z., Svobodová, K., & Möder, M. (2009). Biodegradation of endocrine-disrupting compounds and suppression of estrogenic activity by ligninolytic fungi. Chemosphere, 75, 745–750.

Cassano, D., Zapata, A., Brunetti, G., Del Moro, G., Di Iaconi, C., Oller, I., Malato, S., & Mascolo, G. (2011). Comparison of several combined/integrated biological-AOPs setups for the treatment of municipal landfill leachate: minimization of operating costs and effluent toxicity. Chemical Engineering Journal, 172, 250–257.

Cheng, C. Y., & Chu, L. M. (2007). Phytotoxicity data safeguard the performance of the recipient plants in leachate irrigation. Environmental Pollution, 145, 195–202.

Dong, R. R., Yang, S. J., Feng, R. J., Fang, L. L., Sun, Y. L., Zhang, Y. G., Xie, X. J., & Wang, D. S. (2014). Complete feminization of catfish by feeding Limnodilus, an annelid worm collected in contaminated streams. Environmental Research, 133, 371–379.

Duft, M., Schulte-Oehlmann, U., Weltje, L., Tillmann, M., & Oehlmann, J. (2003). Stimulated embryo production as a parameter of estrogenic exposure via sediments in the freshwater mudsnail Potamopyrgus antipodarum. Aquatic Toxicology, 64, 437–449.

Gattullo, C. E., Traversa, A., Senesi, N., & Loffredo, E. (2012). Phytodecontamination of the endocrine disruptor 4-nonylphenol in water also in the presence of two natural organic fractions. Water, Air, & Soil Pollution, 223, 6035–6044.

Gupta, V. K., & Suhas. (2009). Application of low-cost adsorbents for dye removal—a review. Journal of Environmental Management, 90, 2313–2342.

Hernández, A. F., Parrón, T., Tsatsakis, A. M., Requena, M., Alarcón, R., & López-Guarnido, O. (2013). Toxic effects of pesticide mixtures at a molecular level: their relevance to human health. Toxicology, 307, 136–145.

Jing, D. J., Huang, J. B., Yang, Z. P., Hu, R., Cheng, Z. Z., & Huang, Q. M. (2011). Induce of laccase from Trametes gallica and its degradation on neutral dyes and organophosphorus pesticides. Journal of Applied Ecology, 22, 3300–3306.

Kim, Y. J., & Nicell, J. A. (2006). Impact of reaction conditions on the laccase-catalyzed conversion of bisphenol A. Bioresource Technology, 97, 1431–1442.

Loffredo, E., Castellana, G., Traversa, A., & Senesi, N. (2013). Comparative assessment of three ligninolytic fungi for removal of phenolic endocrine disruptors from freshwaters and sediments. Environmental Technology, 34, 1601–1608.

Loffredo, E., Castellana, G., & Senesi, N. (2014). Decontamination of a municipal landfill leachate from endocrine disruptors using a combined sorption/bioremoval approach. Environmental Science and Pollution Research, 21, 2654–2662.

Maldonado, M. I., Malato, S., Pérez-Estrada, L. A., Gernjak, W., Oller, I., Doménech, X., & Peral, J. (2006). Partial degradation of five pesticides and an industrial pollutant by ozonation in a pilot-plant scale reactor. Journal of Hazardous Materials, 138, 363–369.

Mor, S., Kaur, K., & Khaiwal, R. (2013). Growth behavior studies of bread wheat plant exposed to municipal landfill leachate. Journal of Environmental Biolology, 34, 1083–1087.

Reed, H. W. B. (1978). Alkylphenols. In M. Grayson & D. EcKroth (Eds.), Encyclopedia of chemical technology (pp. 72–96). New York: Kirk-Othmer.

Routledge, E. J., & Sumpter, J. P. (1996). Estrogenic activity of surfactants and some of their degradation products assessed using a recombinant yeast screen. Environmental Toxicology and Chemistry, 15, 241–248.

SEC (2011) 1001. Commission staff working paper. 4th Report on the implementation of the "Community Strategy for Endocrine Disrupters" a range of substances suspected of interfering with the hormone systems of humans and wildlife (COM (1999)706). Available from: http://ec.europa.eu/environment/chemicals/endocrine/pdf/sec_2011_1001.pdf.

Sharma, V. K., Anquandah, G. A. K., Yngard, R. A., Kim, H., Fekete, J., Bouzek, K., Ray, A. K., & Golovko, D. (2009). Nonylphenol, octylphenol, and bisphenol-A in the aquatic environment: a review on occurrence, fate, and treatment. Journal of Environmental Science and Health, Part A, 44, 423–442.

Soares, A., Vijayram, I. A., Guieysse, B., Murto, M., Guieysse, B., & Mattiasson, B. (2005). Degradation of non-ionic surfactants under anaerobic conditions. In B. E. Rittmann & M. C. M. van Loosdrecht (Eds.), Third IWA leading-edge conference on water and wastewater treatment technologies. Sapporo: IWA Publishing.

Tan, X., Liu, Y., Zeng, G., Wang, X., Hu, X., Gu, Y., & Yang, Z. (2015). Application of biochar for the removal of pollutants from aqueous solutions. Chemosphere, 125, 70–85.

Traversa, A., Loffredo, E., Gattullo, C. E., & Senesi, N. (2012). Biodecontamination of aqueous substrates from bisphenol A by ligninolytic fungi. Journal of Environmental Science and Health, Part A, 47, 1407–1412.

USEPA (United States Environmental Protection Agency) (2011). Pesticides industry sales and usage: 2006 and 2007 market estimates. Office of Pesticide Programs, Washington, D.C. Available from: http://www.epa.gov/opp00001/pestsales/07pestsales/market_estimates06–07.pdf.

Yang, S., Hai, F. I., Nghiem, L. D., Price, W. E., Roddick, F., Moreira, M. T., & Magram, S. F. (2013). Understanding the factors controlling the removal of trace organic contaminants by white-rot fungi and their lignin modifying enzymes: a critical review. Bioresource Technology, 141, 97–108.

Ying, G. G., Kookana, R. S., & Dillon, P. (2003). Sorption and degradation of selected five endocrine disrupting chemicals in aquifer material. Water Research, 37, 3785–3791.

Zhou, T., Lim, T. T., Chin, S. S., & Fane, A. G. (2011). Treatment of organics in reverse osmosis concentrate from a municipal wastewater reclamation plant: feasibility test of advanced oxidation processes with/without pretreatment. Chemical Engineering Journal, 166, 932–939.

Zhou, H., Zhou, Y., Li, H., & Wang, F. (2012). Fate and removal of selected endocrine-disrupting compounds in sewage using activated sludge treatment. Water and Environment Journal, 26, 435–444.
Acknowledgments
This work was funded by the University of Bari Aldo Moro, Italy.
About this article
Cite this article
Loffredo, E., Castellana, G. & Taskin, E. A Two-Step Approach to Eliminate Pesticides and Estrogens from a Wastewater and Reduce Its Phytotoxicity: Adsorption onto Plant-Derived Materials and Fungal Degradation. Water Air Soil Pollut 227, 188 (2016). https://doi.org/10.1007/s11270-016-2883-2
Received:

Accepted:

Published:

DOI: https://doi.org/10.1007/s11270-016-2883-2
Keywords