Abstract
We analysed nutrients and basic ions (Na, Cl, K, Mg, Si, Ca, and SO4) for a period of 1 year, including every precipitation event, and sampled stream water every 2 weeks from a forest catchment in Shimane Prefecture, Japan. Backward-trajectory analysis revealed that some air masses originated within Japan, but did not affect the precipitation chemistry. Air masses originating from northern China were positively correlated with nutrients and all basic ions. Concentrations of ammonium and dissolved organic nitrogen were much lower in stream water than in precipitation, while those of nitrate and particulate nitrogen were similar in stream water and precipitation. Unlike nitrogen, the dissolved phosphorus concentration was much higher in stream water than in precipitation. Both phosphate and dissolved organic phosphorus (DOP) levels were higher in stream water than in precipitation. Particulate phosphorus (PP) concentrations were very similar in precipitation and stream water. PP showed stronger correlations than potassium with suspended solids (SS) and flow rate, while phosphate and DOP were more strongly correlated with potassium than with SS or flow rate. Stream silica concentrations were not correlated with phosphate but did exhibit a significant negative correlation with DOP. Neither phosphate nor DOP was correlated with calcium. These results suggest that phosphorus is not leaching with silica or calcium as a paired cation, but rather with potassium in this area. Lower nitrogen concentrations in stream water than in precipitation can be attributed to an enhanced uptake of nitrogen by forest soils owing to the increased atmospheric deposition of phosphorus.
Access options
Buy single article
Instant access to the full article PDF.
US$ 39.95
Tax calculation will be finalised during checkout.
Subscribe to journal
Immediate online access to all issues from 2019. Subscription will auto renew annually.
US$ 119
Tax calculation will be finalised during checkout.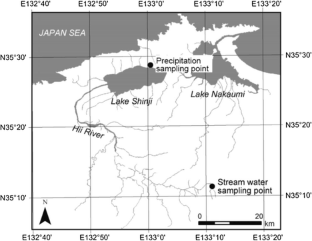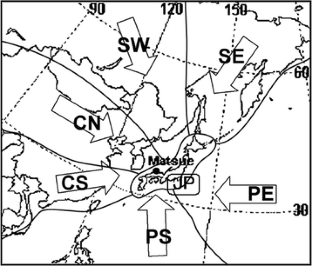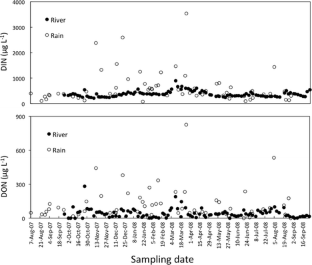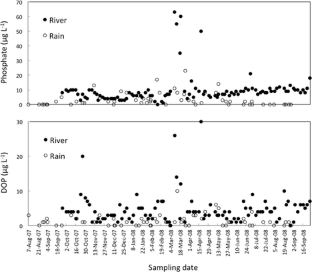 References
Bendschneider, K., & Robinson, R. J. (1952). A new spectrophotometric method for the determination of nitrite in sea water. Journal of Marine Research, 11(1), 87–96.

Briggs, R. D., Hornbeck, J. W., Smith, C. T., Lemin, R. C., Jr., & McCormack, M. L., Jr. (2000). Long-term effects of forest management on nutrient cycling in spruce-fir forests. Forest Ecology and Management, 138(1–3), 285–299.

Casareto, B. E., Suzuki, Y., Okada, K., & Morita, M. (1996). Biological micro-particles in rain water. Geophysical Research Letters, 23(2), 173–176.

Chiwa, M., Onikura, N., Ide, J., & Kume, A. (2011). Impact of N-saturated upland forests on downstream N pollution in the Tatara River basin, Japan. Ecosystems, 15(2), 230–241.

Corriveau, J., Chambers, P. A., & Culp, J. M. (2013). Seasonal variation in nutrient export along streams in the Northern Great Plains. Water, Air, and Soil Pollution. doi:10.1007/s11270-013-1594-1.

Cotner, J. B., & Wetzel, R. G. (1992). Uptake of dissolved inorganic and organic phosphorus compounds by phytoplankton and bacterioplankton. Limnology and Oceanography, 37(2), 232–243.

Ebina, J., Tsutsui, T., & Shirai, T. (1983). Simultaneous determination of total nitrogen and total phosphorous in water using peroxodisulphate oxidation. Water Research, 17(12), 1721–1726.

Figueiredo, J. A., Menor, E. A., Taboada-Castro, M. T., Taboada-Castro, M. M., Rodríguez-Blanco, M. L., & Braga, E. S. (2014). Using hydrogeochemical signatures of stream water to assess pathways for rainfall events: towards a predictive model. Hydrological Processes, 28(3), 2302–2311.

Fukuzaki, N., Ohizumi, T., & Matsuda, K. (2001). Geographical and temporal variations of chemical constituents in winter precipitation collected in the areas along the coast of the Sea of Japan. In K. Satake, J. Shindo, T. Takamatsu, T. Nakano, S. Aoki, T. Fukuyama, et al. (Eds.), Acid rain 2000 (pp. 1673–1678). Dordrecht: Springer Netherlands.

Ganguly, D., Robin, R. S., Vardhan, K. V., Muduli, P. R., Abhilash, K. R., Patra, S., et al. (2013). Variable response of two tropical phytoplankton species at different salinity and nutrient condition. Journal of Experimental Marine Biology and Ecology, 440, 244–249.

Gökbulak, F., Serengil, Y., Özhan, S., Özyuvacı, N., & Balcı, A. N. (2008). Relationship between streamflow and nutrient and sediment losses from an oak-beech forest watershed during an 18-year long monitoring study in Turkey. European Journal of Forest Research, 127(3), 203–212.

Hartmann, J., Kunimatsu, T., & Levy, J. K. (2008). The impact of Eurasian dust storms and anthropogenic emissions on atmospheric nutrient deposition rates in forested Japanese catchments and adjacent regional seas. Global and Planetary Change, 61(3–4), 117–134.

Hillebrand, H., Steinert, G., Boersma, M., Malzahn, A., Meunier, C. L., Plum, C., et al. (2013). Goldman revisited: faster-growing phytoplankton has lower N:P and lower stoichiometric flexibility. Limnology and Oceanography, 58(6), 2076–2088.

Japan Meteorological Agency (2014). "Yearly meteorological data of Matsue", http://www.data.jma.go.jp/obd/stats/etrn/view/annually_s.php?prec_no=68&block_no=47741&year=&month=&day=&view=. Accessed 2nd Feb 2014).

Kamiya, H., Kano, Y., Mishima, K., Yoshioka, K., Mitamura, O., & Ishitobi, Y. (2008). Estimation of long-term variation in nutrient loads from the Hii River by comparing the change in observed and calculated loads in the catchments. Landscape and Ecological Engineering, 4(1), 39–46.

Klimont, Z., Cofala, J., Schöpp, W., Amann, M., Streets, D. G., Ichikawa, Y., et al. (2001). Projections of SO2, NOx, NH3 and VOC emissions in East Asia up to 2030. Water, Air, and Soil Pollution, 130(1–4), 193–198.

Koga, M., & Yoshimura, K. (2012). Regulation of the dissolved phosphate concentration of a mountainous stream, Kitakyushu, Southwestern Japan. Journal of Environmental Monitoring, 14(7), 1951–1958.

Lim, J. Y., & Chun, Y. (2006). The characteristics of Asian Dust events in northeast Asia during the springtime from 1993 to 2004. Global and Planetary Change, 52(1–4), 231–247.

Liu, X., Zhang, Y., Han, W., Tang, A., Shen, J., Cui, Z., et al. (2013). Enhanced nitrogen deposition over China. Nature, 494(7438), 459–462.

Liu, X., Xu, W., Pan, Y., & Du, E. (2015). Liu et al. suspect that Zhu et al. (2015) may have underestimated dissolved organic nitrogen (N) but overestimated total particulate N in wet deposition in China. Science of the Total Environment, 520, 300–301.

Luo, J., Wang, X., Yang, H., Yu, J. Z., Yang, L., & Qin, B. (2011). Atmospheric phosphorus in the northern part of Lake Taihu, China. Chemosphere, 84(6), 785–791.

Matsumoto, J., Takahashi, K., Matsumi, Y., Yabushita, A., Shimizu, A., Matsui, I., et al. (2006). Scavenging of pollutant acid substances by Asian mineral dust particles. Geophysical Research Letters, 3(7), L07816.

Miyazako, T., Tabayashi, Y., Ohshiro, H., Koyama, Y., Nakashima, Y., Sato, S., et al. (2014). Transboundary nitrogen pollution from continental China to a river that flows into the Sea of Japan. Japanese Journal of Limnology, 75(1), 27–34.

Miyazako, T., Kamiya, H., Goto, T., Koyama, Y., Nakashima, Y., Sato, S., et al. (2015). Long-term trends in nitrogen and phosphorus concentrations in the Hii River as influenced by atmospheric deposition from East Asia. Limnology and Oceanography, 60(2), 629–640.

Némery, J., Garnier, J., & Morel, C. (2005). Phosphorus budget in the Marne Watershed (France): urban vs. diffuse sources, dissolved vs. particulate forms. Biogeochemistry, 72(1), 35–66.

Ohte, N., Sebestyen, S. D., Shanley, J. B., Doctor, D. H., Kendall, C., Wankel, S. D., et al. (2004). Tracing sources of nitrate in snowmelt runoff using a high-resolution isotopic technique. Geophysical Research Letters. doi:10.1029/2004GL020908.

Piirainen, S., Finér, L., Mannerkoski, H., & Starr, M. (2004). Effects of forest clear-cutting on the sulphur, phosphorus and base cations fluxes through podzolic soil horizons. Biogeochemistry, 69(3), 405–424.

Poste, A. E., Hecky, R. E., & Guildford, S. J. (2013). Phosphorus enrichment and carbon depletion contribute to high Microcystis biomass and microcystin concentrations in Ugandan lakes. Limnology and Oceanography, 58(3), 1075–1088.

Rolph, G. D., Ngan, F., & Draxler, R. R. (2014). Modeling the fallout from stabilized nuclear clouds using the HYSPLIT atmospheric dispersion model. Journal of Environmental Radioactivity, 136, 41–55.

Savoie, D. L., Prospero, J. M., Arimoto, R., & Duce, R. A. (1994). Non-sea-salt sulfate and methanesulfonate at American Samoa. Journal of Geophysical Research, 99(D2), 3587–3596.

Scheiner, D. (1976). Determination of ammonia and Kjeldahl nitrogen by indophenol method. Water Research, 10(1), 31–36.

Schindler, D. W., Hecky, R. E., Findlay, D. L., Stainton, M. P., Parker, B. R., Paterson, M. J., et al. (2008). Eutrophication of lakes cannot be controlled by reducing nitrogen input: results of 37 year whole ecosystem experiment. Proceedings of the National Academy of Sciences of the United States of America, 105(32), 11254–11258.

Spoelstra, J., Schiff, S. L., Elgood, R. J., Semkin, R. G., & Jeffries, D. S. (2001). Tracing the sources of exported nitrate in the Turkey Lakes watershed using 15N/14N and 18O/16O isotopic ratios. Ecosystems, 4(6), 536–544.

Tsukuda, S., Sugiyama, M., Harita, Y., & Nishimura, K. (2006). Atmospheric phosphorus deposition in Ashiu, Central Japan – source apportionment for the estimation of true input to a terrestrial ecosystem. Biogeochemistry, 77(1), 117–138.

Wakamatsu, T., Konohira, E., Shindo, J., Yoshioka, T., Okamoto, K., Itaya, A., et al. (2006). Dissolved inorganic phosphate concentration in stream water in Japan and factors controlling the concentration. Journal of Japan Society on Water Environment, 29(11), 679–686.

Wood, E. D., Armstrong, F. A. J., & Richards, F. A. (1967). Determination of nitrate in sea water by cadmium-copper reduction to nitrite. Journal of the Marine Biological Association of the United Kingdom, 47(1), 23–31.

Yoshioka, K., Kamiya, H., Kano, Y., Saki, Y., Yamamuro, M., & Ishitobi, Y. (2009). The relationship between seasonal variations of total-nitrogen and total-phosphorus in rainfall and air mass advection paths in Matsue, Japan. Atmospheric Environment, 43(22–23), 3496–3501.

Zhang, Z., Fukushima, T., Shi, P., Tao, F., Onda, Y., Gomi, T., et al. (2008). Baseflow concentrations of nitrogen and phosphorus in forested headwaters in Japan. Science of the Total Environment, 402(1), 113–122.

Zhu, J., He, N., Wang, Q., Yuan, G., Wen, D., Yu, G., et al. (2015). The composition, spatial patterns, and influencing factors of atmospheric wet nitrogen deposition in Chinese terrestrial ecosystems. Science of the Total Environment, 511, 777–785.
Acknowledgments
Misato Hironaka helped with data processing and the illustration of figures. This study was partly supported by a grant from the River Works Technology Research and Development Program of the Japanese Ministry of Land, Infrastructure, Transport, and Tourism.
About this article
Cite this article
Tabayashi, Y., Kamiya, H., Godo, T. et al. Atmospheric Phosphorus and Nitrogen Originating in China: Forest Deposition and Infiltration of Stream Water in Japan. Water Air Soil Pollut 226, 385 (2015). https://doi.org/10.1007/s11270-015-2650-9
Received:

Accepted:

Published:
Keywords
Precipitation

Potassium

Backward trajectory

Atmospheric deposition