Abstract
A free water surface flow constructed wetland (CW) was designed to evaluate the capacity of this biological treatment system, which receives wastewater from aquaculture and upflow anaerobic sludge blanket (UASB) reactors, to retain heavy metal. The purpose of this study was to determine the role of the sediment and the macrophytes Cyperus giganteus, Typha domingensis, Eichhornia crassipes, and Pontederia cordata in accumulating Al, Cd, Cr, Cu, Fe, Ni, Mn, Pb, and Zn, during the dry (winter) and rainy (summer) seasons. In general, the concentrations and mass loading of heavy metals in the outlet water were lower than in the inlet water. The highest removal efficiency rates of water (mainly mass removal) occurred in the dry season. In the rainy season, the probable low oxygen level in the upper layer of sediment resulted in a release of reduced metals into the water because of organic matter mineralization and an increase in depth. This, coupled with an increase in the hydraulic loading rate (HLR), affected the efficiency removal in this season. The metals were especially immobilized as a result of the sedimentation process and could be removed weakly via macrophyte uptake, with the exception of Mn. In addition to the sediment, which is the main compartment for heavy metal retention in the CW system, the macrophytes have the advantage of being harvested. Therefore, E. crassipes and T. domingensis, which are good metal accumulators, can be recommended for the removal of heavy metals from agricultural wastewaters.
Access options
Buy single article
Instant access to the full article PDF.
USD 39.95
Price includes VAT (USA)
Tax calculation will be finalised during checkout.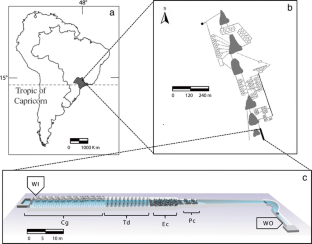 References
Boyd, C. E., & Tucker, C. S. (1992). Water quality and pond soil analyses for aquaculture. Alabama: Agricultural Experiment Station.

Cambrollé, J., Redondo-Gómez, S., Mateos-Naranjo, E., & Figueroa, M. E. (2008). Comparison of the role of two Spartina species in terms of phytostabilization and bioaccumulation of metals in the estuarine sediment. Marine Pollution Bulletin, 56(12), 2037–2042.

Conama, National Council on the Environment (2005). Quality standards for parameters monitored in network monitoring. Resolution no. 357/2005. http://www.cetesb.sp.gov.br/qualidadederios/anexo2. Accessed 17 December 2013.

Dixit, S., & Dhote, S. (2010). Evaluation of uptake rate of heavy metals by Eichhornia crassipes and Hydrilla verticillata. Environmental Monitoring and Assessment, 169, 367–374.

Doyle, M. O., & Otte, M. L. (1997). Organism-induced accumulation of iron, zinc and arsenic in wetland soils. Environmental Pollution, 96, 1–11.

Dunbabin, J. S., & Bowmer, K. H. (1992). Potential use of constructed wetlands for treatment of industrial wastewaters containing metals. The Science of the Total Environment, 111, 151–168.

Hadad, H. R., Maine, M. A., & Bonetto, C. A. (2006). Macrophyte growth in a pilot-scale constructed wetland for industrial wastewater treatment. Chemosphere, 63(10), 1744–1753.

Hadad, H. R., Mufarrege, M. M., Pinciroli, M., Di Luca, G. A., & Maine, M. A. (2010). Morphological response of Typha domingensis to an industrial effluent containing heavy metals in a constructed wetland. Archive of Environmental Contamination and Toxicology, 58, 666–675.

Henry-Silva, G. G., & Camargo, A. F. M. (2008). Treatment of shrimp effluents by free-floating aquatic macrophytes. Revista Brasileira de Zootecnia, 37(2), 181–188.

Hsu, J. H., & Lo, S. L. (2001). Effect of composting of characterization and leaching of copper, manganese, and zinc from swine manure. Environmental Pollution, 114, 119–127.

Jing, S. R., Lin, Y. F., Wang, T. W., & Lee, D. Y. (2002). Microcosm wetlands for wastewater treatment with different hydraulic loading rates and macrophytes. Journal of Environmental Quality, 31, 690–696.

Kadlec, R. H., & Wallace, S. D. (2009). Treatment wetlands. Boca Raton: Taylor and Francis Group.

Lim, P. E., Tay, M. G., MaK, K. Y., & Mohamed, N. (2003). The effect of heavy metals on nitrogen and oxygen demand removal in constructed wetland. Science of the Total Environment, 301, 13–21.

Mackereth, F. J. H., Heron, J., & Talling, F. J. (1978). Water analyses: Some revised methods for limnologists. Cumbria: Freshwater Publication Association Scientific Publication.

Maine, M. A., Suñe, N., Hadad, H., Sánchez, G., & Bonetto, C. (2006). Nutrient and metal removal in a constructed wetland for wastewater treatment from a metallurgic industry. Ecological Engineering, 26, 341–347.

Maine, M. A., Suñe, N., Hadad, H., Sánchez, G., & Bonetto, C. (2007). Removal efficiency of a constructed wetland for wastewater treatment according to vegetation dominance. Chemosphere, 68, 1105–1113.

Núñez, S. E. R., Negrete, J. L. M., Rios, J. E. A., Hadad, H. R., & Maine, M. A. (2011). Hg, Cu, Pb, Cd, and Zn accumulation in macrophytes growing in tropical wetlands. Water, Air, & Soil Pollution, 216, 361–373.

Odjegba, V. J., & Fasidi, O. I. (2007). Phytoremediation of heavy metals by Eichhornia crassipes. Environmentalist, 27, 349–355.

Olguín, E. J., & Sánchez-Gálvan, G. (2010). Aquatic phytoremediation: novel insights in tropical and subtropical regions. Pure and Applied Chemistry, 82(1), 27–38.

Sadiq, M. (1992). Toxic metal chemistry in marine environments. New York: Marcel Dekker.

Schwartz, M. E., & Boyd, C. E. (1995). Constructed wetlands for treatment of channel catfish pond effluents. Progressive Fish-Culturist, 57, 255–266.

Sheoran, A. S., & Sheoran, V. (2006). Heavy metal removal mechanism of acid mine drainage in wetlands: a critical review. Minerals Engineering, 19, 105–116.

Siegel, S. (1975). Non-parametric statistics for the behavioral sciences. São Paulo: McGraw-Hill do Brasil.

Sipaúba-Tavares, L. H., Favero, E. G. P., & Braga, F. M. S. (2002). Utilization of macrophyte biofilter in effluent from aquaculture: I. Floating plant. Brazilian Journal of Biology, 62(4A), 713–723.

StatSoft INC. (2007). Statistica (data analysis software system), version 8.0. www.statsoft.com.

Taylor, G. J., & Crowder, A. A. (1983). Uptake and accumulation of copper, nickel, and iron by Typha latifolia grown in solution culture. Canadian Journal of Botany, 61, 1825–1830.

Upadhyay, A. R., Mishra, V. K., Pandey, S. K., & Tripathi, B. D. (2007). Biofiltration of secondary treated municipal wastewater in a tropical city. Ecological Engineering, 30, 9–15.

USEPA. (1991a). Sample preparation procedure for spectrochemical determination of total recoverable elements, revision 2.3. EPA-600/4-91-010. Washington: US Environmental Protection Agency.

USEPA. (1991b). Sample preparation procedure for spectrochemical determination of total recoverable elements in biological tissues, revision 1.0. EPA-600/4-91-010. Washington: US Environmental Protection Agency.

USEPA. (2000). Constructed wetland treatment of municipal wastewater. EPA/625/R-99-010. Cincinnati: US Environmental Protection Agency.

Wetzel, R. G. (1975). Limnology. Philadelphia: W. B. Saunders Co.

Yeh, T. Y., Chou, C. C., & Pan, C. T. (2009). Heavy metal removal within pilot-scale constructed wetlands receiving river water contaminated by confined swine operations. Desalination, 249, 368–373.

Yu, X., & Gu, J. D. (2008). Differences in uptake and translocation of selenate and selenite by weeping willow and hybrid willow. Environmental Science and Pollution Research, 15, 499–508.
Acknowledgments
The authors would like to thank São Paulo State Research Foundation (FAPESP) for the scholarship to the first author (2008/56621-5) and financial support (2010/50478-6). In addition, the authors thank Lilian Rodrigues Rosa of University of São Paulo for help in heavy metal analysis. We would also like to thank the working group of Limnology and Plankton Production Laboratory of Aquaculture Center and Marcio Jesus Gonçalves and Mauro Marcelino for technical assistance. We are also grateful to anonymous reviewers for their comments on earlier versions of this manuscript.
About this article
Cite this article
Travaini-Lima, F., da Veiga, M.A.M.S. & Sipaúba-Tavares, L.H. Constructed Wetland for Treating Effluent from Subtropical Aquaculture Farm. Water Air Soil Pollut 226, 42 (2015). https://doi.org/10.1007/s11270-015-2322-9
Received:

Accepted:

Published:
Keywords
Trace metals

Bioaccumulation factor

Wastewater treatment

Removal efficiency