Abstract
Marine birds are important vectors of nutrient and contaminant transfer from sea to land. In eastern Nova Scotia, Canada, colonial marine birds nest on specific nearshore islands within archipelagoes, and we predicted that soils on islands with bird colonies would have higher concentrations of selected trace elements (notably K, Ca, As, Cd, Cu, Pb, Se, Hg, and Zn) than soils on islands without colonies. In this study, common eider (Somateria mollissima), Leach's storm petrel (Oceanodroma leucorhoa), black guillemot (Cepphus grylle), double-crested cormorant (Phalacrocorax auritus), great black-backed gull (Larus marinus), and herring gull (Larus argentatus) were considered to be the principal avian vectors for contaminant transfer. Results indicate that soils from islands with bird colonies had unique chemical compositions and commonly displayed elevated concentrations of K, Ca, Cu, Se, and Zn when compared to islands without colonies. Thus, marine birds feeding in the nearby marine zone move pollutants and nutrients from the ocean to nesting islands, potentially influencing habitat quality for coastal terrestrial species.
Access options
Buy single article
Instant access to the full article PDF.
USD 39.95
Price excludes VAT (USA)
Tax calculation will be finalised during checkout.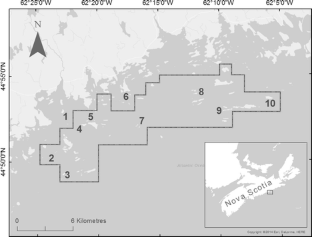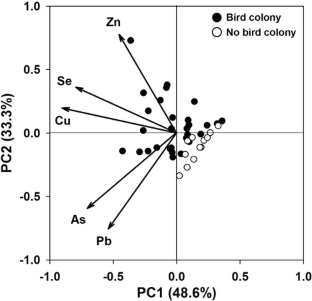 References
Bargagli, R. (2008). Environmental contamination in Antarctic ecosystems. Science of the Total Environment, 400, 212–226.

Bauer, S., & Hoye, B. J. (2014). Migratory animals couple biodiversity and ecosystem functioning worldwide. Science, 344, 1242552–1242552-8.

Beyer, W. N., & Meador, J. P. (2011). Environmental contaminants in biota—interpreting tissue concentrations. New York: CRC Press.

Blais, J. M., Kimpe, L. E., McMahon, D., Keatley, B. E., Mallory, M. L., Douglas, M. S., & Smol, J. P. (2005). Arctic seabirds transport marine-derived contaminants. Science, 309, 5733.

Blais, J. M., Macdonald, R. W., Mackay, D., Webster, E., Harvey, C., & Smol, J. P. (2007). Biologically mediated transport of contaminants to aquatic systems. Environmental Science & Technology, 41, 1075–84.

Borgå, K., Campbell, L., Gabrielsen, G. W., Norstrom, R. J., Muir, D. C. G., & Fisk, A. T. (2006). Regional and species-specific bioaccumulation of major and trace elements in Arctic seabirds. Environmental Toxicology and Chemistry, 25, 2927–2936.

Boruvka, L., Vacek, O., & Jehlicka, J. (2005). Principal components analysis as a tool to indicate the origin of potentially toxic elements in soils. Geoderma, 128, 289–300.

Boyle, J. F. (2000). Rapid elemental analysis of sediment samples by isotope source XRF. Journal of Paleolimnology, 23, 213–221.

Brimble, S. K., Foster, K. L., Mallory, M. L., MacDonald, R. W., Smol, J. P., & Blais, J. M. (2009). High arctic ponds receiving biotransported nutrients from a nearby seabird colony are also subject to potentially toxic loadings of arsenic, cadmium, and zinc. Environmental Toxicology and Chemistry, 28, 2426–2433.

Campbell, L. M., Norstrom, R. J., Hobson, K. A., Muir, D. C. G., Backus, S., & Fisk, A. T. (2005). Mercury and other trace elements in a pelagic Arctic marine food web (Northwater Polynya, Baffin Bay). Science of the Total Environment, 351–352, 247–263.

CCME. (2007). Canadian soil quality guidelines for the protection of environmental and human health. Ottawa, Canada: Canadian Council of Ministers for the Environment, Environment Canada.

Cederholm, C. J., Kunze, M. D., Murota, T., & Sibatani, A. (1999). Pacific salmon carcasses: essential contributions of nutrients and energy for aquatic and terrestrial ecosystems. Fisheries, 24, 6–15.

Choy, E. S., Gauthier, M., Mallory, M. L., Smol, J. P., Lean, D., & Blais, J. M. (2010). An isotopic investigation of mercury accumulation in terrestrial food webs adjacent to an Arctic seabird colony. Science of the Total Environment, 408, 1858–1867.

Clark, A. J., & Scheuhammer, A. M. (2003). Lead poisoning in upland-foraging birds of prey in Canada. Ecotoxicology, 12, 23–30.

Ellis, J. C. (2005). Marine birds on land: a review of plant biomass, species richness, and community composition in seabird colonies. Plant Ecology, 181, 227–241.

Ellis, J. C., Farina, J. M., & Witman, J. D. (2006). Nutrient transfer from sea to land: the case of gulls and cormorants in the Gulf of Maine. Journal of Animal Ecology, 75, 565–574.

Evenset, A., Carroll, J., Christensen, G. N., Kallenborn, R., Gregor, D., & Gabrielsen, G. W. (2007). Seabird guano is an efficient conveyer of persistent organic pollutants (POPs) to Arctic lake ecosystems. Environmental Science & Technology, 41, 1173–9.

Franz, S. O., Schwark, L., Bruchmann, C., Scharf, B., Klingel, R., van Alstine, J. D., Cagatay, N., & Ulgen, U. B. (2006). Results from a multi-disciplinary sedimentary pilot study of tectonic Lake Iznik (NW Turkey)—geochemistry and paleolimnology of the recent past. Journal of Paleolimnology, 35, 715–736.

Gaston, A. J., Bertram, D. F., Boyne, A. W., Chardine, J. W., Davoren, G., Diamond, A. W., Hedd, A., Hipfner, J. M., Lemon, M. J. F., Mallory, M. L., Montevecchi, W. A., Rail, J.-F., & Robertson, G. J. (2009). Changes in Canadian seabird populations and ecology since 1970 in relation to changes in oceanography and food webs. Environmental Reviews, 17, 267–286.

Helfield, J. M., & Naiman, R. J. (2001). Effects of salmon-derived nitrogen on riparian forest growth and implications for stream productivity. Ecology, 82, 2403–2409.

Hicklin, P. W., & Barrow, W. R. (2004). The incidence of embedded shot in waterfowl in Atlantic Canada and Hudson Strait. Waterbirds, 27, 41–45.

Horne, R. J., & Pelley, D. (2007). Geological transect of the Meguma terrane from Centre Musquodoboit to Tangier. In D. R. MacDonald (Ed.), Mineral Resources Branch, report of activities 2006 (pp. 71–89). Nova Scotia: Department of Natural Resources. Report ME 2007–1.

Huang, T., Sun, L., Wang, Y., Chu, Z., Qin, X., & Yang, L. (2014). Transport of nutrients and contaminants from ocean to island by emperor penguins from Amanda Bay, East Antarctic. Science of the Total Environment, 468–469, 578–583.

Kaniu, M. I., Angeyo, K. H., Mwala, A. K., & Mangala, M. J. (2012). Direct rapid analysis of trace bioavailable soil macronutrients by chemometrics-assisted energy dispersive X-ray fluorescence and scattering spectrometry. Analytica Chimica Acta, 729, 21–25.

Krohn, W. B., Corr, P. O., & Hutchinson, A. E. (1992). Status of the American eider with special reference to northern New England. Washington, D.C.: U.S.: Dept. of the Interior Fish and Wildlife Service.

Ligeza, S., & Smal, H. (2003). Accumulation of nutrients in soil affected by perennial colonies of piscivorous birds with reference to biogeochemical cycles of elements. Chemosphere, 52, 595–602.

Liu, X., Zhao, S., Sun, L., Yin, X., Xie, Z., Honghao, L., & Wang, Y. (2006). P and trace metal contents in biomaterials, soils, sediments and plants in colony of red-footed booby (Sula sula) in the Dongdao Island of South China Sea. Chemosphere, 65, 707–715.

Liu, X., Colman, S. M., Brown, E. T., Minor, E. C., & Li, H. (2013). Estimation of carbonate, total organic carbon, and biogenic silica content by FTIR and XRF techniques in lacustrine sediments. Journal of Paleolimnology, 50, 387–398.

Mallory, M. L., & Braune, B. M. (2012). Tracking contaminants in seabirds of Arctic Canada: temporal and spatial insights. Marine Pollution Bulletin, 64, 1475–1484.

Mallory, M., Braune, B., Wayland, M., Gilchrist, H., & Dickson, D. (2004). Contaminants in common eiders (Somateria mollissima) of the Canadian Arctic. Environmental Reviews, 12, 197–218.

Mallory, M. L., Braune, B. M., Robertson, G. J., Gilchrist, H. G., Mallory, C. D., Forbes, M. R., & Wells, R. (2014). Increasing cadmium and zinc levels in wild common eiders breeding along Canada's remote northern coastline. Science of the Total Environment, 476–477, 73–78.

Michelutti, N., Blais, J. M., Mallory, M. L., Brash, J., Thienpont, J., Kimpe, L. E., Douglas, M. S. V., Smol, J. P., & Brenner, M. (2010). Trophic position influences the efficacy of seabirds as metal biovectors. Proceedings of the National Academy of Sciences, 107, 10543–10548.

Mulder, C. P. H., Jones, H., Kameda, K., Palmborg, C., Schmidt, S., Ellis, J. C., Orrock, J. L., Wait, D. A., Wardle, D. A., Yang, L., Young, H., Croll, D., & Vidal, E. (2011). Impacts of seabirds on plant and soil properties. In C. P. H. Mulder, W. B. Anderson, D. R. Towns, & P. J. Bellingham (Eds.), Seabird islands—ecology, invasion and restoration (pp. 135–176). New York: Oxford University Press.

Otero Perez, X. L. (1998). Effects of nesting yellow-legged gulls (Larus cachinnans Pallas) on the heavy metal content of soils in the Cies Islands (Galicia, North-west Spain). Marine Pollution Bulletin, 36, 267–272.

Rainbow, P. S., & White, S. L. (1989). Comparative strategies of heavy metal accumulation by crustaceans: zinc, copper and cadmium in a decapod, an amphipod and a barnacle. Hydrobiologia, 174, 245–262.

Savinov, V. M., Gabrielsen, G. W., & Savinova, T. N. (2003). Cadmium, zinc, copper, arsenic, selenium and mercury in seabirds from the Barents Sea: levels, inter-specific and geographical differences. Science of the Total Environment, 306, 133–158.

Soft, S. (2013). Statistica 12. Tulsa, OK: Stat Soft Inc.

Stea, R. R., & Fowler, J. H. (1979). Minor and trace element variations in Wisconsinan tills, Eastern Shore region, Nova Scotia (pp. 79–04). Halifax, NS: Nova Scotia Department Mines and Energy Paper.

Steinnes, E., & Friedland, A. J. (2006). Metal contamination of natural surface soils from long-range atmospheric transport: existing and missing knowledge. Environmental Reviews, 14, 169–186.

Wait, D. A., Aubrey, D. P., & Anderson, W. B. (2005). Seabird guano influences on desert islands: soil chemistry and herbaceous species richness and productivity. Journal of Arid Environments, 60, 681–695.

Walters, D. M., Fritz, K. M., & Otter, R. R. (2008). The dark side of subsidies: adult stream insects export organic contaminants to riparian predators. Ecological Applications, 18, 1835–1841.

Wang, W.-X., & Fisher, N. S. (1996). Assimilation of trace elements and carbon by the mussel Mytilus edulis: effect of food composition. Limnology and Oceanography, 41, 197–207.

White, C. E. (2010). Stratigraphy of the Lower Paleozoic Goldenville and Halifax groups in the western part of southern Nova Scotia. Atlantic Geology, 46, 136–154.

Zhu, Y., Gu, B., Irick, D. L., Ewe, S., Li, Y., Ross, M. S., & Ma, L. Q. (2014). Wading bird guano contributes to Hg accumulation in tree island soils in the Florida Everglades. Environmental Pollution, 184, 313–319.
Acknowledgments
We thank Ellen Boyd for field assistance. Financial and logistic support was provided by the Natural Sciences and Engineering Research Council (NSERC) of Canada, Environment Canada, the Canada Research Chairs program, and the Nova Scotia Department of Natural Resources.
About this article
Cite this article
Mallory, M.L., Mahon, L., Tomlik, M.D. et al. Colonial Marine Birds Influence Island Soil Chemistry Through Biotransport of Trace Elements. Water Air Soil Pollut 226, 31 (2015). https://doi.org/10.1007/s11270-015-2314-9
Received:

Accepted:

Published:

DOI: https://doi.org/10.1007/s11270-015-2314-9
Keywords