Abstract
Effects of perchlorate stress on the growth and physiological characteristics of rice (Oryza sativa L.) were studied in controlled water culture experiments. Perchlorate stress resulted in varied patterns of biomass allocation to O. sativa organs (roots, stems, and leaves). When stressed with higher perchlorate concentrations, the proportion of root biomass was higher, stem biomass was invariant, while leaf biomass was lower. Coefficients of variation in biomass of different organs followed the order leaf > stem > root, indicating that leaf growth has a higher sensitivity to perchlorate. Compared to the control, the chlorophyll and protein content of leaves and root vigor were lower, whereas malondialdehyde (MDA) content and catalase (CAT) activity were higher and related to perchlorate concentration and duration of stress. Superoxide dismutase (SOD) activity was initially high and then decreased markedly during the experiment, while peroxidase (POX) activity in perchlorate-treated rice was always higher than the POX activity of the control. POX was the most sensitive antioxidant enzyme to perchlorate stress. Correlation analysis showed a positive correlation between SOD activity and the fresh weight of the whole plant, and negative correlation with MDA content. The results suggest that perchlorate could induce oxidative stress and oxidative damage may be the main cause of physiological damage and growth inhibition in rice plants under perchlorate stress.
Access options
Buy single article
Instant access to the full article PDF.
USD 39.95
Price excludes VAT (USA)
Tax calculation will be finalised during checkout.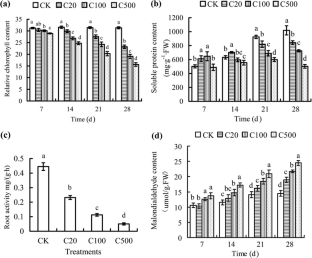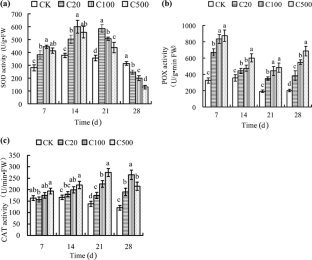 References
Alvarez, D. M., Cuadrado, A., Navarro, Y. C., Sonderegger, P., Furley, A. J., Bernal, J., et al. (2000). Regulation of the L1 cell adhesion molecule by thyroid hormone in the developing brain. Molecular and Cellular Neuroscience, 16, 499–514.

Bai, B. Z., Jin, J. Z., & Bai, S. (1994). Improvement of TTC method determining root activity in corn. Journal of Maize Sciences, 2, 44–47 (in Chinese).

Bian, S. M., & Jiang, Y. W. (2009). Reactive oxygen species, antioxidant enzyme activities and gene expression patterns in leaves and roots of Kentucky bluegrass in response to drought stress and recovery. Scientia Horticulturae, 120, 264–270.

Bowler, C., Montagu, M. V., & Inze, D. (1992). Superoxide dismutase and stress tolerance. Annual Review of Plant Physiology and Plant Molecular Biology, 43, 83–116.

Bradford, M. M. (1976). A rapid and sensitive method for the quantification of microgram quantities of protein utilizing the principle of protein-dye binding. Analytical Biochemistry, 72, 248–254.

Cai, X. L., Xie, Y. F., & Liu, W. L. (2008). An overview of researches on environmental contamination by perchlorate and its remediation. Acta Ecologica Sinica, 28, 5592–5600 (in Chinese).

Charnley, G. (2008). Perchlorate: overview of risks and regulation. Food and Chemical Toxicology, 46, 2307–2315.

Coates, J. D., & Achenbach, L. A. (2004). Microbial perchlorate reduction: rocket fuelled metabolism. Nature Reviews Microbiology, 2, 569–580.

Delannoy, E., Marmey, P., Penel, C., & Nicole, M. (2004). The plant peroxidases of class III. Acta Botanica Gallica, 151, 353–380.

Dowling, A. L., Martz, G. U., Leonard, J. L., & Zoeller, R. T. (2000). Acute changes in maternal thyroid hormone induce rapid and transient changes in gene expression in fetal rat brain. The Journal of Neuroscience, 20, 2255–2265.

Elipasheva, E. V., Kamasheva, A. S., Kulikov, P. N., & Sergeev, G. M. (2013). Extraction-photometric selective determination of trace perchlorates in potable waters. Journal of Analytical Chemistry, 68, 590–594.

He, H. Z., Gao, H. S., Chen, G. K., Li, H. S., Lin, H., & Shu, Z. Z. (2013). Effects of perchlorate on growth of four wetland plants and its accumulation in plant tissues. Environmental Science and Pollution Research, 20, 7301–7308.

Islam, E., Liu, D., Li, T. Q., Yang, X., Jin, X. F., Mahmood, Q., et al. (2008). Effect of Pb toxicity on leaf growth, physiology and ultrastructure in the two ecotypes of Elsholtzia argyi. Journal of Hazardous Materials, 154, 914–926.

Jackson, P. E., Laikhtman, M., & Rohrer, J. S. (1999). Determination of trace level perchlorate in drinking water and ground water by ion chromatography. Journal of Chromatography, 850, 131–135.

Jackson, W. A., Joseph, P., Laxman, P., Tan, K., Smith, P. N., Yu, L., et al. (2005). Perchlorate accumulation in forage and edible vegetation. Journal of Agricultural and Food Chemistry, 53, 369–373.

Kirk, A. B. (2006). Environmental perchlorate: why it matters. Analytica Chimica Acta, 567, 4–12.

Li, H. S. (2000). The experiment principles and techniques of plant physiology and biochemistry. Beijing: Higher Education Press.

Li, L. (2009). Modular experimental guiding of plant physiology. Beijing: Science Press.

Mao, D. R. (2001). Research methods of plant nutrition. Beijing: China Agricultural University Press.

Mukhi, S., Torres, L., & Patino, R. (2007). Effects of larval-juvenile treatment with perchlorate and CO2 treatment with thyroxine on zebrafish sex ratios. General and Comparative Endocrinology, 150, 486–494.

Panda, S. K. (2007). Chromium-mediated oxidative stress and ultrastructural changes in root cells of developing rice seedlings. Journal of Plant Physiology, 164, 1419–1428.

Parker, D. R. (2009). Perchlorate in the environment: the emerging emphasis on natural occurrence. Environmental Chemistry, 6, 10–27.

Radovic, S., Vidakovic, C. Z., Tkalec, M., Krsnik, R. M., & Regula, I. (2005). Peroxidase and proteins as salinity stress indicators in duckweed exposed to oil industry high density brines. Periodicum Biologorum, 107, 33–38.

Sanchez, C. A., Krieger, R. I., Khandaker, N. R., Moore, R. C., Holts, K. C., & Neidel, L. L. (2005). Accumulation and perchlorate exposure potential of lettuce produced in the Lower Colorado River Region. Journal of Agricultural and Food Chemistry, 53, 5479–5486.

Seyfferth, A. L., Henderson, M. K., & Parker, D. R. (2008). Effects of common soil anions and pH on the uptake and accumulation of perchlorate in lettuce. Plant and Soil, 302, 139–148.

Shi, Y. L., Zhang, P., Wang, Y. W., Shi, J. B., Cai, Y. Q., Mou, S. F., et al. (2007). Perchlorate in sewage sludge, rice, bottled water and milk collected from different areas in China. Environment International, 33, 955–962.

Smith, P. N., Lu, Y., McMurry, S. T., & Anderson, T. A. (2004). Perchlorate in water, soil, vegetation, and rodents collected from the Las Vegas Wash, Nevada, USA. Environmental Pollution, 132, 121–127.

Stokstad, E. (2005). Debate continues over safety of water spiked with rocket fuel. Science, 307, 507.

Sun, C. H., Du, W., Cheng, X. L., Xu, X. N., Zhang, Y. H., Sun, D., et al. (2010). The effects of drought stress on the activity of acid phosphatase and its protective enzymes in pigweed leaves. African Journal of Biotechnology, 9, 825–833.

Tan, K., Anderson, T. A., Jones, M. W., Smith, P. N., & Jackson, W. A. (2004). Accumulation of perchlorate in aquatic and terrestrial plants at a field scale. Journal of Environmental Quality, 33, 1638–1646.

Tikkanen, M. W. (2006). Development of a drinking water regulation for perchlorate in California. Analytica Chimica Acta, 567, 20–25.

Van, A. B., & Schoor, J. L. (2002). Evidence of perchlorate (ClO4 −) reduction in plant tissues (poplar tree) using radio-labeled (ClO4 −)-C-36. Environmental Science & Technology, 36, 2783–2788.

Voogt, W., & Jackson, W. A. (2010). Perchlorate, nitrate, and iodine uptake and distribution in lettuce (Lactuca sativa L.) and potential impact on background levels in humans. Journal of Agricultural and Food Chemistry, 58, 12192–12198.

Wang, D. M., & Huang, C. P. (2008). Electrodialytically assisted catalytic reduction (EDACR) of perchlorate in dilute aqueous solutions. Separation and Purification Technology, 59, 333–341.

Xie, Y. F., Cai, X. L., & Liu, W. L. (2009). Effects of perchlorate on growth and chlorophyll fluorescence parameters of Alternanthera philoxeroides. Environmental Science, 30, 2425–2431 (in Chinese).

Xiong, Z., Zhao, D. Y., & Pan, G. (2007). Rapid and complete destruction of perchlorate in water and ion-exchange brine using stabilized zero-valent iron nanoparticles. Water Research, 41, 3497–3505.

Yu, L., Canas, J. E., Cobb, G. P., Jackson, W. A., & Anderson, T. A. (2004). Uptake of perchlorate in terrestrial plants. Ecotoxicology and Environmental Safety, 58, 44–49.
Acknowledgments
The present study was funded by the Priority Academic Program Development of Jiangsu Higher Education Institutions (PAPD), National Basic Research Program of China (2006CB403301), and Scientific Innovation Fund of Nanjing Forestry University (CX2011-23). We thank LetPub (www.letpub.com) for its linguistic assistance during the preparation of this manuscript.
About this article
Cite this article
Xie, Y., Tao, G., Chen, Q. et al. Effects of Perchlorate Stress on Growth and Physiological Characteristics of Rice (Oryza sativa L.) Seedlings. Water Air Soil Pollut 225, 2077 (2014). https://doi.org/10.1007/s11270-014-2077-8
Received:

Accepted:

Published:

DOI: https://doi.org/10.1007/s11270-014-2077-8
Keywords
Perchlorate stress

Growth

Physiology

Oryza sativa L