Abstract
Copper(II) biosorption in the presence of complexing agents (CA) onto orange peel (OP) and chemically modified OP (OPH+, OPNa+, and OP(Na+)(H+)) was studied. The study of the effect of pH showed that OPH+ presented a copper(II) uptake similar to OP in the pH range 1.5–6.0, whereas OPNa+ and OP(Na+)(H+) showed the highest copper(II) uptake in the pH range 4–6. Copper(II) sorption isotherms were obtained with Cu(II)/CA mass ratios of 1:0 and 1:2 at pH 5. The Sips model fitted best the isotherms without CA, whereas the Freundlich and Brunauer-Emmett-Teller (BET) models fitted best the isotherms in the presence of ethylenediaminetetraacetic acid (EDTA) and citrate, respectively. The CA reduced the copper(II) uptake due to the presence of copper(II)-chelated species, though the interference of citrate was less important than that of EDTA. OPNa+ and OP(Na+)(H+) showed a higher copper(II) uptake capacity than OP, also in the presence of CA in solution. Copper(II) sorption mechanisms were studied using energy-dispersive X-ray and Fourier transform infrared spectroscopy and revealed ion exchange as one of the mechanisms. Biosorption reversibility and biosorbent reuse were evaluated in sorption/desorption cycles. Reversibility of copper(II) sorption was obtained (90 % metal recovery), though an important reduction of the metal uptake was observed in the second cycle.
Access options
Buy single article
Instant access to the full article PDF.
USD 39.95
Price excludes VAT (USA)
Tax calculation will be finalised during checkout.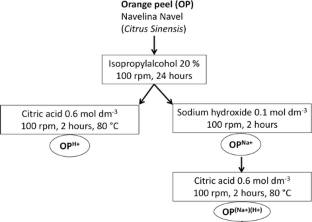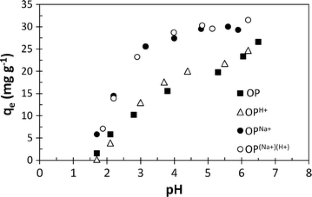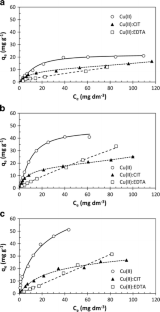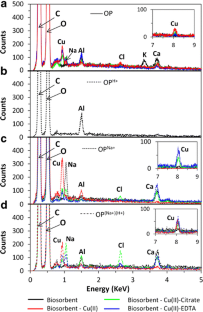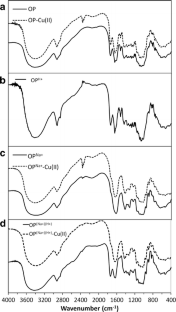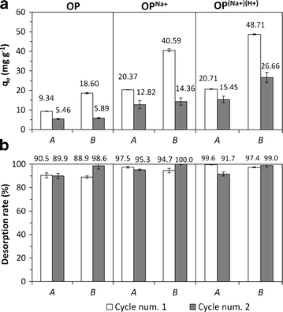 References
Acheampong, M. A., Pereira, J. P. C., Meulepas, R. J. W., & Lens, P. N. L. (2011). Biosorption of Cu(II) onto agricultural materials from tropical regions. Journal of Chemical Technology and Biotechnology, 86, 1184–1194.

Artz, R. R. E., Chapman, S. J., Robertson, A. H. J., Potts, J. M., Laggoun-Defarge, F., Gogo, S., et al. (2008). FTIR spectroscopy can be used as a screening tool for organic matter quality in regenerating cutover peatlands. Soil Biology and Biochemistry, 40, 515–527.

Bicu, I., & Mustat, F. (2011). Cellulose extraction from orange peel using sulfite digestion reagents. Bioresource Technology, 102, 10013–10019.

Bourikas, K., Vakros, J., Kordulis, C., & Lycourghiotis, A. (2003). Potentiometric mass titrations: Experimental and theoretical establishment of a new technique for determining the point of zero charge (PZC) of metal (hydr)oxides. The Journal of Physical Chemistry. B, 107, 9441–9451.

Bulgariu, L., Bulgariu, D., & Macoveanu, M. (2012). Characteristics of sorption of uncomplexed and complexed Pb(II) from aqueous solutions onto peat. Chemical Papers, 66, 239–247.

Cocozza, C., D'Orazio, V., Miano, T. M., & Shotyk, W. (2003). Characterization of solid and aqueous phases of a peat bog profile using molecular fluorescence spectroscopy, ESR and FT-IR, and comparison with physical properties. Organic Geochemistry, 34, 49–60.

Ebadi, A., Soltan Mohammadzadeh, J. S., & Khudiev, A. (2009). What is the correct form of BET isotherm for modeling liquid phase adsorption? Adsorption, 15, 65–73.

El-Ashtoukhy, E.-S. Z., Amin, N. K., & Abdelwahab, O. (2008). Removal of lead(II) and copper(II) from aqueous solution using pomegranate peel as new adsorbent. Desalination, 223, 162–173.

Escudero, C., Gabaldón, C., Marzal, P., & Villaescusa, I. (2008). Effect of EDTA on divalent metal adsorption onto grape stalk and exhausted coffee wastes. Journal of Hazardous Materials, 152, 476–485.

Esposito, G., Veeken, A., Weijma, J., & Lens, P. N. L. (2006). Use of biogenic sulfide for ZnS precipitation. Separation and Purification Technology, 51, 31–39.

European Commission (EC) (2006). Best available techniques reference document on the surface treatment of metals and plastics. Retrieved December 21, 2010, from http://www.prtr-es.es.

European Pollutant Release and Transfer Register (E-PRTR). Retrieved March 5, 2012, from http://prtr.ec.europa.eu/Home.aspx.

Feng, N., Guo, X., & Liang, S. (2009). Adsorption study of copper(II) by chemically modified orange peel. Journal of Hazardous Materials, 164, 1286–1292.

Freundlich, H. (1910). The impact of the adsorption in the precipitation of suspension colloid. Zeitschrift für Physikalische Chemie, 73, 385–423.

Gabaldón, C., Izquierdo, M., Marzal, P., & Sempere, F. (2007). Evaluation of biosorbents for Cu removal from wastewater in the presence of EDTA. Journal of Chemical Technology and Biotechnology, 82, 888–897.

Guo, X., Zhang, S., & Shan, X. (2008). Adsorption of metal ions on lignin. Journal of Hazardous Materials, 151, 134–142.

Gustafsson, J.P. (2011). Visual MINTEQ ver. 3.0. KTH Department of Land and Water Resources Engineering, Stockholm, Sweden. Based on de Allison JD, Brown DS, Novo-Gradac KJ, MINTEQA2 ver. 4.0, 1991, CEAM, EPA, EEUU.

Gyliene, O., Nivinskiene, O., & Razmute, I. (2006). Copper(II)–EDTA sorption onto chitosan and its regeneration applying electrolysis. Journal of Hazardous Materials, B137, 1430–1437.

Izquierdo, M., Marzal, P., Gabaldón, C., Silvetti, M., & Castaldi, P. (2012). Study of the interaction mechanism in the biosorption of copper(II) ions onto Posidonia oceanica and peat. Clean-Soil Air Water, 40, 428–437.

Janos, P., Fedorovic, J., Stankova, P., Gröteschelová, S., Rejnek, J., & Stopka, P. (2006). Iron humate as low-cost sorbent for metal ions. Environmental Technology, 27, 169–181.

Juang, R.-S., Wu, F.-C., & Tseng, R.-L. (1999). Adsorption removal of copper(II) using chitosan from simulated rinse solutions containing chelating agents. Water Research, 33, 2403–2409.

Kelly-Vargas, K., Cerro-López, M., Reyna-Tellez, S., Bandala, E. R., & Sanchez-Salas, J. L. (2012). Biosorption of heavy metals in polluted water, using different waste fruit cortex. Physics and Chemistry of the Earth, 37–39, 26–29.

Khormaei, M., Nasernejad, B., Edrisi, M., & Eslamzadeh, T. (2007). Copper biosorption from aqueous solutions by sour orange residue. Journal of Hazardous Materials, 149, 269–274.

Kosasih, A. N., Febrianto, J., Jaka Sunarso, J. Y.-H., Indraswati, N., & Ismadji, S. (2010). Sequestering of Cu(II) from aqueous solution using cassava peel (Manihot esculenta). Journal of Hazardous Materials, 180, 366–374.

Lasheen, M. R., Ammar, N. S., & Ibrahim, H. S. (2012). Adsorption/desorption of Cd(II), Cu(II) and Pb(II) using chemically modified orange peel: Equilibrium and kinetic studies. Solid State Sciences, 14, 202–210.

Li, X., Tang, Y., Ca, X., Lu, D., Fang, L., & Shao, W. (2008). Preparation and evaluation of orange peel cellulose adsorbents for effective removal of cadmium, zinc, cobalt and nickel. Colloids Surface A, 317, 512–521.

Lu, S., & Gibb, S. W. (2008). Copper removal from wastewater using spent-grain as biosorbents. Bioresource Technology, 99, 1509–1517.

Lu, D., Cao, Q., Li, X., Cao, X., Luo, F., & Shao, W. (2009). Kinetics and equilibrium of Cu(II) adsorption onto chemically modified orange peel cellulose biosorbents. Hydrometallurgy, 95, 145–152.

Malik, U. R., Hasany, S. M., & Subhani, M. S. (2005). Sorptive potential of sunflower stem for Cr(III) ions from aqueous solutions and its kinetic and thermodynamic profile. Talanta, 66, 166–173.

Mata, Y. N., Blázquez, M. L., Ballester, A., González, F., & Muñoz, J. A. (2009). Sugar-beet pulp pectin gels as biosorbent for heavy metals: Preparation and determination of biosorption and desorption characteristics. Chemical Engineering Journal, 150, 289–301.

Ngah, W. S. W., & Hanafiah, M. A. K. M. (2009). Surface modification of rubber (Hevea brasiliensis) leaves for the adsorption of copper ions: Kinetic, thermodynamic and bonding mechanisms. Journal of Chemical Technology and Biotechnology, 84, 192–201.

Pagnanelli, F., Mainelli, S., De Angelis, S., & Toro, L. (2005). Biosorption of protons and heavy metals onto olive pomace: Modelling of competition effects. Water Research, 39, 1639–1651.

Pérez Marín, A. B., Aguilar, M. I., Messeguer, V. F., Ortuño, J. F., Sáez, J., & Lloréns, M. (2009). Biosorption of chromium (III) by orange (Citrus cinensis) waste: Batch and continuous studies. Chemical Engineering Journal, 155, 199–206.

Reddad, Z., Gérente, C., Andrès, Y., Ralet, M.-C., Thibault, J.-F., & Le Cloirec, P. (2002). Ni(II) and Cu(II) binding properties of native and modified sugar beet pulp. Carbohydrate Polymers, 49, 23–31.

Regulation (EC) No. 166/2006 of the European Parliament and of the Council of 18 January 2006 concerning the establishment of a European Pollutant Release and Transfer Register and amending Council Directives 91/689/EEC and 96/61/EC.

Saeed, A., Iqbal, M., & Akhtar, M. W. (2005). Removal and recovery of lead(II) from single and multimetal (Cd, Cu, Ni, Zn) solutions by crop milling waste (black gram husk). Journal of Hazardous Materials, B117, 65–73.

Schwab, A. P., He, Y., & Banks, M. K. (2005). The influence of organic ligands on the retention of lead in soil. Chemosphere, 61, 856–866.

Sips, R. (1948). On the structure of a catalyst surface. Journal of Chemical Physics, 16, 490–495.

Test Methods for Examination of Composting and Compost (TMECC) (2002) USDA and USDD Composting Council

Vaghetti, J. C. P., Lima, E. C., Royer, B., Cardoso, N. F., Martins, B., & Calvete, T. (2009). Pecan nutshell as biosorbents to remove toxic metals from aqueous solution. Separation Science and Technology, 44, 615–644.

Volesky, B. (2004). Sorption and biosorption. Montreal: BV Sorbex Inc.

Wang, J., & Chan, C. (2009). Biosorbent for heavy metals removal and their future. Biotechnology Advances, 27, 195–226.

Wu, F.-C., Tseng, R.-L., & Juang, R.-S. (1999). Role of pH in metal adsorption from aqueous solutions containing chelating agents on chitosan. Industrial Engineering Chemical Research, 38, 270–275.

Yazici, H., Kilic, M., & Solak, M. (2008). Biosorption of copper(II) by Marrubium globosum subsp. Globosum leaves powder: Effect of chemical pretreatment. Journal of Hazardous Materials, 151, 669–675.

Zaccheo, P., Cabassi, G., Ricca, G., & Crippa, L. (2002). Decomposition of organic residues in soil: Experimental technique and spectroscopic approach. Organic Geochemistry, 33, 327–345.
Acknowledgments
The authors wish to thank IRIMAR S.L. (Spain) for supplying the material used in this study and the Conselleria d'Educacio de la Generalitat Valenciana (Spain) for the funding a postdoctoral fellowship.
About this article
Cite this article
Izquierdo, M., Marzal, P. & Lens, P.N.L. Effect of Organic Ligands on Copper(II) Removal from Metal Plating Wastewater by Orange Peel-based Biosorbents. Water Air Soil Pollut 224, 1507 (2013). https://doi.org/10.1007/s11270-013-1507-3
Received:

Accepted:

Published:

DOI: https://doi.org/10.1007/s11270-013-1507-3
Keywords
Biosorption

Citrate

Complexing agents

EDTA

Heavy metals

Orange peel