Abstract
A newly isolated white-rot fungus, Armillaria sp. strain F022, was isolated from the decayed wood in a tropical rain forest. Strain F022 was capable of decolorizing a variety of synthetic dyes, including azo, triphenylmethane, and anthraquinone dyes, with an optimal efficiency of decolorization obtained when dyes added after 96 h of culture, with the exception of Brilliant Green. All of the tested dyes were decolorized by the purified laccase in the absence of any redox mediators, but only a few were completely removed, while others were not completely removed even when decolorization time was increased. The laccase, with possible contributions from unknown enzymes, played a role in the decolorization process carried out by Armillaria sp. F022 cultures, and this biosorption contributed a negligible part to the decolorization by cultures. The effect of dye to fungal growth was also investigated. When dyes were added at 0 h of culture, the maximum dry mycelium weight (DMW) values in the medium containing Brilliant Green were 1/6 of that achieved by the control group. For other dyes, the DMW was similar with control. The toxic tolerance of dye for the cell beads was excellent at least up to a concentration of 500 mg/l. The optimum conditions for decolorization of three synthetic dyes are at pH 4 and 40°C.
Access options
Buy single article
Instant access to the full article PDF.
US$ 39.95
Tax calculation will be finalised during checkout.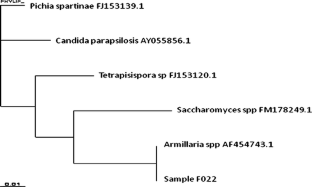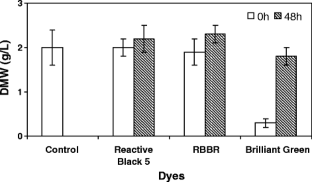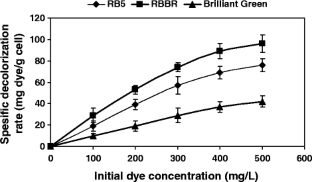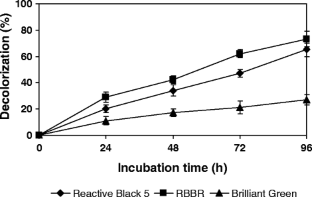 References
Asgher, M., Shah, S. A. H., Ali, M., & Legge, R. L. (2006). Decolorization of some reactive dyes by white rot fungi isolated in Pakistan. World Journal Microbiology & Biotechnology, 22, 89–93.

Benito, G. G., Miranda, M. P., & De Los Santos, D. R. (1997). Decolorization of wastewater from an alcoholic fermentation process with Trametes versicolor. Bioresource Technology, 61, 33–37.

Carliell, C. M., Barclay, S. J., Naidoo, N., Buckley, C. A., Mullholland, D. A., & Senior, E. (1995). Microbial decolourisation of a reactive azo dye under anaerobic conditions. Water SA, 21, 61–69.

Claus, H. (2003). Laccases and their occurrence in prokaryotes. Archives of Microbiology, 179, 145–150.

Couto, R. S., & Herrera, J. T. (2006). Industrial biotechnological applications of laccases: A review. Biotechnology Advance, 24, 500–513.

Eggert, C., Lafayette, P. R., Temp, U., Eriksson, K. E. L., & Dean, J. F. D. (1998). Molecular analysis of a laccase gene from the white-rot fungus Pycnoporus cinnabarinus. Applied and Environmental Microbiology, 64, 1766–1772.

Ferreira, V. S., Magalhaes, D. B., Kling, S. H., Da Silva, J. G., & Bon, E. P. S. (2000). N-Demethylation of methylene blue by lignin peroxidases from Phanerochaete chrysosporium. Applied Biochemistry and Biotechnology, 84, 255–265.

Fu, Y., & Viraraghavan, T. (2001). Fungal decolorization of dye wastewaters: A review. Bioresource Technology, 9, 251–262.

Ghodake, G. S., Kalme, S. D., Jadhav, J. P., & Govindwar, S. P. (2008). Purification and partial characterization of lignin peroxidase from Acinetobacter calcoaceticus NCIM 2890 and its application in decolorization of textile dyes. Applied Biochemistry and Biotechnology, 152, 6–14.

Hamedaani, H. R., Sakurai, A., & Sakakibara, M. (2007). Decolorization of synthetic dyes by a new manganese peroxidase producing white rot fungus. Dyes and Pigments, 72, 157–162.

Hatvani, N., & Mecs, I. (2001). Production of laccase and manganese peroxidase by Lentinus edodes on malt containing by product of the brewing process. Process Biochemistry, 37, 491–496.

Kahraman, S. S., & Gurdal, I. H. (2002). Effect of synthetic and natural culture media on laccase production by white-rot fungi. Bioresource Technology, 82, 215–217.

Laessoe, T. G. (2002). Mushrooms. London: Dorling Kindersley Publishers.

Lopez, C., Mielgo, I., Moreira, M. T., Feijoo, G., & Lema, J. M. (2002). Enzymatic membrane reactors for biodegradation of recalcitrant compounds. Journal of Biotechnology, 99, 249–257.

Lowry, O. H., Rosebrough, N. J., Farr, A. L., & Randall, R. J. (1951). Protein measurement with the folin phenol reagent. Journal of Biological Chemistry, 193, 265–275.

Mou, D. G., Lim, K. K., & Shen, H. P. (1991). Microbial agents for decolorization of dye wastewater. Biotechnology Advance, 9, 613–622.

Nyanghong, G. S., Gomesa, J., Gubitzc, G. M., Zvauyab, R., Readd, J., & Steinera, W. (2002). Decolorization of textile dyes by laccases from a newly isolated strain of Trametes modesta. Water Resources, 36, 1449–1456.

Pace, G. (1998). Mushrooms of the world: With 20 photographs and 634 full color illustrations of species and varieties. New York: Firefly Books Ltd.

Paszczynski, A., Pasti-Grigsby, M. B., Goszczynski, S., Crawford, R. L., & Crawford, D. L. (1992). Mineralization of sulfonated azo dyes and sulfanilic acid by Phanerochaete chrysosporium and Streptomyces chromofuscus. Applied and Environmental Microbiology, 58, 3598–3604.

Sayan, E. (2006). Optimization and modeling decolorization and COD reduction of reactive dye solution by ultrasound-assisted adsorbtion. Chemical Engineering, 119, 175–181.

Spadaro, J. T., Gold, M. H., & Ranganathan, V. (1992). Degradation of azo dyes by the lignin-degrading fungus Phanerochaete chrysosporium. Applied and Environmental Microbiology, 58, 2397–2401.

Tavaker, M., Svobodova, K., Kuplenk, J., Novotny, C., & Pavko, C. (2006). Biodegradation of Azo Dye RO16 in different reactors by immobilized Irpex lacteus. Acta Chimica Slovenica, 53, 338–343.

Thurston, C. F. (1994). The structure and function of fungal laccases. Microbiology, 140, 19–26.

Verma, P., & Madamwar, D. (2003). Decolorization of synthetic dyes by a newly isolated strain of Serratia marcescens. World Journal of Microbiology & Biotechnology, 19, 615–618.

Wong, Y., & Yu, J. (1999). Laccase catalysed decolorization of synthetic dyes. Water Resources, 33, 3512–3520.

Young, L., & Yu, J. (1997). Ligninase-catalized decolorization of synthetic dyes. Water Resources, 31, 1187–1193.

Zouari-Mechichi, H., Mechichi, T., Dhoui, A., Sayad, S., Martínez, A. T., & Martínez, M. J. (2006). Laccase purification and characterization from Trametes trogii isolated in Tunisia: Decolorization of textile dyes by the purified enzyme. Enzyme and Microbial Technology, 39, 141–148.
Acknowledgement
A part of this research was financially supported by Research University Grant from the Universiti Teknologi Malaysia (Vote No. 00J31), which is gratefully acknowledged.
About this article
Cite this article
Hadibarata, T., Yusoff, A.R.M., Aris, A. et al. Decolorization of Azo, Triphenylmethane and Anthraquinone Dyes by Laccase of a Newly Isolated Armillaria sp. F022. Water Air Soil Pollut 223, 1045–1054 (2012). https://doi.org/10.1007/s11270-011-0922-6
Received:

Accepted:

Published:

Issue Date:
Keywords
Armillaria sp. F022

Brilliant Green

Laccase activity

Microbial decolorization

Reactive Black 5

Remazol Brilliant Blue R