Abstract
Non-point sources of nitrogen (N) contribute to pollution of many coastal waters. Road runoff of N has been estimated for busy highways, but residential roads could also be important non-point sources. Here we estimate N in runoff from two small residential roads (average annual daily traffic [AADT] <1,000) and a state highway (AADT = 8,800) in a coastal watershed of Massachusetts, USA. The antecedent dry-day traffic was correlated with total dissolved nitrogen (TDN) concentrations at the beginning of each rain event for the highway, but not for the residential roads. The TDN concentrations declined exponentially with cumulative precipitation during storms. Estimated annual road runoff is about 10 kg TDN-N ha−1 of road surface for all three roads, which is about twice the bulk precipitation input. Because much of this road runoff enters sensitive coast water bodies directly, these inputs could be important for local water quality concerns.
Access options
Buy single article
Instant access to the full article PDF.
USD 39.95
Price includes VAT (USA)
Tax calculation will be finalised during checkout.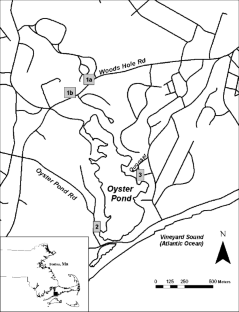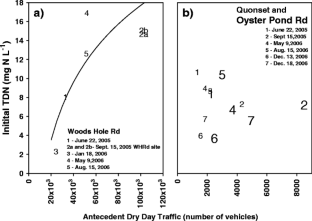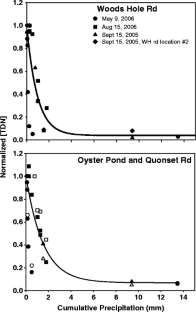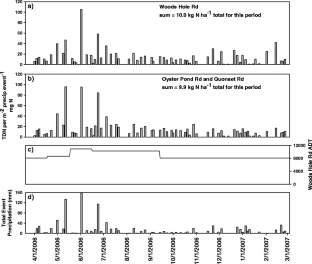 References
Bettez, N. D. (2009). Impacts of chronic low level nitrogen deposition along a roadside deposition gradient on forest and estuarine N loading. Ph.D. Dissertation, Cornell University, 93 pp.

Bricker, S. B., Clement, C. G., Pirhalla, D. E., Orland, S. P., & Farrow, D. G. G. (1999). National estuarine eutrophication assessment: A summary of conditions, historical trends, and future outlook. National Ocean Service. Silver Springs: National Oceanic and Atmospheric Administration.

Cape Cod Commission (2005). Traffic counting report. http://www.gocapecod.org/counts.

Cape Cod Commission (2007). Regional transportation plan. http://www.gocapecod.org/rtp/.

Cape, J. N., Tang, Y. S., van Dijk, N., Love, L., Sutton, M. A., & Palmer, S. C. F. (2004). Concentrations of ammonia and nitrogen dioxide at roadside verges, and their contribution to nitrogen deposition. Environmental Pollution, 132, 469–478.

Durbin, T. D., Wilson, R. D., Norbeck, J. M., Miller, J. W., Huai, T., & Rhee, S. H. (2002). Estimates of the emissions rates of ammonia from light-duty vehicles using standard chassis dynamometer test cycles. Atmospheric Environment, 36, 1475–1482.

Egodawatta, P., Thomas, E., & Goonetilleke, A. (2007). Mathematical interpretation of pollutant wash-off from urban road surfaces using simulated rainfall. Water Research, 41, 3025–3031.

Environmental Protection Agency (2001). National Coastal Condition Report. EPA-620/R-01/005, Office of Research and Development and Office of Water. Washington, DC: U. S. Environmental Protection Agency.

Flint, K. R., & Davis, A. P. (2007). Pollutant mass flushing characterization of highway stormwater runoff from an ultra-urban area. Journal of Environmental Engineering, 133, 616–626.

Gilbert, J. K., & Clausen, J. C. (2006). Stormwater runoff quality and quantity from asphalt, paver, and crushed stone driveways in Connecticut. Water Research, 40, 826–883.

Han, Y., Lau, S., Kayhanian, M., & Stenstrom, M. K. (2006). Characteristics of highway stormwater runoff. Water Environment Research, 78, 2377–2388.

Hope, D., Naegeli, M. W., Chan, A. H., & Grimm, N. B. (2004). Nutrients on asphalt parking surfaces in an urban environment. Water, Air, and Soil Pollution, 4, 371–390.

Howarth, R. W., & Marino, R. (2006). Nitrogen as the limiting nutrient for eutrophication in coastal marine ecosystems: Evolving views over 3 decades. Limnology and Oceanography, 51, 364–376.

Howarth, R. W., Anderson, D., Cloern, J., Elfring, C., Hopkinson, C., Lapointe, B., et al. (2000). Nutrient pollution of coastal rivers, bays, and seas. Issues in Ecology, 7, 1–15.

Howarth, R. W., Boyer, E. W., Pabich, W. J., & Galloway, J. N. (2002a). Nitrogen use in the United States from 1961–200 and potential future trends. Ambio, 31, 88–96.

Howarth, R., Walker, D., & Sharpley, A. (2002b). Sources of nitrogen pollution to coastal waters of the United States. Estuaries, 25, 656–676.

Howarth, R. W., Ramakrishna, K., Choi, E., Elmgren, R., Martinelli, L., Mendoza, A., et al. (2005). Ecosystems and human well-being, volume 3, policy responses, the millennium ecosystem assessment. Nutrient management, responses assessment (pp. 295–311). Washington, DC: Island Press.

Kaushal, S. S., Groffman, P. M., Likens, G. E., Belt, K. T., Stack, W. P., Kelly, V. R. et al. (2005). Increased salinization of fresh water in the northeastern United States. Proceedings of the National Academy of Sciences, 102, 13517–13520.

Kaushal, S. S., Groffman, P. M., Band, L. E., Shields, C. A., Morgan, R. P., Palmer, M. A., et al. (2008). Interaction between urbanization and climate variability amplifies watershed nitrate export in Maryland. Environmental Science and Technology, 42, 5872–5877.

Kayhanian, M., Suverkropp, C., Ruby, A., & Tsay, K. (2007). Characterization and prediction of highway runoff constituent event mean concentration. Journal of Environmental Management, 85, 279–295.

Kim, L., Zoh, K., Jeong, S., Kayhanian, M., & Stenstrom, M. K. (2006). Estimating pollutant mass accumulation on highways during dry periods. Journal of Environmental Engineering, 132, 985–993.

Lajtha, K., Seely, B., & Valiela, I. (1995). Retention and leaching of atmospherically-derived nitrogen in the aggrading coastal watershed of Waquoit Bay. Biogeochemistry, 28, 33–54.

Nixon, S. W. (1995). Coastal marine eutrophication: A definition, social causes, and future concerns. Ophelia, 41, 199–219.

NRC (1993). Managing wastewater in coastal urban areas. Washington, DC: National Academy Press.

NRC (2000). Clean coastal waters: Understanding and reducing the effects of nutrient pollution. Washington, DC: National Academies Press.

Paerl, H. W. (1997). Coastal eutrophication and harmful algal blooms: Importance of atmospheric deposition and groundwater as "new" nitrogen and other nutrient sources. Limnology and Oceanography, 42, 1154–1165.

Paul, M. J., & Meyer, J. L. (2001). Streams in the urban landscape. Annual Reviews in Ecology and Systematics, 32, 333–365.

Pew Oceans Commission (2003). America's living oceans: Charting a course for sea change. Washington, DC: Pew Charitable Trust.

Rabalais, N. N. (2002). Nitrogen in aquatic ecosystems. Ambio, 31, 102–112.

Scholz, M., & Yazdi, S. K. (2009). Treatment of road runoff by a combined storm water treatment, detention and infiltration system. Water, Air, and Soil Pollution, 198, 55–64.

Valiela, I., & Bowen, J. L. (2002). Nitrogen sources to watersheds and estuaries: Role of land cover mosaics and losses with watersheds. Environmental Pollution, 118, 239–248.

Wallington, T. J., Kaiser, E. W., & Farrell, J. T. (2006). Automotive fuels and internal combustion engines: A chemical perspective. Chemical Society Reviews, 35, 335–347.

Wollheim, W. M., Pellerin, B. A., Vörösmarty, C. J., & Hopkinson, C. S. (2005). N retention in urbanizing headwater catchments. Ecosystems, 8, 871–884.

Wu, J. S., Allan, C. J., Saunders, W. L., & Evett, J. B. (1998). Characterization and pollutant loading estimation for highway runoff. Journal of Environmental Engineering, 124, 584–592.

Zhu, W., Dillard, N. D. & Grimm, N. B. (2004). Urban nitrogen biogeochemistry: status and processes in green retention basins. Biogeochemistry, 71, 177–196.
Acknowledgments
We thank Tom Stone and Ekaterina Bulygina of The Woods Hole Research Center for advice on paved surface area and for laboratory analyses, respectively. We thank the Sea Grant Program at the Woods Hole Oceanographic Institute (NOAA Grant Nos. NA16RG2273 and NA06OAR4170021) for financial support.
About this article
Cite this article
Davidson, E.A., Savage, K.E., Bettez, N.D. et al. Nitrogen in Runoff from Residential Roads in a Coastal Area. Water Air Soil Pollut 210, 3–13 (2010). https://doi.org/10.1007/s11270-009-0218-2
Received:

Accepted:

Published:

Issue Date:
Keywords
Cape Cod

Eutrophication

Nitrogen cycle

Road runoff

Vehicle exhaust